Like GearBrain on Facebook
Gamers hoping to buy a next-generation Xbox Series S or Series X console this year could be disappointed, as Microsoft has warned of extended stock shortages well into 2021.
The two new models of Xbox went on sale worldwide last week, October 10, but fans already knew that securing one on the day would be tough – at least without paying far beyond the respective $299 / $499 retail prices of the Series S and X.
Read More:
It isn't too unusual to see stock shortages during launch week for a new console, but retail channels usually catch up fairly quickly. But 2020 has been a far from normal year, with the pandemic and global quarantine causing extra demand as well as a shortening of supply.
"I think we'll continue to see supply shortages as we head into the post-holiday quarter, so Microsoft's Q3, calendar Q1," said Tim Stuart, chief financial officer of Microsoft's Xbox division said at the Jefferies Interactive Entertainment Virtual Conference (transcribed by Seeking Alpha).
That quarter, the first of the calendar year, runs from the start of January until the end of March, suggesting that Xbox Series X|S stock levels potentially won't reach normal levels until April, a full five months after the consoles went on sale.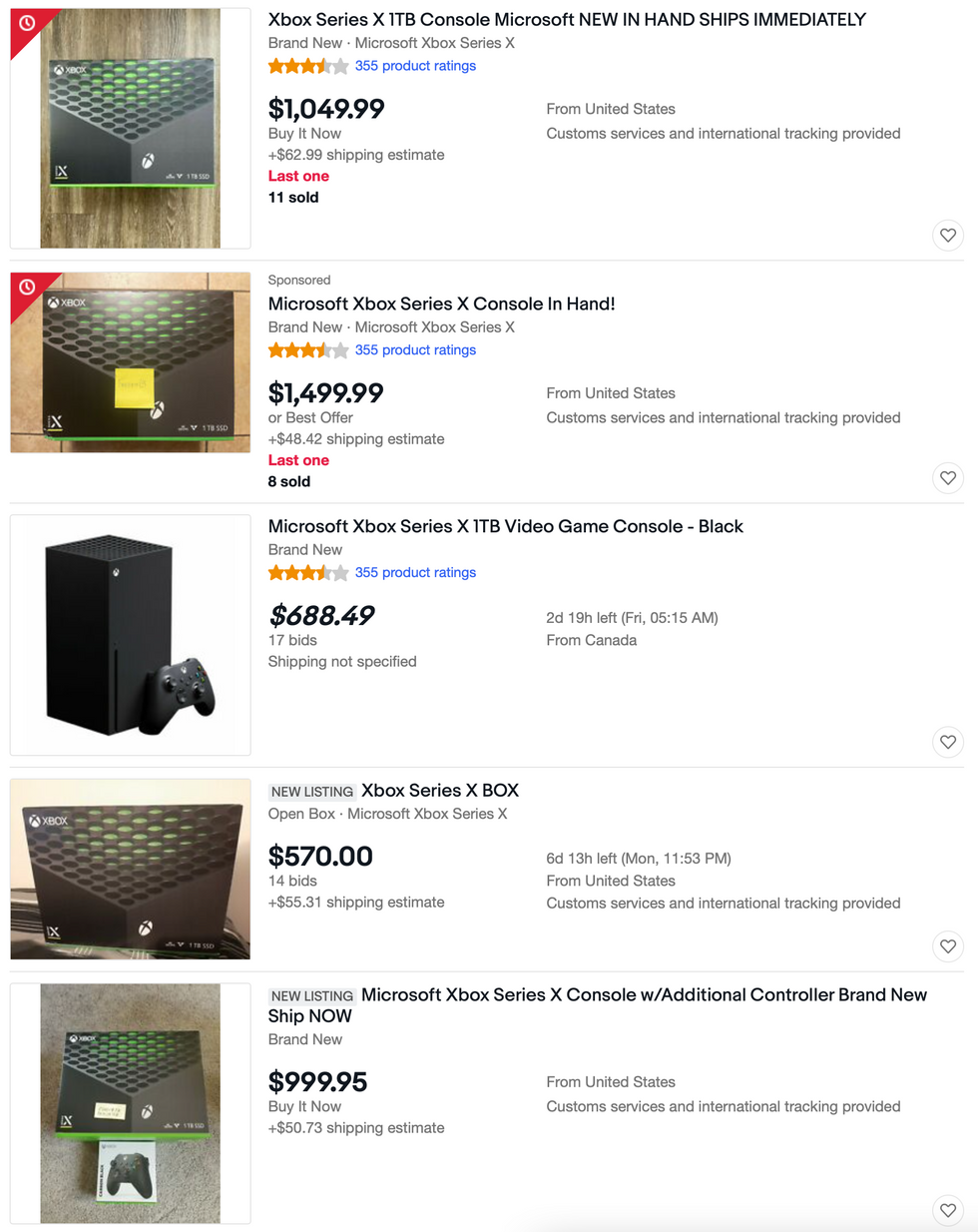 Lack of supple has led to hugely inflated prices on eBayGearBrain
Microsoft isn't the only company struggling to meet new console demand. Sony launched its new PlayStation 5 console on November 12 (with some international launches coming later in the month), and has also warned of stock shortages. Sony previously warned how there would be no stock available to buy on launch day in major markets like the US and UK.

Stock issues have seen second-hand prices soar, as dozens of Xbox Series X and PS5 consoles have been listed on eBay and priced at $1,000 and over, double the retail price. In some cases, sellers are trying to sell PS5 consoles for $1,800, over three times the retail price.
Stuart added that, come the "pre-summer months", he expects "to see a little bit of the demand – the supply profile, meeting the demand profile."
Microsoft's Xbox boss Phil Spencer tried to warn of stock shortages in October, saying: "I think we're going to live in that world for a few months where we have a lot more demand than supply."
From Your Site Articles
Related Articles Around the Web
Like GearBrain on Facebook