Like GearBrain on Facebook
The Xbox One X, the most powerful video game console ever made, goes on sale on November 7. But with great power comes great cost, and at $500 it is twice as expensive as the Xbox One S.

Is the new model worth the price? With pre-orders open now, here is the GearBrain comparison to help you make up your mind.
Xbox One S vs One X: Specs, storage and price
First up, let us get the spec comparison out of the way. We promise not to get too nerdy, but in these numbers is where you find the biggest differences between the two consoles.
Xbox One X:
Eight-core CPU running at 2.3GHz
12GB of GDDR5 RAM
6 teraflop GPU
Storage of 1TB (1,000GB)
Price: $500 (out November 7)
Xbox One S:
Eight-core CPU running at 1.75GHz
8GB DDR3 RAM
1.23 teraflop GPU
Storage options of 500GB of 1TB
Price: $250
You don't necessarily need to understand what all that means, but clearly the One X has the upper hand — and in a big way — over the One S. This means more power and, while current games run marginally better than on the S, it gives game developers a huge amount of headroom for improvement in the coming years.

The Xbox One X goes on sale on November 7 for $500Microsoft
Xbox One S vs One X: Gaming
So what does all this extra power actually mean? For a start, the One S and One X can play the same games, so all of your existing Xbox One games will work with the X from day one. Some, branded as 'Xbox One X enhanced' will ask you to download a chunky update when inserted into the new console. This will boost graphics to the 4K, HDR levels the X is capable of.
And that is, for now, the biggest difference between the X and S. The X can play games in 4K (Ultra HD) resolution, with HDR10 image quality, at a steady 60 frames per second. The One S, on the other hand, can only play games at 1080p Full HD, at up to 60fps.
Extra power will also make the One X feel a little more responsive when loading up games. As a side note, the X's shiny new user interface was made available to the One S and original One last month.
4K gaming is an important upgrade, of course, and the extra power will give developers space to produce even more jaw-dropping graphics in the coming years. But for now, you must ask yourself if the $250 premium over the One S is justified by little more than a resolution bump. And of course, it should go without saying that you'll want a good-sized 4K television to get the most out of the X.
Xbox One S vs One X: Design
Remarkably, the more powerful One X is thinner than the One S. What's even more remarkable is that Microsoft has finally ditched the Xbox's massive power brick. Now it's just a case of connecting the power cable to the console and your wall outlet.
Just 2.1 inches thick, the One X is much slimmer than the original, while the S fits somewhere in between. At 8.4 pounds the X has a real heft to it. 'Dense' might be the best way to describe it. Dense with power.
Otherwise, everything is as you would expect. Disc slot on the front, HDMI, Ethernet, USB and optical audio outputs on the back.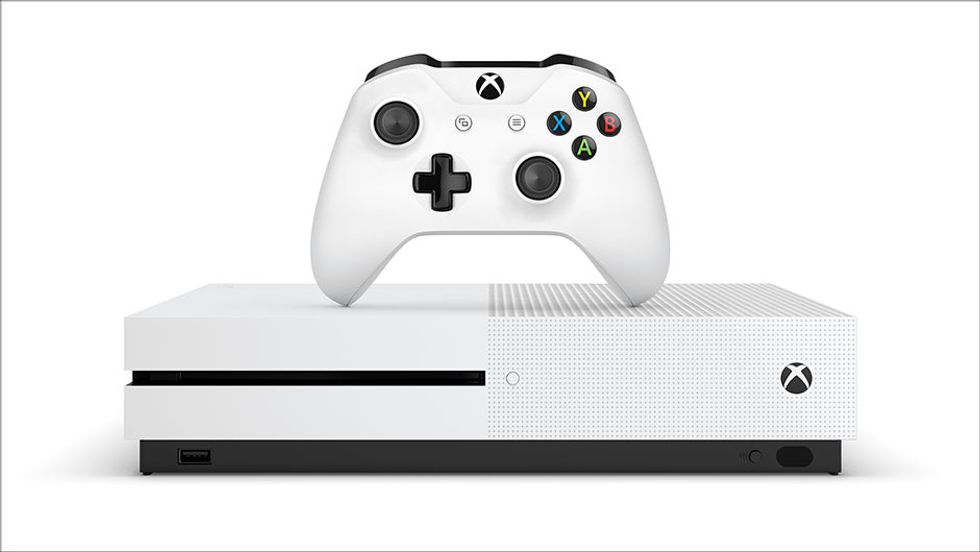 The Xbox One S costs $250, but cannot do 4K gamingMicrosoft
Xbox One S vs One X: Streaming and Blu-ray
This is where the differences between the One S and One X start to dry up. Unlike the original One, both the One S and One X have an Ultra HD Blu-ray disc player; they can also both stream 4K Ultra HD and Dolby Vision content from Netflix and Amazon Video (subscription required). The original One cannot.
For us, the inclusion of a UHD Blu-ray player makes the $250 Xbox One S excellent value for money. Standalone UHD players cost $300 earlier this year and have only recently fallen to $200.
As mentioned above, all Xbox Ones can stream content from Netflix and Amazon, plus Twitch, Microsoft Movies & TV, HBO Go, Comedy Central, Hulu, AMC, Syfy Now, Plex and Emby. There is also access to regional services like BBC iPlayer in the UK, plus music from Spotify, SoundCloud, Mixer and Pandora.

Other Xbox One apps include ESPN, Skype, Twitter and YouTube.
Xbox One S vs One X: Dolby Atmos
The S and X can both handle Dolby Atmos, the latest in home cinema audio technology — and thanks to a software update, the original One can play Atmos content, too.
For more on Dolby Atmos, check out the GearBrain guide. Atmos content is very limited for now, but films like 'Okja' and 'Death Note' on Netflix include it. Will Smith action film 'Bright' will come to Netflix with Atmos in December, and we have no doubt more will appear in 2018 and beyond.
Some games also have Atmos, including Forza Motorsport 7, Crackdown 3 and Gears of War 4.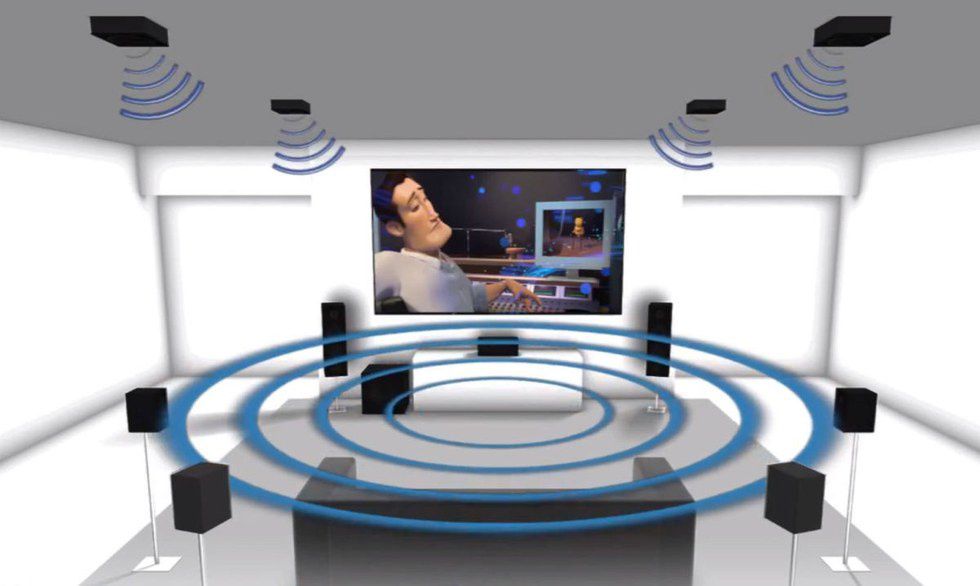 Atmos audio creates a sphere of sound around the audienceDolby
Xbox One S vs One X: Cortana and smart home integration
Microsoft had some lofty ambitions when it announced the Xbox One back in 2013. The company had given the games console an HDMI in port, as well as HDMI out.
This meant the owner could connect their satellite or cable TV box to the Xbox, then connect that to the television. Microsoft wanted the Xbox to be left on all the time, acting as a media player with a user interface, called OneGuide, placed over that of your cable box.
Owners could change channels with voice commands, heard by the Kinect camera, mic and motion tracking device. But what started with great promise never really matured into something worth bothering with. The system acted as an infrared blaster to control your cable box, so if a single command from the Xbox was blocked by someone walking past, then the whole OneGuide interface fell out of sync.
Speaking anecdotally for a moment, we don't know of a single person who has ever used OneGuide with their Xbox One. The One X has an input for your set-top box too, but in the age of cable-cutting we can't imagine many people will use it.
The Xbox's smart home integration is more interesting, but even that feels a long way off. The One, S and X all have Cortana, Microsoft's answer to Siri, Alexa and Google Assistant. Cortana can be spoken to and instructed to record videos of your games, snap screenshots, check if a friend is online and send them a message, adjust volume, navigate around the console, and perform simple web searches with Microsoft Bing.
This is all part of Microsoft CEO Satya Nadella's grand plan to make the Xbox the centre of your smart home. It runs Windows after all, so is basically a computer under your TV. But where Amazon and Google have stormed ahead in the smart home race, Microsoft is yet to move. The Xbox One cannot control smart home devices for now, but that isn't to say it won't happen in the future.
Xbox One S vs One X: Conclusion
One thing is clear; the Xbox One S is excellent value for money if you're looking for a home entertainment system. You could even buy the S and never play a single game — just use it as a 4K, Atmos-ready, UHD Blu-ray-playing, 4K Netflix-streaming box and that'd be $250 well spent. With the same games available for both S and X, you'll be able to play new games for years to come.
What about the X? At $500 it may seem expensive, but that's exactly the same price the original One launched at. For your money you get a hugely powerful console which will take you into the next generation of 4K gaming. We won't see how good the X truly is until developers push it with future games, so for now there's a sense of parity between S and X.
Buyers desperate for 4K gaming right now will be pleased to get that, but also feel safe in the knowledge that their expensive console is future-proofed for a whole generation. S buyers get a well-priced game console and excellent entertainment system today, but without the technological headroom of the X for tomorrow.
From Your Site Articles
Related Articles Around the Web
Like GearBrain on Facebook