Like GearBrain on Facebook
Amazon delivery drivers will be able to let themselves into our homes and drop off packages in the hallway starting in November. The service is called Amazon Key, works with your smart lock, and it's powered by the company's new home security camera, Cloud Cam.

Granting remote access to your home is nothing new. Smart lock companies like August already offer such systems, while Walmart trialled 'straight-to-fridge' grocery deliveries in October, with the help of August locks. But Amazon's size is likely to bring internet-controlled door locks and smart home security cameras into the mainstream.
How does Amazon Key work?
The service is powered by the $120 Amazon Cloud Cam, which acts as a hub to talk to your smart lock and the delivery driver via your home internet connection and Amazon's cloud.
Customers can install the camera themselves — ideally high up in the hallway, with a good view of the front door — or Amazon will come and install it for you. Amazon also sells the Cloud Cam with a smart lock for $250, or it can communicate via the Zigbee smart home protocol if you already own a compatible lock. For now, these include smart locks by Yale and Kwikset.
When a courier arrives at your door they first knock to check if you're in. If not, they scan a barcode on the package, which tells the camera to start recording via a message exchanged with Amazon's server. The customer is also notified, so you can watch the delivery live through the camera.
The courier then gets a notification on their scanning app — a tap of this and the door is unlocked. They then drop off the package in view of the camera, close the door, lock it with another tap of their scanning app, and proceed to the next delivery.
Once complete, a notification will be sent to the customer's smartphone, along with a short video to show the drop-off was completed and the door is closed.
As well as Amazon deliveries, the camera can be used to let in guests, and in early 2018 the system will work with over 1,200 businesses through Amazon Home Services. This opens the door, literally, to house cleaners and dog walkers.
What else can the Amazon Cloud Cam do?
As well as keeping an eye on deliveries, the camera works much like other smart home security cameras and systems sold by the likes of Ring and Nest. The camera starts recording when it detects movement, then alerts you with a notification. Video is stored in the cloud for free for 24 hours, or is archived if you pay for a dedicated subscription service.
The camera records in Full HD 1080p video at 30 frames per second, has a 120-degree field of view, nightvision mode, a microUSB port for power, and a microphone and speaker for communicating live through the application.
There is also Alexa support, letting you beam a live feed to your TV or Amazon Echo Show with a voice command.
Amazon Cloud Cam cost, deals and subscription services

While the basic $120 camera monitors 24 hours a day, works with Amazon Key and stores recorded movement for 24 hours, there are three subscription services to unlock more features.
The first is called Basic and costs $6.99 per month or $69.99 per year. This stores recorded footage in the cloud for seven days instead of one, will only notify when it sees an actual person (instead of other movement, like shadows from trees outside, or a pet), can be told to ignore certain zones (the dog basket, for example), and offers unlimited downloading and sharing of recorded videos.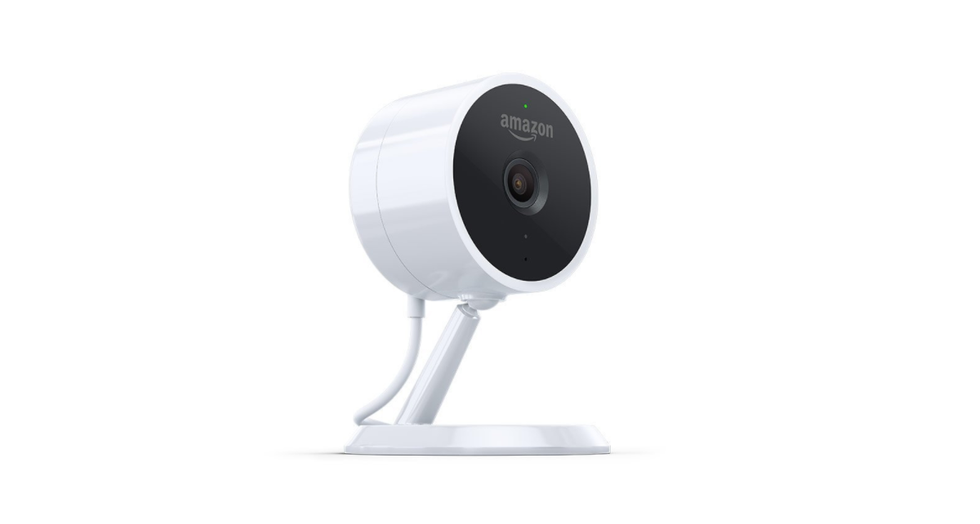 Amazon Cloud Cam costs from $119.99Amazon
The next two tiers - Extended ($9.99 a month / $99.99 a year) and Pro ($19.99 a month / $199.99 a year) - offer the same feature set but let you store footage for 14 days and 30 days respectively. Amazon lets you install three cameras for free, while Extended increases this to five and Pro lets you install 10.
There are also deals on buying multiple cameras. One costs $119.99, two cost $199.99 and three cost $289.99. They can be pre-ordered now and shipping begins on November 8, when the Amazon Key service becomes available to Prime members in 37 US cities. Amazon hopes to expand the service in the future, but of course that will depend on whether customers are happy with letting couriers into their homes while they are away.
Like GearBrain on Facebook