Like GearBrain on Facebook
New Alexa-supported devices may be making their way to your stocking this year, as Amazon launched a flurry of new products today starting with a brand new Echo, priced at $99, during a surprise event from its headquarters in Seattle.
The new device will support multi-room sound with Dolby Audio baked in — aka much better speakers than its original Echo — and is priced mid-way between the $49 Echo Dot and the $179 Amazon Echo. The new Echo is definitely taking a jab at the Sonos Play:1, which has yet to be unveiled, and Apple's HomePod, and even mirrors the shape of Apple's device. The new Echo goes on sale today.
Besides being a smart home device, this compact Echo is definitely aimed at those concerned with their home decor and maybe even feng shui: the new Echo will come in six different fabric coverings along with a wood veneer finish. Plus if you buy three of the new Echo devices — ie, one for three different rooms — the price drops to just $50 each. (See how that works?)


The new Echo Plus will work with ZigBee products including Philips Hue, GE and Kwikset.Photo via Amazon
For those who prefer their Echo on the larger size, Amazon also launched the Echo Plus — a super-sized version of its Echo that also acts a smart home hub, integrates with smartphones and has the ability to search. The Echo Plus will connect through ZigBee, linking to Philips Hue, GE and Kwikset products and is priced at $149. Early birds to the device will get a free Philips Hue smart light bulb while supplies last. The Echo Plus is meant to link up everything in your smart home space: Saying good morning to Alexa could open the blinds, start the coffee pot, and start reading the headline news of the day. We're almost in J.A.R.V.I.S. territory, but not quite.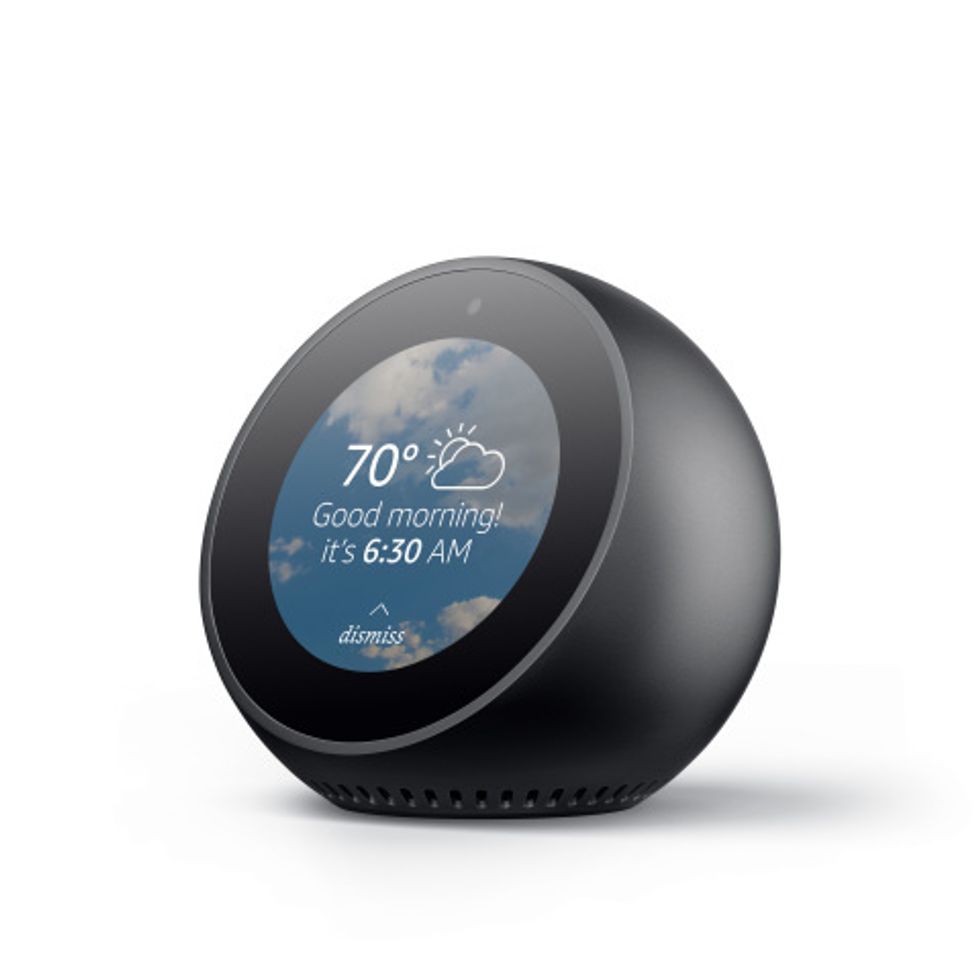 The Echo Spot is in pre-orders, comes in black and white, and starts shipping in December.Photo via Amazon
How about an Amazon Echo the size of your alarm clock? Well, now Amazon has one of those available too — nicely sized, we might add, for a stocking stuffer. The $129.99 Echo Spot sports a 2.5-inch display and supports video calling. It's a sparkly little product, more design-friendly than the Echo Show, and is likely going to be far more popular. The size alone means it will take up far less surface space, plus the Jetsons' look has a retro, yet space-age appeal. And yes — like the Echo, you can play music through its speaker, plus run smart home devices as well.
Amazon's semi-secret launch comes on the heels of Google pulling the plug on YouTube support for the Amazon Echo Show. That news made a bit more sense with Amazon's launch today of a new $70 Fire TV, with 4K, HDR, Dolby Atmos, Wi-Fi, a 1.5Ghz processor — and of course Alexa support. You'll be able to search for content just on the type alone, such as "Alexa find me dramas." The new Fire TV will support content from YouTube, at least according to Amazon's web site. No word on if that will change.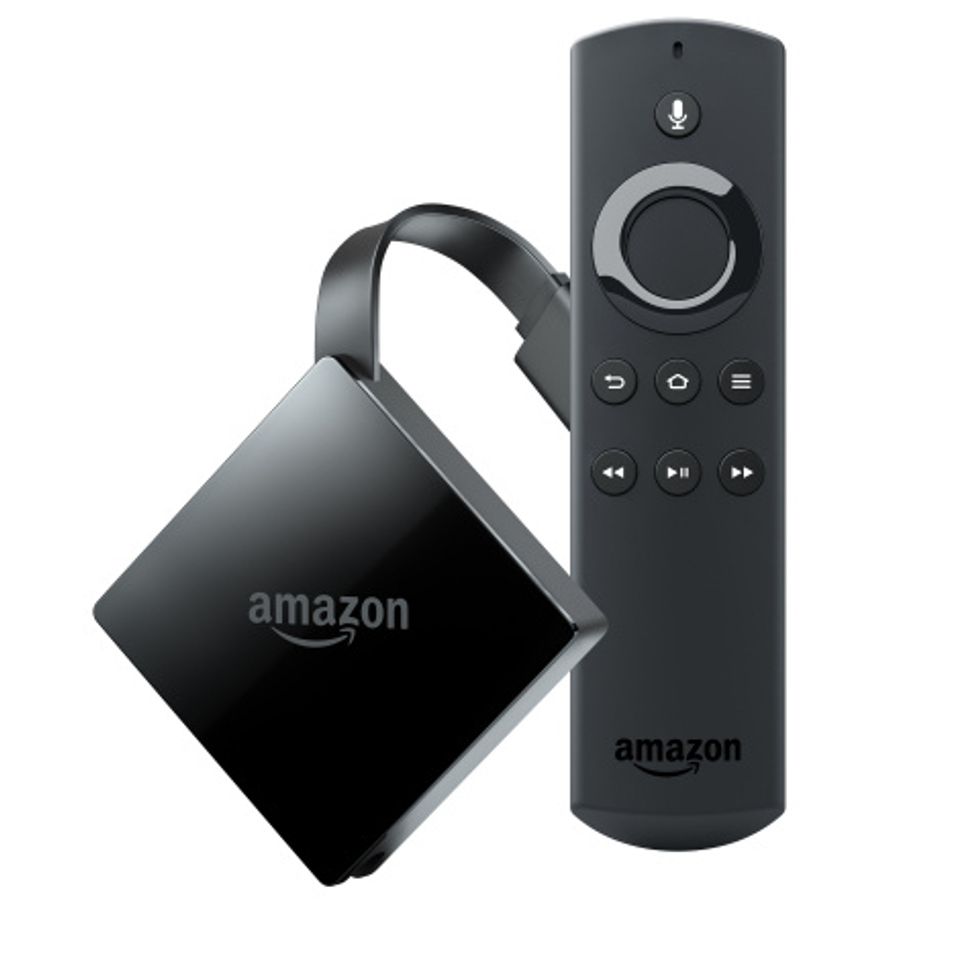 The new Amazon Fire TV start is in pre-orders starting today and will ship on October 25.Photo via Amazon
And even more products

Along with the new Echo, Amazon is launching Echo Connect,, a device that will link up to landline numbers and allow people to make calls with just their voice, without picking up a headset. Echo Connect's pricing is $34.99, pre-orders start today, and will also support 911 calls. The new Echo will also make calls, free, throughout the U.S., Mexico and Canada.
Amazon pushed out some car news today as well — by bringing Alexa to BMWs starting next year, which will let drivers play music, pull up weather and run other features all directly through the car's console.

Another new gadget, called the Echo Button, appears to be aimed directly at the gaming market — a device that allows people to play games together. Trivial Pursuit will be one of the first to link into the new device, which is launching later this year, and is priced as a two-pack for $19.99.
Check out The GearBrain, our smart home compatibility checker to see the other compatible products that work with Amazon Alexa.
How to Use Amazon Alexa Enabled Devices www.youtube.com
Like GearBrain on Facebook