Like GearBrain on Facebook
Amsterdam is a picture-postcard city—and what better way to bring this gem of the Netherlands to life than virtual reality. Whether you're planning a trip to Amsterdam and want a sense of what you'll see, or just want to spend a quiet coffee break in these storybook land, we think you'll enjoy these diversionary virtual reality videos.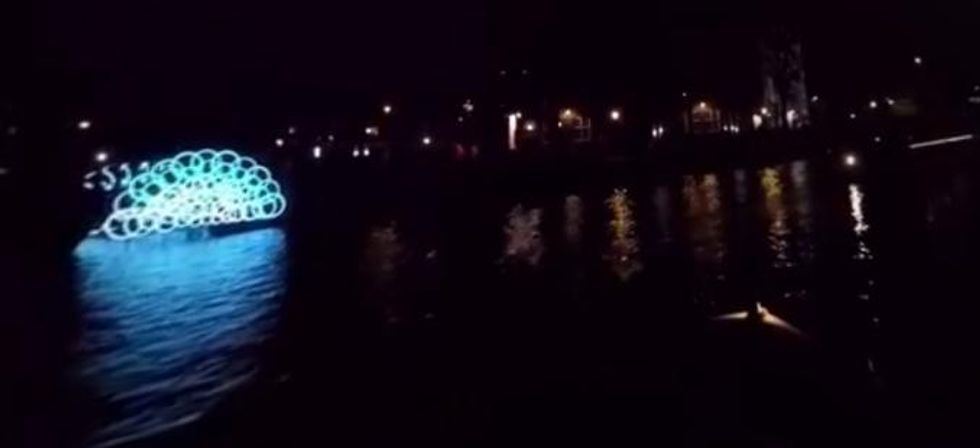 Oculus Rift will give you the best view of the Amsterdam Light Festival in this VR video.
Let there be light
During the dark winter months, Amsterdam lights up its city during its annual Light Festival, where light sculptures and art work dot the streets and the waterways. A glorious time to visit, you can also experience the nearly two month-long event through this short virtual film. Viewable as a 360-degree video, viewers who own Oculus Rift can also watch through their virtual reality headsets.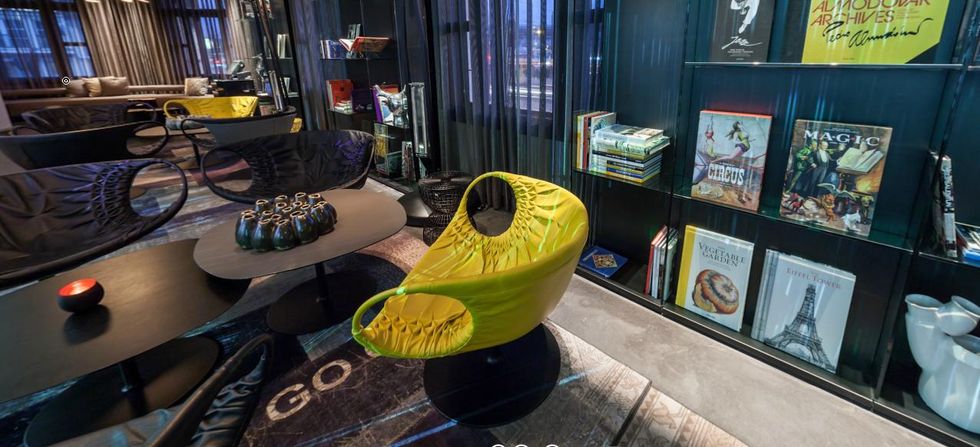 The art-otel has a library—you can virtually view before staying.
Place to stay
Haven't picked a hotel room? Amsterdam's art'otel has a 360-degree virtual tour of their lobby, and several different hotel rooms—which is a nice way to see if the space would fit you, a companion and your luggage. You can view the bar, sitting rooms, restaurant and even the smoking lounge. (Yes, they still have these in some areas of Europe.)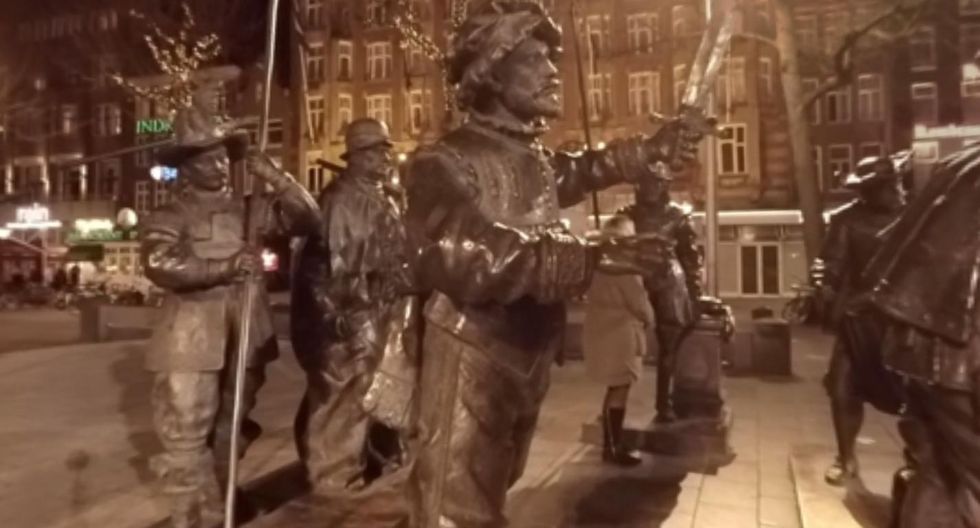 A fittingly night view of Rembrandt-inspired sculpture of Night Watch.
Night Watch
Arguably one of Rembrandt's most famous painting, Night Watch, is on view at Amsterdam's Rijksmuseum. But there is also a sculpture of some of the key figures in the painting in Rembrandtplein square, near where the famous artist once owned a home. One virtual video puts you right in the center of the figures—and as close as you'll ever feel to being inside one of the artist's masterworks.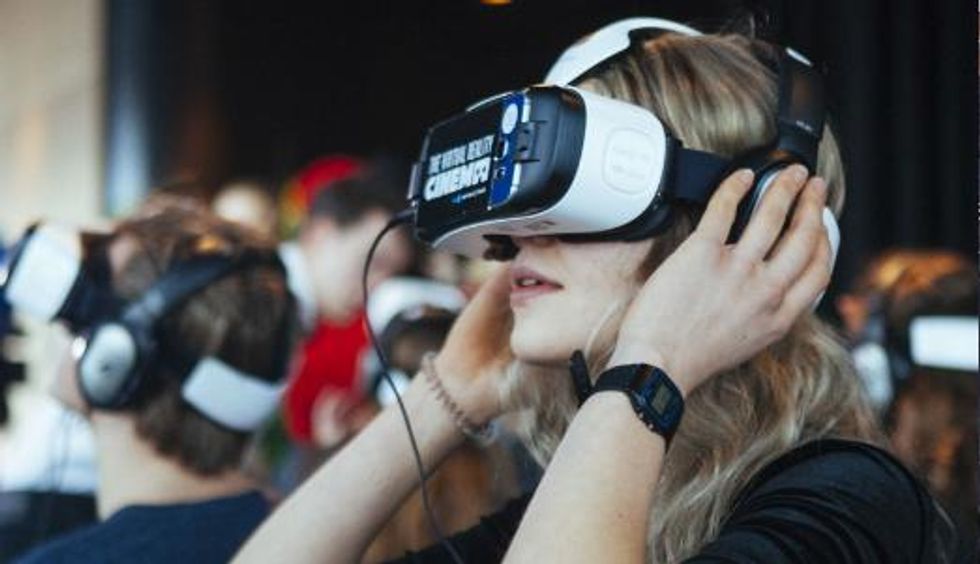 At Amsterdam's VR Cinema, there aren't seats or even a screen.
VR movie night
Amsterdam argues this is the first VR movie theater in the world. (Know of another one? Do tell.) But at the Virtual Reality Cinema, patrons get issued a Samsung Gear VR headset, plus Sennheiser HD 201 headphones for the full immersion experience. Someone's phone rings or eats popcorn too loudly? You'll never know. There are usually three 30-minute films to choose, a horror flick, a documentary and then something for the kids. Tickets run about $14.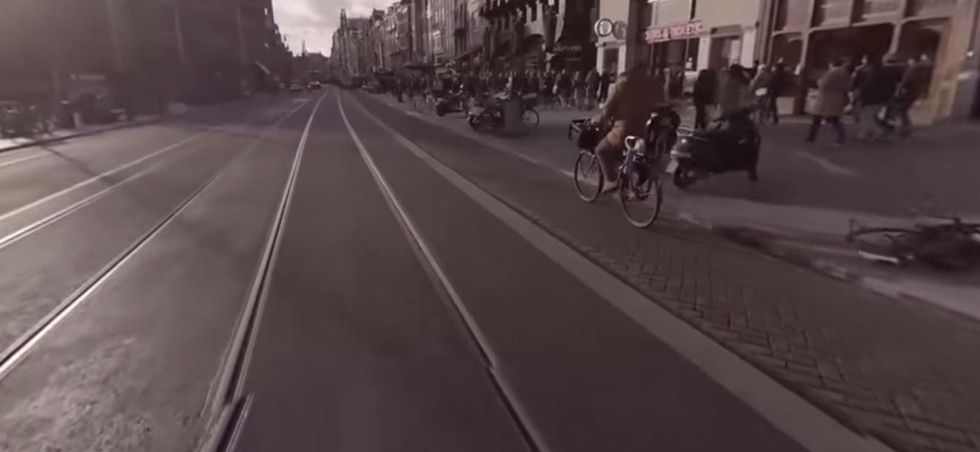 Bike Amsterdam virtually on some unusually quiet streets.
Biking Amsterdam's streets
Finally, you can't fully experience Amsterdam without riding a bicycle along its cobblestones and across its myriad bridges. While daunting, riding a bike with locals give you a true view if the city. This 4-minute 360-degree video takes you on a bike ride, with a boat ride on the canal tossed in at the end. You don't get a true traffic feeling of riding in a throng of other riders. In fact the streets seem surprisingly quiet. But that's probably good—you see more of the city and you're likely feel less intimidated to rent a bike when you actually visit.
Like GearBrain on Facebook