Like GearBrain on Facebook
Pros of CarPlay: CarPlay is a simple interface with iPhone iOS style that is easy to see and operate in cars. Siri makes voice commands work extremely well. CarPlay offers excellent, phone, messaging and music integration.
Cons of CarPlay: There is a limited number of apps. Some will prefer other mapping apps. CarPlay lacks direct integration of appointments into maps.
Pros of Hyundai Elantra Limited Edition and CarPlay: Great 8" touchscreen, superb audio sound and steering wheel buttons.
Cons of Hyundai Elantra Limited Edition and CarPlay: Only the iPhone 5 or iPhone 5S fits easily into the compartment where the USB connection is located. There is space in the center console between the seats to store the phone. However, the cup holders are located between the USB compartment and the center console which could cause problems if cables or devices fall into uncovered drinks.
CarPlay integrates Apple's ecosystem into cars. It is a simplified version of the iPhone operating system (iOS) that runs on the iPhone with a Siri voice or touchscreen operation. Hyundai Motors is supporting smartphone ecosystems in its vehicles and ended installation of CD players with the 2016 model year and recently updated many compatible 2016-2017 Hyundai models to use CarPlay.
GearBrain tested a 2017 Hyundai Elantra Limited Edition for Android Auto as well as Apple CarPlay, as we continue to evaluate ways consumers can connect online while in their cars. The CD player was not missed because almost all CD music can be copied onto a phone or USB drive to be played in the vehicle. In fact, once an iPhone was connected to the Hyundai Elantra USB, playing music on the iPhone was easier than playing a CD because Siri is very helpful for playing music and podcasting.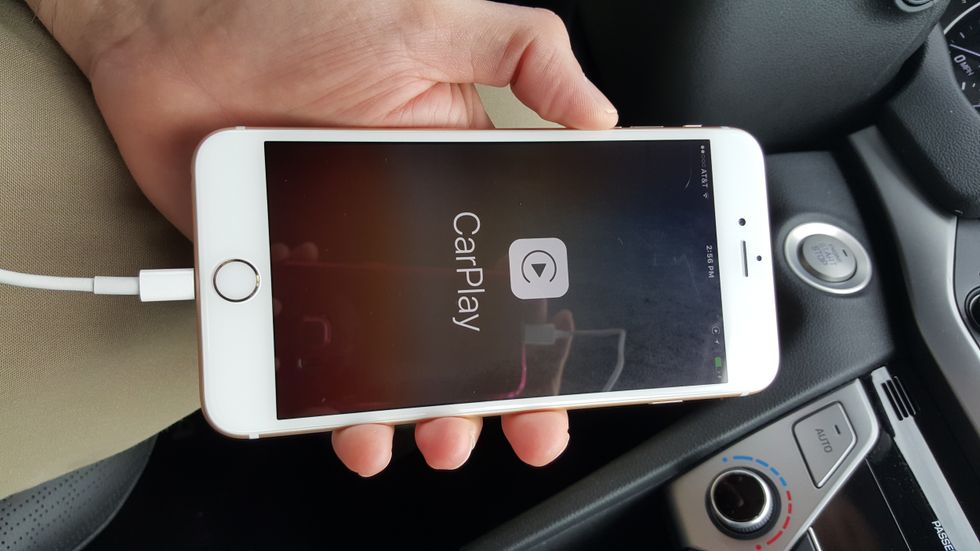 CarPlay
Overall, CarPlay follows its Apple reputation, it's simple, clean and it works, except for a few minor glitches.
Installation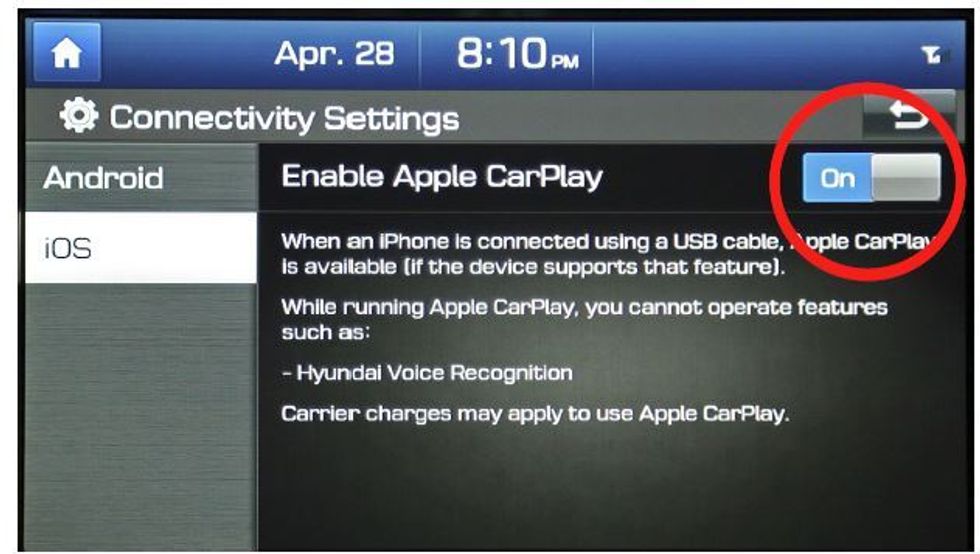 CarPlay connects simply
The installation of CarPlay is simple "Plug and Play." To setup the Hyundai infotainment unit for CarPlay, from the setup area, tap "Connectivity" and then turn on "Enable Apple CarPlay." The next step is to connect an iPhone with the latest software update and certified Apple Lightning cable to the USB port. I connected three different iPhones to the Hyundai Elantra and they all worked seamlessly connecting with just one permissions request and then connected every time. All that is needed is to tap 'Yes' and that's it.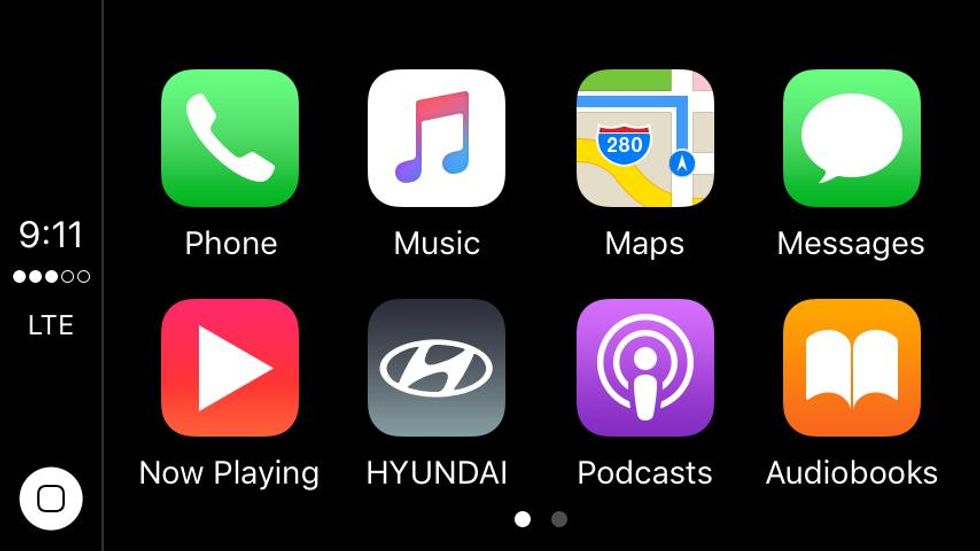 CarPlay home screen
On the Hyundai home screen, a CarPlay icon appears. A tap on the icon launches CarPlay with large easy-to-see icons for Phone, Music, Maps, Messages, Now Playing, Hyundai, Podcasts and Audio Books. The other music apps appear on the second page by swiping towards the left.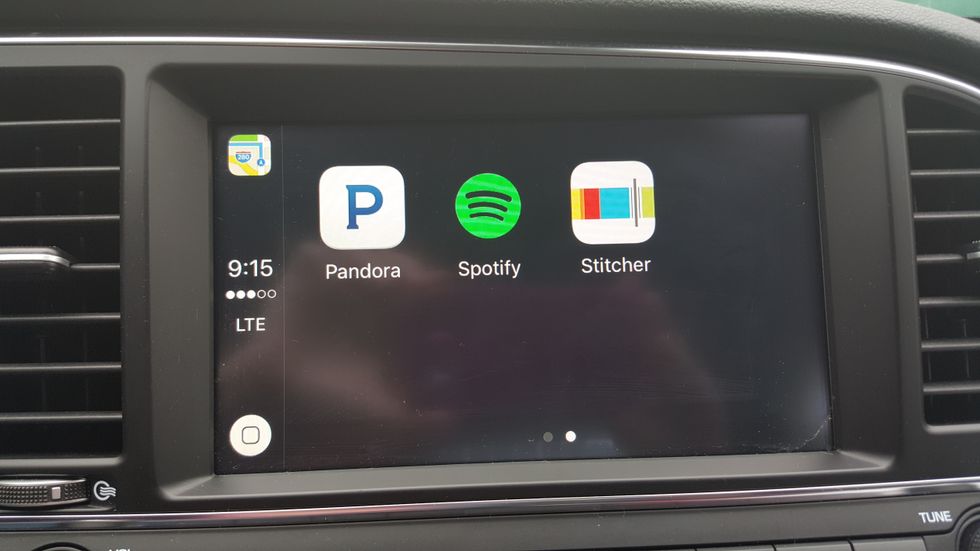 Music services at work on CarPlay
The entire interface of CarPlay to Apple users is just like going home to any other Apple product. There is an obvious home button on the right side, closest to the driver, to use like the home button on iPhones. Whenever you're in a particular app to go back to the main screen, tap the home button. Most of the commands that you use for Siri work within CarPlay. Siri must be enabled on your iPhone for CarPlay to work. Go to 'Settings' > 'General' > 'Siri.'
Siri is serious about helping
The voice assistant, Siri is instrumental to the success of CarPlay. Siri knows about you from your iPhone use but also knows what questions to ask. For the most part, almost every action in CarPlay can be completed by pressing the steering wheel voice button and telling Siri what to do.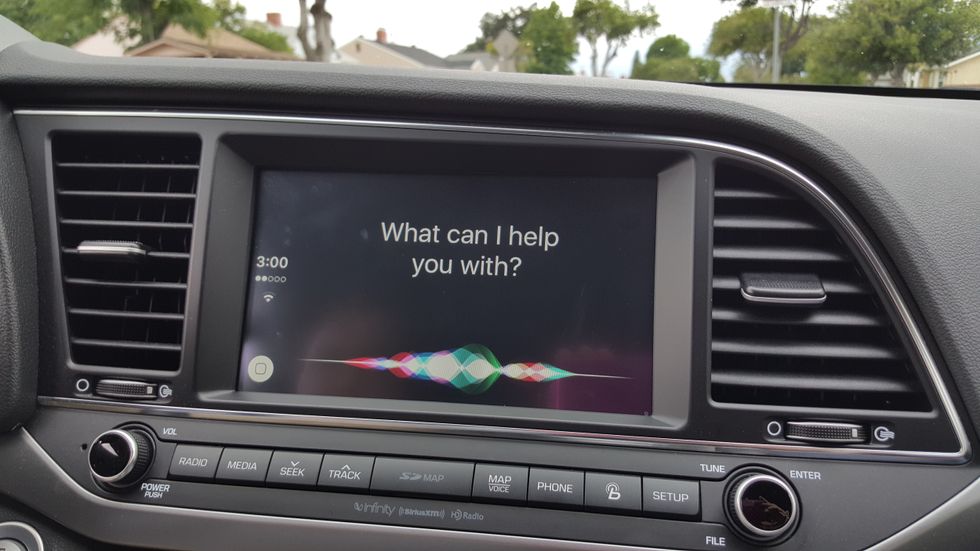 You can ask Siri for help through CarPlay
Maps, locations and searching
Mapping in CarPlay is simpler than Android Auto. You can ask Siri for directions to Disneyland and the mapping feature launches with route options to tap. You can't pinch and zoom on the map but can perform a two-finger twist to see another angle.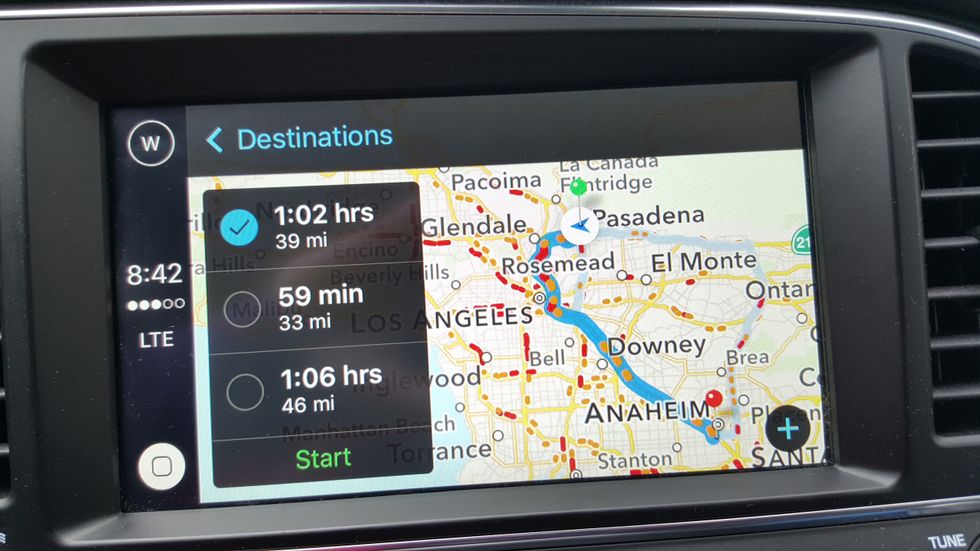 CarPlay can route you to Disneyland
The mapping function is pleasant in CarPlay because the colors are not strong and the voice that guides you is fairly gentle. There is limited zooming using the 'plus' and 'minus' buttons on the screen. There is an option to show traffic. While driving with CarPlay directions, I found that I seldom needed to look at the map screen.
Swiping across the top of the map screen offers a destination menu that gives different information about recent destinations and different types of places 'Nearby' (Gas, Parking, Food, Coffee and Markets) like you see on your iPhone. When you ask Siri to find different restaurants, she will say the rating of the restaurants and price range.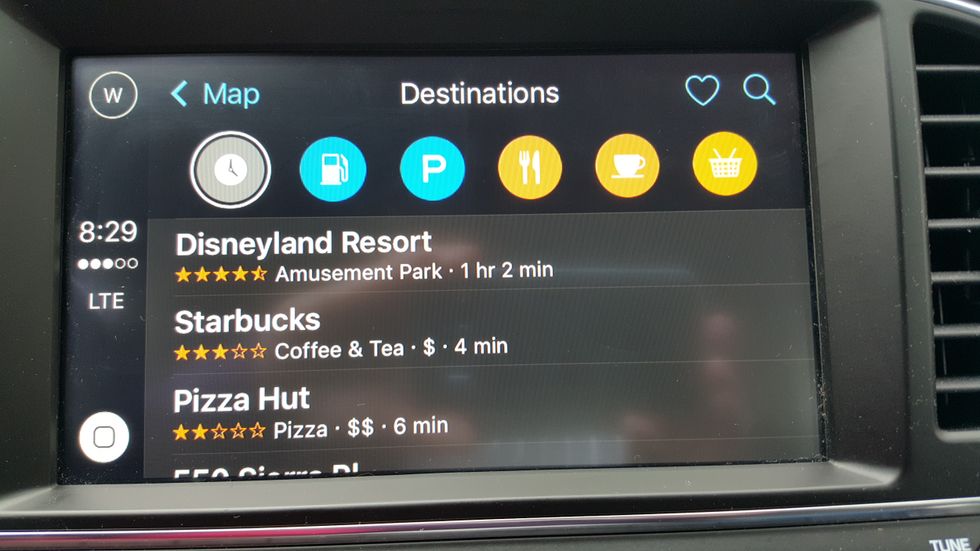 CarPlay will bring up a menu of destinations
Google Maps and Waze fans tend to hate Apple Maps even though it has improved greatly. If you are adamant about arriving within two minutes of the original estimated arrival time, Apple Maps may not be your best choice. Those of us who formerly relied on paper maps and a massive map book, the Thomas Guide, that covers Los Angeles will find Apple Maps thousands of times better.

Siri will look up destinations for you, too, such as "Directions to Acme Automotive." This will retrieve the last listing that Apple uses for its data. Siri did have trouble finding my mechanic because he moved and changed the name. After I entered his new location, name and address into contacts she knew how to give directions and call him.
For the most part, Siri speaks well and understand American English. While I was in the Hyundai Elantra with CarPlay running, I told Siri "Find me an "El Pollo Loco." In Southern California we say it with Spanish phrasing "poy-o." She pronounced it back to me as "Paulo Loco". El Pollo Loco is a quick-serve chain mainly in California, Nevada and Utah that serves flame broiled marinated chicken with Mexican-style sides like beans and tortillas or more healthy sides.
Siri showed me a list of El Pollo Loco restaurants that I would have to tap on the screen to select. Instead, I asked "Directions to the closest El Pollo Loco," which automatically launched the map and directions to the nearest location.
Leaving your iPhone in the car connected to CarPlay = bad idea
Because I was too lazy to disconnect the cable when I went into the El Pollo Loco, I left the iPhone 6S in the car and also when I ran some errands. The iPhone was fine because it was only a few minutes at night. I learned the hard way not to leave any touchscreen device in the car during warm weather which destroyed an iPod Touch (which is essentially an iPhone without the phone) with my own car. According to Apple, "Store the device where the temperature is between -20º and 45º C (-4º to 113º F). Don't leave the device in your car, because temperatures in parked cars can exceed this range."
As we noted the Android Auto Review it is a good idea to just buy some extra Apple Lightning cables keep them in the car and plug them in and out and take the iPhone with you.
Phone functions
When you tap the phone button on the steering wheel, Siri asks, "With whom would you like to speak?" If I ask her to call "Annie" and there are two number numbers she'll ask "Home or mobile?"
If a business isn't in your contacts Siri will ask if you would like her to look it up. The phone functions are similar to functions on the iPhone and most car infotainment systems screens, and are 'Favorites,' 'Recents,' 'Contacts,' 'Keypad' and 'Voicemail.' The Phone area lists all the contacts that you can scroll through. You can even add a call for a phone conference or talk to two people at once. Voice quality of the calls in the cabin and heard by call recipients was great.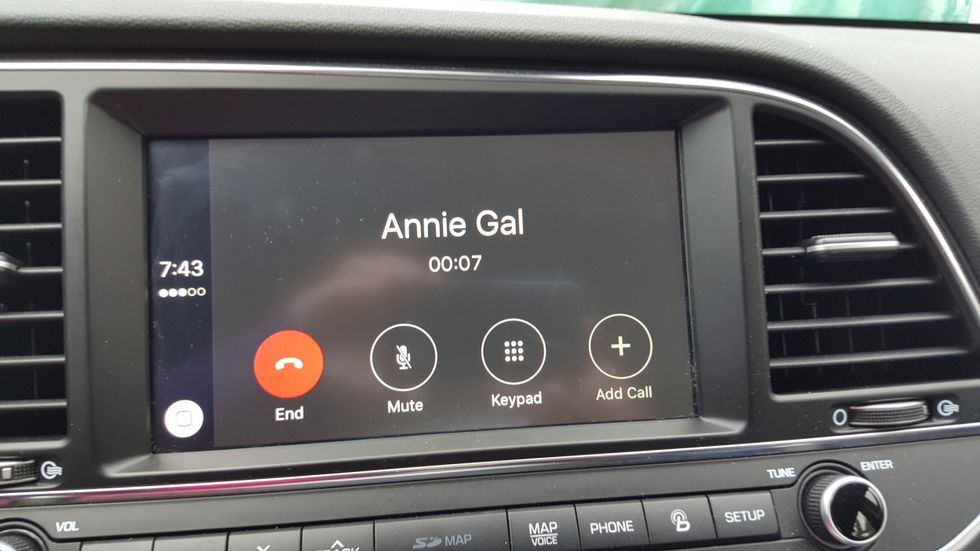 Using CarPlay to make calls
There is one quirk. When I hung up the iPhone either by the red phone steering wheel button or tapping on the screen the main screen changed back to the Hyundai home screen and I had to relaunch CarPlay by tapping on the screen.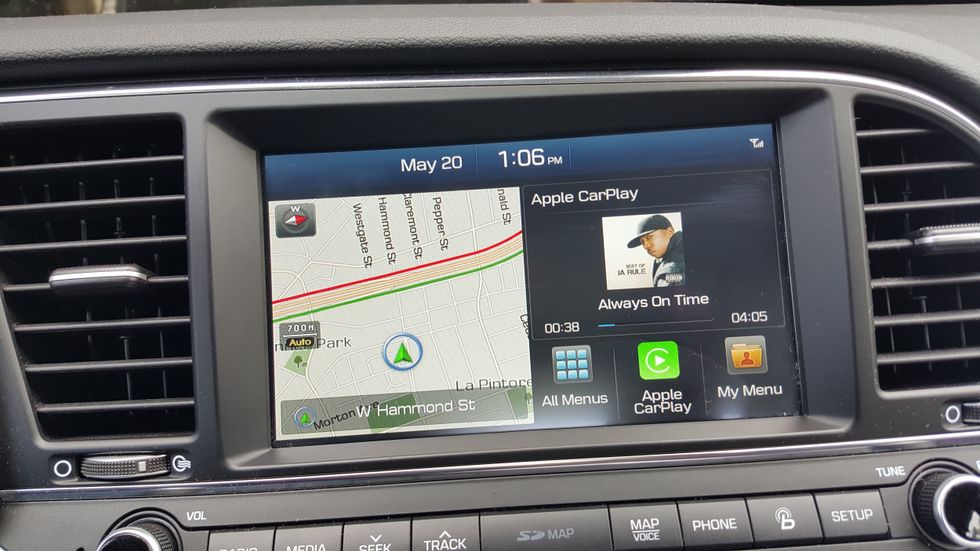 CarPlay had to relaunch after handing up a call
Music apps
Playing music apps is very simple. Just tap the music button and you can play all types of iTunes and Apple music. The display looks similar to other versions of iTunes and Apple Music. I was able to easily copy my iTunes music onto an iPhone 6S with the latest version of iOS and playing music was easy. If I was playing a song in Apple Music on my way to the Hyundai Elantra, when CarPlay is tapped, the song automatically launched.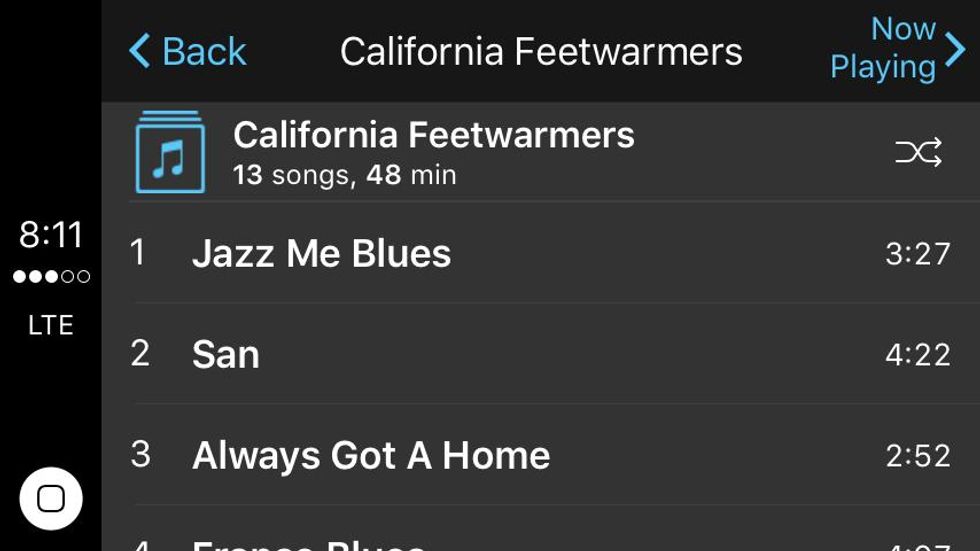 CarPlay launches a song if you tap on the screen
What I like about Siri is her language is simple and without having to look up commands I intuitively knew what to say. The term "Open (app name)" will open any app on the screen such as Music, Pandora, Stitcher or Spotify.
The steering wheel buttons for forward and back work fine with Apple Music. The up button on the steering wheel for advancing songs (not the down button) worked in Spotify, Pandora and Stitcher. In each music program, tapping through menus to find what you want.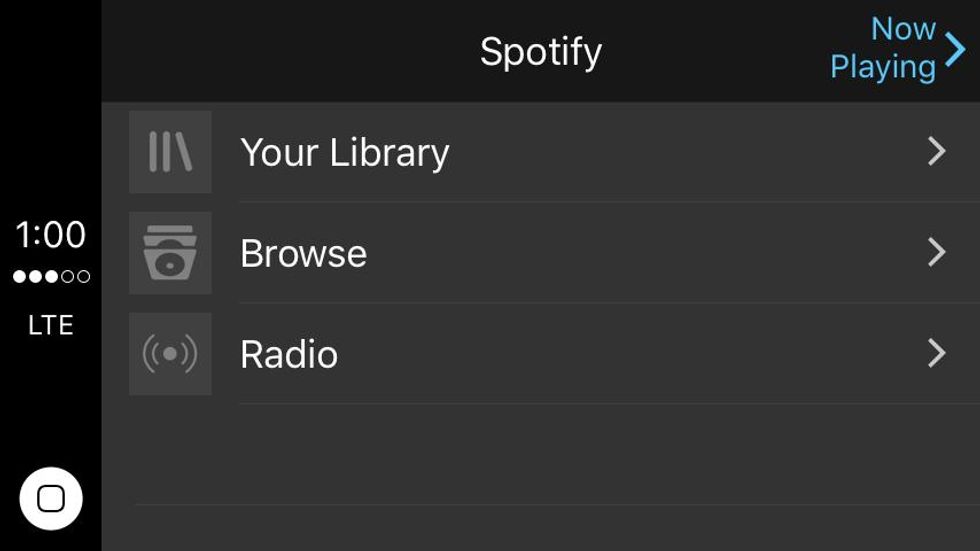 Your Spotify account can be accessed through CarPlay
There is a separate icon for 'Podcasts' and playing the podcasts were just as easy as music.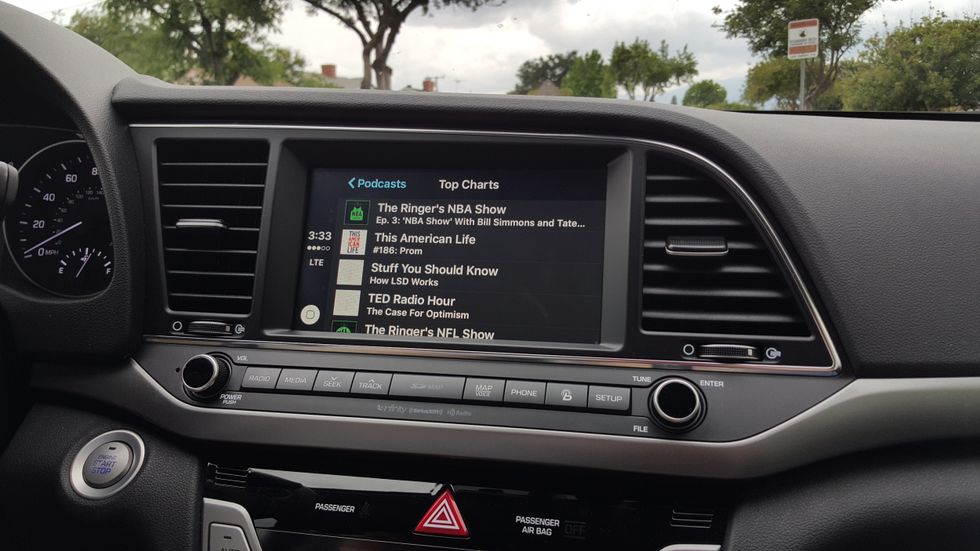 CarPlay can also play podcasts while you drive
On different iPhones the music functions for podcasts, music, Spotify, Pandora and Stitcher all worked well. I had only one problem while switching through different music apps. The screen froze, I corrected the problem on the iPhone 6S itself by turning off and then on Spotify.
A nice feature of CarPlay is the huge 'Now playing' button on the main screen, you can easily see or tap while driving. The non-reflective glass 8" touch screen in the Hyundai Elantra along with the large icons make using CarPlay very easy to see. Of course, you can ask Siri, "What's playing?"
Music quality through the speakers was better than most because the Hyundai Elantra Limited Tech Package ($2500) has Infinity premium audio with eight speakers, including a center channel and subwoofer. Clari-fi Music Restoration Technology makes even the most compressed MP3 music files sound full and more like live music. The music quality was also good for the radio which played fine while using CarPlay for maps or other non-music features.
Messaging, emails & social media
Messaging is where Siri and CarPlay shine in the car because Siri asks questions automatically wondering what I wanted.
When I said "Send text message to Jane Smith," Siri asks, "What do you want to say to Jane Smith?" Then she read back to me the message and asks "Are you ready to send it?"
If I said "Yes, Siri, sent the message," there was also a spread across the screen, three options, "Review," "Change" or "Send" just in case what Siri says back is not correct.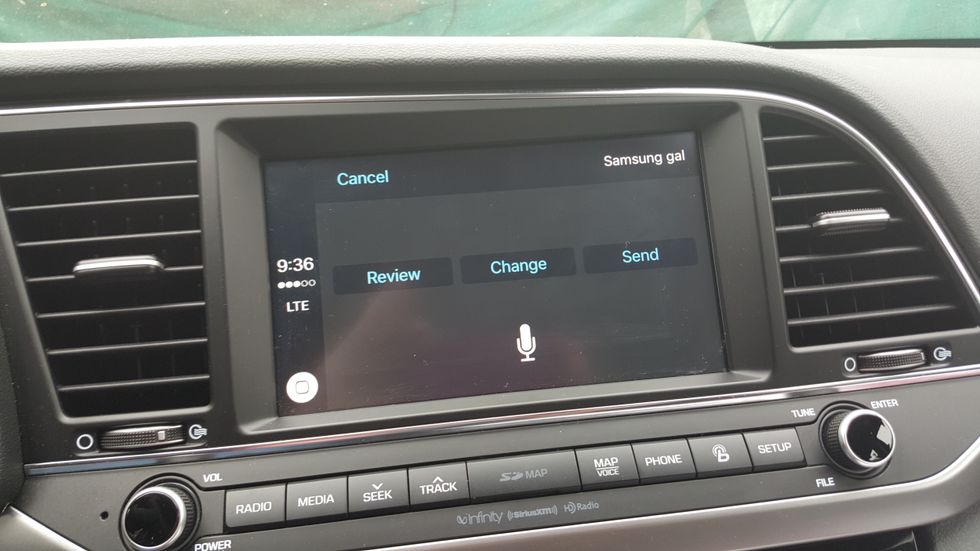 You can review a text before sending it on CarPlay
When a text message arrives there is a notification on the screen and then a number appears on the 'Messaging' icon. After tapping the icon a list appears with contacts with blue dots next the contacts with un-read messages.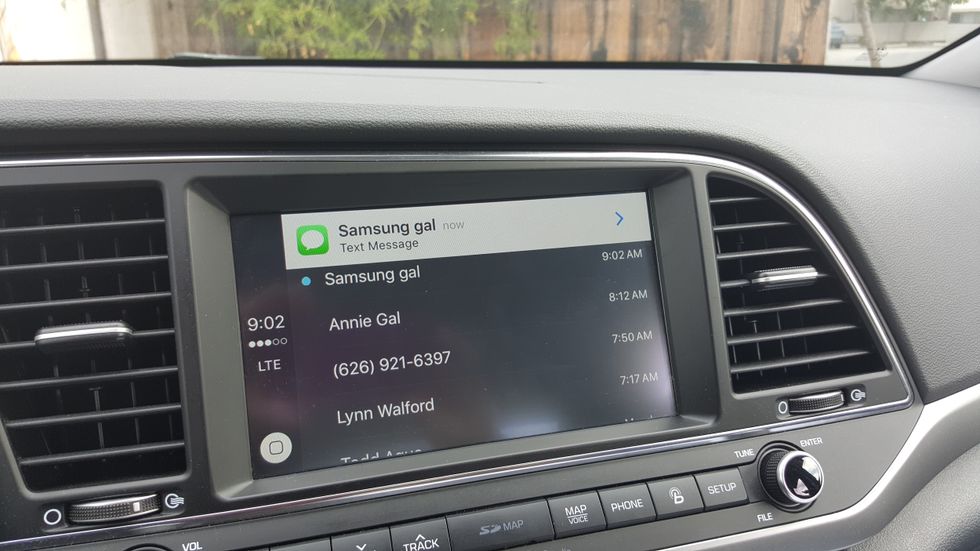 I didn't even notice the screen. All I did was ask Siri to play back my most recent text messages and she did.

The messaging part of CarPlay is actually very deep if you know what questions to ask. For example, we plugged in my neighbor's iPhone who has college-age and young adult daughters. He asked Siri to play back all the messages from one daughter and several messages were read out loud.
When I asked Siri to send and read my most recent emails and she did that too without me even having to worry how to phrase it or what to do it. Although not designated by the screen options, Siri will send, play and reply to email messages from email addresses that are on the iPhone.
After I installed the Twitter app. Siri tweeted for me too.
I'm testing CarPlay in a Hyundai Elantra.
— Lynn Walford (@MobiWriter) May 25, 2016
I assume that Facebook posting is also available because it is a core Siri feature. Unfortunately, I didn't have time to test posting to Facebook.
I was not able to read Tweets or Facebook posts while using CarPlay.
Other CarPlay functions
Although there isn't a screen icon for appointments or reminders, Siri will read out loud appointments or reminders. Siri will set basic appointment information and set reminders like you can do on any iPhone.
Compatibility
CarPlay is compatible with iPhones back to the iPhone 5 as long as the iPhone has iOS 7.1 or newer. However, it is recommended to use the latest version iOS because Apple has made CarPlay improvements. Although an iPhone 5 worked while connected to the Hyundai Elantra, response times were slower for processing intense features such as mapping. CarPlays uses the H.264/MPEG-4 AVC protocol which essentially turns the touchscreen into a monitor while the iPhone processes information. The iPhone 6S and iPhone 6S + showed almost no signs of lagging. If you are considering an upgrade, you will find CarPlay will work faster with newer more powerful iPhones. The iPhone 5 worked fine for most functions.
CarPlay and Siri's limitations
If you ask Siri for something that is not basic information that requires a web search or features she can't do, she'll tell you. For example, I asked Siri "Show contacts"
Siri replied, "Show contacts. Sorry, Lynn, I can't help you with that in the car."
When I asked where I could buy an iPhone, Siri replied, '"A visit to Apple.com would help you, when you are not driving, of course."
Support options
Hyundai offers good introductory videos about CarPlay installation, Maps, Phone Calls, Text Message and Music, or you can call Hyundai support or your local Hyundai dealer. The latest iPhone manual has some basic information for using CarPlay, you can call Apple Care or post problems in Apple support community. However, I found that didn't need to contact support.
In fact, if you ask Siri, "What can Siri do?" while you are connected to CarPlay. She replies "You can ask me to get directions, find businesses, make phone calls, play music and check or send texts and emails. I can show you lots more when you're not driving."
Missing out calendar integration?
One feature I discovered that Siri lacked that Android Auto has is a screen implementation of appointments with a direct link to launch maps/directions. On iPhones, when you set up an appointment you can chose how long in advance to be warned in minutes or by traffic. A message pops up on the iPhone when there is was heavy and light traffic. Once in the car, however, I couldn't say to Siri, "Directions to first appointment."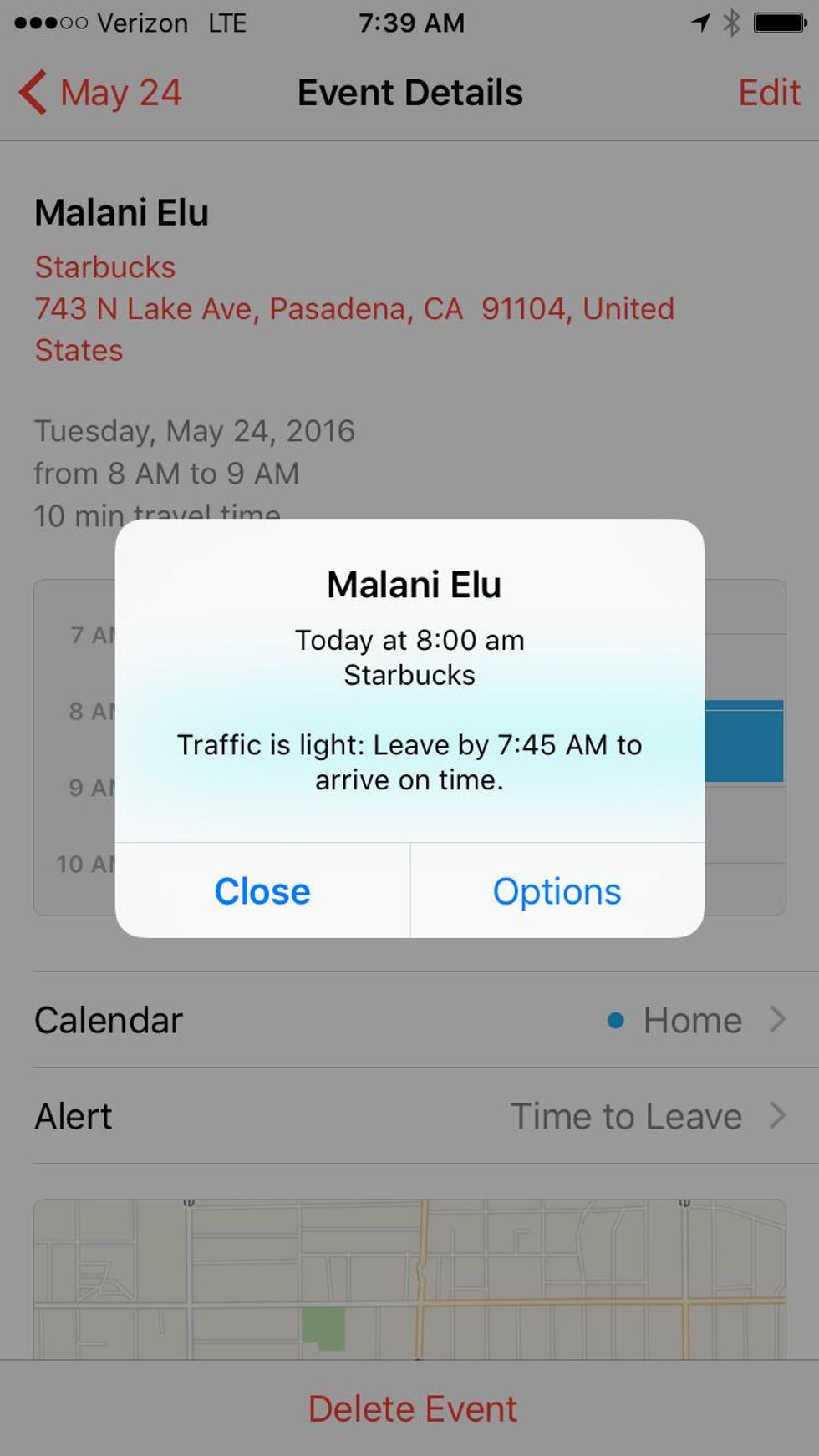 CarPlay will warn you when to leave based on traffic
Another way for instant directions for an appointment is to have the address of the person of the appointment in contacts. Then when I said, "Directions to "Betty Testcase," directions launched automatically. When addresses are in appointments in the calendar on the iPhone a map can be launched directly by tapping the address. There is no similar function in CarPlay.
If we look at CarPlay as part of the Apple Mac and iOS ecosystem it becomes easier to see the best way to operate it. I met a management consultant who has a live human personal assistant. She sets up appointment for him in iCloud. He is warned of the appointment 30 minutes before it and 10 minutes before it on his Apple Watch. I found it was easier to set up appointments and contacts with details in iCloud on a computer and then edit them on the iPhone.
In CarPlay, Siri is able to tell you appointments and the next appointment. However, the connection to maps is nice and I wouldn't have wanted it until I saw the cards on Android Auto.
iPhone storage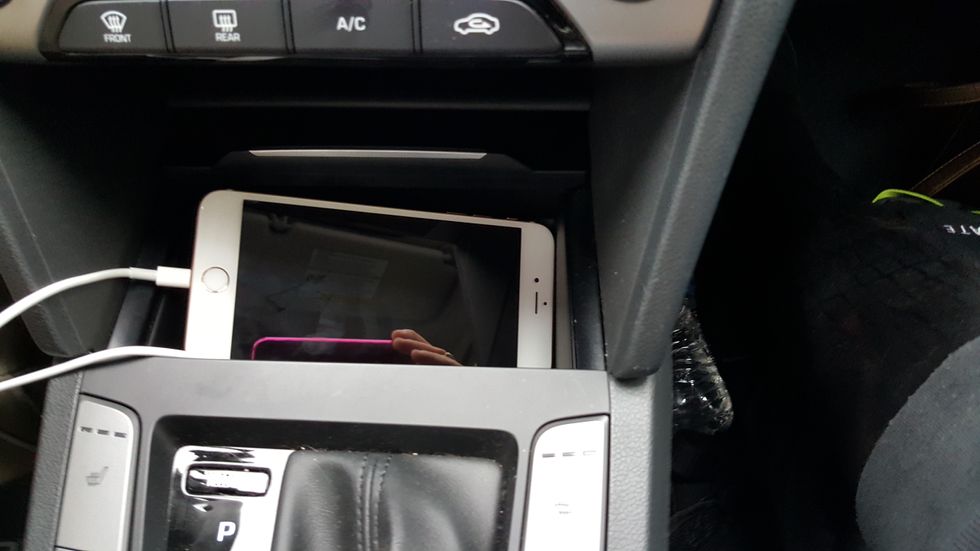 We had difficulty installing our smartphone because of the size of the compartment
We a had a few problem because the compartment provided by Hyundai in the front is too small for an iPhone 6/6S or iPhone 6/6S Plus with the cable connected. The screen on the iPhone remains active while connected to CarPlay, some may want to mount their iPhone on the air vent. The compartment does fit an iPhone 5.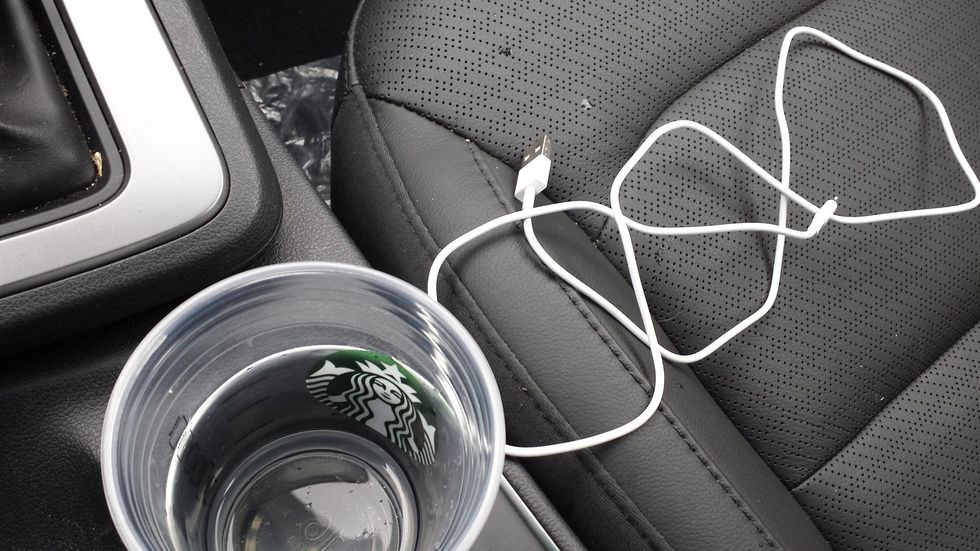 Others may want to store the iPhone in the center console the cable crosses the cup holders. I warned myself to be careful because I had a cup of water in the front cup holder. While pulling out the lightning cable it fell into the cup of water. Because it is dangerous to use a wet cable, I bought a new cable. I suggest using a commuter cup, water bottle or drinks with lids.
Meanwhile, when I wasn't talking to Siri, I found the Hyundai Elantra to be a fine comfortable ride with lots of power to get me to all the destinations Siri told me about while listening to some great music and podcasts with the sunroof open sitting on luxurious leather seats.
From Apple: Using damaged cables or chargers, or charging when moisture is present, can cause fire, electric shock, injury, or damage to iPhone or other property.
Like GearBrain on Facebook