"Who wants a stylus?! You have to get them out and put them away and you lose them. Yuck! Nobody wants a stylus, so let's not use a stylus."
It is safe to say that Steve Jobs, when revealing the first iPhone on stage in 2007, was not a fan of the stylus, as noted above. But times change and his hatred of them didn't stop Apple launching the Pencil for iPad Pro in 2015.
And now, the rumor mill claims the iPhone could soon get a stylus of its own. According to sources speaking to Korean publication The Investor, Apple is working on a future iPhone which would come with a stylus, similar to the Samsung Galaxy Note range.
The unnamed industry source says: "Apple is preparing to launch the phone as early as 2019. It is also in talks with a couple of stylus makers for a partnership."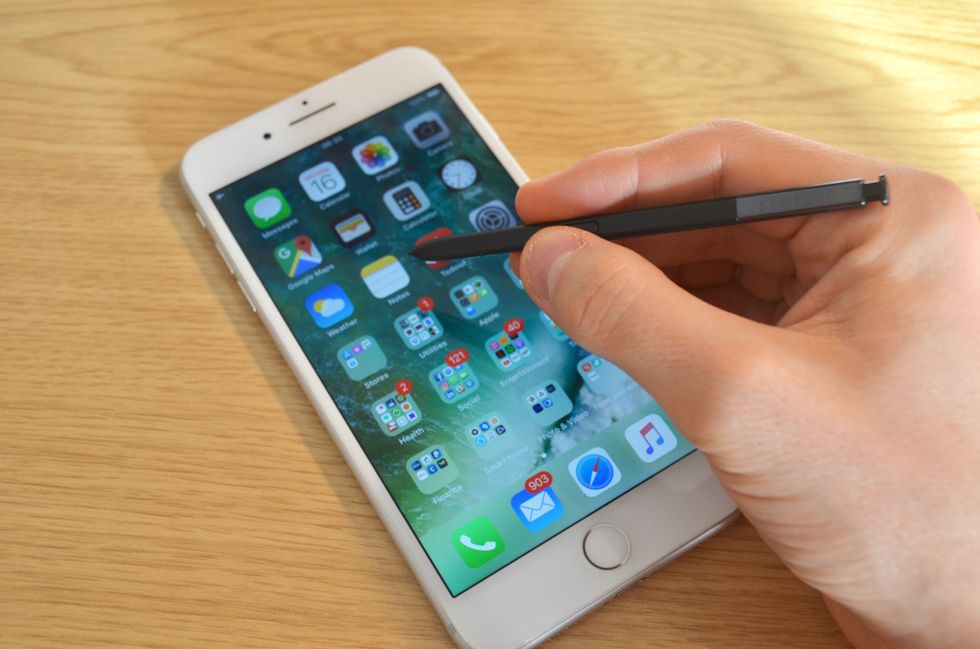 Will Apple design future iPhones to rival the Samsung Galaxy Note?GearBrain
While it makes sense that Apple would consider launching an iPhone which is compatible with the pre-existing Pencil (it doesn't work, before you try it), creating a phone with its own stylus is a whole other kettle of fish. Indeed, it would see Apple enter an entirely different segment of the smartphone market, one which is currently occupied solely by Samsung and the Note range.

But unlike the Note and its electromagnetic resonance (EMR) S Pen, a second source claims Apple is looking at using a supercapacitor stylus, as has previously been used by computer manufacturers like Lenovo. "A supercapacitor type is cheaper to make compared to the EMR stylus. It also offers a more pen-like feel," they said.
If a future iPhone were to ship with its own stylus (or one sold separately, this being Apple), then that handset's version of iOS would likely see some changes to support it. As with the Galaxy Note, this could include apps for sketching and writing notes onto the screen, and more advanced email markup features.