First we heard of Samsung's plans to produce a smartphone with a bending, foldable screen, and now it's Apple's turn for a lap of the rumor mill.
Claims in the Korean technology media claim Apple has tasked LG with creating a bending and foldable screen for a future iPhone. The news comes after a patent was filed by Apple in February this year, describing a folding smartphone with a fabric cover.
Korean publication The Bell, claims Apple has approached LG instead of Samsung Display, which produces the OLED screen for the new iPhone X, over fears that it could leak Apple's plans and screen technology to Samsung Electronics, which produces the Galaxy smartphone range.
But those thinking of holding off on the iPhone X for a folding iPhone will be in for a wait. The report claims Apple isn't planning to put a bending handset into production until 2020. Even then, this will only happen if LG Display can produce the screens reliably and in the massive scale Apple would require.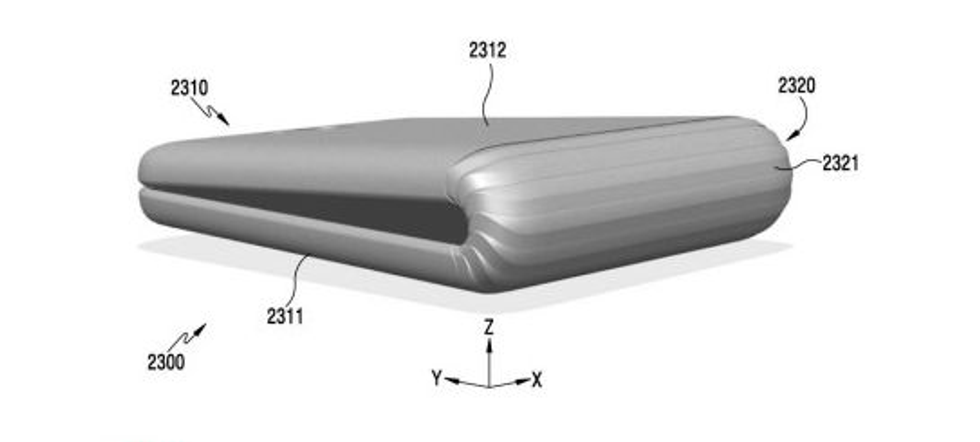 Photo from Samsung patent shows of a bendable phone could fold shutSamsung
If the 2020 claim is accurate, this could see a bending iPhone hit the market a year after Samsung's own folding handset, which has been in the works for some time. Sketches of Samsung's phone appeared in patents earlier this year, and only last month a certificate referring to the handset was spotted at South Korea's version of the FCC, suggesting a production version isn't far away.
Apple is said to be speeding up the production process of the folding screens by investing in the construction of a new LG Display manufacturing facility, called E6. The factory will help LG miniaturize the bendable screen technology it has developed for televisions and digital billboards in recent years.
A display which folds completely in half could see a new generation of smartphones which fold open to the size of small tablets, although it is yet to be seen if such a mechanism would be compact and attractive enough for Apple's notoriously high standards.