Like GearBrain on Facebook
Let's meet the iPhone X.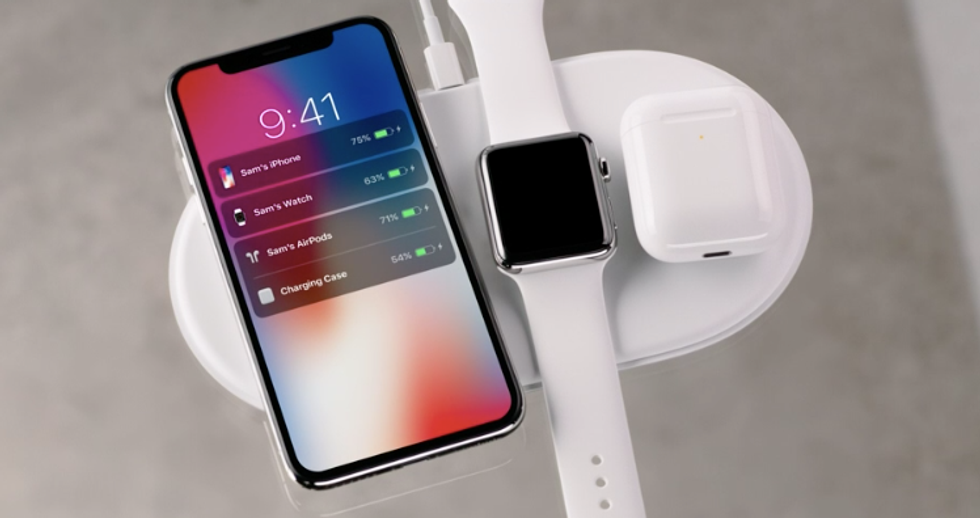 The iPhone X (that's called "iPhone Ten") is an all glass with a stainless steel band. It's water and dust resistant and will come in space grey and silver. And yes: the OLED 5.8" display is edge to edge. This is a Super Retina display — special to iPhone X.
Using the new iPhone X is going to take new gestures. Want to wake the iPhone X up? You can raise it, or tap the screen. The Home button? That's gone. Want to go to the home screen? Swipe up from the bottom.
There will be app shortcuts at the bottom for camera and flashlight. And to talk to Siri you'll tap the side button. This is a lot like the iPad where swiping is the way to navigate that device.
How do you unlock the iPhone X? You're going to use FaceID: This is facial recognition software. Yep, you're going to open your iPhone X with your face. It requires what Apple says has a TrueDepth camera system which has an infrared camera, a flood illuminator, a IR camera and dot camera. It also works in the dark. Apple says it built an A11 Bionic chip with a built-in neural engine.
Apple laid out a challenge saying it can recognize you even if you change your hair style, grow a beard, wear glasses, a hat and so on. "It learns your face," says Apple.
Key for security concerns: the data is not sent to a server. The iPhone X actually requires a user to be paying attention to open the device: you have to have your eyes open. As for hacks — someone opening it who is not you — is about one in a million. "An evil twin," says Apple (joking, we think.)

FaceID will also work with Apple Pay, by opening the iPhone X and then tap to pay. Mint, eTrade will also work among other apps.
Some new toys are coming with FaceID: Animoji. These are animated emoji you control with your face, picking from a dozen different animated emoji (chickens, unicorns, and of course, yes, poop) right from iMessage. They track your face — and look like the killer fun app. You can even record emoji and then sends with a tap into iMessage. Other app adds include face masks that curve around your face in SnapChat.
The iPhone X has dual 12MP TrueDepth cameras with f1.8 and f2.4 apertures. There is dual optical image stabilization, and zero shutter lag, low noise. There is low-light performance. Of course Portrait Mode and the Portrait Lighting feature, which is currently in beta.
The front side camera will also have Portrait Mode and Portrait Lighting: better selfies here people.
And there's a new A11 Bionic chip, which is 70 percent faster than the A10 chip, and has hardware enabled multi-band noise reduction: key for taking better pictures.
Battery life is two hours longer than iPhone 7. And there's wireless charging with Qi-certified wireless charging devices through its glass back. You can use third-party charging mats, but Apple is creating a new wireless charging mat called the AirPower which can charge several devices: an iPhone X, Apple Watch and other devices.
AirPower is not a Qi device, but a new standard, and won't be available until 2018.
The iPhone X can be ordered starting Oct 27th and will ship on Nov. 3rd and priced at $999.
iPhone 8 and iPhone 8 Plus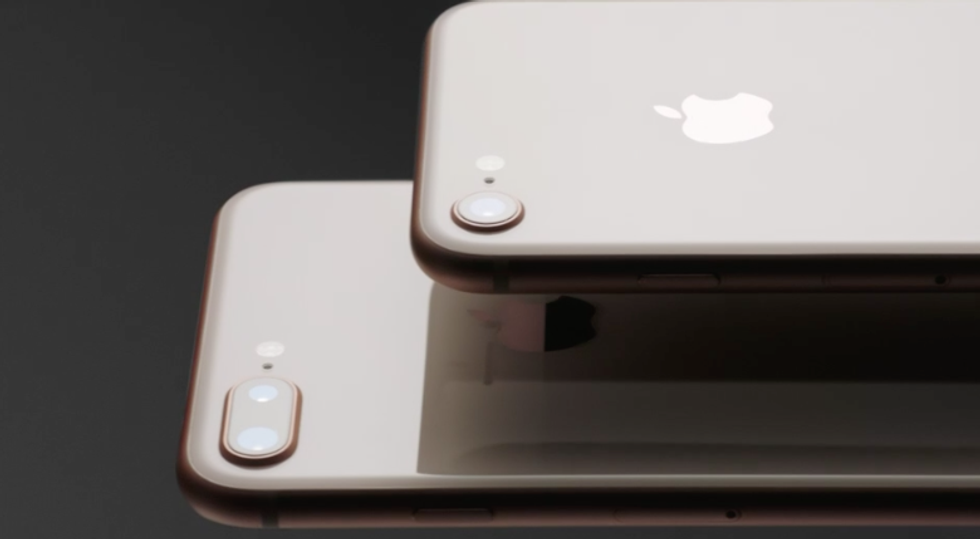 The iPhone 8 has a single camera with the iPhone 8 Plus has a dual camera, comes in silver, space grey and gold finish. There is True Tone display. The new iPhone 8 looks extremely similar to older models, with a 5.5" display and 4.7" display. The glass is supposed "more durable," which everyone who has ever shattered their iPhone should hope is true. Speakers are 25 percent louder.
Inside is the A11 bionic chip, which (of course) is the most powerful and smartest chip ever in a smartphone, says Apple. The chip is 70 percent faster than the A10 chip, and has hardware enabled multi-band noise reduction: key for taking better pictures.
The iPhone 8 Plus will have a two 12MP cameras with f1.8 and f2.8 apertures. There's optical image stabilization and better low-light photo taking ability. The new portrait mode will also have additional effects including Portrait Lighting, which is currently in beta but will ship with the iPhone 8 Plus. You'll also be able to edit the lighting after the photo is taken.
As for video, this has the best-quality video capture in an iPhone, and slo-mo videos have improved, now at 1080p, 240 fps.
The cameras are also tailored for augmented reality, "calibrated" for AR. There are new tools to better handle motion tracking. The iPhone 8 and iPhone 8 Plus will also have LTE Advanced and Bluetooth and the best news:
Wireless Charging with Qi, an open wireless standard.
The iPhone 8 Plus will start at $799 and the iPhone 8 will start at $699. You can start pre-ordering on Sept 15th and available onSept 22nd. And you can upgrade to iOS 11 on Sept 19th.
Like GearBrain on Facebook