At GearBrain we love connected speakers, with their Bluetooth and Wi-Fi making it easy to play music from our smartphones, computers and any other smart device.
But not every speaker is a smart speaker, and many don't have the Wi-Fi connection needed to talk with streaming services like Spotify and Apple Music. This can be a particular problem with older or very high-end audio equipment that favors sound quality over connectivity.
Read More:
Step forward, the Belkin Soundform Connect. This $100 gadget acts a lot like a Google Chromecast Audio, but for Apple AirPlay 2. All you do is connect the small box to your existing speaker or sound system, then stream music from your Apple device to the Soundform Connect using AirPlay 2.
That way, any old speaker you have in the home becomes a connected speaker. You can even ask Siri on your iPhone, iPad, Apple Watch or Mac to play music on the old speaker, and via the Soundform Connect it'll do exactly that.
What we also like about this – and how it improves upon Google's Chromecast Audio – is how it can connect using a 3.5mm audio connection, but also via an optical cable, so it really does cover all bases. You can plug it directly into a speaker, or into an existing audio system, such as a surround sound system, or the Hi-Fi speakers of your turntable.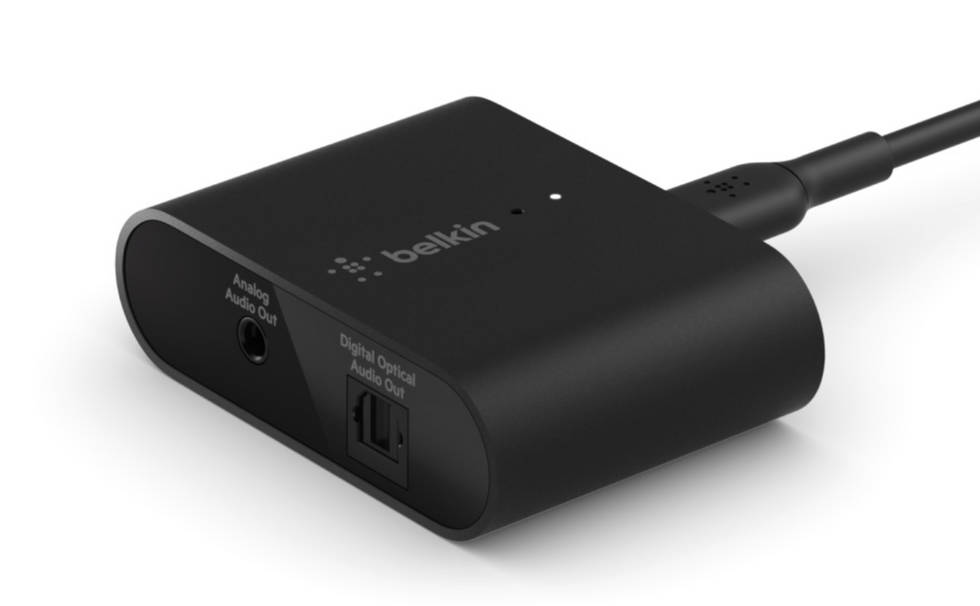 The box connects using 3.5mm and optical audio cablesBelkin
The USB-C powered device can be assigned a name (such as Kitchen Speaker) to make it easy to send music to the right speaker, and Belkin says it supports CD-quality sample rates of 16-bit, 44,100Hz.

You could also buy two, connect them to sound systems in different rooms, then stream the same playlist to both for a whole-home music setup.
We know this isn't the most groundbreaking of smart home devices, but for anyone who treasures their older audio equipment, we think this is a must-buy that adds a lot of convenience to your music listening experience.