Like GearBrain on Facebook
AirPlay is a music streaming system by Apple that lets you easily send music from your iPhone, iPad, Apple Watch or Mac to a compatible wireless speaker, or to several speakers at once.
The system works a lot like Spotify Connect, and how smart home platforms like Amazon Alexa and Google Home let you send music to wireless speakers.
Read More:
As with all of these systems, instead of directly streaming an audio file over a Bluetooth connection to the speaker, AirPlay tells the Wi-Fi-connected speaker where to get the music from. Essentially, your iPhone is sending an instruction to the speaker, which then streams the song from your Wi-Fi router.
With AirPlay 2, which arrived at the start of 2018, iPhone users can send music to several speakers at once and control them as one, or adjust their volume levels independently. You can also ask Siri on any of your Apple devices to play music on any AirPlay 2 speaker in your home.
Below we have rounded up some of our favorite AirPlay speakers. These tend to be more expensive than regular wireless speakers, but we have tried to include options to cover most budgets.
Apple HomePod – $299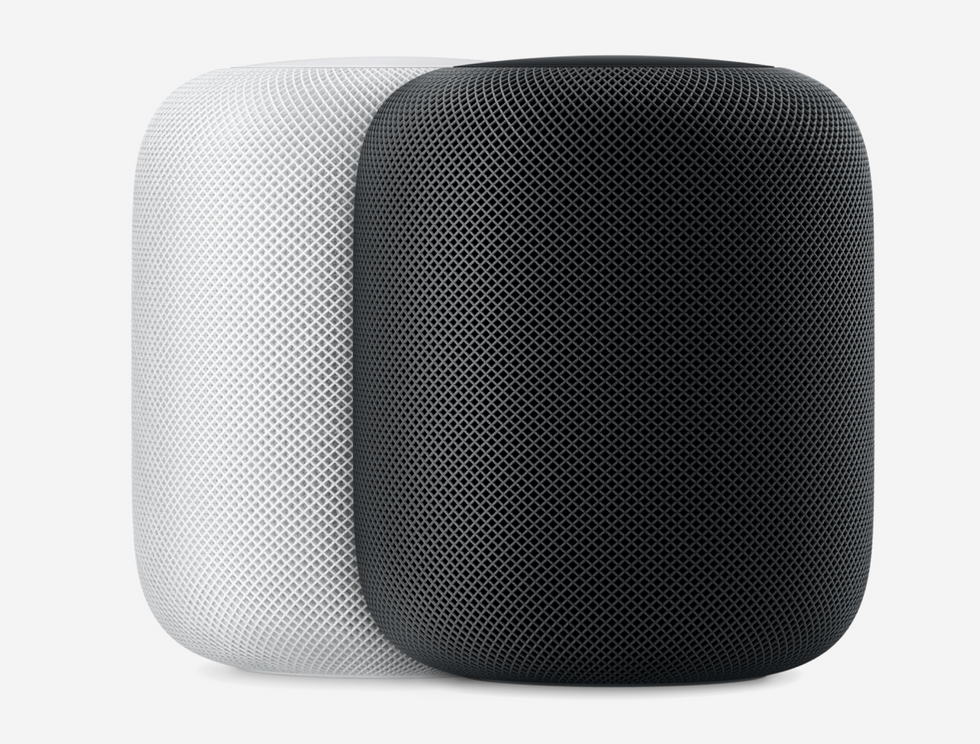 The Apple HomePod is about to get a Dolby Atmos software upgrade Apple
The obvious place to start is with Apple's own AirPlay speaker, the HomePod. Launched back in 2018, the HomePod has Siri for voice control and has grown smarter over the last couple of years. It also taps into Apple's HomeKit platform to act as a smart home hub, and can be used to control a range of devices like smart lights.

Despite lacking the intelligence and some features of speakers by Amazon and Google, the HomePod's focus is on market-leading sound quality, while still being compact. In late-2020 the HomePod received Dolby Atmos support via a software update.
Apple HomePod Mini – $99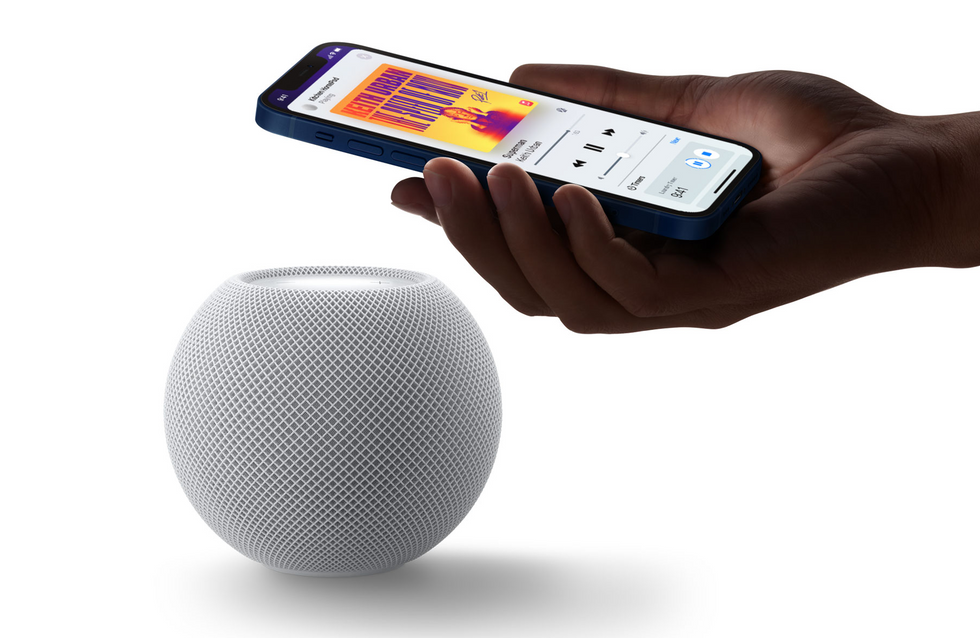 The HomePod Mini has Siri and costs $99 Apple
New for 2020, the HomePod Mini is the same price as smart speakers from Amazon and Google, and is considerably smaller than the original HomePod. It has Siri for voice control and, as with the regular HomePod, several Minis can be added to your Wi-Fi network to create a whole-home music system.

The HomePod Mini can't match the audio output of some other options in this list, but its more affordable price and tiny size make it a good option for bringing music to the kitchen, bedroom, or other smaller areas of the home.
Sonos One – $159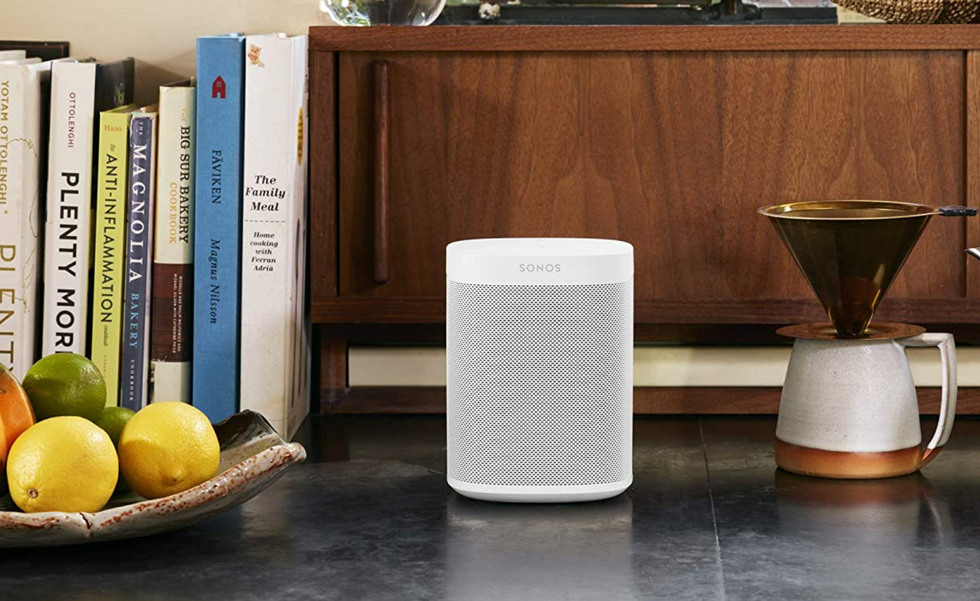 The Sonos One can use Alexa or Google AssistantSonos
A do-it-all smart speaker, the Sonos 1 has been around for a couple of years now but is still a great option for those who want a speaker that does everything. The Sonos One has AirPlay 2 and can be used with either Amazon Alexa or Google Assistant to control your smart home devices.

Compact but with excellent sound quality, the Sonos One's design means it can fit well in small and large rooms alike, and you can create a stereo pair by wirelessly connecting two together. Being a Sonos, you can create a whole-home audio system with other Sonos speakers, or use them exclusively with AirPlay if you prefer. The only feature missing here is support for Hi-Res Audio.
Read the GearBrain review here
Sonos Beam – $399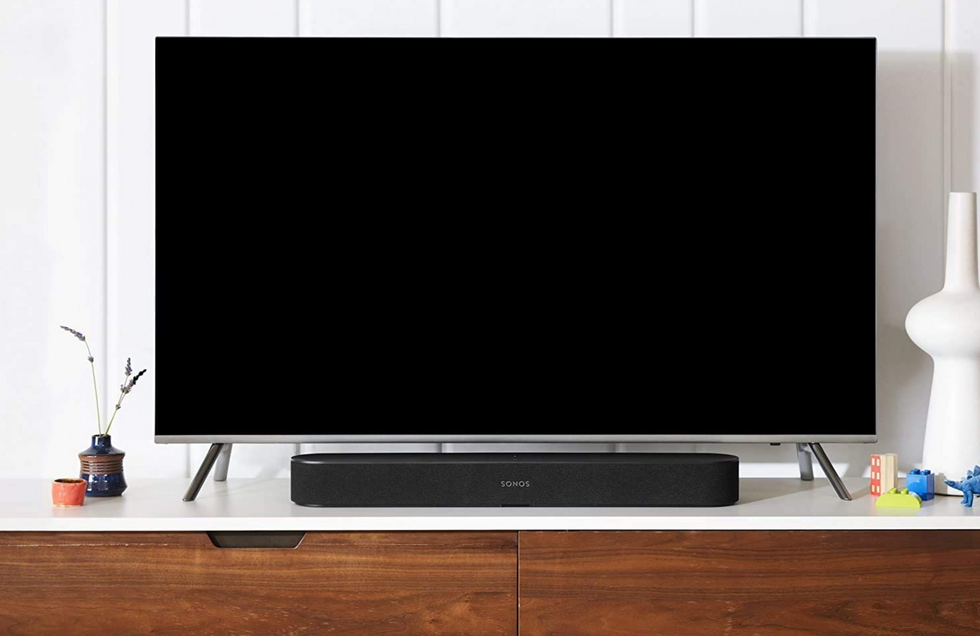 The Sonos Beam sound barSonos
Take the Sonos One and turn it into the shape of a TV sound bar, and you get the Beam. This compact sound bar has AirPlay and all of the usual Sonos features, including support for either Alexa or Google Assistant.

Ideal for use in a bedroom or the lounge of a smaller property, the compact Beam is best suited to televisions of around 32 inches. The Beam lacks support for Dolby Atmos, but otherwise we think it's a great way to bring a sound bar, smart speaker and Apple AirPlay support into your home at an affordable price.
You can also link the Beam wirelessly to a pair of Sonos One or One SL speakers to create a surround sound system.
Read the GearBrain review here
Denon Home 150 – $200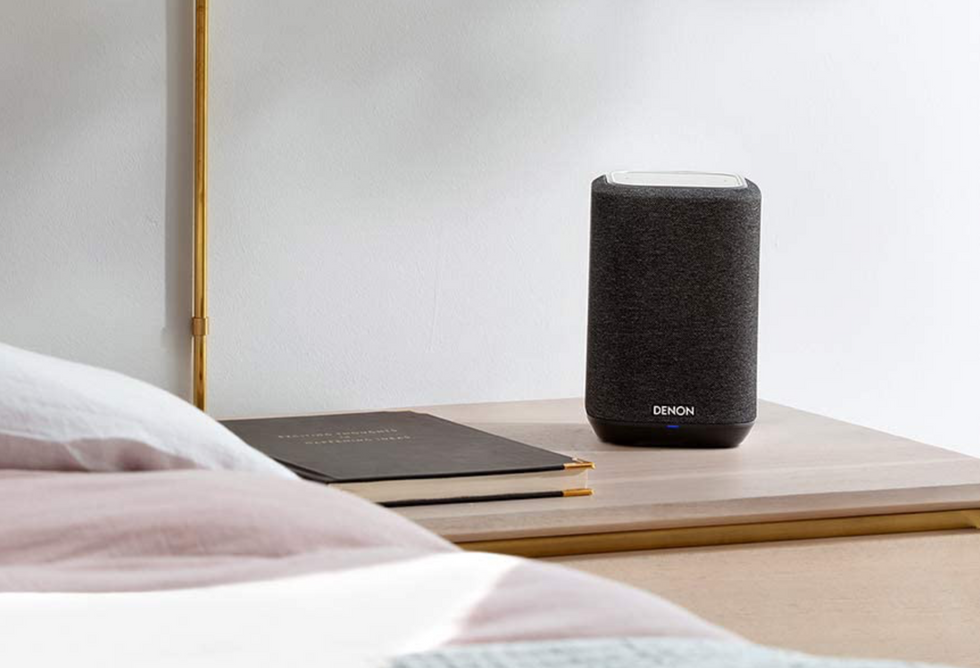 Denon Home 150 speakerDenon
Denon is a top-notch home audio company and its Home 150 is a great alternative to the Sonos One. Compact and subtly designed, the Denon Home 150 can be connected via Wi-Gi, Bluetooth and even Ethernet, and there's an auxiliary input for connecting wired music sources too.

As well as working with AirPlay, the speaker can stream music from Spotify, Tune In, Amazon Prime Music, Tidal and Deezer. The speaker can be wall-mounted, or fixed to a speaker stand, thanks to an integrated screw hole.
Naim Mu-so 2 – $1,690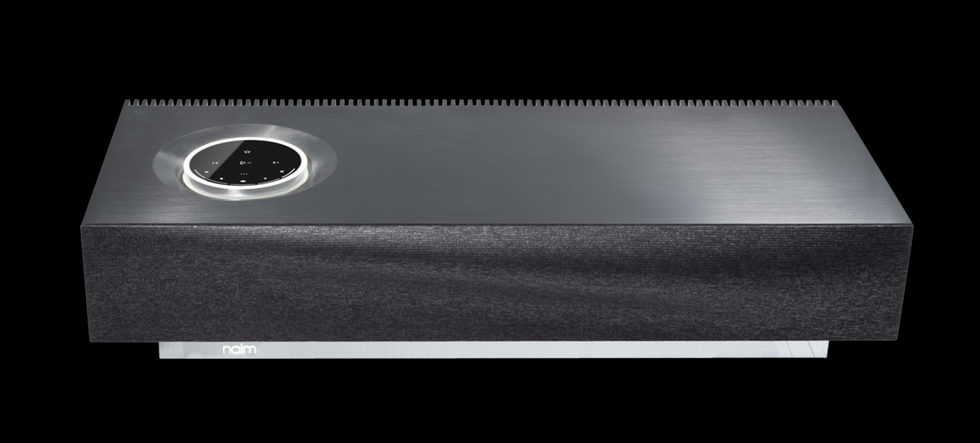 The second-generation Mu-so speaker by NaimNaim
We admit this is a rather expensive option, but the sound quality produced by this speaker is to be heard to be believed. A super-powered all-in-one alternative to a separate Hi-Fi system, the second-generation Naim Mu-so is beautifully designed and includes a wide range of streaming options, including Apple AirPlay 2, Chromecast Built-In, Spotify Connect and Tidal, plus internet radio access, USB and Bluetooth.

This 450-watt speaker can also be used as a TV sound bar thanks to an HDMI Arc connection, and it can handle high-resolution music at up to 32bit/384kHz. With an eye on design, the front panel can be swapped out for one of a different color to better match your room.
If you love the design but are on a tighter budget, the original Mu-so is still available, sounds great, and is currently priced at $899 on Amazon.
Naim Mu-so Qb – $990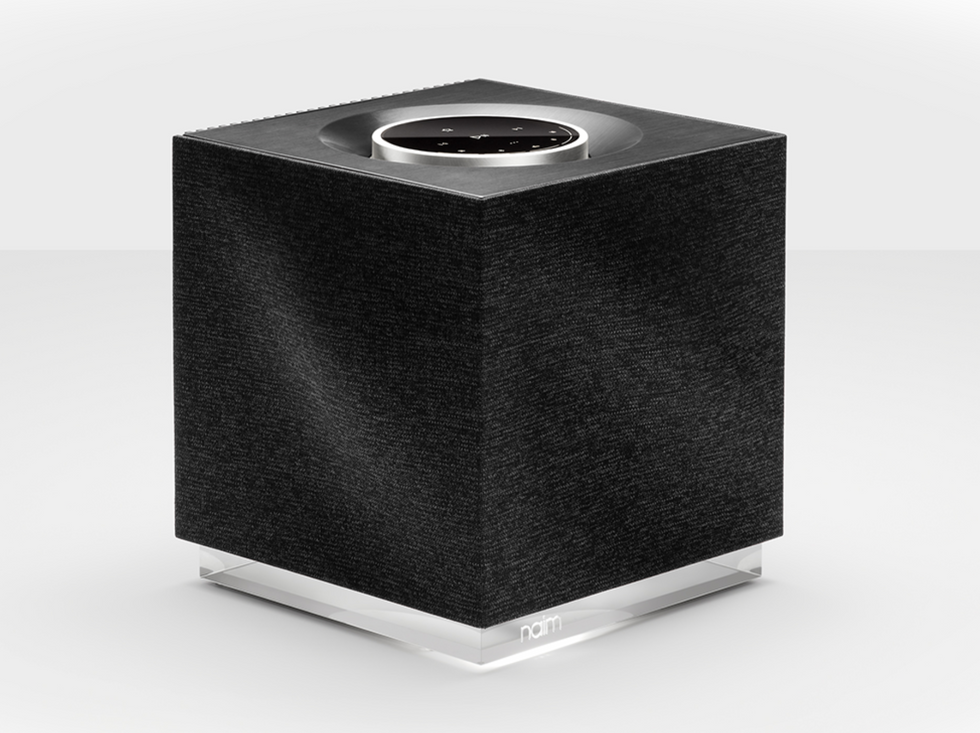 Naim Mu-so Qb 2Naim
A smaller option from Naim is the second-generation Qb. As the name suggests, this is a cube-shaped speaker that is remarkably compact despite the sound it produces, and should sit comfortably on the corner counter of most kitchens, or a side table in the lounge.

The Qb has all of the same connectivity options as the klarger Naim Mu-so mentioned above, apart from HDMI, so can be used with a wide range of music streaming services. If you have a larger budget, Naim's Mu-so speakers can be added to the company's own app and used to create a multi-room sound system.
Libratone Zipp 2 – $249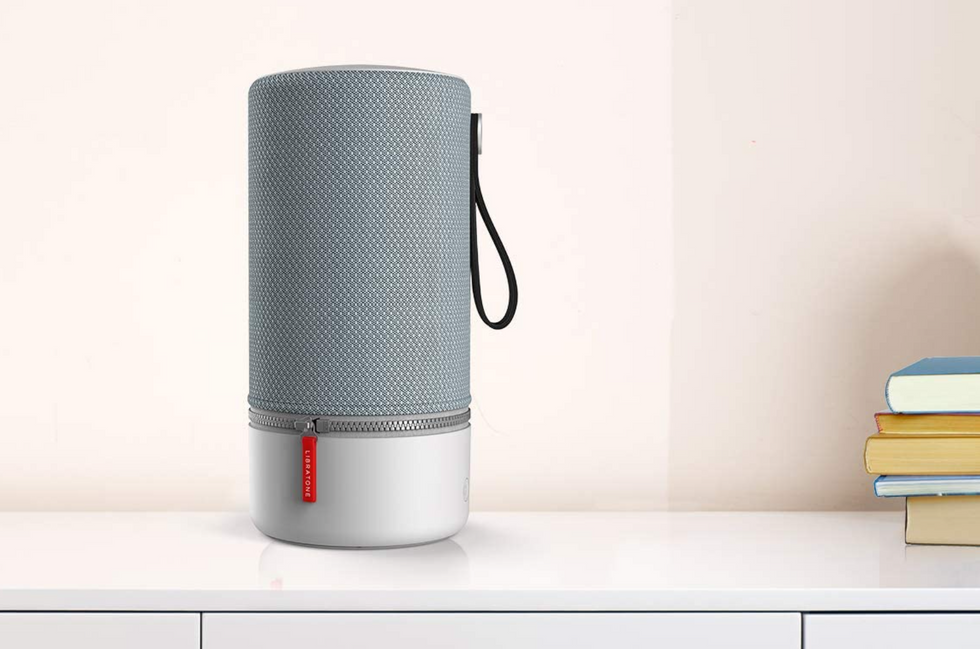 Libratone Zipp 2 wireless speaker has 12 hours of battery lifeLibratone
One of the most compact and affordable AirPlay2 speakers, the100-watt Zipp 2 by Libratone is also portable thanks to an integrated battery with 12 hours of playback potential. Furthermore, it has Amazon Alexa built-in, plus Bluetooth and wireless streaming from Spotify, Amazon Music, Deezer, TuneIn, Pandora and many other services.

The cylindrical speaker is available in black, green, grey and red, while the smaller Zipp Mini 2, which also has AirPlay, is priced at $229 and available in the same colors.
Bang & Olufsen A9 – $3,000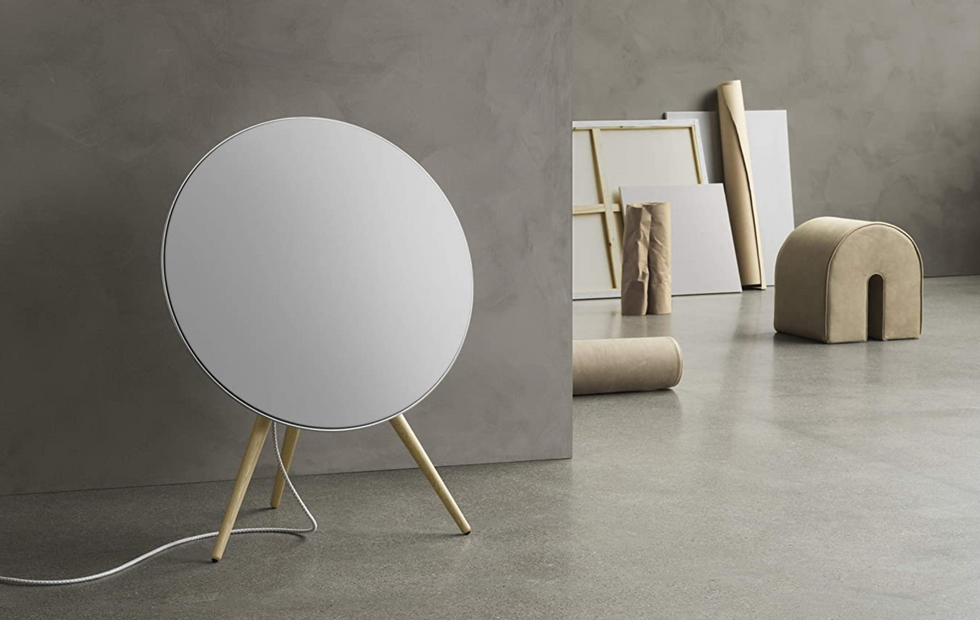 The Bang & Olufsen A9 is a statement-piece smart speakerBang & Olufsen
A speaker that is as visually striking as it is audibly impressive, the A9 by Bang & Olufsen is now in its fourth generation and has a range of wireless connectivity options including AirPlay 2, Chromecast and Bluetooth.

A hugely powerful system sat on three oak legs, the A9 houses one 400-watt woofer, a pair of 200-watt midrange speakers, plus a pair of 200-watt full range speakers and two 150watt tweeters. The A9 is a piece of statement technology if ever there was one.
Like GearBrain on Facebook