Like GearBrain on Facebook
Naim is a British brand known for audio excellence, and the Mu-so 2nd Generation is not an exception to that reputation — and that includes a new edition, one clad in a sustainable Ayous hardwood and finished to resemble lacquered light oak. This thing, in short, gleams.
The new speaker is a full $600 more than the regular 2nd generation Mu-so speaker, and what you're really paying for is this new look. We spent some time with the speaker in our space, playing music ( a lot of music) and here's what we liked — and what gave us pause.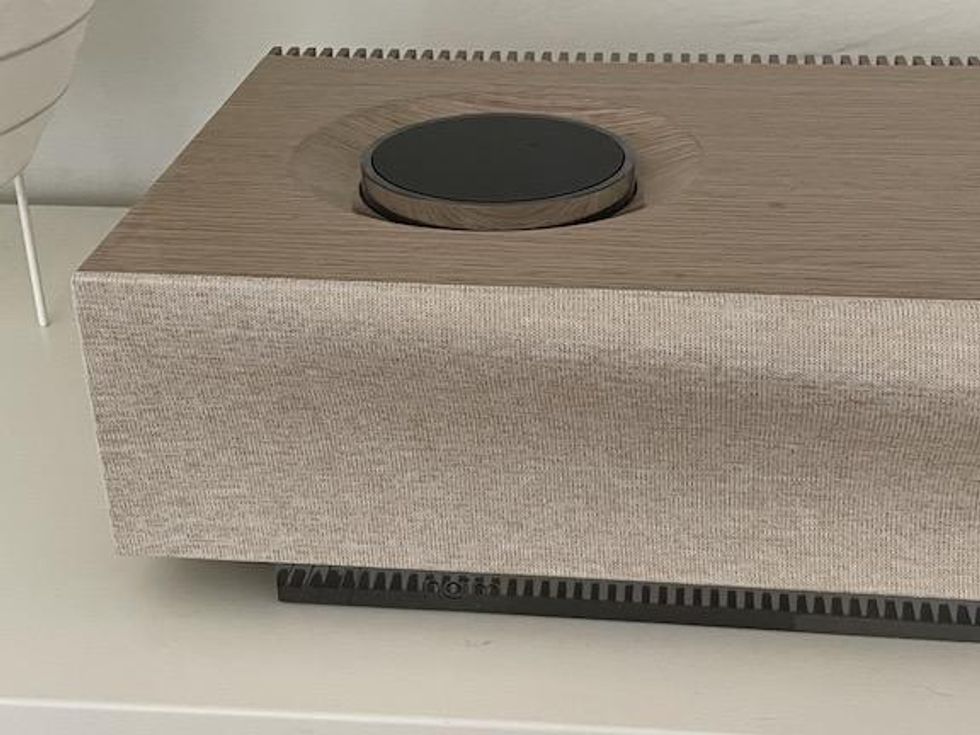 The front of the Mu-so Light Wood speaker features a sand-colored fabric that dovetails with the wood finish Lauren Barack
Design

This is a heavy speaker, and when setting it up we would recommend having two people involved if for no other reason to help prevent any slips which would damage the exterior and design.
The Naim Mu-so 2nd Generation is really crafted with an eye that this will be a stage piece in your home. The front is made of fabric, and it has a wave to it — something that's actually hard to capture in a photo — but adds a dynamic nod to what it's designed to do, push out waves of sound to your ear.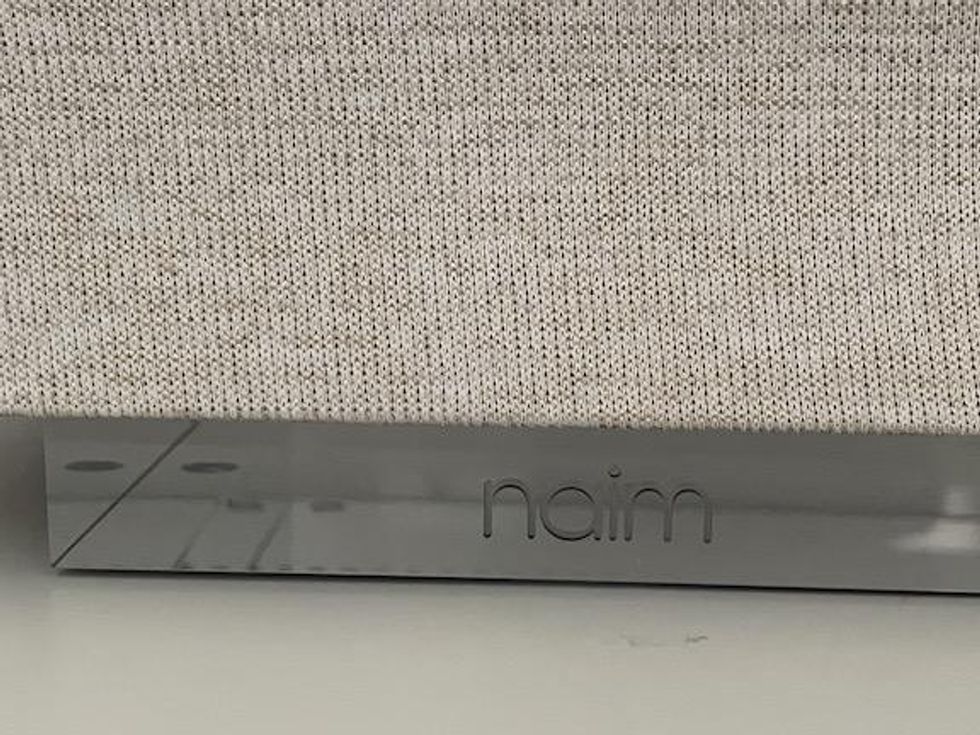 The base of the Mu-so Light Wood is a sliver of silver with the branding just visible Lauren Barack
The sides are made of wood, and the front detailing includes a slip of a mirror with the Naim name on top. Cords are tucked into the right, and there are ports for network cable, analogue and digital input, HDMI and also the power cable. These are tricky to get to without some assistance. This adds a seamless look to the entire speaker, but again consider asking someone to help you get this cabled and ready.

The top is just as well designed, made also of the same hardwood with a control panel that lights up with a wave of the hand, and elegant to see and use. Truly this is a stunning piece, even if it didn't play music, and you're not going to regret having it in your home.
App

You can connect to the Mu-so through just a single Bluetooth connection — which is what I did at first by pushing the Bluetooth symbol on the dial, and then opening my Bluetooth options in the settings of my iPhone.
Fascinatingly, the Mu-so speaker then replaced my existing Sonos speaker — took its name, actually — and started to play. I was easily able to route music from my library as well as from Spotify, the two ways I primarily listen to songs.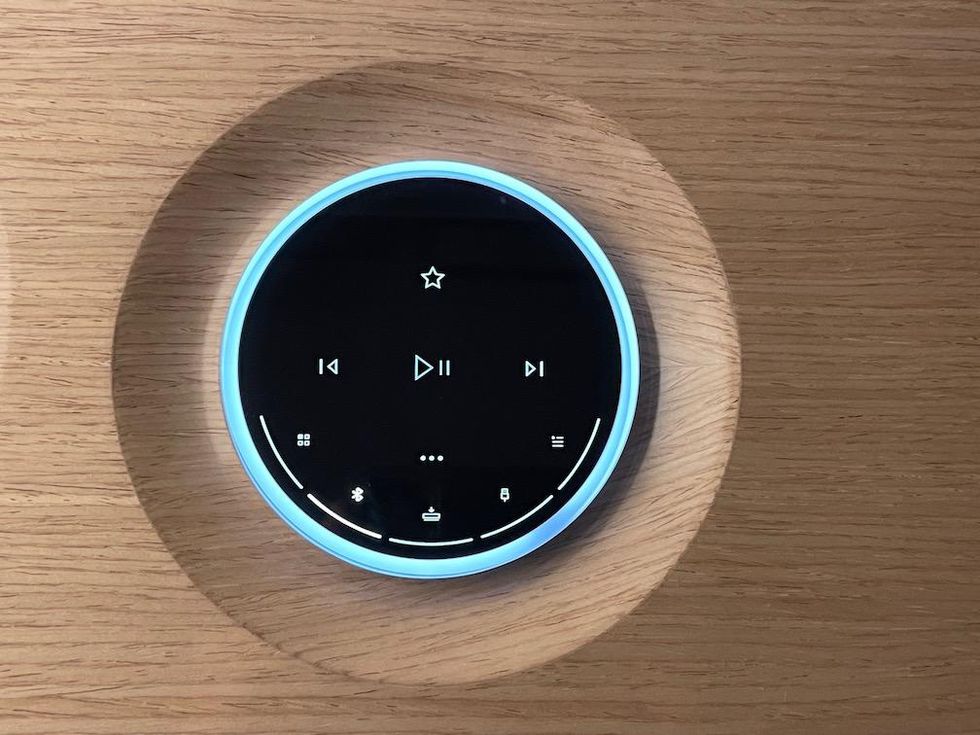 The Naim Mu-so's dial controls appear as you wave your hand over Lauren Barack
But the Naim app is suggested in the quick start guide, and so I downloaded this option as well. The app is not well rated in the Apple App Store and I too had some difficulty connecting the speaker and app to Wi-Fi (it can handle both 2.4GHz as well as 5GHz bands) and to my iPhone. I needed a small tool, not included in the box with the speaker, to reset the Wi-Fi so it could link up to my connection. And I had to try four times before the app could find the Mu-so, and connect to Wi-Fi.

Finally, after connecting to Wi-Fi, and making sure the speaker had downloaded the most up to date OS, the app was running. I was quickly invited to connect the built-in Chromecast to the Google Home app. And that was an easy task.
The app also made available five Internet radio stations in my presets, also marked one through five on the top dial. I was also able to launch directly through the app Spotify and Tidal if I chose. I don't have a Tidal account, so that was less applicable for me.
I could not, however, find my music library within the Naim app on Apple Music — and needed to escape the app to then play anything stored on my actual iPhone.
The app ultimately felt a bit not needed, and I didn't notice really any discernible audio difference. But that's not what Naim says should happen.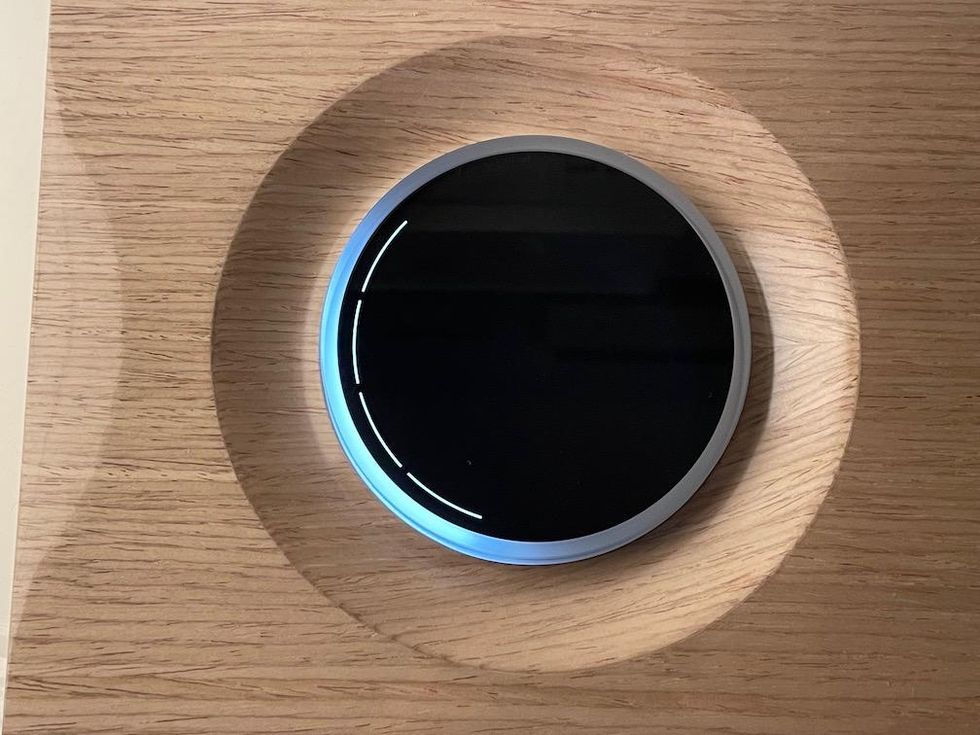 You can physically turn the dial on the Mu-so to adjust the volume Lauren Barack
Sound quality

Naim actually has a hierarchy of what they consider they best method of pushing music through the speaker — and the worst.
At the top is using the Naim app, then your next best option would be to use Chromecast, which is now built into the 2nd generation Naim Mu-so, and can be connected via the Naim app to your Google Home app as well, and can bring in music and sound from a number of devices including HD.
Third best would be to stream directly from an Apple device over Apple AirPlay , and this is what Naim considers CD quality. Finally, at the lowest level, is Bluetooth, which the company believes delivers a limited range and resolution.
I played with music through all four options, and truthfully I found very little difference in range and sound.
I toggled between the Mu-so and an existing Sonos Beam I have set up in my living room over Bluetooth and Apple AirPlay. And I also played Spotify via the Naim app and Apple AirPlay.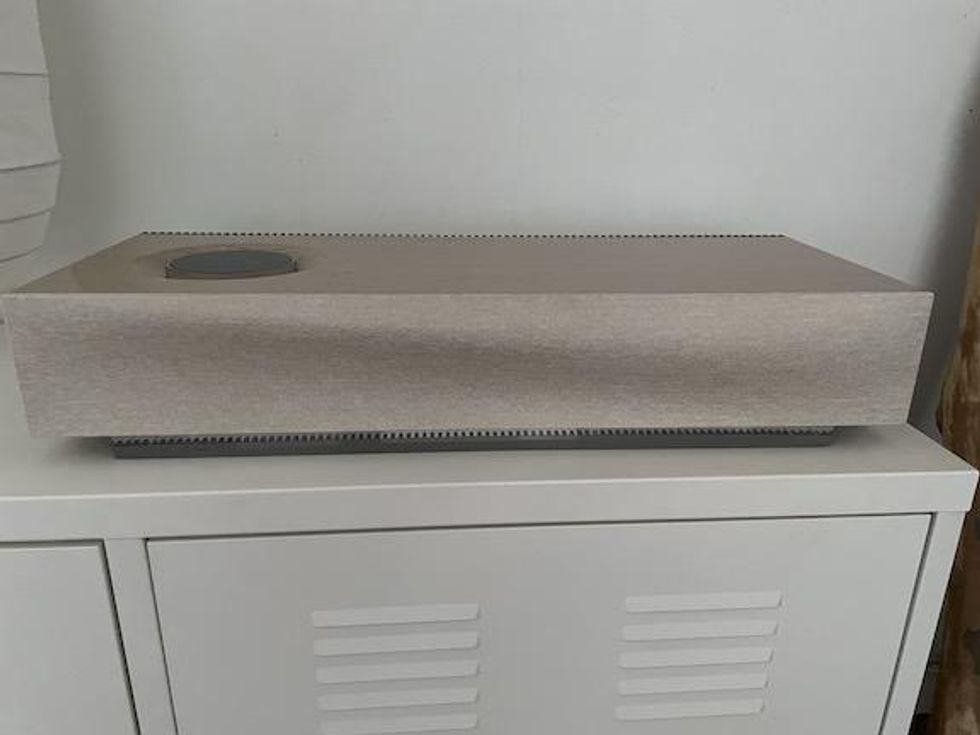 The fabric front of the Mu-so Light Wood features a wave, as in the waves of music coming through Lauren Barack
While I couldn't detect much of a difference, honestly, on some music such as an old Louis Armstrong track, other songs were such a distinct difference in quality — no matter the method — I honestly gasped the first time I tested the speaker at all.

Bass of course was much more pronounced, but there was a bigger sound, fuller, richer with notable details singularly audible while listening. Music was just that much more pleasurable. I couldn't stop playing some of my favorites on my iPhone from Joni Mitchell's "Blue" to a bit of Queen.
At $2290 one would hope that the sound would be that much more brilliant, and the Naim Mu-so Light Wood lived up to that expectation.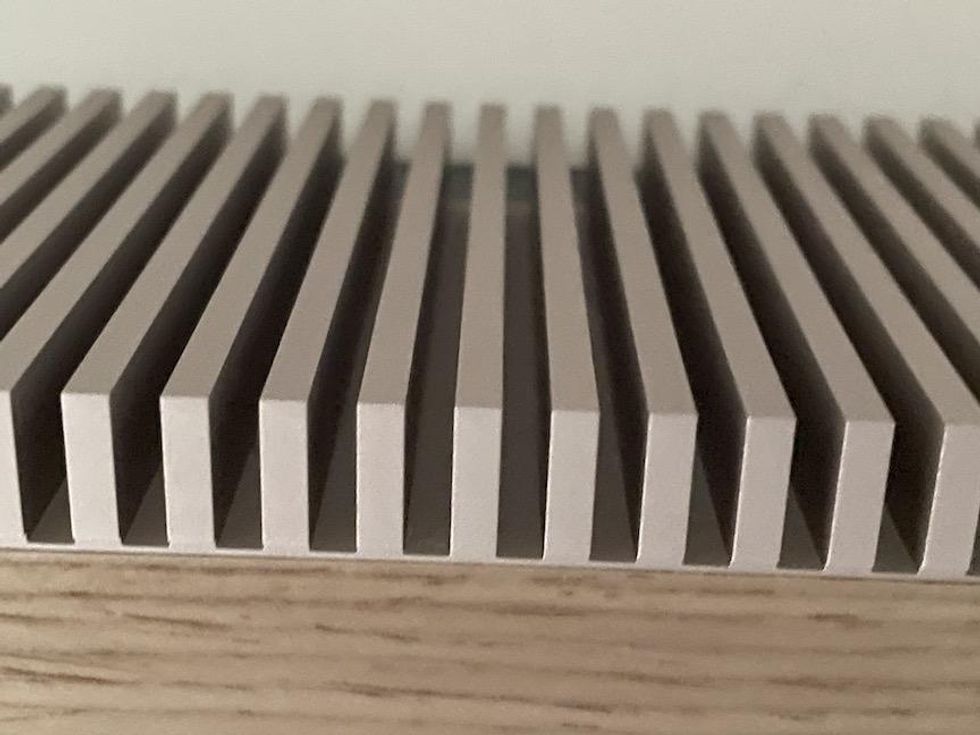 Details on the Naim Mu-so Light Wood wireless speaker are crisp and clean in their design Lauren Barack
Part of this boost likely lies with the Mu-so's digital signal processor, which Naim says pushes out 2,000 MIPS (or million instructions per second). There's also a mid-range and bass drive unit — with bass actually boosted 13 percent from the first Mu-so speaker. The 2nd generation also features a new limiter algorithm which basically means the Mu-so is set to keep music sounding correct — clear, full, bright — at a very high volume.

The app also allows you to create some optimization for the Mu-so depending on where it's placed in a room, such as close to a wall, near a corner or in the middle of a room.
Other features
You can also use the Mu-so as an insanely expensive alarm clock, and there's a timer as well for short pre-sets ranging from 5 minutes to two hours.
You can also customize the lighting details on the speaker a bit, from the dial on top to the area around the name on the bottom. The Mu-so can also link up to other Naim devices so you can have multi-room support as well, playing a single song throughout a home, or allowing each speaker to play a different piece of music.
Price
You can pick up the 2nd generation of the Naim Mu-so in Light Wood for $2290 on its web site.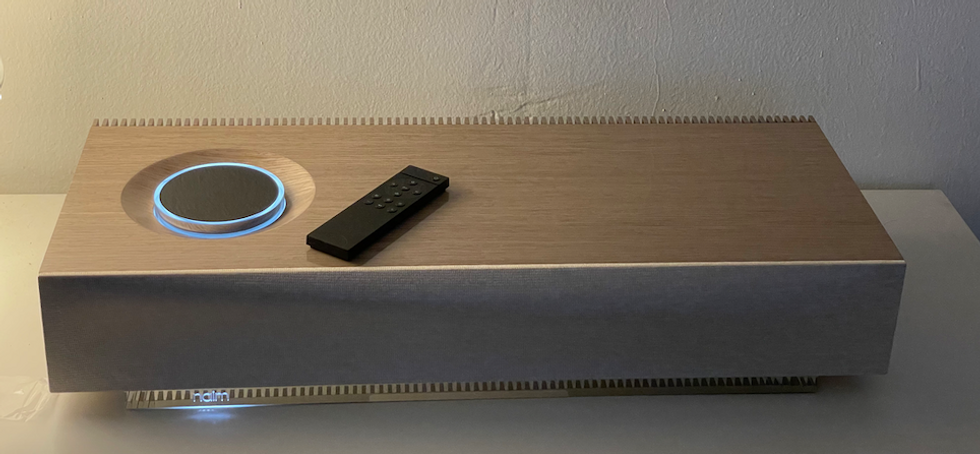 The Mu-so Light Wood speaker cab be controlled through the Naim app, through a remote control and through the dial on top Lauren Barack
Worth buying

It's very hard to say that a $2290 speaker is something worth buying. It is gorgeous. It plays the most wonderful sound. And I honestly found myself listening to more music — sans headphones — in the days I tested the device, than I had in the past year.
The Mu-so Light Wood from Naim pairs seamlessly via Bluetooth, less seamlessly with its app, but works well with Apple AirPlay and even with Google Chromecast. Spotify users can make quick use of the speaker, Tidal subscribers too. And the sound will likely take your breath away as it did mine.
But you have to be someone who can spend $2290 on a wireless speaker. And that's a difficult choice. When we dream of the smart home of the future, one that is clean of useless devices, a home without small, sticky fingers and where the few things we use are nearly perfect in their look and purpose, the Naim Mu-so would undoubtably have a place — for those who feel comfortable with the price. If that's your space and your life, then this is a speaker that is easily worth considering and is likely to be a choice you won't regret. Hopefully the rest of us can visit once in a while.
Pros:

Stunning in its design
Speaker quality is incredible
Can connect via Bluetooth to a smartphone even without an app
Cons:

Price
Some music didn't pop more than others when played on the speaker
Very weighty, and people should consider having an additional person to help install and cable up
Naim Mu-so 2nd Generation Wireless Speaker
From Your Site Articles
Related Articles Around the Web
Like GearBrain on Facebook