Like GearBrain on Facebook
Just because we can't head out to the bar at the moment, coronavirus lockdown doesn't mean we have to miss out on the weekly trivia night.
Instead, just as drinks with friends, fitness classes, theater and even weddings have headed online, so too have trivia nights. There are hundreds to pick from, many of which have been set up in the last few weeks by bars and pubs keen to keep their patrons entertained — and, in some cases, keep a valuable revenue stream alive and well.
Read More:
A number of online games use Zoom as their host, the video conferencing application which has seen its daily user number surge from 20 million to over 300 million in a matter of weeks, as the world heads online to keep in touch.
Some can be played at any time among your own social group, where one friend volunteers as quiz master and everyone else plays along. Others are hosted at a set time each week, and in some cases have hundreds or even thousands of people playing simultaneously. Some offer prizes in the form of discount codes for the bar or brewery they're associated with, but most are just for fun, and free to play.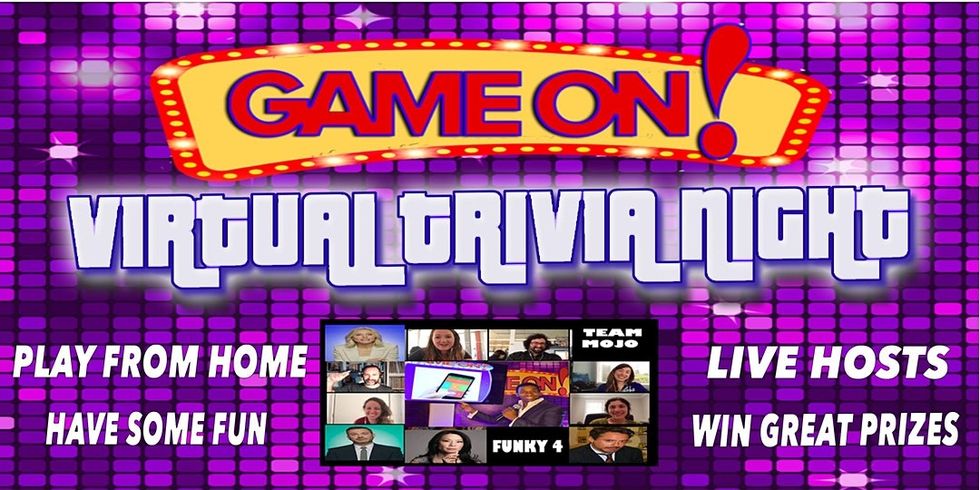 Eventbrite includes a huge range of live online trivia nightsStay At Home Games
Where to find online trivia nights and pub quizzes during lockdown

A great option for finding virtual trivia nights is Eventbrite. Normally used to issue tickets for talks, lectures and corporate social events, the platform lends itself well to distributing tickets and information for online quizzes.
The registration system helps hosts to manage participant numbers, and gives them a way to distribute the Zoom meeting room ID and password (and privately, if they prefer, to prevent Zoom Bombing).
A quick search reveals loads of options from across US time zones, including:
True or False Trivia by Skilli World
$1,000 prize pool
300 player limit
First game is free
Every Sunday at 9:30pm ET
$175 prize pool
100 player limit
$5 per game
Tuesdays at 7:00pm MT
No player limit
$5 suggested donation
April 30, 6:30pm CT
Amazon gift card prizes
$2.99 per player
Every Thursday, 08:00pm ET
Gift card prizes
Free to enter
Every Saturday at 6:00pm PDT
Literature trivia
Free to enter
May 9, 7:30pm CT
That's just a small selection, as Eventbrite has many more to pick from, including quizzes specializing in TV shows, like "The Office" and "Friends," music through the decades, Disney and sports. At the time of writing there are 145 pages of online trivia nights to pick from. Click here to get started.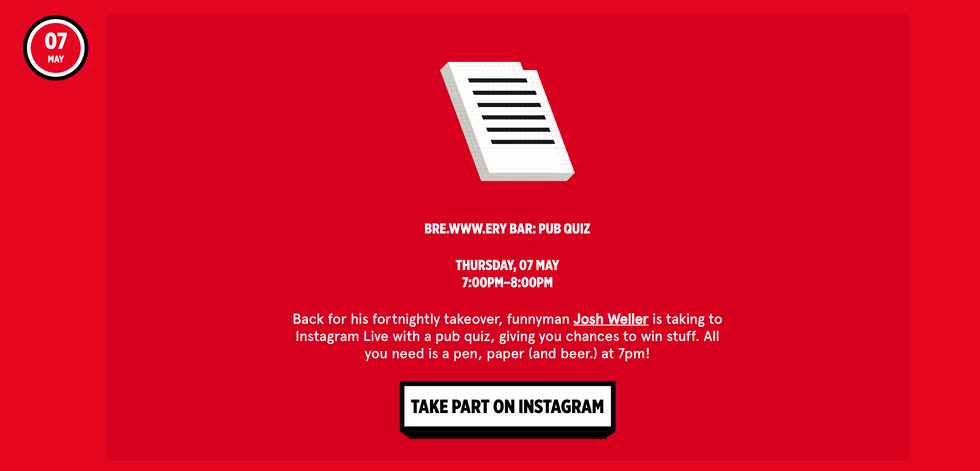 Pub quiz hosted on InstagramCamden Brewery
If you're in the UK or Europe, Eventbrite is also a great resource for online quizzes. In addition to this, numerous local pubs, bars and breweries are hosting live and pre-recorded quiz nights. The competition can be a little fierce, with some attracting over 10,000 participants — so you have been warned.

Highlights include BrewDog, which opens its online bar every Friday (6:00pm BST), including a quiz and live music. BrewDog also hosts online beer tastings on Wednesdays at 8:00pm BST with a cook-along session for pairing food with the company's beers.
Another UK option — but which takes place on Instagram — is Camden Brewery. Upcoming events include live music on April 30 (8:00pm BST), and pub quizzes on May 7 and 21, both starting at 7:00pm BST. Prizes include beer, obviously, and while it is free to enter, a virtual tip jar has been set up to help restaurant bar staff who are struggling financially during lockdown.
Hosting your own online quiz night
Finally, if you'd like to host your own quiz you could try Inquizition. Here you can buy everything you need to host a quiz, including professionally-created question papers with verified answers, picture rounds and more.
These aren't particularly cheap, at around $12 per quiz, but they come from a company which sells trivia nights to bars and pubs for a living, so you're getting the real deal, and helping to keep the company in business while their usual venues are closed.
From Your Site Articles
Related Articles Around the Web
Like GearBrain on Facebook