Like GearBrain on Facebook
If you've ever played Jackbox, then you'll already know it's a fun collection of multiplayer party games that uses your smartphone as a controller.
But during these times of coronavirus lockdown and social distancing, Jackbox works just as well when played online, thanks to video calls and screen sharing.
Read More:
Some of our favorite Jackbox titles are Fibbage, Quiplash and Trivia Murder Party. All of these work well online, and although they are each limited to eight players, up to 10,000 people can watch and vote for their favorite answers in each round.
Before you get started, one of the people on your video call will need to buy some Jackbox games, ideally through the Steam gaming platform to play on their PC or Mac. Jackbox is also available for Xbox, PlayStation, Apple TV and other devices, but it's easiest to share the screen of a computer with your friends.
You will also need to use a video chatting application that supports screen sharing. Ideally, that means using either Zoom or Google Hangouts, but remember that Zoom limits video calls with three or more people to 40 minutes, unless the host of the call pays for a Zoom Pro account, which start at $14.99 a month.
Each player then needs to use their smartphone to interact with the Jackbox games, just as they would if playing in the same room as normal.
The Jackbox Party Pack 3
How to play Jackbox online using Zoom or Google Hangouts
Ideally, the same person who hosts the video chat should also be the owner of the Jackbox games. This makes the whole process easier as they have control over the game itself, and who can see what.
Once the host has created a video chat and invited everyone they want to play with, they need to open Jackbox on the same computer and enable screen sharing in either Zoom or Google Hangouts. Now everyone on the call can see Jackbox.
At this point, we recommend everyone adds a second screen to their computer, if at all possible. This could mean plugging a monitor or TV into a laptop, or adding an iPad into the mix using Apple's Sidecar app. That way, you can put the window showing Jackbox on the secondary display, and dedicate the other screen to everyone's video chat windows. Otherwise, you'll have to hide the video chat window so you can see your Jackbox game.
From experience, we've found that much older and underpowered computers can struggle to run a Zoom chat and Jackbox at the same time, resulting in the shared screen being pixelated and difficult to read for everyone else on the call. If you have this problem, suggest someone else on the chat runs Jackbox on their computer instead. This might mean they need to log into your Steam account to access the games you have purchased.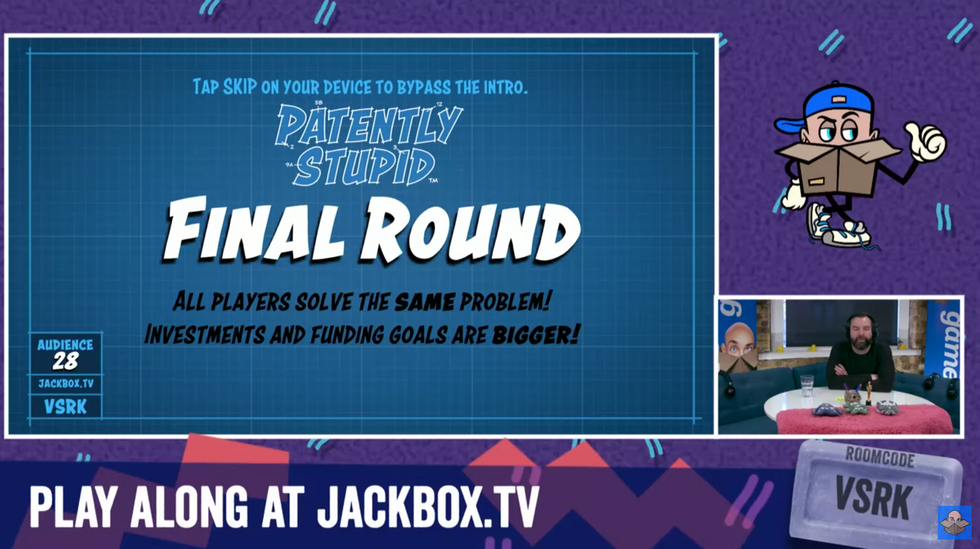 Jackbox can also be played online using Twitch and YouTubeJackbox Games
Alternatively, if you have Jackbox on a game console like the PlayStation 4 or Xbox One, you could run that on a TV and point a webcam at it, so everyone on the call can see and hear the game in the Zoom or Google Hangouts chat.

Logging into the game and playing is the same as normal. Jackbox assigns a unique four-character code to your game; each player then visits jackbox.tv on their phones, and enters that code. Now they're logged into the game and ready to play, by entering answers on their phones.
Don't forget, the host should turn down the volume in the Jackbox settings menu, so that everyone can still hear each other over the sound of the game.
As an alternative to Zoom or Google Hangouts, you can use Steam Remote Play Together, or Discord screen sharing. You can view detailed instructions on how to use these here and here.
How to play Jackbox online without owning any games
If none of your friends have Jackbox, you can play online with the creators of the game themselves. They host games on their public Twitch and YouTube channels every Thursday at 3:30 CT.
You can also open up your own game to the public by streaming it yourself on Twitch or YouTube, but you should make sure your friends all know the game code before starting the public stream. That way, they can all join before others are allowed into the game. Once the game is full (usually eight players is the maximum), up to 10,000 others can spectate and vote on players' answers.
The Jackbox Party Pack 3 [Online Game Code]
From Your Site Articles
Related Articles Around the Web
Like GearBrain on Facebook