Like GearBrain on Facebook
Tighter regulations announced by South Korea have caused bitcoin's value to fall by over $1,000, as the cryptocurrency's losses continue.
The South Korean government said on December 28 it will ban the opening of anonymous cryptocurrency accounts, and new legislation will be rolled out to allow regulators to close cryptocurrency exchanges if they break the rules.
Bitcoin's latest plunge in value rounds off a manic year for the virtual currency, which began 2017 at just below $1,000 per coin, before rocketing to a record high of almost $20,000 in mid-December, then falling sharply to below $15,000 in a matter of days. At the time of publication the currency is worth $14,084 according to CoinDesk.
Read More: Bitcoin and the bandits: Have we returned to the cryptocurrency Wild West?
South Korea has become one of the largest markets for bitcoin, but the planned crackdown on its use and tighter regulations could see that change, especially if the government makes good on its plans to close down exchanges which fail to meet its standards.
According to Reuters, the South Korean government said in a statement that it "had warned several times that virtual coins cannot play a role as actual currency and could result in high losses due to excessive volatility."
The country had previously announced plans to tax capital gains made from investment in cryptocurrencies, such as bitcoin and the less valuable litecoin and ethereum. By taxing gains, the government hoped to discourage citizens from excessive speculation on bitcoin's future value.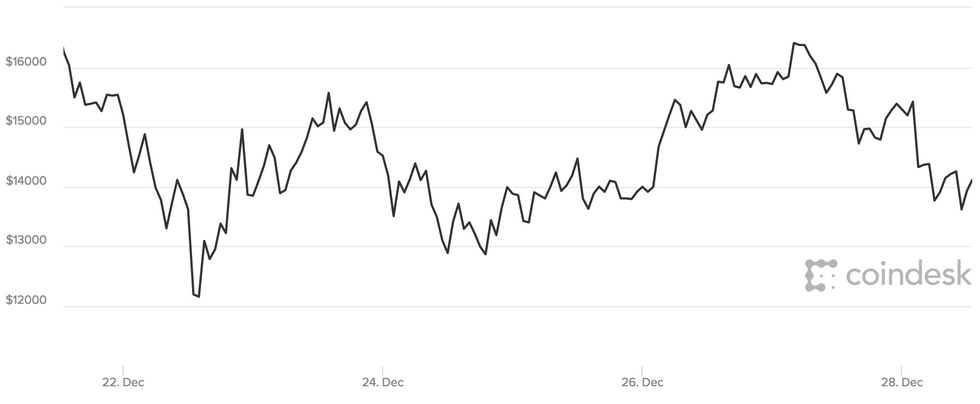 Bitcoin's value has been hugely volatile throughout DecemberCoindesk
Not tied with any central bank, bitcoin is transferred directly from one person to another, often anonymously, via the blockchain, an online public ledger tracking every bitcoin transaction ever made. Transactions are authenticated by computers solving complex mathematical equations. This is known as mining and results in the (very slow) creation of new bitcoins.

Bitcoin's anonymous nature has earned it a reputation as the currency of choice for online drug dealers using the dark web to access sites like the Silk Road, an illegal marketplace selling drugs and firearms which was shuttered by the FBI in 2013. The Silk Road's creator, Ross Ulbricht, is currently serving a life sentence in prison without parole; it is this side of bitcoin which has earned it a reputation and created an uneasy relationship with regulators the world over.
South Korea's bitcoin crackdown comes less than a fortnight after one of the country's cryptocurrency exchanges, Youbit, shut down after two cyber heists forced it into bankruptcy. The hacking, which was blamed by Youbit on North Korea, saw it lose 17 percent of its virtual assets.
Disclosure: The author of this article owns 0.0266 bitcoin
Like GearBrain on Facebook