Like GearBrain on Facebook
Elon Musk says the first test tunnel dug by The Boring Company will be opened during an event on 10 December, and free rides will be offered to the public the following day.
Headed by Musk, The Boring Company's goal is to reduce traffic on city roads by providing high-speed electric transport through underground tunnels.
Read More:
The basic concept is similar to an underground train system, but Musk claims his vehicles will travel at up to 150 mph, much faster than any other subterranean train service.

In a series of tweets posted this morning (October 22), Musk said: "The first tunnel is almost done...Opens Dec 10...Opening event that night and free rides for the public next day".
Answering questions from some of his followers, Musk added that the top speed will be 155 mph (250 km/h), and it is located under Hawthorne, Los Angeles. When asked if the December 10 date is "real time or Elon time" - a nod towards the entrepreneur's habit of missing his own deadlines - Musk said: "I think real".
The test tunnel starts at a parking lot at SpaceX, Musk's rocket manufacturing company next door to LAX airport, then runs west beneath 120th Street for two miles.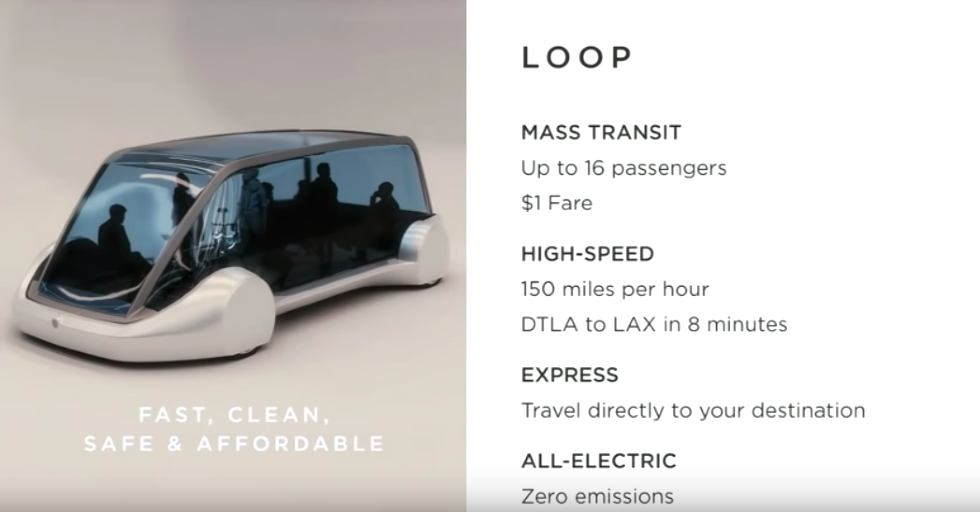 The Boring Company
The Boring Company was recently granted permission from Hawthorne City Council to build a garage-sized elevator at a property at the end of the test tunnel. This would see vehicles lowered into the tunnel. Musk said in a tweet in September: "The Boring Company will transport your car all the way into your garage."

A diagram produced by The Boring Company shows how a car could be lowered from inside the street-level garage, to a tributary which would lead to the main tunnel, which in turn heads to the SpaceX parking lot.
Alternatively, the electric 'skate' can be designed to accommodate between eight and 16 passengers. The computer-generated video below shows both of these skate configurations.
The entire system - which, Musk says, could one day extend to include numerous tunnels dug at different depths, each with a number of stations across the city - is known as a Loop. This differs to Musk's other transportation plan, the hyperloop, which sees electric trains drive through tunnels with much of their air removed, reducing drag and pushing the theoretical top speed to around 700 mph.

The Boring Company began digging its first Loop test tunnel at Space X in early 2017, with the goal of increasing current tunnel-boring speeds by a factor of 10. It recently won the right to build a tunnel connecting Dodger Stadium with one of three LA neighborhoods; the tunnels will house a Loop transportation system, where passengers are transported in electric pods at between 125 and 150 mph for $1 per ride.
As well as the Hawthorne test tunnel and the 3.6-mile Dugout Loop, The Boring Company is also working on a 16-mile Loop system
connecting Chicago O'Hare airport with downtown
.
From Your Site Articles
Related Articles Around the Web
Like GearBrain on Facebook