Like GearBrain on Facebook
For animal lovers, spending bank on technology to keep their pets safe and secure makes complete sense. If you're willing to drop several hundred dollars on the latest smartphone or wearable, spending a few more on a dog collar that knows if you're dog is too warm, or can locate your canine who loves to escape is an easy decision. And tech companies are happy to oblige.
Several start-ups showcased collars that can tell if your dog is uncomfortable, notify you about upcoming Vet appointments and even read out a lost notifier in LED lights if your pet has gotten loose.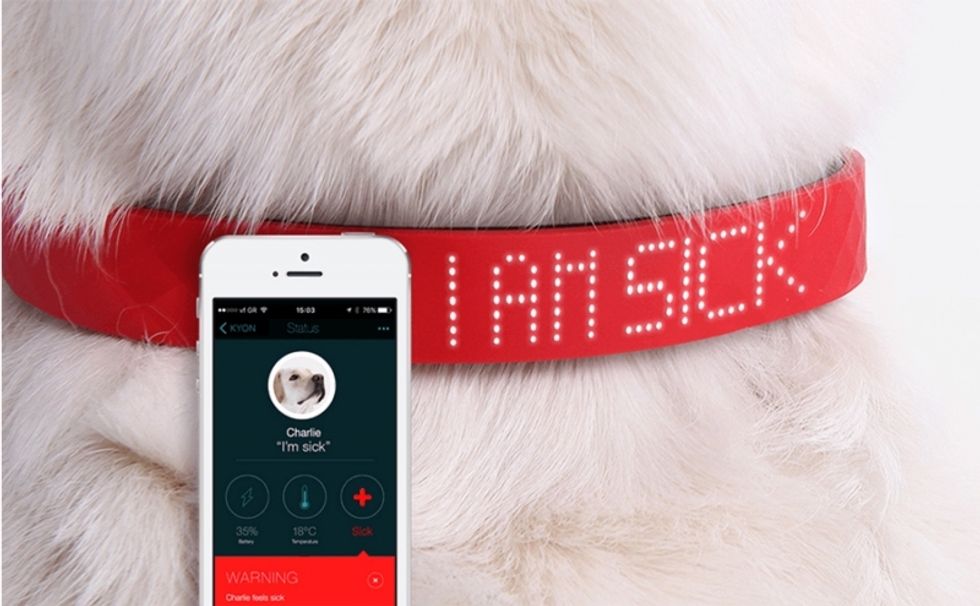 KYON Pet Tracker gives voice to the animals—typing out alerts directly on to your dog's collar.
KYON Pet Tracker
The KYON Pet Tracker is going to be the fashion diva's choice in pet wear. It's thin GPS tracker acts as a collar and a display featuring LED lights that read messages along the band. When the collar is away from its bay station, aka your pet gets loose, the band's GSM is activated and send out your dog's location through a smartphone app. (You do need a mobile plan for the collar to work.) There's a 30-day battery life, and yes, it's waterproof. In fact, the band can tell if you're dog is wet, too cold or even too hot and you can customize the range of temperatures depending on where you live and your dog's needs. We asked the company why a band would be preferable than a chip which can be used to re-connect a lost pet to an owner.
"With a chip, someone needs to stop the dog, take the dog to a vet and then locate you," says Nick Christakis, a spokesperson for KYON. "This just finds the dog."
There are multiple color options: Blue, black, brown, white and gray along with pink and red which the company says are the top sellers. The band also comes in three different sizes able to fit the widest range of dogs. Pre-orders are open now at $249, and the bands are expected to start shipping in March.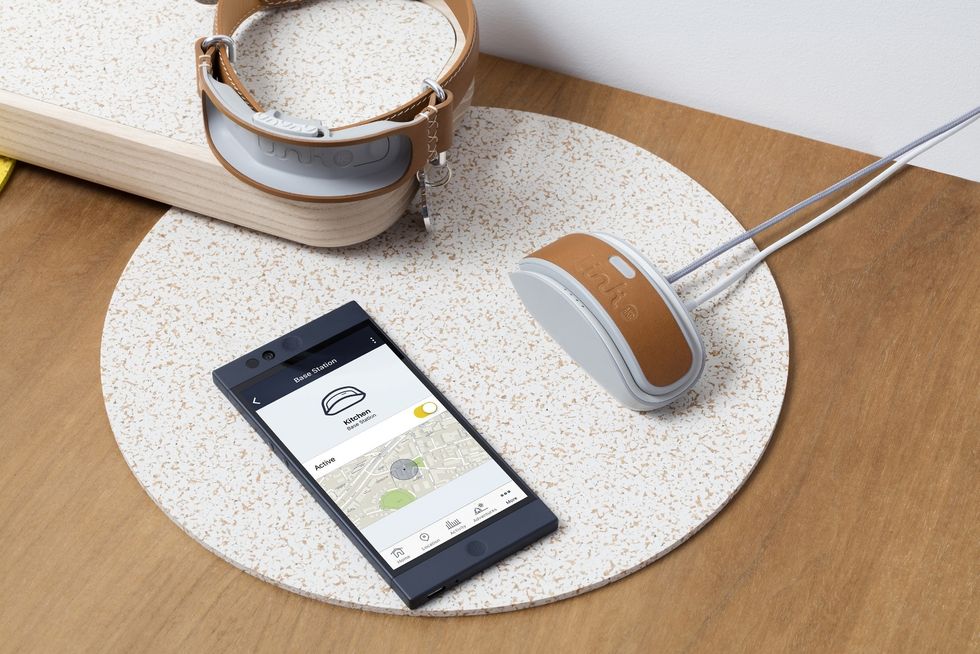 Link AKC has a classic dog collar look with connected technology.
Link AKC
This dog collar won the CES 2017 Best of Innovation Award Honoree. The collar has GPS built into its system, letting you track your dog on a large property, while he's out with the dog walker, or if he decides to take a jaunt of his own. There's an activity tracker and temperature notifiers as well. Made of both plastic and leather, the Link AKC has a classic look complete with a silver buckle, and is expandable to fit dogs with a 9-inch neck all the way to those with a 25-inch neck. The device also comes with a base station which monitors the dog and sends alerts to owners via an app. There's an LED light on the collar as well for night time walks or if you're worried about him being seen at night. You can even record the dog as he plays. The collars are in pre-order for $149, and are expected to start shipping on Jan. 23.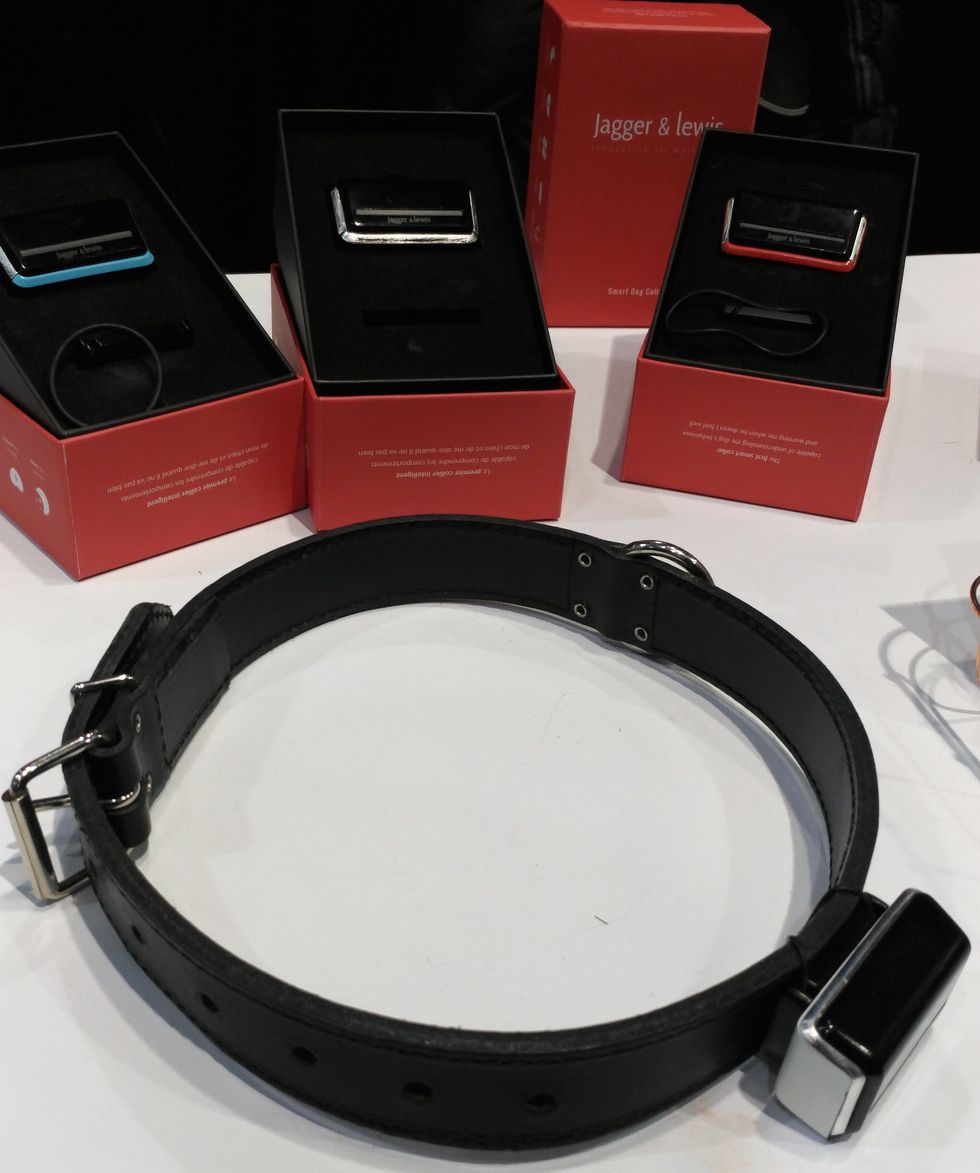 Jagger & Lewis say its device will help owners know if they're dog is in distress or in pain.
Jagger & Lewis Smart Dog Collar
Piper, a sweet, patient German Shepherd, modeled the Jagger & Lewis Smart Dog Collar during CES 2017, smiling amid flashing bulbs and frequent pats. The company is launching a Kickstarter on Jan. 24 for the rectangular device that clips neatly to any existing collar. The gadget links to an owner's smartphone through an iOS and Android app that can monitor a dog and track changes in their behavior such as a dog that's less active. The founders also say the device will be able to pick up on an animal's stress levels and pain, and can note barking. The early price point is $200, and will be guaranteed to work for one year.
Like GearBrain on Facebook