The electric Citroen Ami is quite possibly the smallest 'car' you can buy today – and we're using inverted commas there because the Ami is actually a quadricycle, and in its native France it can even be driven by 14-year-olds.
Having proved popular in Paris, the Ami is now coming to the US as part of a trial with Free2Move, a car-sharing subscription service offered by the Stellantis Group, which was formed last year after the merger of the PSA and FCA car groups.
Read More:
The Ami is truly tiny, measuring just 2.41 meters long, 1.39m wide and 1.52m tall. It has equally compact 14-inch wheels and is designed for two occupants. The car, which has a turning circle of just 7.2 meters, carries a retail price of around $6,000 in France, but Citroen is unlikely to sell the Ami in the US. Instead, it will be offered with a monthly subscription.
The vehicle is powered by a 6kWh motor fed by a 5.5kWh battery pack that gives it a range of 44 miles and a top speed of just 28mph – in other words, it is literally impossible for the Ami to break the speed limit in many urban areas. Given its low power, the Ami can be driven on public streets in France by children as young as 14. It isn't clear yet if the same rules would apply in the US.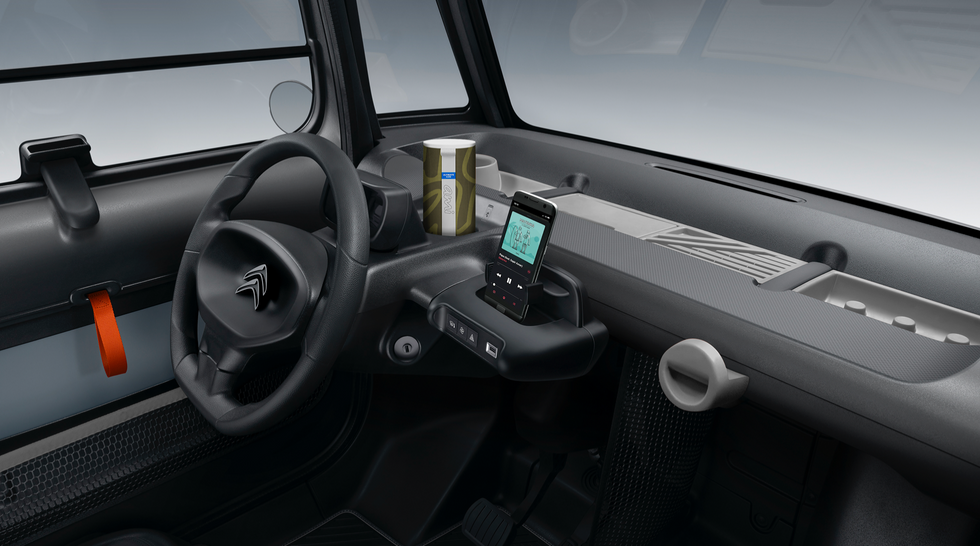 The compact cabin has space for your phone and morning coffeeCitroen
Free2Move first teased the US arrival of the Ami on its LinkedIn page a week ago, and followed up with confirmation this week. The company said five examples of the Ami will be coming to Washington DC as part of a trial. "Members of the Free2Move car-sharing service will receive the opportunity to test Ami and provide feedback on its usability, drivability and applicability for future use in car-sharing fleets in the US," the company said.

Hundreds of Ami vehicles are already available to use in Paris, so if the Washington DC test proves successful then residents can expect to see many more arrive in the future. We would also expect to see availability to extend to other US cities and states too, depending on local regulatory approval. Naturally, the Ami is best-suited to small, quiet residential areas.
Free2Move is bringing the Ami to Madrid and Lisbon soon, and is about to open in Portland, Oregon too.
All-new Echo Frames (2nd Gen) | Smart glasses with open-ear audio and Alexa | Classic Black