Like GearBrain on Facebook
After weeks of rumors that Kia and parent Hyundai had planned to work on an electric car with Apple, the South Korean automaker has revealed an all-new EV, called the EV6.
The EV6 marks a fresh start for Kia and is the first to be built upon the company's new E-GMP electric vehicle platform. No specifications have been revealed just yet, as the car will be fully launched later in March. For now we just have images and Kia's philosophy of the EV6 to go on.
Read More:
Kia's new range of electric cars will all use the EV name followed by a number corresponding to its size. The EV6 is a midsize crossover, leaving space for smaller vehicles and hackbacks below it, and potentially larger SUVs above the EV6. The company says it will announce a further six electric cars by 2027.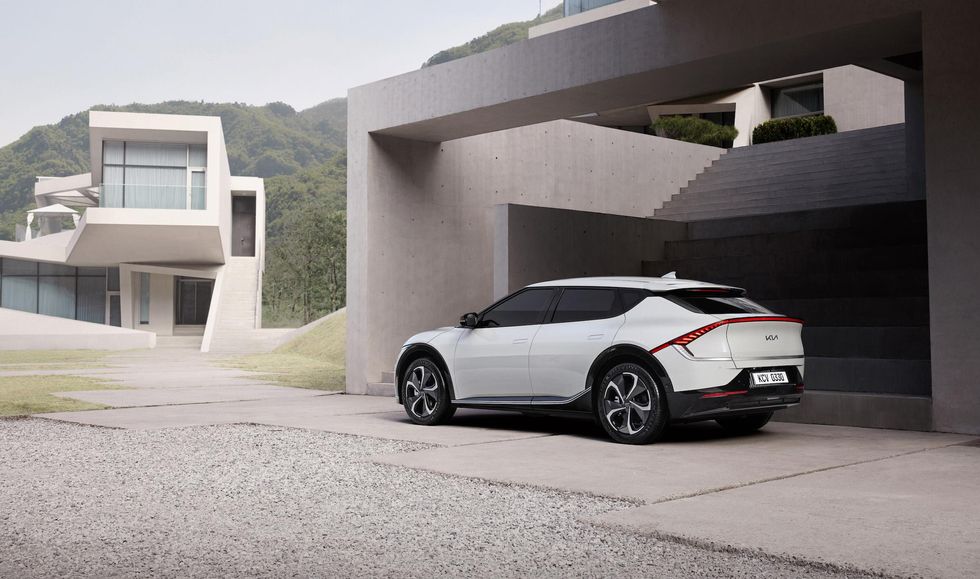 The Kia EV6 will be fully revealed later in March Kia
Although the first Kia to use the E-GMP platform, the Ioniq 5 from sister company Hyundai also uses the platform. Both companies are part of the Hyundai Motor Company. The platform can be used by dual-motor, all-wheel-drive vehicles as well as single-motor, rear-wheel-drive models. It can accommodate battery packs of up to 72.6kWh.

Karim Habib, head of Kia's global design center, said: "We strongly believe EV6 is a compelling and relevant model for the new EV market. With EV6 we aimed to create a distinctive, impactful design by using a combination of sophisticated, high-tech features on pure and rich volumes, while providing a unique space as a futuristic EV."
The bold and stylish new design on the outside is matched by a smart new interior featuring a one-piece curved display for the infotainment system. A touch panel with haptic feedback is used to control the climate system. Kia says the dashboard has been designed to slope away and towards the front of the car to create a sense of space and openness for those sat in the front.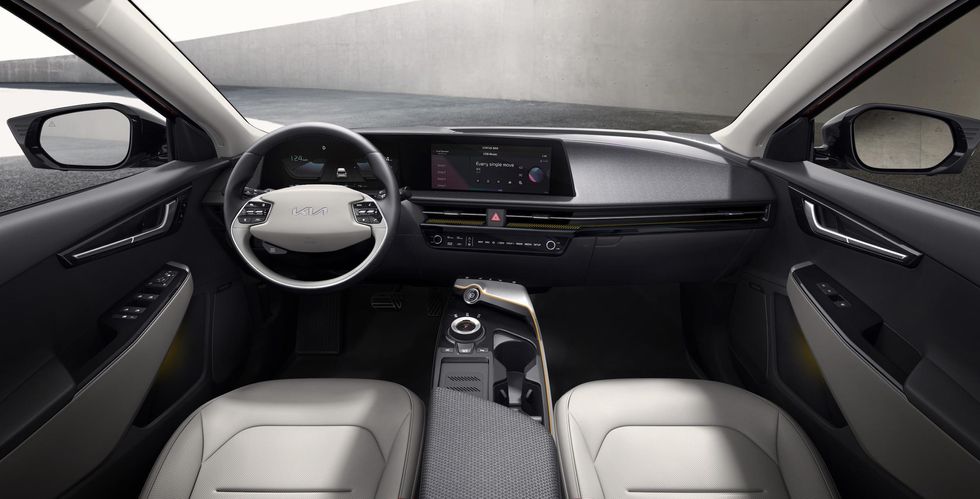 The interior features a curved screen and haptic touch controlsKia
We are pleased to see that despite the large touchscreen and haptic touch panel, Kia appears to have given the EV6 a generous selection of physical controls too.

Shunning leather, Kia says the seats are "clad in modern, visually interesting and robust fabrics created using recycled plastics".
More details, including specifications for the EV drivetrain and hopefully a price, will be revealed during an online launch event later in March.
From Your Site Articles
Related Articles Around the Web
Like GearBrain on Facebook