Like GearBrain on Facebook
Pharmacy weed have you down? Feeling like some home grown mary jane will only do? Nico Ruiz and Pepijn Vanderkrogt feel you. The two are the cofounders of Cloudponics, a San Francisco-based company that's the first, they say, to have a completely automated system for growing marijuana in your home.

Inside a dark space in lower Manhattan — it's illegal to grow marijuana in New York — is a 70-inch tall, 250-pound laminate cabinet that looks like something from the IKEA store. But the door of the GroBox pops open to reveal a burbling Internet-connected growing space with six bright green marijuana plants that are bathed in nutrients, water and proprietary LED light to optimize their growth and yield.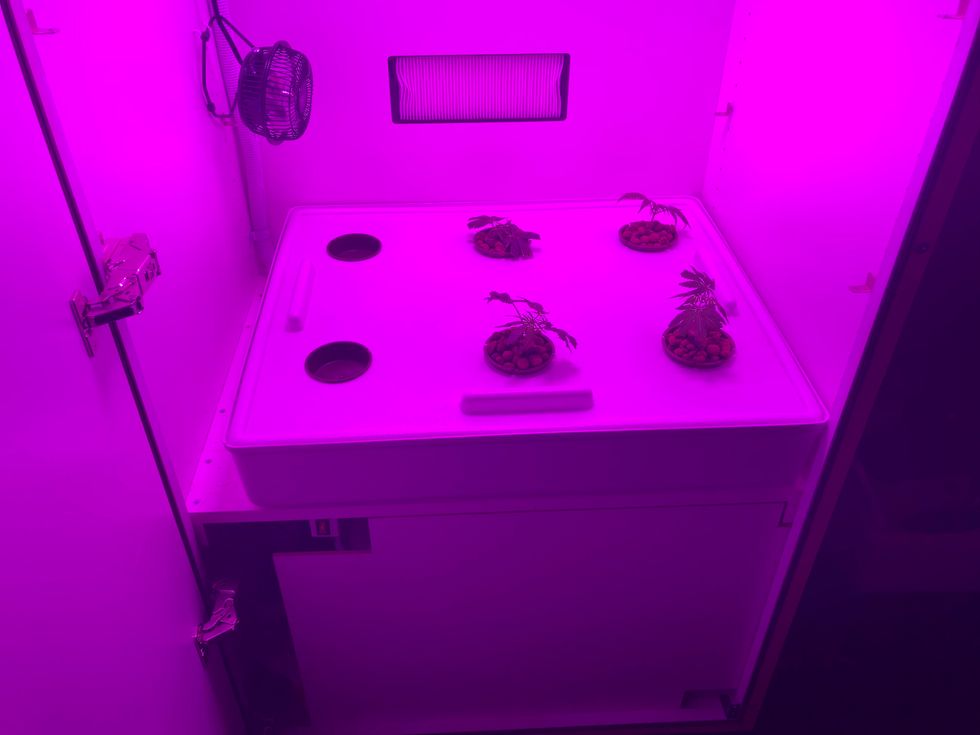 A proprietary LED bulb bathes the seedlings so they get the exact amount of light.GearBrain
Plants take about three months to harvest, and no, Cloudponics does not supply seeds nor seedlings. What you grow inside your cabinet is your business, says Ruiz, who also serves as the company's chief product officer. That means they can ship anywhere in the U.S. and they do — including Alaska. And yes, they're on Amazon.
"A lot of our clients are first-time growers, about 80 percent," says Vanderkrogt, the company's CEO. "Some of are medical patients, elderly people and veterans."
The cabinet works via a Mobile app — iOS and Android only — which can send you alerts if the water level is too low or the temperature in the room itself is too high. (Optimum is between 65 and 80 degrees.)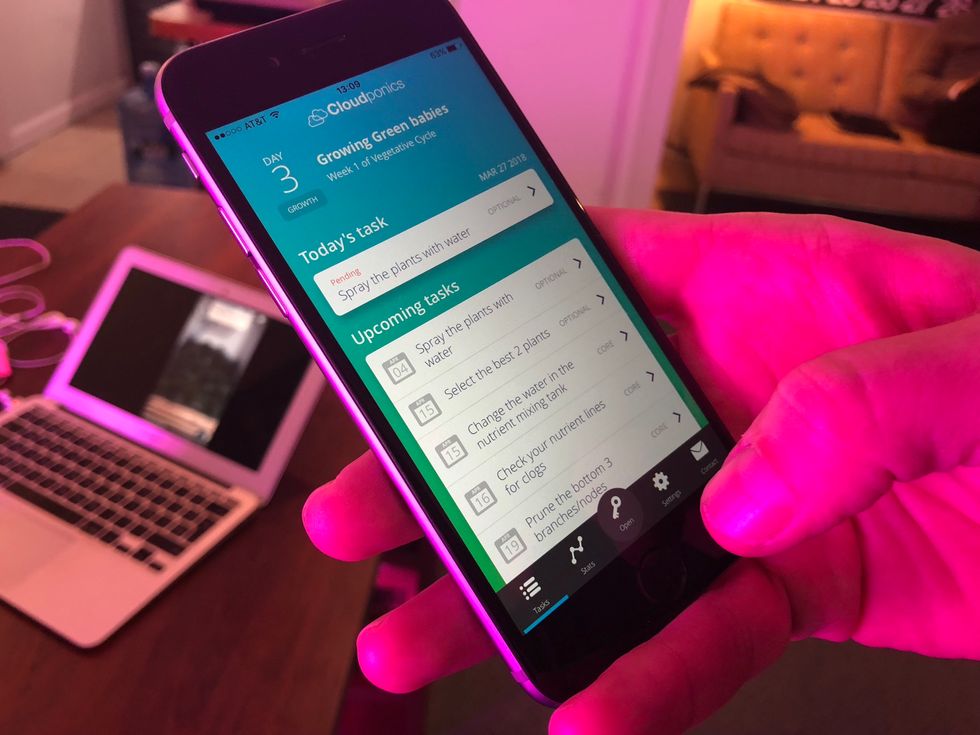 You run your GroBox via app — iOS and Android — and can get notifications on how your plants are doing.GearBrain
You also unlock the cabinet through the app. And that's key because if you live with roommates it's one thing to share the milk but your stash? Maybe not. But should you lose your phone there is a way to hack into the cabinet
Cloudponics provides filters, sensors and nutrients that last for up to six months for an additional $200. Those elements are also important. Any one has ever grown pot know: these plants have a pungent odor. Keeping that scent contained may be important for a variety of reasons. Cloudponics takes care of that with its bi-annual delivery along with the nutrients tailor made for the specific strain — up to 60 different strains — that you're growing.
Ruiz and Vanderkrogt grew their startup from an initial $40,000 grant from Startup Chile. From there, they launched a campaign via Facebook where they discussed how to use their product to grow "tomatoes." (Their quotes.) And now the company is up to $340,000 in investments from seed and angel rounds.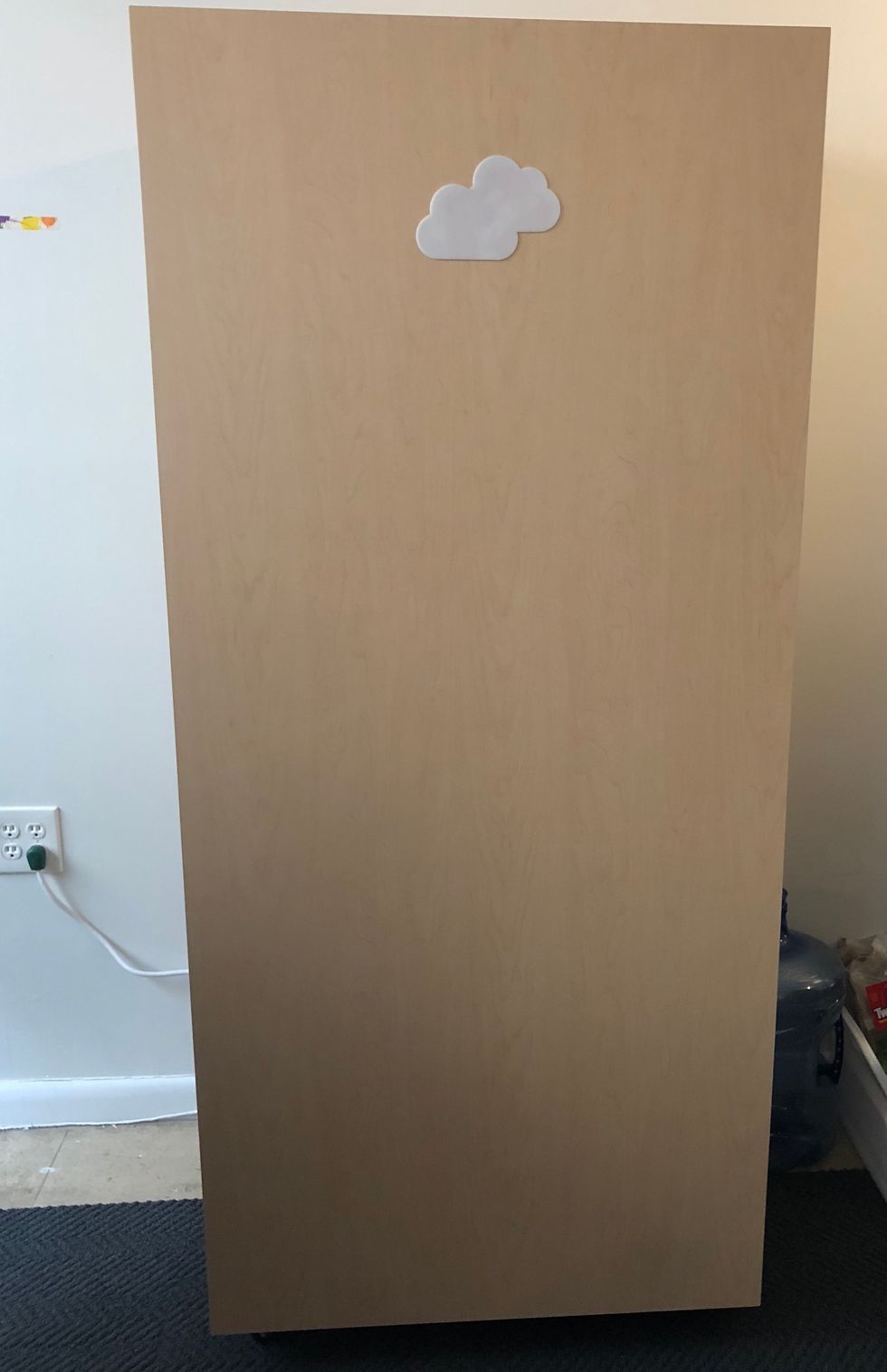 The GroBox plugs into the wall and costs about $15 to $20 a month in electricity to run.GearBrain
Their first campaign sold 100 cabinets at $1400 each, and they started to deliver them in January 2017. And yes — their 100 percent USA-made, assembled in San Diego, CA with the light bulbs made in Boulder, Co. Ruiz and Vanderkrogt say current sales numbers in the hundreds. But the two don't see marijuana grower as their end point.
"We built this for early adopters and people who are willing to pay the most money," says Ruiz. "We started with cannabis, but we want to be in the automating business for growing any plant."
Eventually they see their tech going into any crop — yes, even tomatoes — that has a master grower at the helm, says Vanderkrogt, but would want a way to optimize the way yield in the most efficient manner. To that end the two are working on AI that would allow the system to pick up on visual clues from a plant, say spots on its leaves, to tweak the nutrients or light it needs.
Technology that supports food and agriculture was already a $5 trillion global business, according to McKinsey. And investments in AgTech startups were expected to hit more than $1billion by the end of 2017, according to PitchBook. To that end, the two have a commercial version in the works, an enhanced set up with just tech — not the cabinet— that could be used for bigger grow rooms with hundreds of not thousands of plants.
While $2490 plus $200 twice a year isn't the same as spending $199 for a smart lock, the marijuana market itself has changed dramatically in areas where pot is legal. Taxes? Yes you have to pay that now. And a legal ounce can now cost in the neighborhood of $300 to $400. Twelve ounces at that price and you already paid for your GroBox, a year of nutrients and some decent seed. That's an economics that can deliver a high to anyone.
Like GearBrain on Facebook