Like GearBrain on Facebook
Who wants a G.I. Joe figurine or a boring checkerboard set when toy drones exist? Toy drones are fun for kids (with supervision) and adults alike, and are usually a lot less expensive than professional drones. Whether you're a collector or new to the drone frenzy, these seven toy drones are a solid place to start.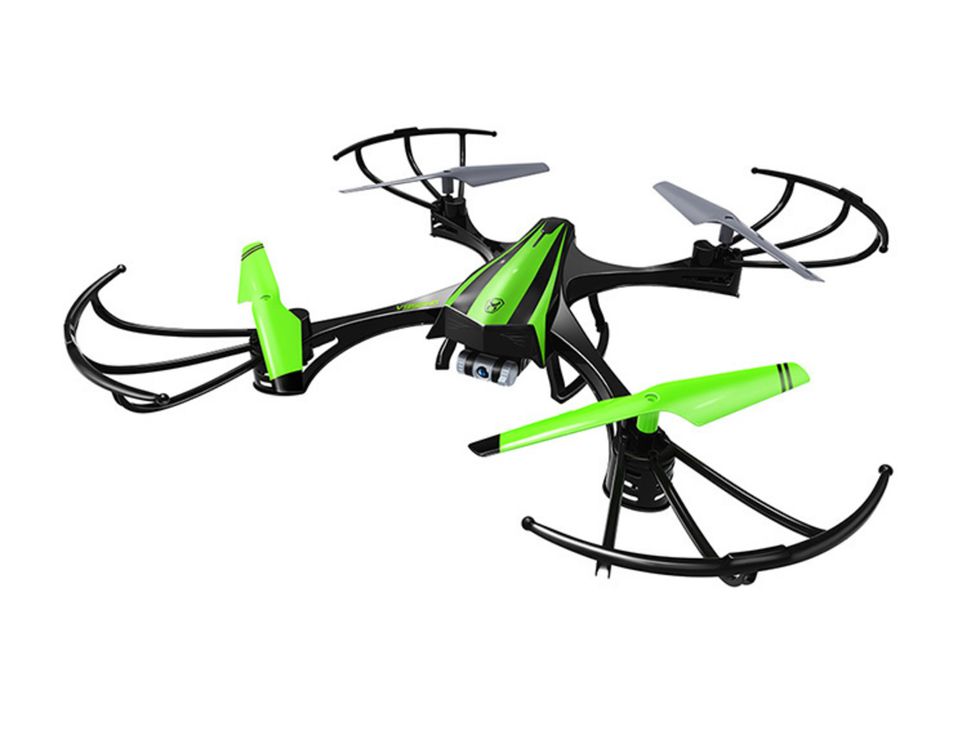 Sky Viper Video Drone has a built-in camera for video and still photosSky Viper
Sky Viper Video Drone (V950HD)
For under $100, the Sky Viper Video Drone is a toy drone equipped with a built-in camera that can take great photos and videos in 720p footage with high-definition sharpness. Measuring at just over a foot from blade to blade and constructed with resilient polypropylene, this quadcopter is super-durable and easy to fly. Get 360-degree panoramic views and up to 20 minutes of flight footage at a stretch. You can read GearBrain's full review of the Sky Viper Video Drone for more details.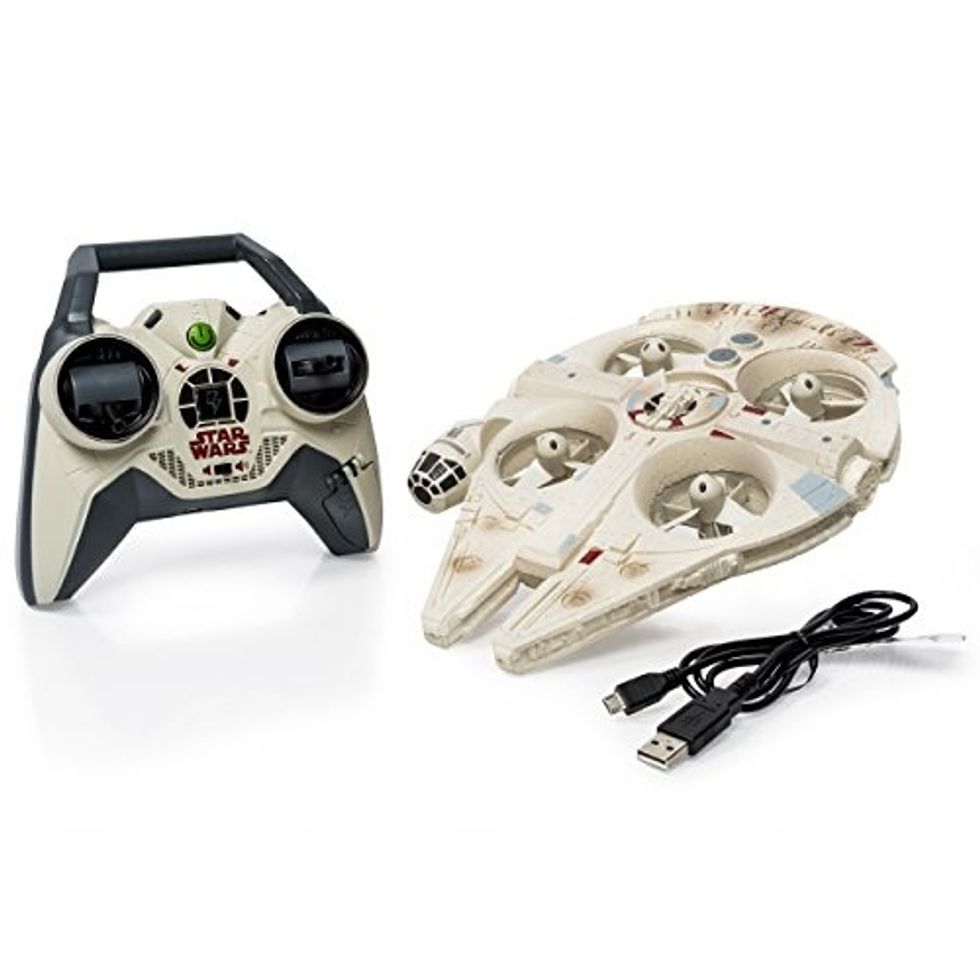 The Air Hogs Star Wars Remote Control Ultimate Millennium Falcon Quad has sounds that put you in the "Star Wars" worldAir Hogs
Air Hogs Star Wars Remote Control Ultimate Millennium Falcon Quad

Also for around $100, the Air Hogs Star Wars drone lets folks fly the most well-known ship from the Star Wars franchise. The drone features LED lights and cool Star Wars sounds, and has four rotors for great flight movement . The 2.4 GHz communication allows the user to control the device from up to 200 feet away. Made of mostly Styrofoam, this drone won't cause damage if the user loses control.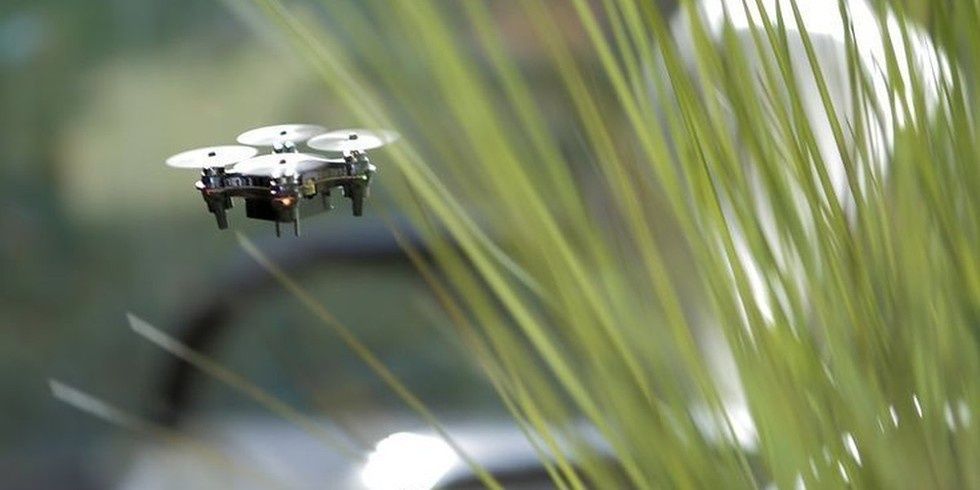 At $25, the Aerix Vidius FPV Drone is perfect for any budgetAerix Vidius FPV Drone
Aerix Vidius FPV Drone
This drone, priced at under $25, is small enough to fit in the palm of your hand, but moves quite fast. It's pocket-change price makes it an easy buy if only as an entry level drone. You control this mini-quadcopter from your phone, plus you can shoot video from the drone as well. Want more details? GearBrain's teen reviewer and drone expert both reviewed the drone, putting the device through its paces. We think the Aerix Vidius FPV belongs on our list for its price point alone.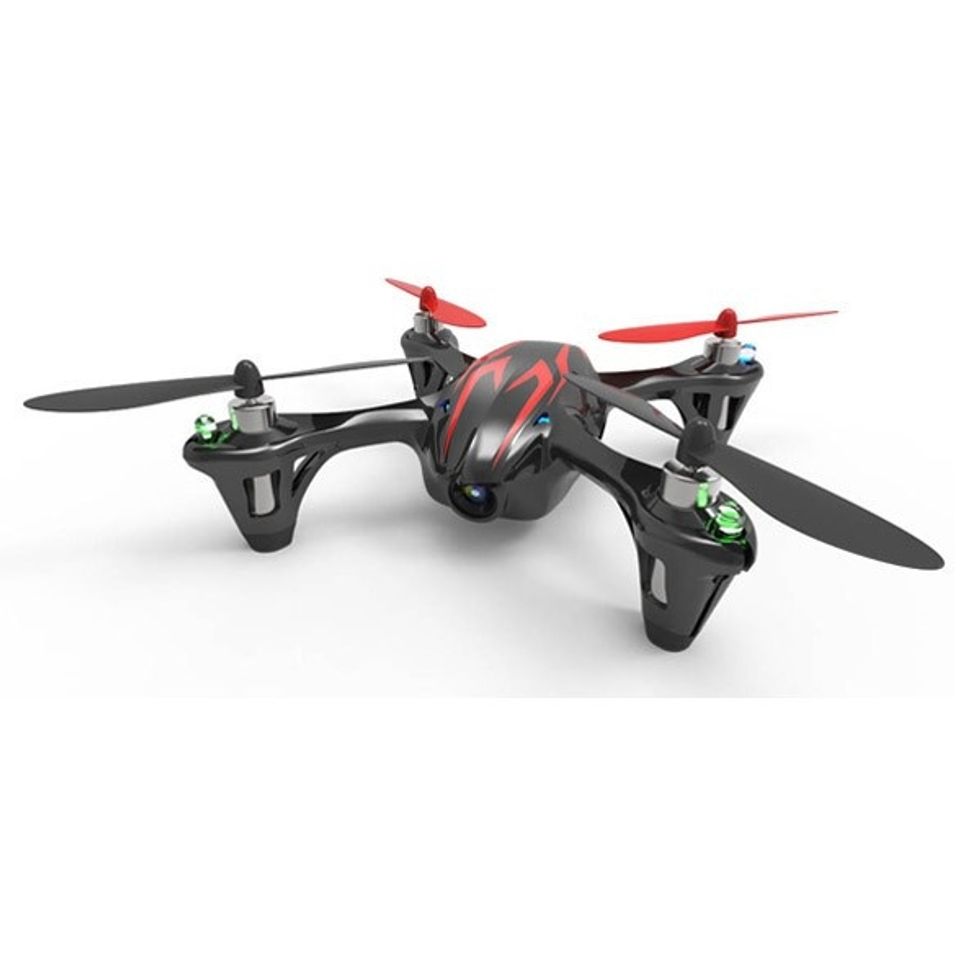 The Hubsan X4 is lightweight and a good first drone for new pilotsHubsan
Hubsan X4 (H107C) 4 Channel

For an under-$50 drone, the Hubsan X4 is a must-get for those who don't want to spend a lot on their first quadcopter. It uses an advanced 6-axis flight control system, powerful motors, and gyro-sensitivity, and can flip four ways for endless drone-playing fun. The Hubsan includes an SD camera for novice photographers and can be used in the dark. Lightweight and durable, this sleek drone is great for kids looking "4" a first drone.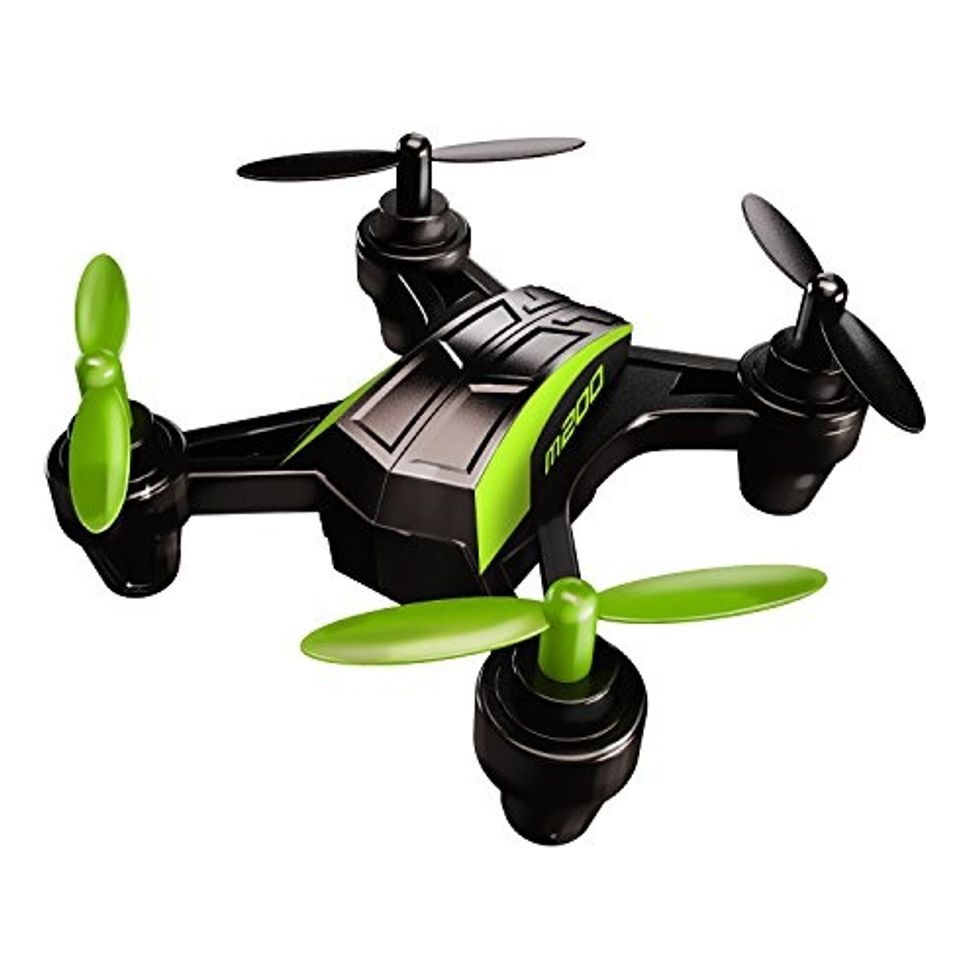 The Sky Viper Nano Drone m200 is very small, so it's better for indoor flightsSky Viper
Sky Viper Nano Drone m200
Great for stunts, and priced below $30, the Sky Viper Nano Drone is almost so small we recommend using the quadcopter indoors. The battery also needs frequent recharging, although you can get a solid 8 minutes of flight time in before needing a reboot. There isn't a camera, so the drone can shoot images or video, but the size is ideal for small hands who want to take their first steps in controlling a toy drone. Want more details? GearBrain's review is online here.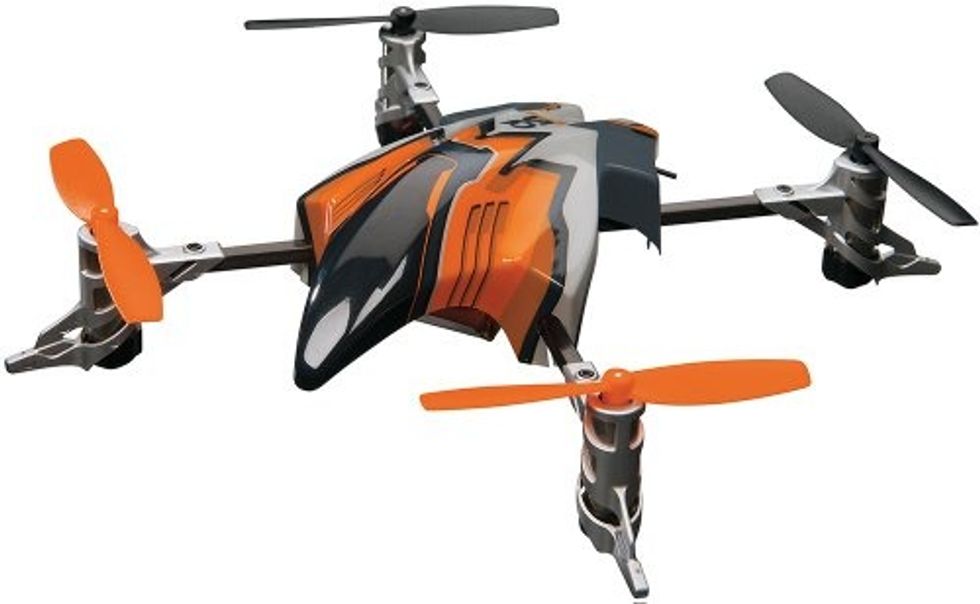 The Heli-Max 1SQ RTF Quadcopter has a 2.4 GHz Radio, and is easy to fly making it a good choice for practicing flipsHeli-Max
Heli-Max 1SQ RTF Quadcopter with 2.4 GHz Radio
The Heli-Max is over $100, but packs a ton of fun into a toy drone. It has four independently-controlled rotor blades making it easy to fly while remaining stabilized. Plus, it's ideal for perfecting flips. The Heli-Max's camera records with an SD resolution of 640-480.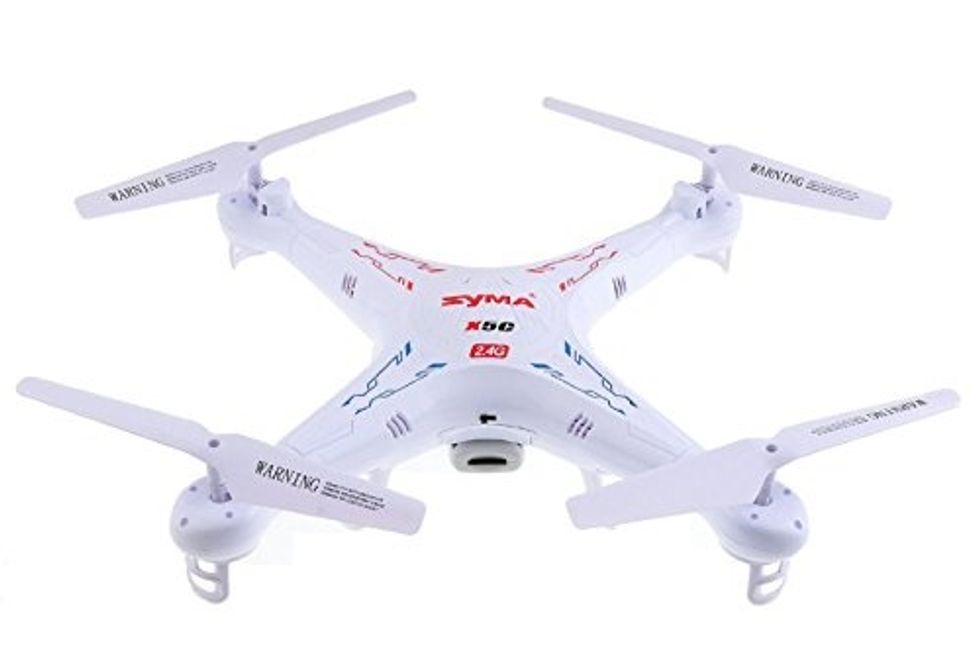 The Syma X5C Explorers 2.4G 4CH 6-Axis Gyro RC QuadcopterSyma
Syma X5C Explorers 2.4G 4CH 6-Axis Gyro RC Quadcopter

Under $100 and great for hobbyists, the Syma is mid-sized in shape but huge in endless enjoyment. The drone has a built-in camera that records 720p and a 2GB memory card. The user can perform cool flips with the simple touch of a button with 360 degree eversion. Stability is under control thanks to the 6-axis Gyro system. This Quadcopter is a show-stopper!
Are you more interested in toy drones than before? These 5 are aimed to please and will get you flyin' high!
Like GearBrain on Facebook