The world's first electrified road capable of charging vehicles as they drive over it has opened in Sweden.
The 2km (1.2 mile) stretch of public road spans from Arlanda airport to the Rosersberg logistics center on the outskirts of Stockholm.
This installation kick-starts Sweden's plans to electrify thousands of kilometers of public roads in a bid to lower fossil fuel use in the transport sector by 70 percent by 2030. The plan is to add the charging system to existing roads, rather than build new ones specifically for electric vehicles.
Similar in design to a slot car track, electricity is transferred from two metal rails in the middle of the lane to a movable arm attached to the underneath of the passing vehicle.
When the vehicle drives over the road, the arm detects this and automatically lowers into place; the arm is then automatically disconnected when the vehicle overtakes or turns off the road. The road will be used by electric trucks developed as part of the project.
Electrifying roads like this costs €1m ($1.23m) per kilometer, which is said to be 50 times cheaper than the cost of building an urban tram line.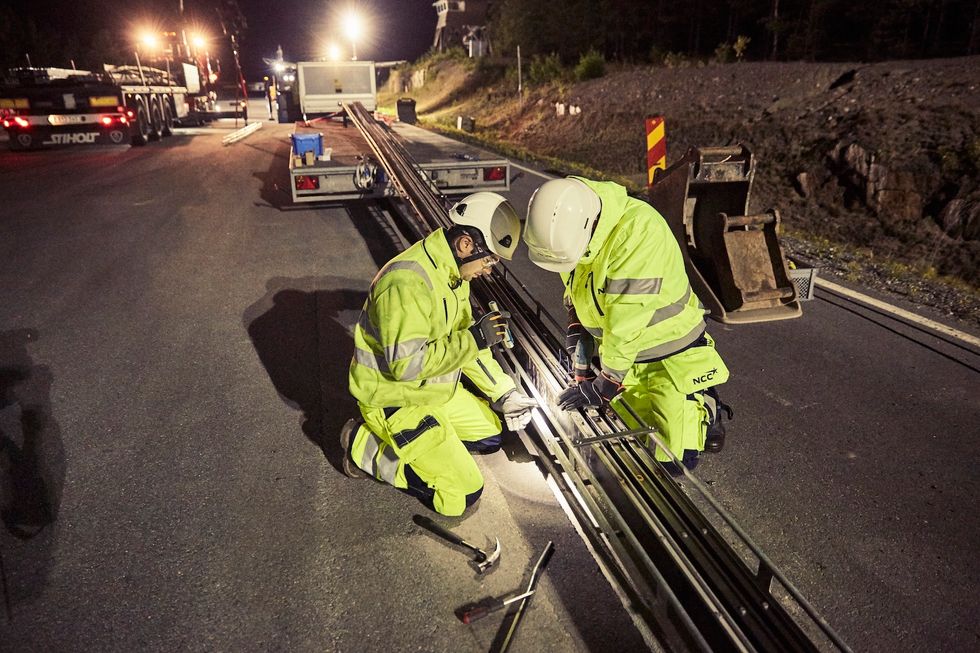 Engineers work to install the charging systemeRoadArlanda
Sweden ranks third in the world in terms of electric car sales as a percentage of total annual car sales, behind the Netherlands and first place Norway, where a third of new cars sold are electric. The US is seventh.
Hans Säll, chief executive of eRoadArlanda, the consortium behind the project, said: "One of the most important issues of our time is the question of how to make fossil-free road transportation a reality. We now have a solution that will make this possible, which is amazing. Sweden is at the cutting edge of this technology, which we now hope to introduce in other areas of the country and the world."
To ensure the system does not pose a safety risk when wet, eRoadArlanda says even when the road is flooded with salt water, electricity on the surface is measured at just one volt. "You could walk on it barefoot," Säll told the Guardian.
Sweden has roughly half a million kilometers of public roads, of which 20,000km are highways. Säll said: "If we electrify 20,000km of highways that will definitely be enough. The distance between two highways is never more than 45km and electric cars can already travel that distance without needing to be recharged. Some believe it would be enough to electrify 5,000km."