A story about an update to the way Facebook displays ads on your news feed is unlikely to raise too many eyebrows — but this time things could be different, because it involves a fun use of augmented reality.
Appearing on your news feed soon, the ads will come from companies like Michael Kors and makeup brand Sephora. But instead of just showing you the products as normal, they use your smartphone's front camera and augmented reality tech to put the products — be it sunglasses or lipstick — on your face.
Read More:
Facebook users are first shown a normal ad — a model wearing some sunglasses, for instance — but then get a prompt to 'Tap to try on.' Tap the screen and the front camera loads up, showing your face full-screen and wearing those very sunglasses. You can then change the color of the lenses to your preference, then tap 'Shop Now' to make your purchase while remaining inside the Facebook app.
Michael Kors is the first brand to get onboard with AR adverts in the news feed, but those conducting tests with the technology this summer include Sephora, NYX Professional Makeup, Bobbi Brown, Pottery Barn, Wayfair and King.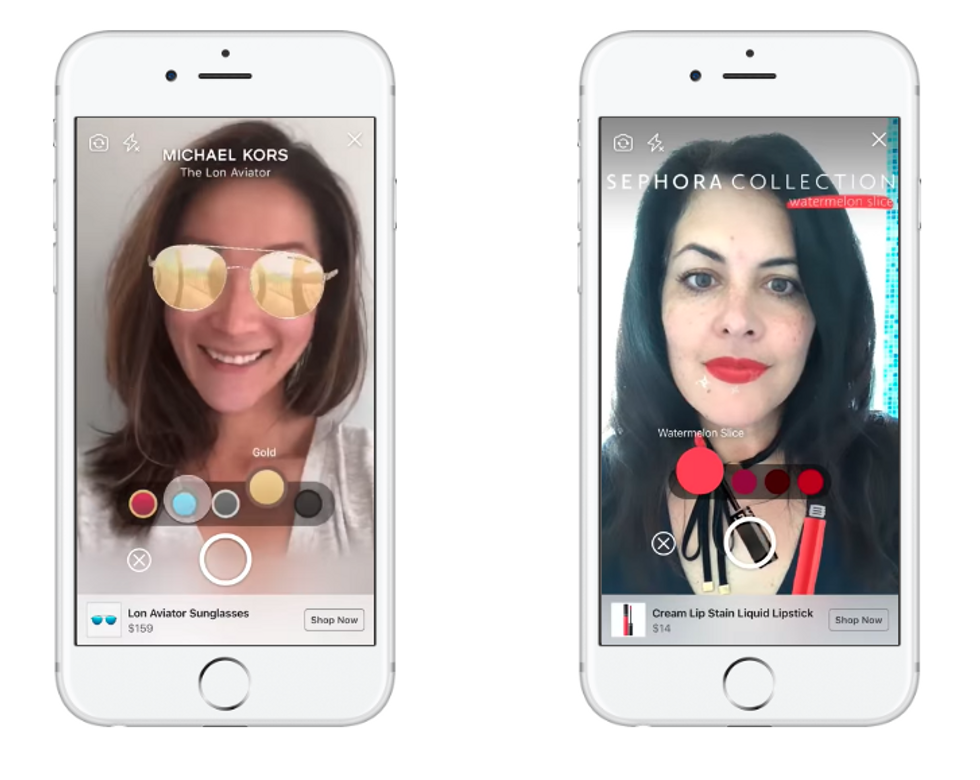 AR ads let you virtually try on sunglasses and makeup before you buyFacebook
In a blog post written to businesses who advertise on Facebook, the social network said: "Later this summer, we will begin testing AR ads with some additional advertisers such as Sephora and others in fashion accessories, cosmetics, furniture, gaming and entertainment, and we plan to roll out AR ads more broadly to other industries over the course of the year."
Other uses for the tech include putting the user's face in an advert for a Facebook game.
Facebook added: "By incorporating calls-to-action within the camera experience, people can seamlessly go from engaging with your product - such as trying on a lipstick shade or exploring a new game - to making a purchase or installing an app."