Like GearBrain on Facebook
Virtual reality (VR) and augmented reality (AR) are becoming powerful tools in the construction industry, allowing both private and commercial customers to see, walk through and even feel what their new property will look like, before the foundations have been laid.
Customers wearing a VR headset like the HTC Vive can see virtual, 3D, 360-degree images of what their new property will look like. They can physically walk around these virtual spaces, inspect the smallest details, see how shadows move as the sun passes overhead, and adjust the interior design to their heart's content.
Read More:
Such systems mean property developers can show off apartments even before the marketing suite has been built, and clients can keep track of work being carried out by their builders. On top of all this, making changes in VR costs the client substantially less than asking architects to redesign blueprints and builders to change plans once construction has begun.
GearBrain recently met Ian Hintze, founder of Brayjam Construction Inc. Hintze is currently building a new home in Woodmere, NY and is using VR plans of the property created with a video game engine to see the finished product before the walls have gone up. By combining VR and AR with video game and architectural software, Hintze is able to help his client experience their new home in a way drawings and renders previously couldn't offer.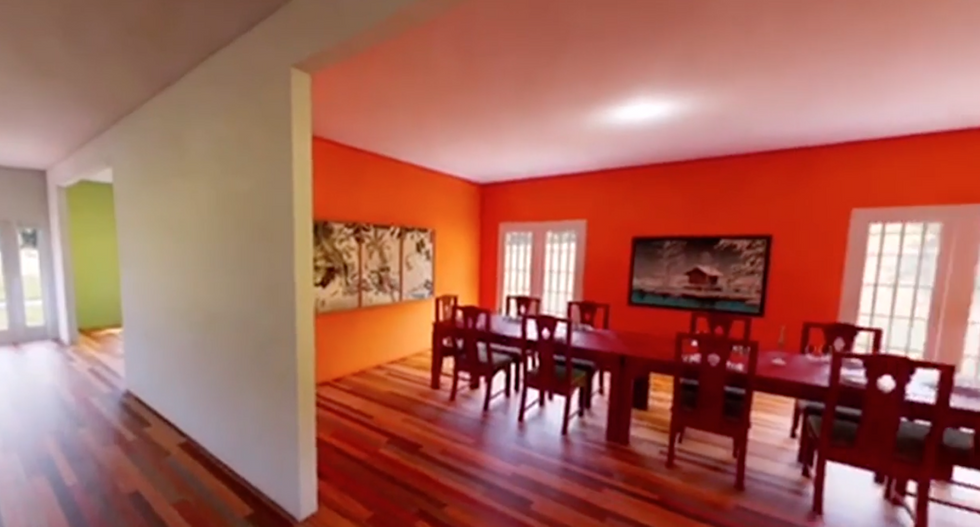 VR building produced to show what a new home will look likeBrayjam Construction
He can, for example, see how light enters the property and moves throughout each day. If this causes glare problems where he had planned to install a TV, he can redesign or relocate the virtual windows to prevent this. Crucially, this can be done before the final architectural blueprints are drawn up and sent to the construction company and local authorities.
Making changes to these after building has begun can cost thousands of dollars, and some builders even allocate a contingency budget of between 10 and 15 percent of the total construction cost, knowing clients tend to make expensive changes after work has begun.
With VR, these changes can be made virtually beforehand, saving substantial time and money. Hintze's combining of VR with the Autodesk software used to design properties is believed to be unique in the construction industry.

AR, sometimes called mixed reality, also helps on the construction site. Using devices like the Microsoft HoloLens, clients can walk around the construction site while the headset overlays information to help them visualize where yet-to-be-installed items will go, and what the final result will look like. This way, one can walk around the empty concrete shell of their new home, with an augmented view of where the underfloor heating elements will be installed, how the internal walls will look once fitted, and how much kitchen floor space will be taken up by the breakfast counter.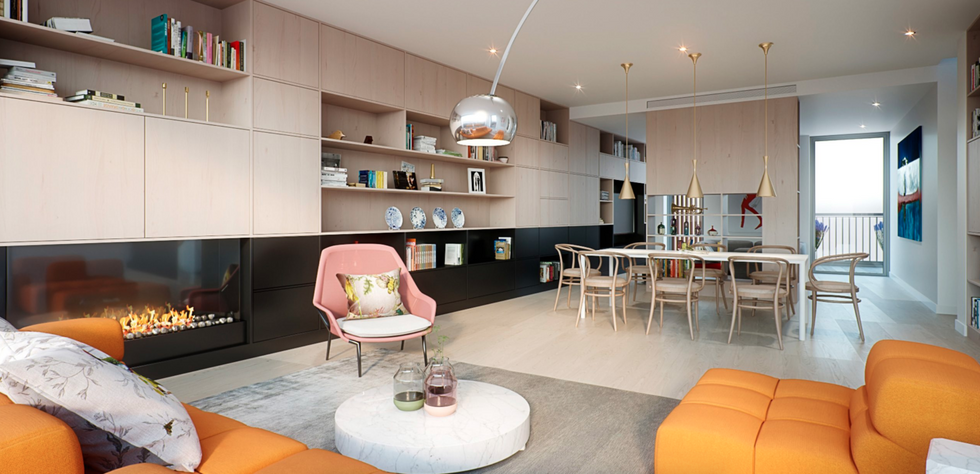 VR imagery created with the Unreal video game engineVMI Studio
VR and AR technologies are also used by London-based VMI Studio, a computer-generated imaging company which specializes in producing photorealistic images of luxury apartments before they are built.
Two years ago, they took this to the next level by using the Unreal video game engine to create VR environments for potential buyers to 'walk through', experiencing the property before it is built. Clients can hear running water as they walk past the bathroom, check how loud the flightpath is overhead when stepping out onto the balcony, and even have their own furniture and artwork loaded into the simulation to make sure everything fits.
VMI Studio also uses AR with a Microsoft HoloLens to help visualize the layout of commercial properties. For example, GearBrain was shown how a 3D map of one of the UK's largest shopping malls can float before our eyes. Using a crosshair which permanently remains in the centre of our field of view, and a button in our hand, we can click on a floor of the mall for a closer look. Clicking on a specific unit reveals its size, price and details about the current tenant.

The HoloLens' field of view is still surprisingly narrow for now, and using any AR experience like this takes a few minutes of setup and explanation for the novice user, but the technology is only destined to get better over time. Resolution will improve, the field of view will increase, and clients will gain even greater insight into construction projects which can be made to literally leap off the drawing board.

The HoloLens AR headset is being used in the construction industryMicrosoft
Back to VR, and VMI has experimented with combining their already-impressive visuals and audio experience with temperature, texture and even smell. In 2017, the company was hired to create an art exhibition in London's Somerset House where visitors walked around a room full of blank white tables and mocked-up display cases. They wore HTC Vive headsets powered by laptops held in backpacks, making the system completely wireless.
Because the VR environment was physically identical to the actual room, they could walk between tables without tripping up, then reach out and touch the mock-up displays. Doing so made the VR experience come to life, showing them pieces produced by the exhibit's artist, Mat Collishaw.
VMI wants to take this concept and make it possible for buyers to walk around a mocked-up apartment, then use VR to swap out kitchen counters, wallpaper, flooring and any other details they want. The physical space remains real to walk around and touch, but visually it can become whatever they want. Heaters could represent virtual fireplaces, while fans could make the balcony feel more real, and the smell of coffee could drift out of the kitchen, VMI says.
It is often easiest to imagine VR and AR as technologies used for video games, but commercial and industrial projects like those of Brayjam and VMI offer a peak behind the curtain of something even bigger. Where gamers (and game developers) have approached these technologies with caution, the construction industry is being transformed in a way few could have predicted just a couple of years ago. And with hardware manufacturers committed to improvement (HTC just launched the new Vive Pro and we're all waiting for Magic Leap), the AR and VR revolution is just getting started.
Additional reporting by Mark Westlake
Like GearBrain on Facebook