Like GearBrain on Facebook
For home contractors, professional repairmen, smart home enthusiasts or those who are comfortable handling the mechanics in their own space, a thermal camera is as indispensable as a tape measure and flashlight — sometimes even more. Flir recently updated its Flir One, injecting new features such as the ability to toggle between thermal or visible viewing only and adding three moveable spot meters into the Flir One Pro. The company sent GearBrain one to review, so we used it as a home owner, and also gave the device to a contractor to try.
Although marketed as a professional tool, Flir is also attractive from a "casual tech" point of view, where consumers can pick up new technology for personal use (and have a very cool toy). This is most applicable for me, as I was quick to use it to check on a number of things that have been nagging me around the house. After all, if that crack in the bathroom ceiling is due to a leaky pipe, I need to know.

For professionals, we wanted to see how contractors can use the Flir One Pro for home and building inspections, HVAC & plumbing and, perhaps most commonly, electrical issues. Accuracy is more essential than ever here, and images have to be precise.
Let's get this started
Flir sent GearBrain the iOS version (the device is also available on Android) and the gadget was easy to set up. After unpacking the box, all I had in front of me was the device, the USB charging cable, and small carrying case. Nothing else needed, as the directions are all online.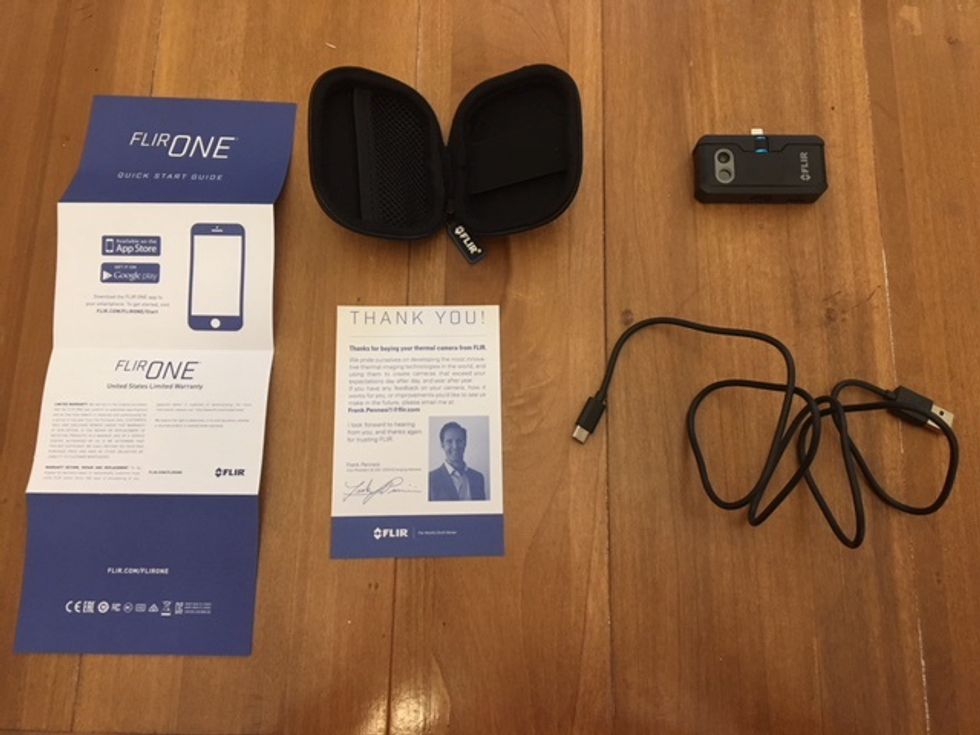 Unboxing the Flir One Pro
You start by downloading the app (iOS or Android), which only took 40.8 MB of storage on my device. I walked through the registration, which annoyingly did require some desktop use, and then I explored the various options on screen.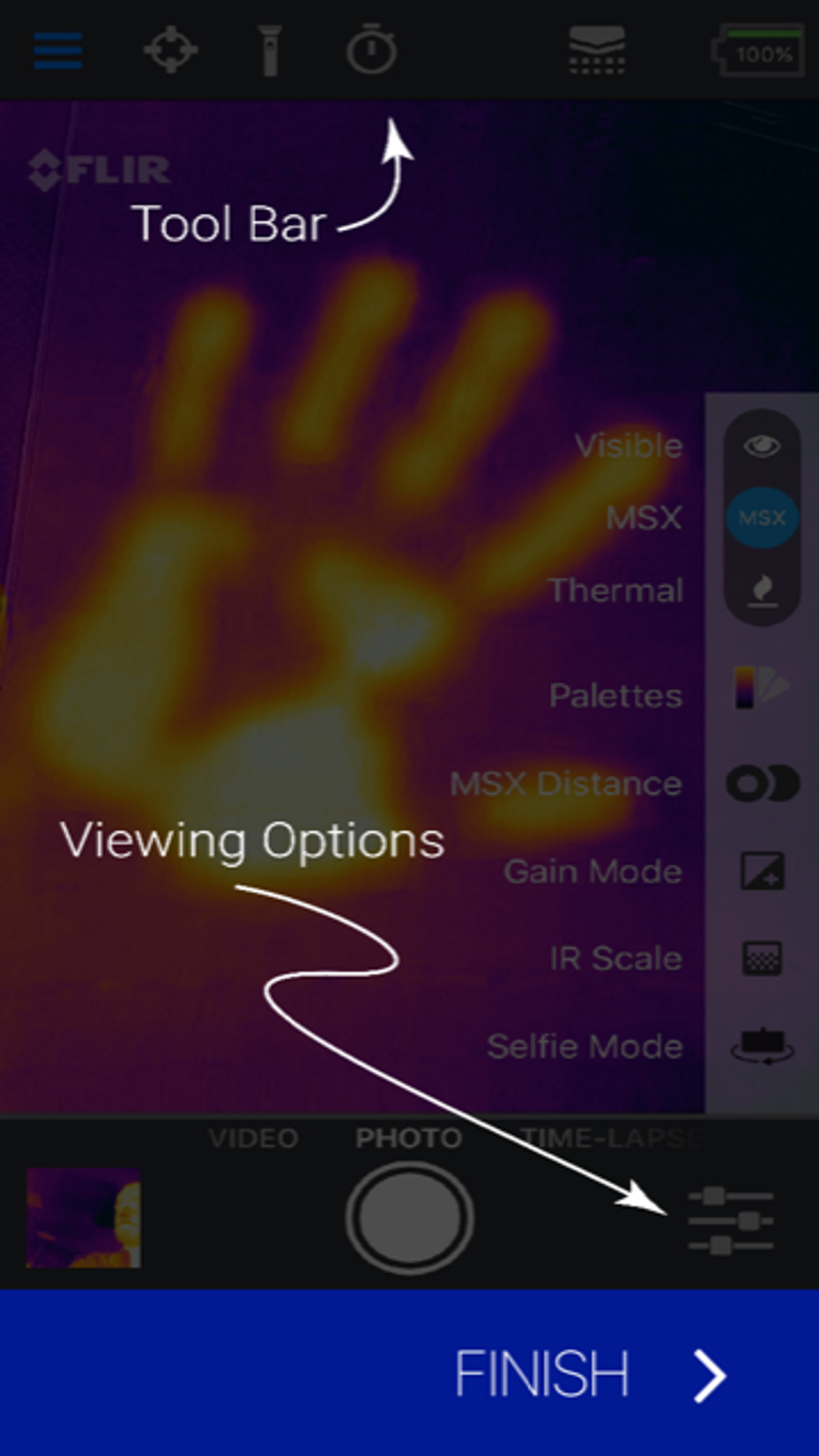 The app screen for the device is fairly simple and straight-forward
The basic structure of the app is the home screen with commonly used features, along with the ability to pull out a side menu of more intricate options. On the bottom, there are clear buttons to take video, still pictures, or time lapse video.
I found the online instructions to be good, but hardly great: It would have been ideal to see how-to videos online. I know that concept is accepted by Flir, because they use them on the Tips & Tricks portion of the app — just something to note.
Lights, camera, actions

I started simply, using the device to just sense the body heat of our adorable puppy Trixie. I didn't know what the screen would show, other than our little girl lying peacefully in her bed. Since we have 1,000 standard-camera Trixie photos, I took one on the Thermal setting, and saw that her body heat came in at almost 36 degrees Celsius. Useful? Not really. Fun? Absolutely, especially for the kids.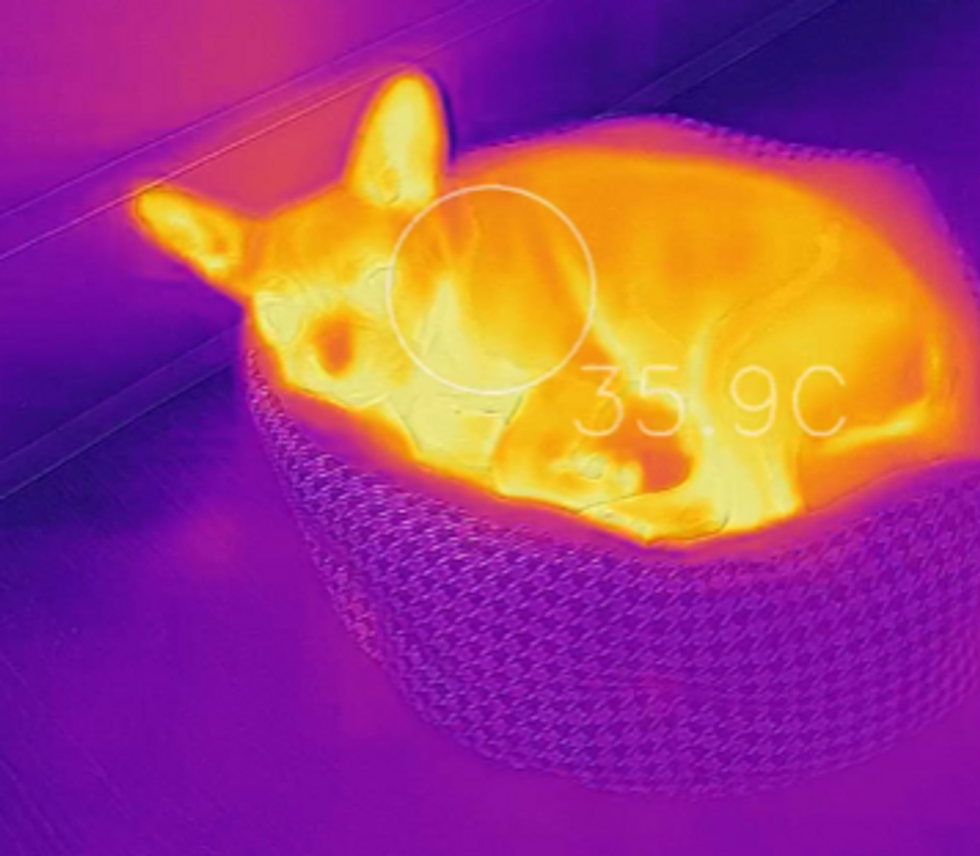 The gratuitous (thermal) photo of my dog
I then upgraded my challenge, to try and answer questions I have around my house.
To test how temperatures are demonstrated, I turned on a burner on the stove, and took three different photos to see just how hot things got.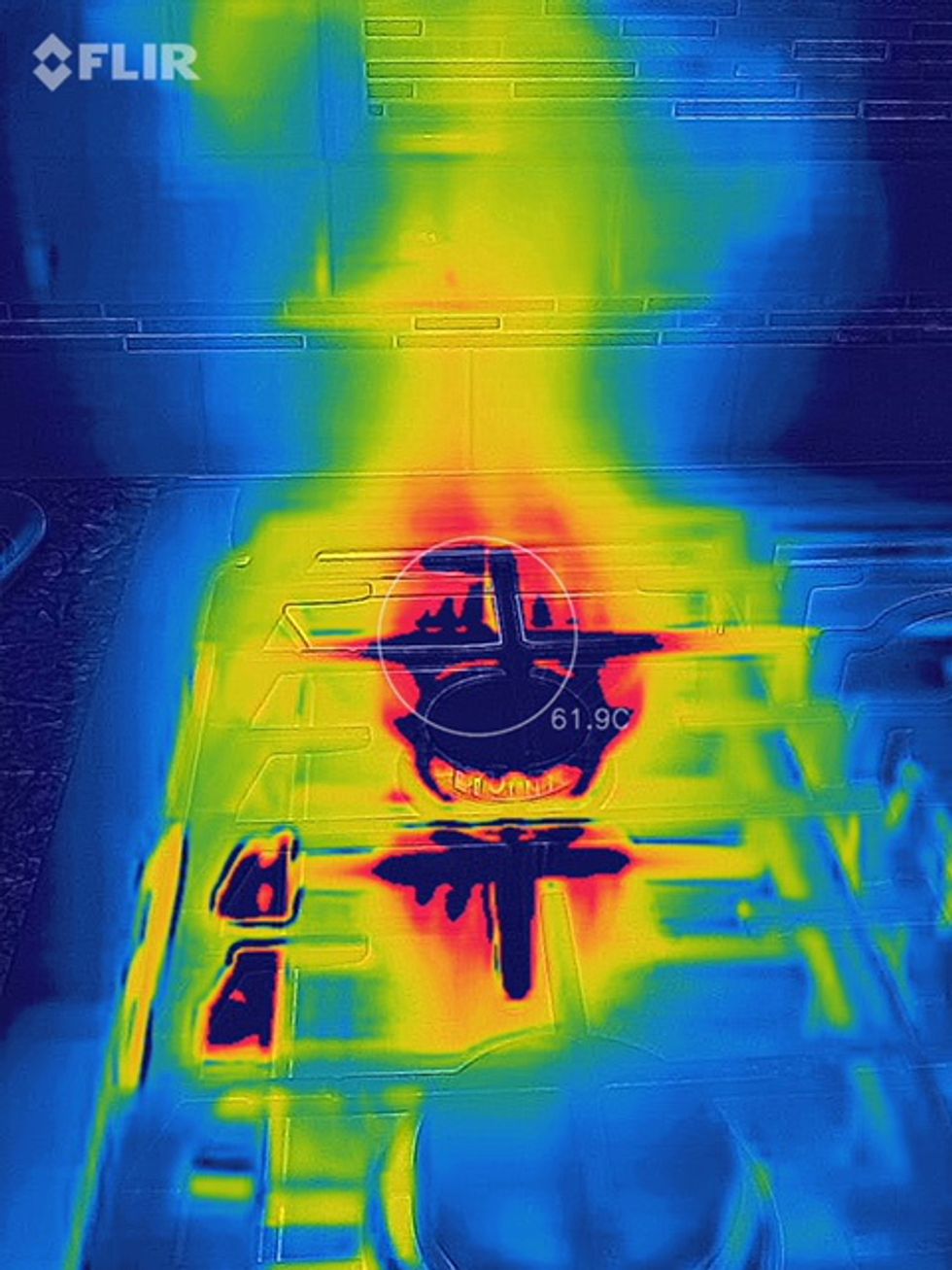 I confess, I had no idea just how hot the full burner could be, especially since the flame itself only climbs about one-quarter of the way it appears in the image. Again, interesting — but not essential.
So I put Flir One Pro to the test in that bathroom I mentioned above. We have a crack in the ceiling that appears to be getting bigger, and frankly, what we don't know about it is daunting. I shot a video around the crack, and you can see why I'm relieved: little noticeable difference between the "healthy" part of the bathroom wall and the part with the crack.
As a consumer I found the Flir One Pro to be worthwhile. But I turned to a professional contractor friend to ask what he thinks of the device. After all, this model is made for professionals, as the original model Flir One is more than sufficient for most.
The contractor told me he finds this to be exceptionally valuable, as much for optics with a customer — showing a client the differences in heat sources, and the ability to visualize concerns they see — as the device is to locate issues.
The higher level of clarity seen in the VividIR thermal imaging processing delivers images that come across better than what he expected to see: the usual blobs of hazy color on the screen. Again, he explained how valuable that can be with customers, to give them confidence that a job will be done right.
Worth the purchase
When assessing this, let's do so from then from these two prisms:
Casual tech: yes, it's cool and yes, it's fun, but the Flir One Pro earns the highest praise for giving home owners peace of mind. I now know I don't have a leaky pipe in my bathroom. And if I did, I would know that it needed addressing before Victoria Falls goes pouring down the walls.
Is it perfect? No, not at all, but the problems I had with it were minor: the Apple device insertion feels very loose and flimsy, for one — an issue we saw in the original Flir One device as well. But for a casual tech guy like me, the Flir One is probably more than enough horsepower, at half the price.
Professional use: I'd be surprised if contractors didn't find the Flir One Pro thermal imaging camera attachment as essential a tool as a tape measure. While it's not cheap, at $399 it's hardly outrageous for a professional level tool, and the net gain is tremendous both with what you'll find, but also in how you'll communicate with clients.
-Adam Shapiro is a former Microsoft consultant who has seen the rise (and sometimes fall) of new tools dedicated to making our lives better, and has a good perspective on what will stick. For his most recent piece for GearBrain, he reviewed the Philips Hue Starter Kit.
Pros: Easy set-up, good app, helps you recognize issues before they become problems.
Cons: Instructions are okay, not great. Pro is clearly for contractors, not every day tech enthusiasts.
Like GearBrain on Facebook