Carmaker Ford is imagining a future where parking is so scarce, you have an electric bicycle built into your car to get to your final stop. The company just nabbed a patent for the "Vehicle with an Integrated Electric Motorcycle," where the two-wheeled bike might actually fit into a front panel of the car.
Ford imagines the car would work Batman-style, with "an ejector mechanism" which would "discharge the motorcycle from the carrier vehicle under the action of force," according to the patent.
Carmakers are researching multiple avenues for our future transportation needs from self-driving cars to Ford's own plans for ride-sharing fleets by 2021. Some imagine a time when consumers won't actually own cars, or would put vehicles to use while someone's sleeping, or at work — so fewer cars are needed on the roads.
The new patent from Ford almost points to a different future, where there are too many cars, and we need a way to move around them more easily — or restrictions prevent cars from being allowed on the roads. Ford recently patented a way for cars to actually pay each other through a form of cryptocurrency, allowing some to cut through traffic more quickly than others.
Congestion pricing, where drivers have go pay an extra fee for driving into metropolitan areas, is another way to combat excessive driving in cities and is already in affect in areas including London, where people pay about $16 (£11.50) to drive into parts of the city during the week. New York City has also toyed with the idea of a fee to enter the city in a car, with proposals constantly failing.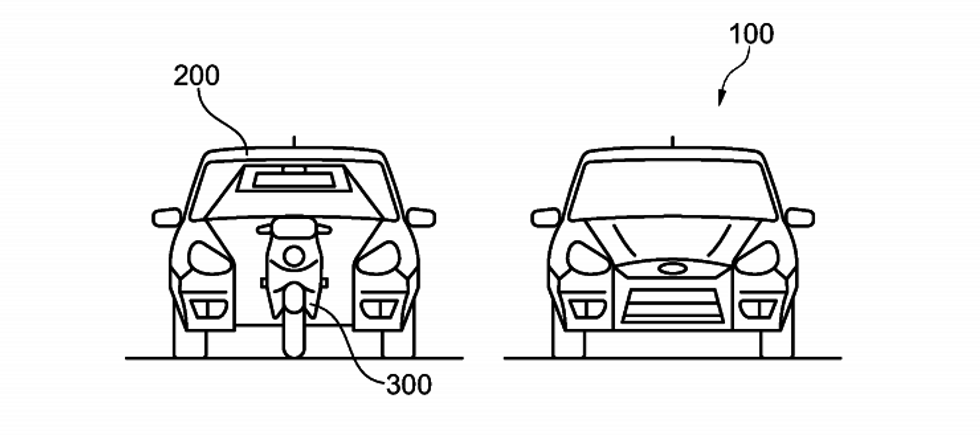 Your motorcycle could ride piggyback style with you to workFord
Passenger cars aren't the only vehicles Ford has in mind for its new modular form of transportation. The company also imagines attaching motorcycles to a pickup truck or a smart car "in a piggyback fashion," says the patent. In Ford's mind, drivers could also parking their cars and then ride, "…to the desired location on the bicycle."
The bicycle or motorcycle — Ford uses both words in the patent — would notably be able to tap into the car's system and display including an on-board computer, radio and navigation system, even after separated from the main vehicle. Of course Ford supposes the motorcycle could have a rechargeable battery — and both the car and bike could keep moving even after detached from each other.
So one person could take off for work on a motor bike, while another continued on their way in the car. You might, however, want to stop the car, to be polite, first.