Move over Tesla. Byton is taking a stab at the luxury, electric, autonomous car space unveiling its concept car at CES on Sunday.
Car reveals are nothing if not dramatic — and Byton co-founders Carsten Breitfeld, Byton's CEO, and Daniel Kirchert, Byton's president, drove their baby on the stage, a four-door SUV-styled vehicle that has flush door handles, flat antenna and side view cameras that are tucked neatly against the car's sides. Byton pulled the curtains back on three colors: a dark silver, white and a light maroon, and the carmaker says customers will be able to choose other color options when the car goes into production in 2019, with a starting price of $45,000.
Byton will drive 248.5 miles for the rear-wheel drive car, and up to 323 miles in the four-wheel drive on a single charge. Fast charging will bring the car to 80 percent in just 30 minutes, says Byton. And the carmakers say as a self-driving car, Byton will operate with Level 3 when it first arrives, but will be at Level 4 autonomy by 2020.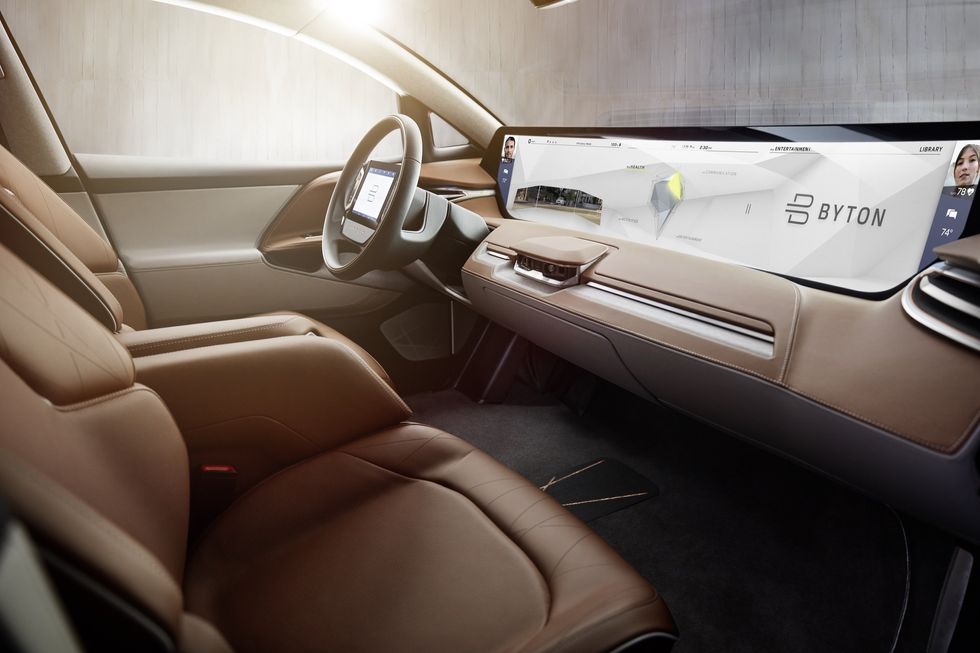 Byton promises a luxury interior complete with bucket leather seats and wooden floors.Byton
But the inside of the car is its real selling point, with tailoring that we promise is nicer than anything in your home. Deep leather seats swivel, wooden floorboards are under foot, and a four-foot long touch screen sweeps across the length of the dashboard, broken into four visual categories: health, communications, entertainment and activities. This idea, of Byton's concept car being like a high-end home on wheels, is one the company hammered home throughout its presentation, with Breitfield even calling the vehicle's interior akin to being in a "luxury living room."
A second flat screen is on the steering wheel — easier to tap in driving directions without removing your hands. But drivers and passengers will control the screens not only with touch — but through gesture and voice through Amazon Alexa. How will this work? Byton says you'll be able to pull a "Minority Report" move and grab information from the one screen "...and then put it into the maps function in the middle of the display to start the navigation," says the company.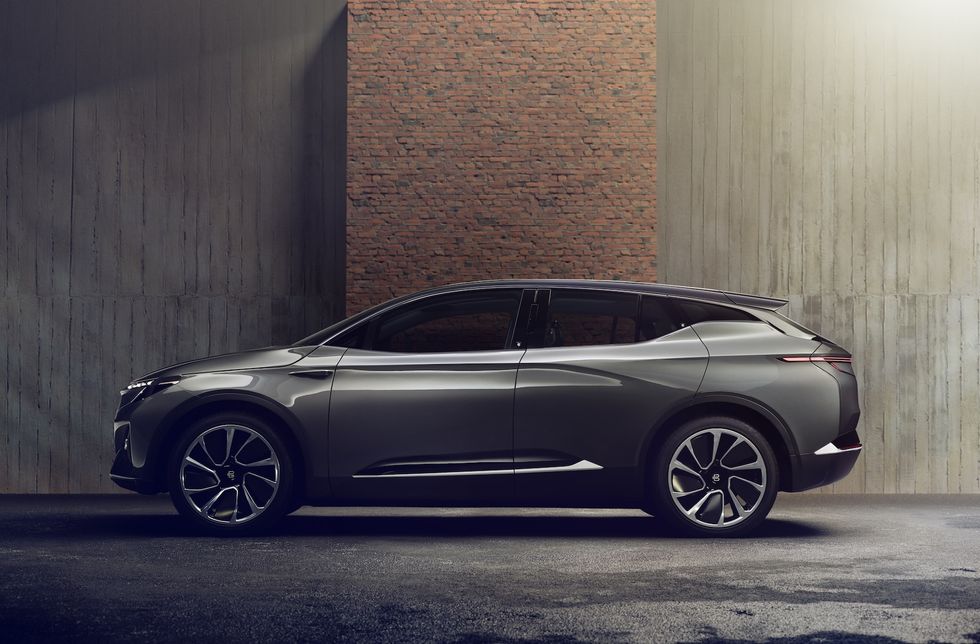 Byton will go up to 323 miles on a single charge, and starts at $45,000Byton
Facial recognition also plays a big role in Byton — with three cameras embedded on both sides of the car to recognize users, unlock the vehicle for drivers, and automatically adjust seats depending on who is getting inside. Once in the car, you'll be able to make video calls, even pull up health information to get fitness advice. And because of Amazon Alexa, users will be able to make changes via the smart assistant to any of Amazon's services, such as a Whole Foods delivery, just by talking to Alexa.
Byton says its first cars will be available in China in 2019, with the U.S. and Europe to follow in 2020. A sedan is expected to launch in 2021, with an MPV in 2022.