Like GearBrain on Facebook
No one likes sitting in traffic. And Ford has just come up with a new patent that may give some people, and their cars, a way to negotiate with others to get to their destination faster.
A new patent from Ford Global Technologies describes how cars could talk with each other on which one is allowed to pass, while others would move aside into slower lanes. Just granted this week, the patent by the Dearborn, MI-based company has cars communicating via cryptocurrency transactions. In short, cars would pay each other to pull essentially into a slow lane when another car needed wanted to move faster with less traffic.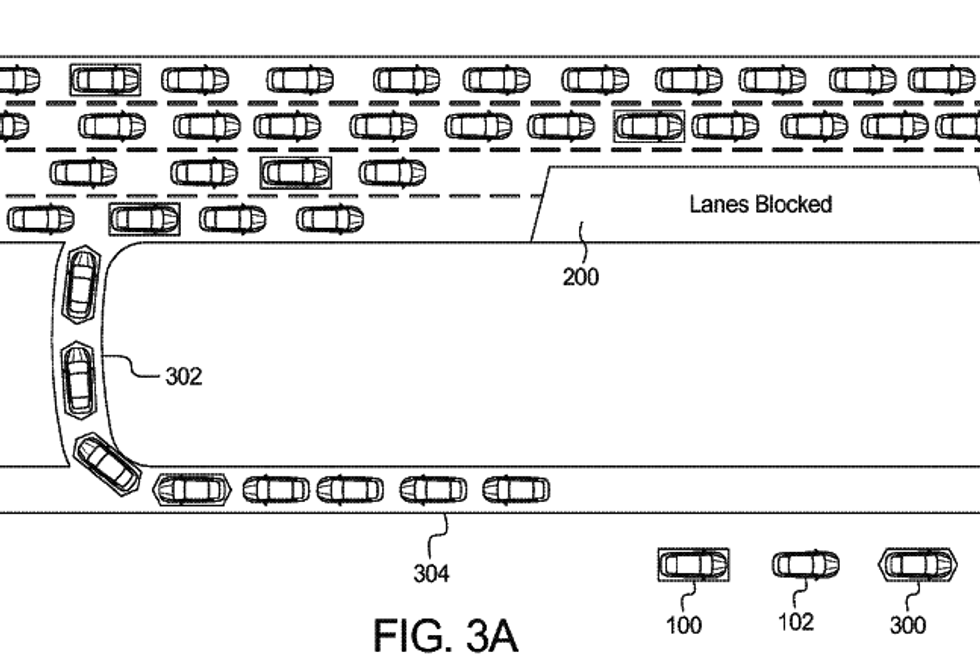 Cars would tell each other to move aside for other cars to get through, or even pay each other if they needed to get through traffic more quickly. Ford
Called " Vehicle-to-Vehicle Cooperation to Marshall Traffic ," the patent describes how cars would be optimized to drive at a constant speed, through a kind of "cooperative adaptive cruise control," or CACC. The technology would help ease traffic congestion when needed.
Ford notes that traffic — or flow rate — often gets worse "…because of lack of coordinate on the drivers," according to the patent. People stop short, they accelerate, get frustrated, then stop again. None of this makes for a happy — or efficient — driving experience.
But those cars kitted with Ford's CACC technology would basically start herding cars without the technology into groups, trying to keep the speed and flow constant. In other cases, the technology would also enable cars to talk to each other — and let some get through. In those cases, they would use a cryptocurrency called CMMP tokens — essentially paying on another — to pass.

"The CMMP tokens are used to validate and authorize a transaction in which, at consumer vehicle request, the merchant vehicles either occupy slower lanes of traffic themselves or allow the consumer vehicle to merge into the own lane and pass as necessary," says the patent.
As with any patent, there is no guarantee that the technology will ever come into play. But certainly, embedding technology into vehicles that would allow them to communicate with each other is a big focus in today's car industry. Ford already has a patent on autonomous cars without steering wheels and pedals — and GM is actually planning to start building self-driving cars without wheels and pedals starting in 2019.
Like GearBrain on Facebook