Like GearBrain on Facebook
Tesla has enjoyed a healthy head start in the race to popularize electric cars, but this month could be where that lead starts to fade, as Audi, BMW and Mercedes all step into the fray with EVs of their own.
First, Audi announced on September 3 that mass production had begun on its e-tron electric SUV. Unlike Tesla, which is known for revealing new cars months or even years before mass production begins, Audi is yet to fully reveal the e-tron.
Read More:

Despite this, the car began silently rolling off the company's production line in Brussels, Belgium this week. The car will be revealed to the public for the first time at an event in San Francisco on September 17.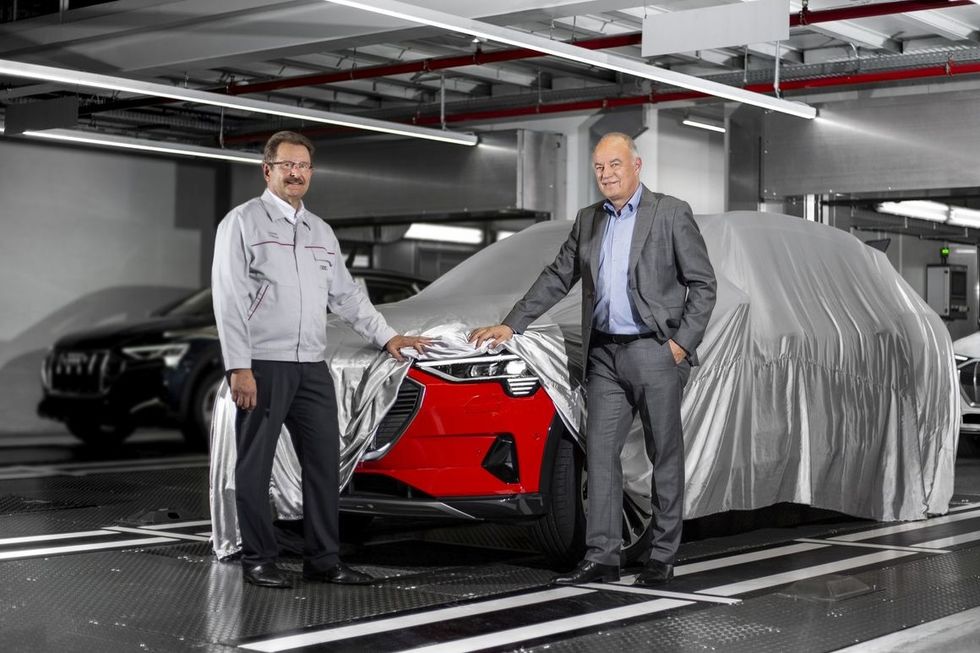 Audi put its first electric car into mass production this weekAudi
A lengthy marketing campaign has seen Audi tease the e-tron repeatedly over the past year, showing off its camouflaged test vehicles on multiple occasions. The company has also said the car will have two electric motors with a combined output of 355 horsepower, or up to 402 hp for eight seconds via a boost feature. Audi says range is at least 400 km (249 miles), the battery is 95kWh in size (Tesla's vary from 75 to 100), and the 0-62mph (100km/h) sprint will take less than six seconds.
Beyond this, Audi says the e-tron has a "range suitable for everyday use," and that a charging rate of up to 150kW means the car "is ready for the next long-distance stage in about 30 minutes." Pre-orders for the car will open on September 17, with a $1,000 deposit required from buyers wishing to reserve their spot in line.
BMW opens pre-orders for electric iX3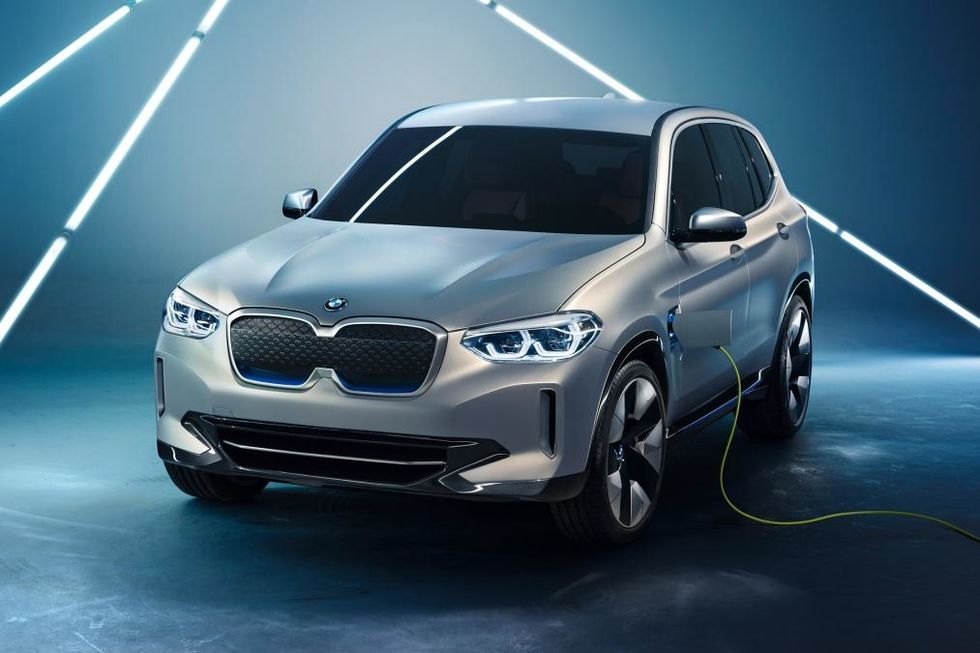 This iX3 concept shows what BMW's first electric SUV could look likeBMW
Also this week, BMW began taking pre-orders for its upcoming electric SUV, the iX3. Deliveries are not expected to begin until 2020 — and the company has only shown off the car as a concept for now — but Norwegian buyers can put down a $15,000 NOK ($1,800) deposit now.
Similar to how Tesla opened pre-orders for the Model 3 back in 2016, the upfront payment gives potential buyers a place in line. However, the car's actual price — and much of its specifications — are still unknown for now. BMW is hoping the very premise of an electric X3 will be enough to tempt buyers into securing their order with a deposit.
When revealing the concept vehicle back in April, BMW said how the production version will have battery packs of over 70kWh, power of over 270hp, and a range of more than 400km (249 miles), closing matching Audi's claims for the e-tron.

BMW has likely chosen to offer its iX3 to Norway first because the country is one of the world's largest electric vehicle buyers. As of 2017, electric and plug-in hybrid vehicles accounted for 39.2 percent of new vehicles sold in Norway. For that year, fully electric cars made up 20.8 percent of all sales, with hybrids accounting for 18.4 percent.
Buyers of electric vehicles in Norway — where cars are traditionally far more expensive than in the US and much of Europe — benefit from huge tax cuts. These include an exception from 25 percent VAT on the vehicle, no import or purchase taxes, free access to toll roads and ferries, low annual road tax, free municipal parking, a 50 percent reduction on company car tax, and access to bus lanes.
BMW says on its Norwegian website: "The future is electric, and with a click you can be a part of it. If you book your car today, you will be one of the first to get the full-electric SUV BMW i3X...The production of the brand new BMW iX3 starts in 2020."
Mercedes to reveal electric EQC on September 4
Mercedes will take the covers off its EQC electric SUV at a media event in Stockholm, Sweden (another EV hotbed) this evening, September 4. The car will then receive its public debut at the Paris motor show, which runs from October 2.

Just like its rivals, the Mercedes has been teased heavily in recent weeks, with the company showing off glimpses of its exterior, interior and infotainment system. A mid-size SUV, the electric car is expected to go up against the Jaguar I-Pace, BMW iX3 and Audi e-tron, while the Tesla Model X is a larger vehicle with a price expected to be undercut by its German rivals.
The Mercedes EQC will go on sale in the first half of 2019 and will be the first of 10 vehicles to be launched within the company's new EQ electric sub-brand between now and 2025. The EQC is expected to offer a range of around 300 miles.

Closely matching its rivals, the Mercedes will have an electric motor on each axle, a power output of around 400hp, and a 0-62mph time of between five and six seconds.
Tesla is "showcasing a surprise" in Switzerland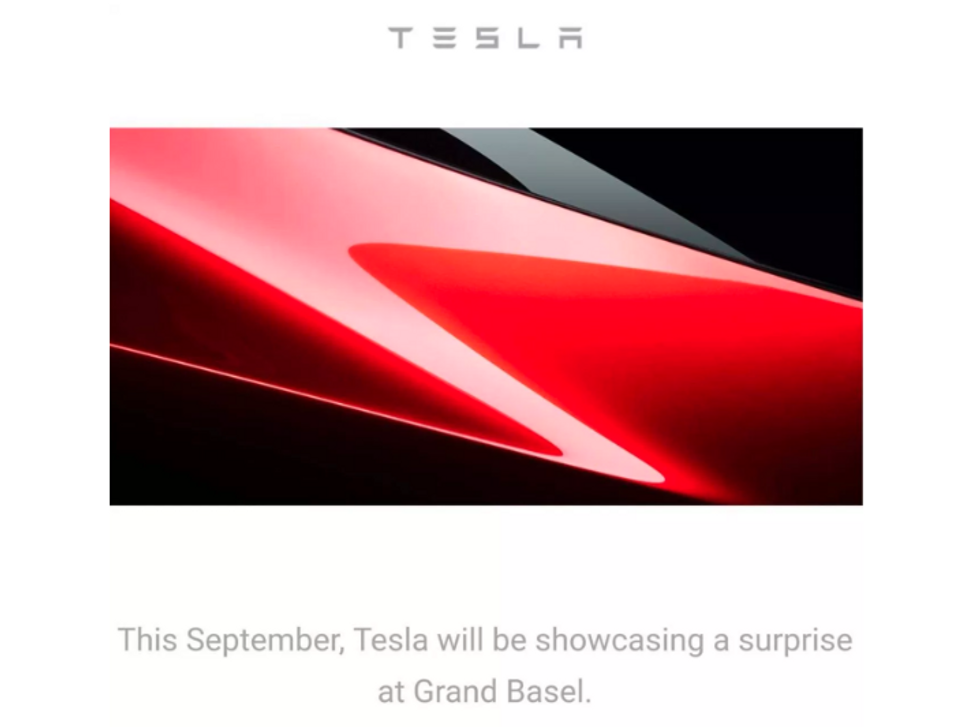 Select Tesla owners were sent this invitationTesla
Not to be left out entirely, Tesla is due to make an appearance at the inaugural Grand Basel in Switzerland, a new motor show which places a focus on classic cars displayed as works of art. The company has invited a small number of raffle winners to the event on September 5, where it is "showcasing a surprise" — expected to be the European debut of the Roadster, due on sale in 2020.
Like GearBrain on Facebook