Like GearBrain on Facebook
We now have our clearest picture yet of what the Google Pixel 3 and Pixel 3 XL smartphones will look like, thanks to renders produced by one of the industry's most prolific leakers.
Produced by Steve Hemmerstoffer, also known as OnLeaks, the renders are said to be based on CAD drawings made by the handsets' manufacturer.
Read More:

The renders, which include a 360-degree video of each handset, embedded below, show design changes for both models, which are expected to be launched by Google in the fall.
According to Hemmerstoffer, the Pixel 3 and Pixel 3 XL will be almost exactly the same size as their predecessors, but both will get larger displays. This is an important design move by Google, as the Pixel 2 and Pixel 2 XL have some of the largest screen bezels of any handset currently on sale.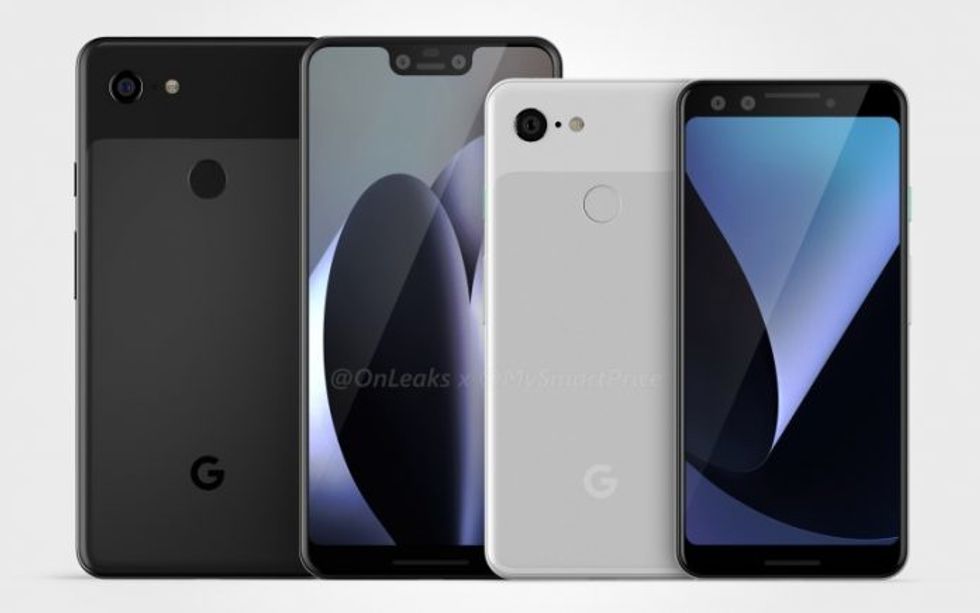 Steve Hemmerstoffer
The Pixel 3's screen is said to be 5.4 inches (up from five), and the Pixel 3 XL will measure in at 6.2 inches, a smaller 0.2 inch increase on before. The 3 XL will also feature a 'screen notch', as seen on the iPhone X and most other 2018 flagships.

The renders show how both phones will apparently have two front-facing cameras, which is new for Google, while a single camera remains on their rear. In a world where some smartphones have two or even three rear cameras - for optical zoom and creating blurred backgrounds - Google will have to prove its software is up to the task of producing class-leading results from a single lens and sensor.
Both phones retain a pair of stereo speakers on their front, along with a USB-C port on the bottom edge. This is also where their SIM card tray is, having previously been located on the on the upper-left side. Both phones have a circular fingerprint reader on their backs, just as before.

The renders also appear to show Google sticking to the Pixel 2's glass and metal design, whereby the rear only features a small glass panel at its top. This meant the Pixel 2 missed out on wireless charging, so for now it looks like the Pixel 3 will be in the same predicament - unless Google can someone fit a wireless charging system below the glass panel.
Of course, a lack of glass means increased durability, but it remains to be seen if consumers will prefer this over the ability to charge wirelessly.
Like GearBrain on Facebook