We write a lot at GearBrain about smart devices for the social areas of your home, like the lounge, kitchen and garden. But the smart home is far broader than that, and your bed can now be smart, connected with its own phone app.
These smart beds and mattresses may sound expensive — indeed they are — but when you spend a third of your life asleep, investing in a device that could improve it may be money well spent. After all, better sleep can boost your energy levels, improve your health, and ward off a wide range of illnesses. While there are a number of trackers and other devices that can follow your sleep through the night, these beds combine many of these features together.
Read More:
So before you spend your money on yet more smart lights, or a fancy new Ultra HD television, read on to discover what today's smart beds and mattresses have to offer.
Eight Sleep - from $1,835 (plus $5 a month for the phone app)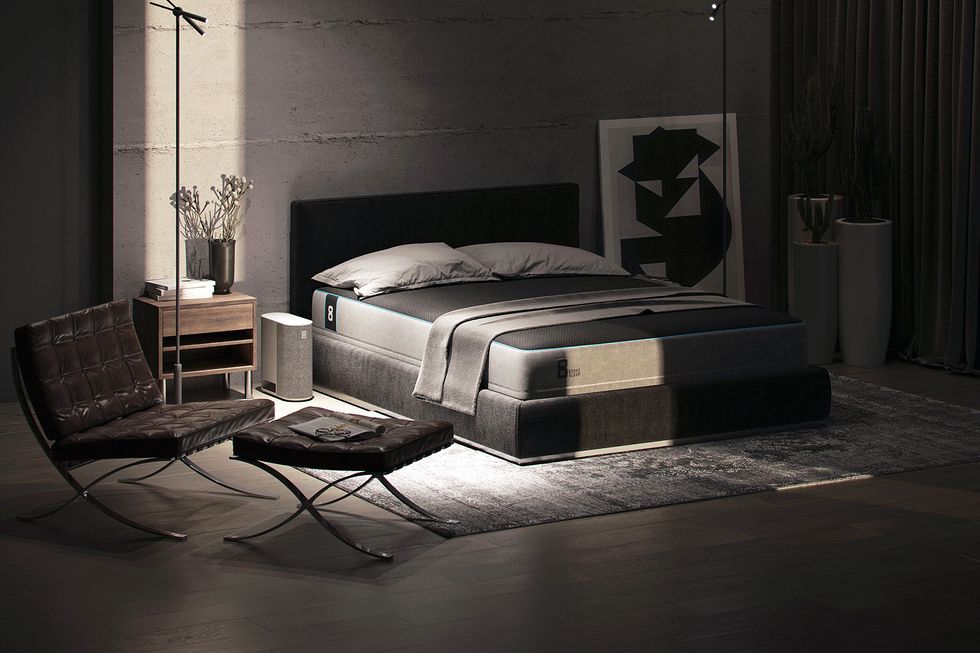 Air is pumped into the mattress from the box by the bedside tableEight Sleep
Arguably the most sophisticated smart bed currently on sale, the Pod by Eight Sleep is a mattress made up of four layers of adaptive foam (instead of traditional springs).

That's already a good start for a comfy bed, but what makes the Pod special is an air pump system which circulates air through the mattress, and the temperature of this air (and therefore the bed itself) can be adjusted.
What's more, the temperature of each side of the bed can be controlled individually. This way, you and your partner can sleep on a mattress that is exactly the right temperature, with one side warmer and the other side cooler, if that's what you both prefer.
Temperature is key to getting a good night's sleep, and while many may think a nice warm bedroom and bed is the answer, it's actually important to lower your core temperature slightly, as this promotes sleep. That's why you can help promote sleep by having a hot bath or shower before bed, as this encourages your body to cool down, preventing you from overheating.
The Eight Sleep Pod learns what you and your partner prefer, then adjusts during the night to keep you both at the right temperature to encourage deep sleep. The bed can then be set, via its iOS and Android app, to wake you up using a 'thermal alarm' — that is, the mattress cools down when morning arrives. The bed's temperature can be adjusted from a cool 55°F to a toasty 115°F.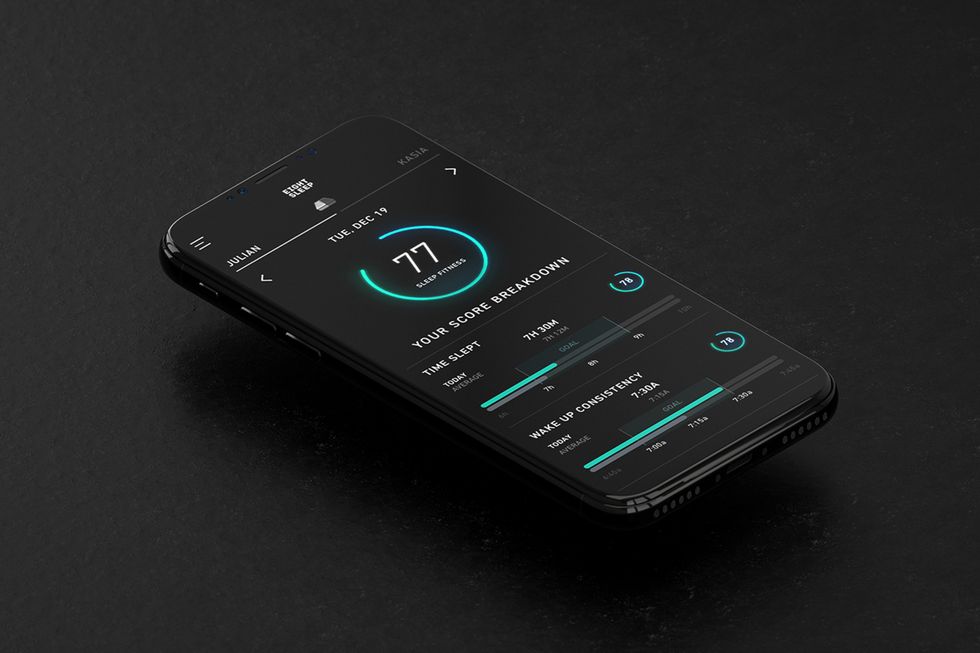 You've to pay $5 a month to enjoy all of the phone app's featuresEight Sleep
The app can also be used to track your sleep performance, awarding each night a score out of 100 and creating a chart to show your nightly sleep cycles. The app costs $5 per month (the first year is free) and the bed itself costs from $1,835 for a regular double, or $2,035 for a queen size (as of July 2019). Eight Sleep offers a 100-night trial, during which time you can return the bed for a full refund if you don't like it.

Finally, there is Alexa support for asking the assistant about your sleep performance, and IFTTT (If This Then That) integration means you can have the bed control other smart home devices. For example, you could set devices like smart plugs, lights and a coffee machine to switch on when you wake up.
Rest Smart Bed - From $3,799 (depending on size)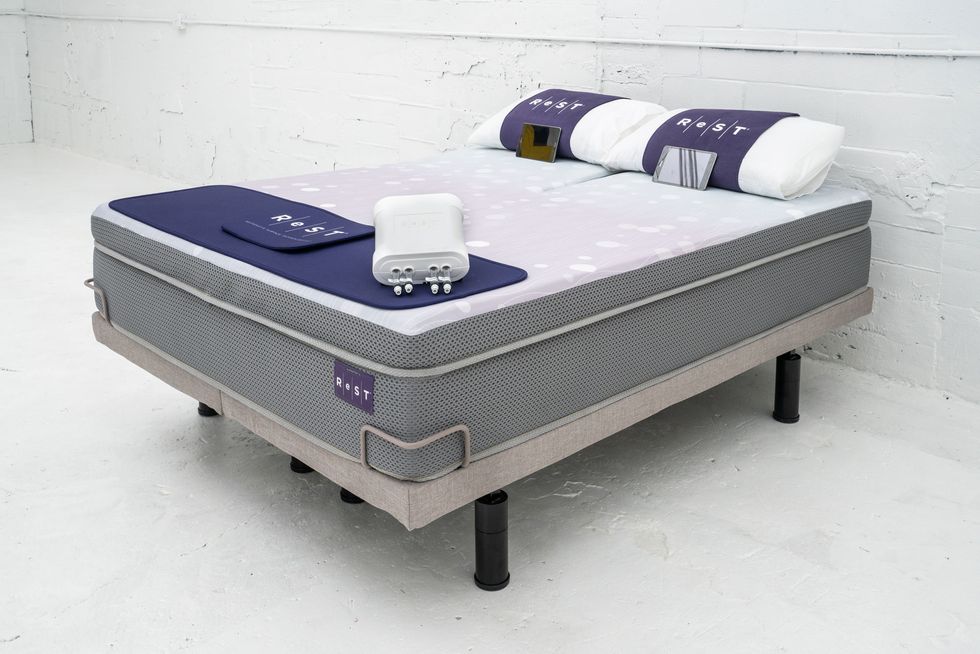 The Rest bed uses an air pump to adjust its positionRest
This bed doesn't adjust its temperature like the Eight Sleep Pod, but instead changes its position. Five areas of the bed can be moved via a smartphone app. These are for supporting your head, shoulders, lumbar, hips and legs, and each section can be manually raised or lowered depending on your preference.

In automatic mode the bed actively moves each of these areas to help support you during the night, keeping you comfortable and deeply asleep. The goal here is to take away any pressure points, reducing aches and pains the following morning.
Each side of the bed is moved separately, so you and your partner can sleep in completely different positions and have the bed automatically adjust during the night without either of you being disturbed. Assuming you don't roll over and invade each other's side, of course.
As well as controlling the mattress, the companion app also tracks your sleep and presents this information the next morning, helping you better understand your sleep performance. The bed collects information from around 1,000 data points on each side, Rest says, and the bed adjusts by pumping air silently in and out of each of the five chambers.

Although the temperature of this air cannot be adjusted, the mattress includes a four-inch thick layer of memory foam infused with a cooling gel, and finished in a cooling fabric similar to that used in sports clothing.
Prices start at $3,799 for a regular double, while a model with a split top (so you and your partner can set up different positions) starts at $5,799 for a queen size.
Sleep Number 360 with SleepIQ From $599 to $5,498 (depending on size and features)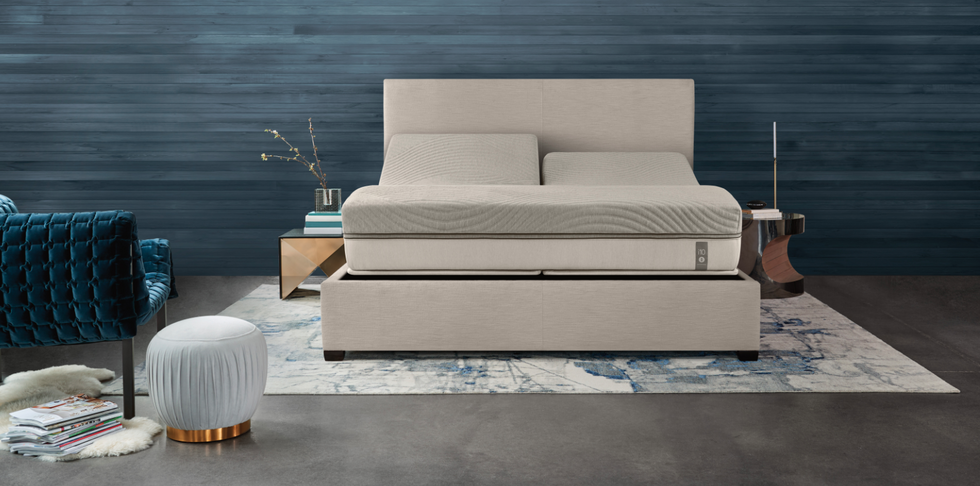 SleepNumber
Sleep Number sells a wide range of smart beds, from mattresses which monitor your sleep position with the SleepIQ phone app, to a fully-loaded smart bed with full position adjustability on each side, an anti-snore system, under-bed lighting, and a foot-warming system to help promote sleep.

Like the Rest Smart Bed, these mattresses also use an air pump to raise or lower each segment, helping you find the perfect position. The 360 smart bed's partner snore feature lets you raise the head of the bed manually within SleepIQ to help alleviate snoring.
As with a motorized seat of a business class airplane cabin, Sleep Number 360 beds can be adjusted from fully flat to positions designed for reading or watching TV. The foot-warmer helps you fall asleep by raising the temperature of your feet, which then encourages your body to cool down.
The SleepIQ app collects your nightly heartbeat and breathing rate data, as well as your movement, time asleep, and sleep cycles, then gives each sleep a score out of 100.
Sleep Number mattresses range from twin size (38 x 75 inches) up to California King (72 x 84 inches) and all require a firm, flat surface to be positioned on. The company offers a 100-night trial period.