We're still around four months out from the expected launch of the new Pixel 3 and Pixel 3 XL smartphones by Google, but the first credible rumors and leaks have begun to surface.
These include claims that the larger Pixel 3 XL will feature an almost bezel-free design with a 'notch' at the top of the screen to house a speaker, camera and sensors. This design is similar to that used by the iPhone X, LG G7 and a range of 2018 smartphones.
Read More:
However, unlike those models, the Pixel 3 XL will reportedly have a larger bezel below the display, known as a 'chin'. Meanwhile, the smaller Pixel 3 will retain a similar design to the Pixel 2, meaning larger bezels and a less premium look overall.
The information comes from unnamed insiders speaking to Bloomberg, which has a very strong track record for information about unreleased smartphones from companies like Google and Apple.

Speaking of Apple, the timing of this report is interesting. It comes just days before Apple kicks off its annual WWDC event on June 4, where a new entry level iPhone is tipped to be announced, along with new software for the iPhone, Mac and Apple Watch.
Despite gaining high review scores from the technology press - including GearBrain - Google's Pixel phones have struggled to sell. According to data from IDC, Google shipped just 3.9 million smartphones in 2017, compared to Apple's 216 million shipped iPhones in the same period.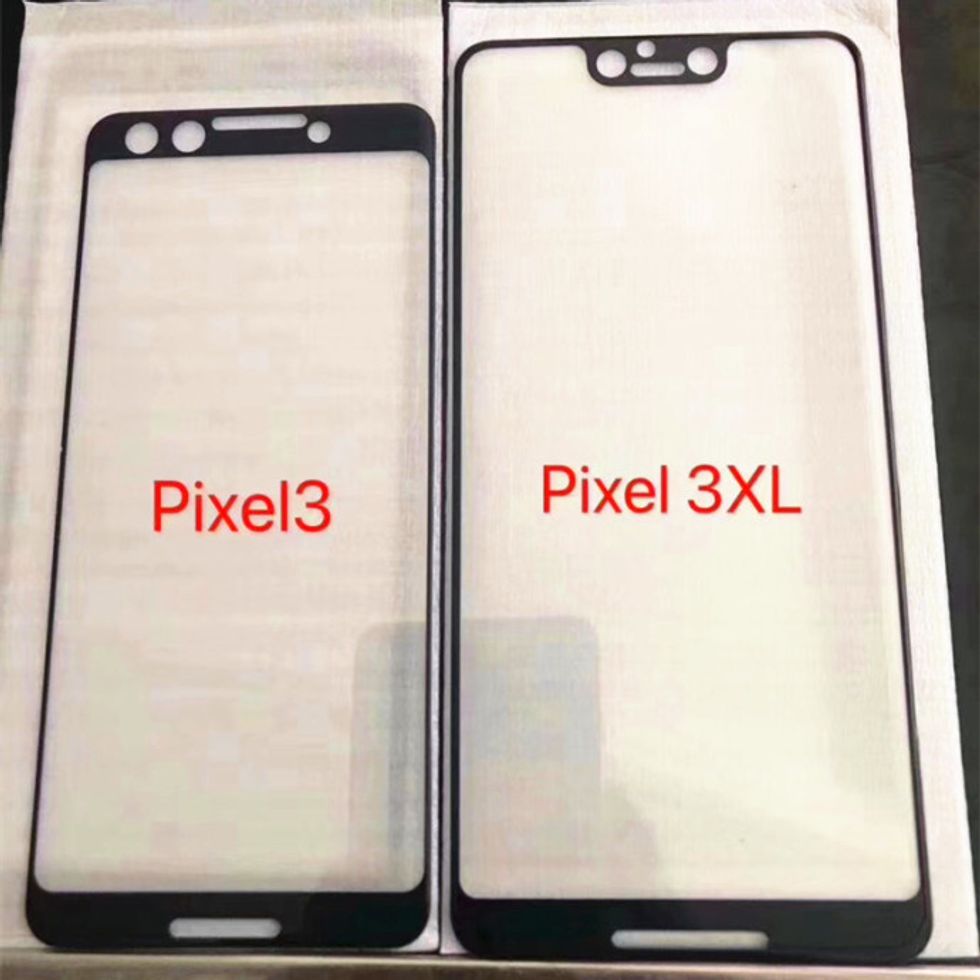 Image shared on Chinese social media claims to show the Pixel 3 and 3 XL's glass screenWeibo
The Pixel 2 XL was criticised at launch for a display which appeared blue, among other issues. These were addressed via a software update, which is claimed to have boosted sales.
The report comes soon after an image, above, appeared on Chinese social network Weibo, showing what is claimed to be the glass screens of the Pixel 3 and Pixel 3 XL. These closely match the descriptions reported by Bloomberg, right down to the XL's notch, which appears to contain cutouts for one of the phone's stereo speakers and its two front-facing cameras - an upgrade the insiders claim is coming to both handsets.
Despite the phone gaining a second front camera, the people claim both versions of the Pixel 3 will offer a single rear-facing camera. As with the Pixel 2 and 2 XL, this is expected to use software to create blurred-background photos, instead of a second lens, as implemented by the iPhone X and other flagship smartphones.
Other details include how Google is looking to hire Hai Precision Industry to produce the third-generation Pixels. Also known as Foxconn, the company is best known for producing iPhones for Apple. Google's acquisition of parts of HTC in January this year has meant engineers from the company are heavily involved in the development of the new phones, the sources said.
Google is expected to announce the Pixel 3 and 3 XL at a media event in October, around a month after Apple usually reveals its latest iPhones.