Like GearBrain on Facebook
The iPhone took a few years to gain momentum. And Nokia once dwarfed Samsung. Google, too, is pushing to be a leader in smartphones as well, with the release of two new smartphones: the Pixel 2 and larger Pixel 2 XL.

Google caused a solid stir with its first Pixel smartphone, a year ago. Ditching its Nexus brand, but still using HTC as the manufacturer, the company made a big deal about Pixel 1 being the first handset 'Made by Google.' Although well-received by reviewers, the smartphone struggled to sell in large enough numbers to worry Apple and Samsung. In fact, Pixel handsets reportedly account for just 1 percent of the US smartphone market.
But Google is looking to punch through that space with both the Pixel 2 and larger Pixel 2 XL which we're reviewing here.
Google Pixel 2 XL review: Design and hardware
While Samsung, Apple, LG and others try to wow the world with their design museum-worthy handsets, Google has taken a different approach. The Pixel 2 and 2 XL are a pair of smartphones which put function ahead of form.
No more is this apparent than in the feel of the phone, especially the black 2 XL we have here. While the phone is made of metal like any other flagship, Google has given it a slightly textured finish to improve grip — but which also makes it look and feel like plastic.
This is brave from Google, especially as the Pixel 2 XL you see here costs $849 for the 64GB model and $949 for 128GB. That isn't far off the $999 iPhone X (64GB), a phone which has been ridiculed for its high price.
Despite the cost and deliberately plastic-like feel, we respect the Pixel 2 XL for having a design which is cleverly considered — not one which sets out to wow your friends but ultimately feels fragile and difficult to hold. While we are compelled to first admire the iPhone X then wrap it up in cotton, the Pixel just gets on with the job of being a phone.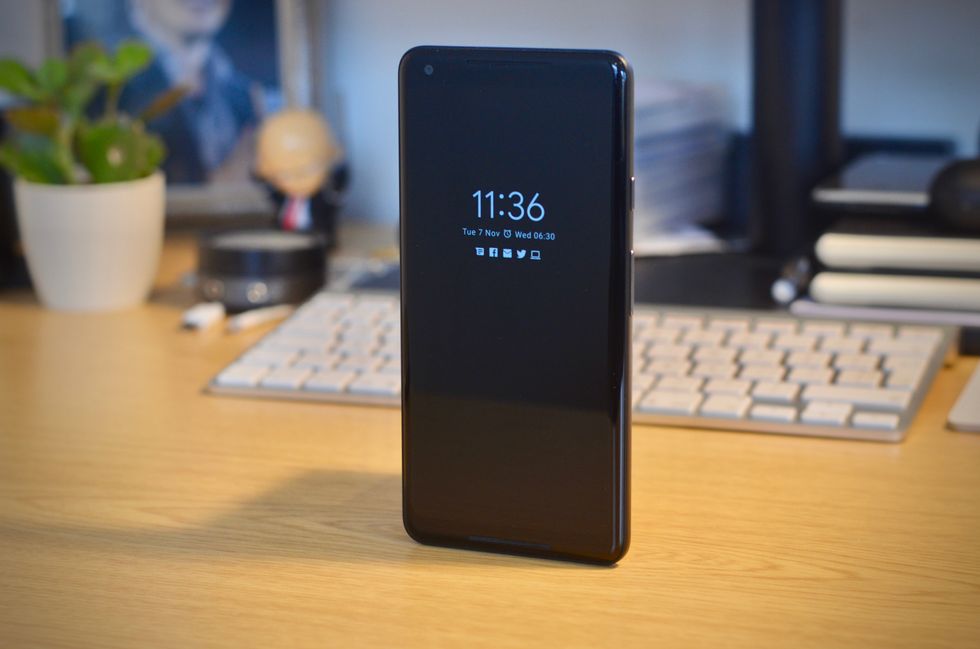 The Pixel's always-on lock screen shows the time, date, alarm and notifications GearBrain
It might not have the wow-factor of an iPhone or Galaxy, but the 2 XL is more of a practical, rather than posh, machine.
Although reserved, the 2 XL is still an attractive handset. Its screen stretches higher and lower than its predecessor, and the glass front curves slightly at its edges. While not as striking as the Galaxy S8 or iPhone X, the 2 XL is still a handsome phone nonetheless.
The regular Pixel 2, on the other hand, gets large black bezels above and below its smaller screen (5-inch vs 6-inch), making it less aesthetically pleasing.
At 6.22 x 3.02 x 0.31 inches, the Pixel 2 XL is slightly shorter and narrower than the iPhone 8 Plus, which has a screen 0.5-inch smaller. The Google phone is also lighter, at 6.17oz compared to 7.13oz for the iPhone.
There's a lot to like about the Pixel 2 XL's hardware and design. The phone fits well in your hand despite packing a large display, is light and thin, and feels as well-made as any of its flagship alternatives.
Google Pixel 2 XL review: Display
Much has been said about the screen of the Pixel 2 XL— and not all positive . Reports of burn-in, muted and lackluster colors, blue tint and black smear caused headaches for Google just days after the phone arrived in reviewers' hands.
The phone's new P-OLED display is the cause of this burn-in, black smear and blue tint. Instead of returning to the praised AMOLED technology of the first Pixel XL, Google went for something new, which it calls pOLED, with the 'P' standing for the plastic used in its construction.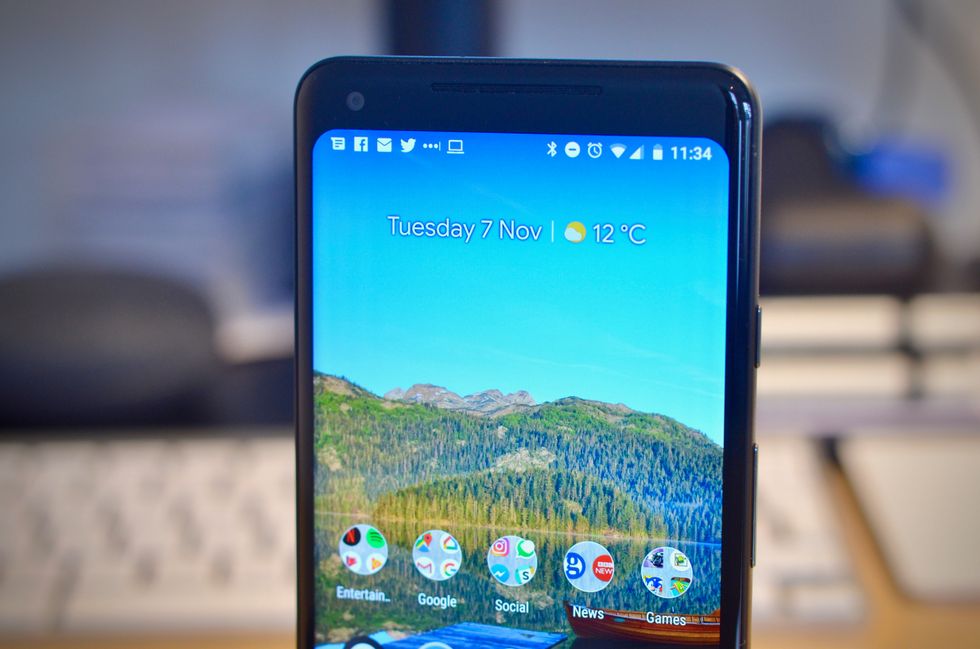 Software updated has boosted saturation to what Google calls "unnatural" levels GearBrain
Despite reading horror stories online, we cannot see evidence of either burn-in or black smear — where black items momentarily 'smear' across the screen when scrolling — on our Pixel 2 XL. Burn-in could appear over time, a common trait of OLED screens. But after a week with the device we can't see it.
What we can see, is the Pixel 2 XL's blue tint, which appears when the phone is viewed slightly off center. Hold the 2 XL next to another smartphone — we used an iPhone 7 Plus — and the shift from white to blue as you tilt the Pixel is obvious.
What's also obvious is how the Pixel is less bright and its colors don't quite have the 'pop' of the iPhone's. Compared to other Android handsets, the Pixel 2's saturation is intentionally turned down to make images appear more natural, while Samsung has always preferred to give its colors an artificial boost.
Thankfully, as we were finalizing this review Google released a software update to raise the Pixel 2 XL's saturation. A new color option called 'saturated' helps satisfy users who thought the phone's natural color pallet lacked impact. Google describes this mode as "unmanaged" and "unnatural", but at least the option is now there if you want it. We found the update does boost colors to a slightly unnatural level, but still falls short of the retina-searing levels of the Samsung Galaxy S8 and Note 8.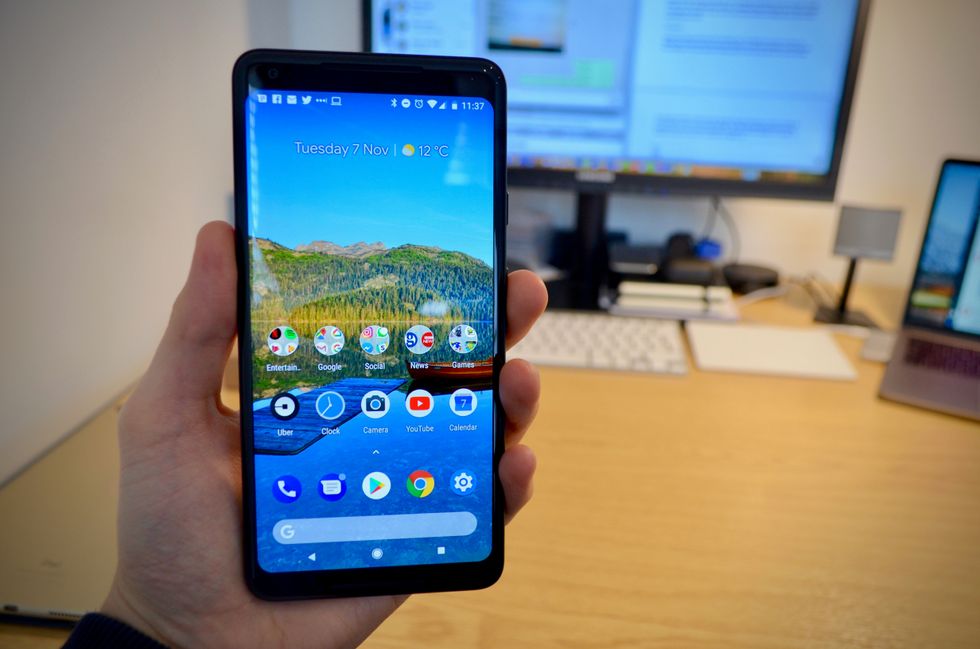 Despite its 6-inch screen, the Pixel 2 XL is comfortable to hold GearBrain
The same software update also slightly reduces maximum brightness, and instructs the navigation bar to fade after a period of inactivity, helping fight off evidence of burn-in.
All that being said, the Pixel 2 XL's display performance isn't quite a deal-breaker. If you hold it next to a rival then, yes, colors don't have the same vibrancy and the blue tint is apparent. How often, though, do you hold two phones next to each other, look closely at exactly the same content, and decide which is best? No one does this — and neither should you. True, the blue shift is more noticeable in isolation. Even then, though, if you had your heart set on a Pixel, would a slight blue shift off-center put you off? We hope not.
Google Pixel 2 XL review: Camera

The front and rear cameras of both the Pixel 2 and 2 XL are simply fantastic. They're the same on each camera, giving each phone the same photographic performance. Instead of just boosting image quality with more light and with larger sensors, Google has taken an intelligent, data-crunching approach to getting one over on the competition.
Unlike said competition, the Pixel makes do with just a single rear camera instead of two. But despite this, the phone can take the same blurred-background photos as the iPhone X, Samsung Galaxy S8 and others by splitting each of the camera's pixels in half, then working out distance based on the microscopic difference between the two.
The 12-megapixel sensor takes astonishingly good photos in all manner of lighting conditions, then taps into that split-pixel technology to produce impressive portraits when you switch that mode on. The Pixel uses machine learning to perform a similarly impressive trick with the front-facing camera, adding background blue to your selfies like a pro, despite that 8-megapixel sensor not splitting pixels to gauge distance.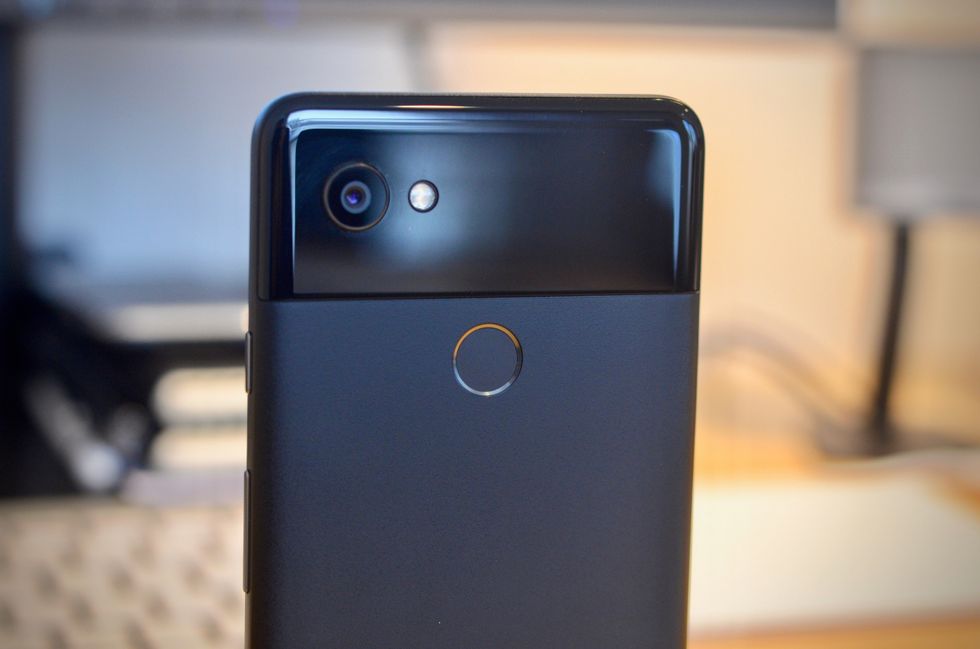 The 12-megapixel rear camera uses 'split pixels' to understand depth GearBrain
Photos shot in portrait mode still can't quite match those taken with an SLR for bokeh blur — that distinctive out-of-focus look — but we were endlessly impressed by how neatly the Pixel 2 correctly identified the hair and fabric of the subject from the background.
The display's shortcomings all but disappear when using the Pixel's camera, the screen's bias towards natural colors making photos seem more realistic than the punchy Galaxy S8.
Video shooting (in up to 4K resolution) benefits from both optical and digital image stabilization to help overcome shaky hands or shooting while moving.
Photography experts DxOMark gave the Pixel 2 XL's camera a score of 98, higher than any other smartphone, including the iPhone X (97), Samsung Galaxy Note 8 (94) iPhone 8 (92).
Google Pixel 2 XL: Camera examples

Don't just take DxOMark's word for it — here are some photos we shot with the Pixel 2 XL. The first was taken with the camera entirely in automatic, the second has the flash switched off but is otherwise unaltered, and the third is taken with the front-facing camera using portrait mode. This mode saves two versions of every photo — one with a blurred background and one without. This, obviously, is the one with blur.
The phone mostly does a great job of blurring the background, but sometimes gets confused. As you can see here, it has mistakenly left the wheel of a car in the background, right next to the right-hand lens of our sunglasses, in focus.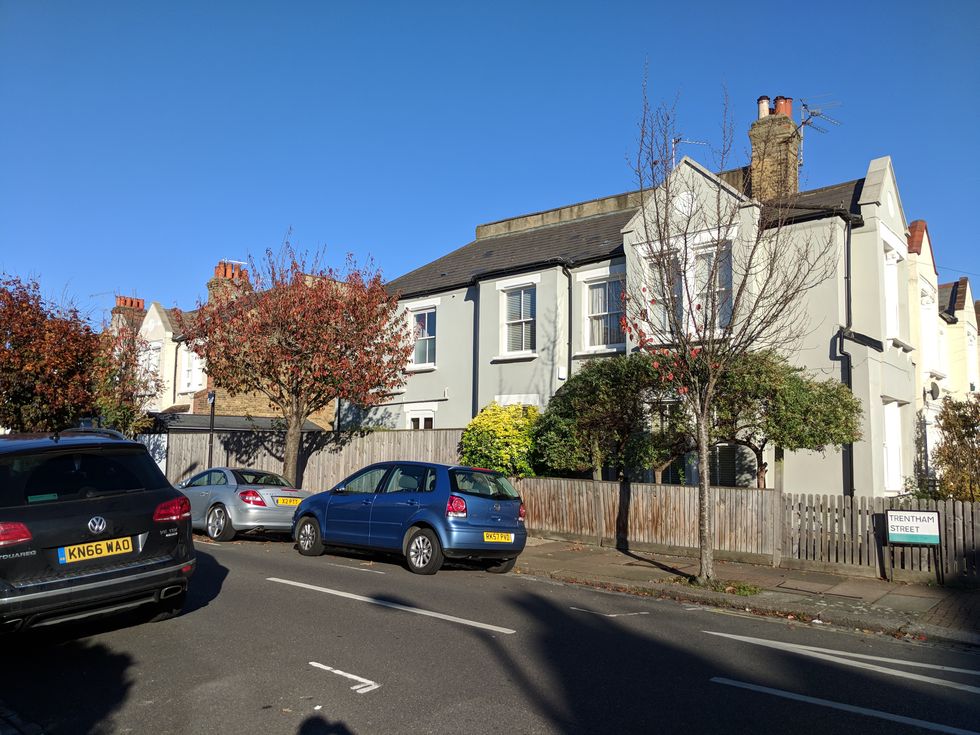 Shot entirely with automatic settings, features are sharp and clear in this snap taken with the Pixel 2 XL. GearBrain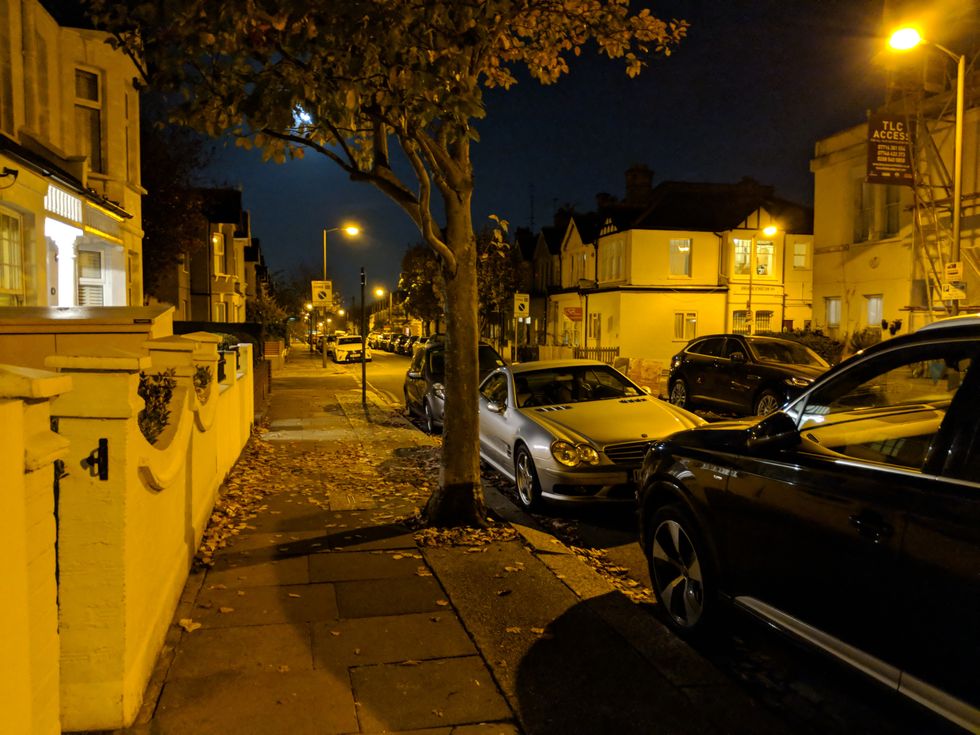 Picture quality is strong with the Pixel 2 XL, as seen in this photo with the flash turned off. GearBrain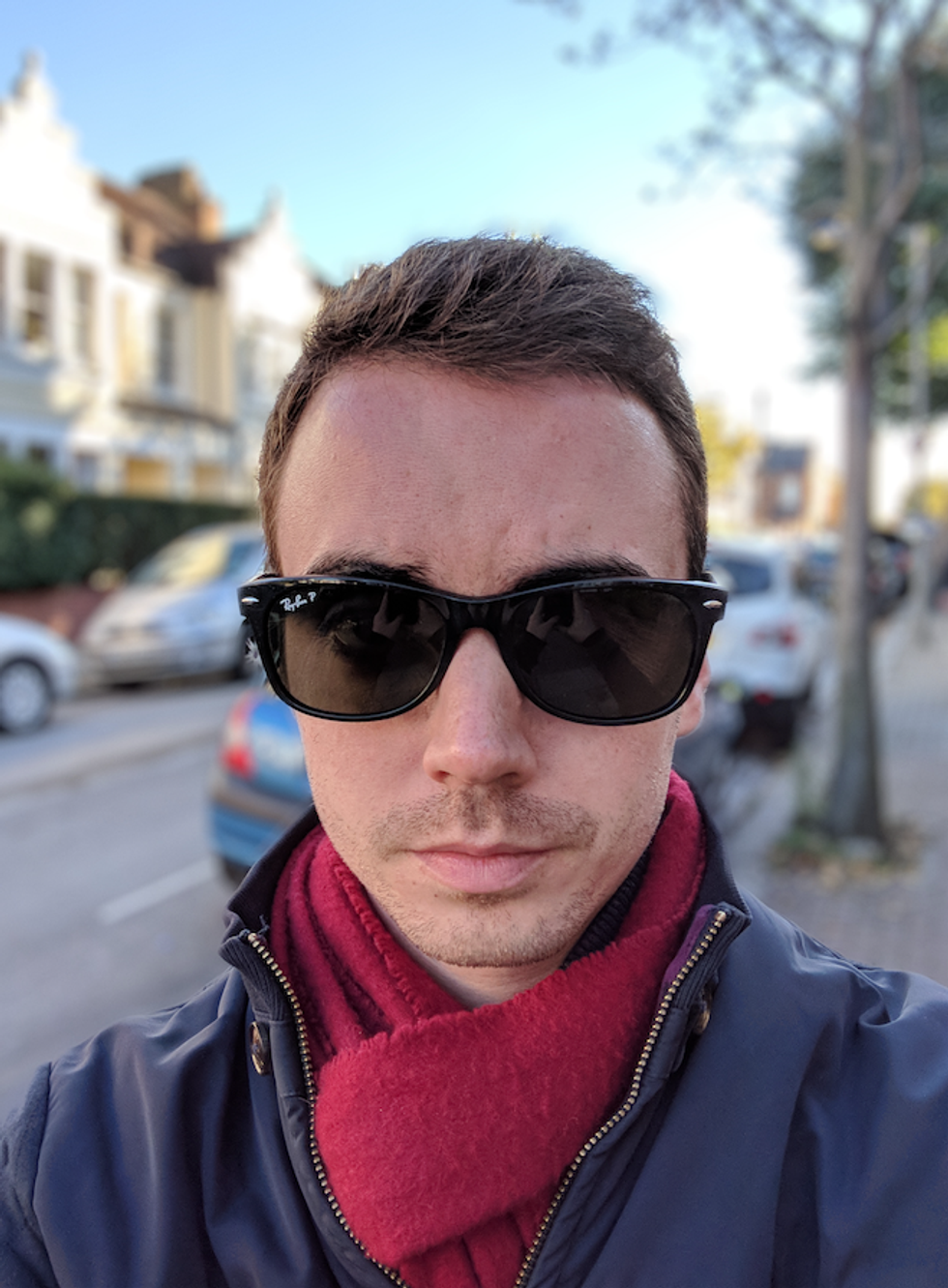 The phone's camera sometimes sharpens focus in odd places, as in the wheel of a car next to the right-hand side of these sunglasses while in portrait mode. GearBrain
Google Pixel 2 XL review: Software and performance
The Pixel 2's camera is not the only place where Google has used artificial intelligence and machine learning. The phone's Android 8.0 Oreo operating system includes Google Assistant, the company's answer to Amazon Alexa and Apple's Siri . Assistant works on its own or in conjunction with the Google Home smart speaker range to answer questions, perform tasks and control smart home gadgets like lights, locks and more.
Assistant is launched by squeezing the Pixel. Yes, by squeezing it. You can adjust how sensitive this feature is in the settings menu — useful, because we found, by default, this feature would trigger every time we picked up the phone.
As well as launching Assistant, who can be spoken or typed to, squeezing can be set to silence the ringer when someone is calling you. But that's it; Google doesn't allow the squeeze to be configured to do anything else.
Yet more intelligence can be found in the new Google Lens app, which lives in the camera. Tap the icon, take a photo — or ask it to look at a photo taken earlier — and Google will attempt to identify the object, location or point of interest. Sometimes it flat-out fails, sometimes it is vaguely correct, and just occasionally it really impressed us. Once, it correctly identified the partially obscured Portuguese cathedral in the background of a photo we had taken of a car. Impressive.
More recognition skills make themselves known when you play music nearby. If the Pixel 2 is in the same room, it will display what it thinks the song is on the always-on lock screen.
Unlocking is a matter of briefly touching a finger against the circular print reader on the back of the handset. It isn't quite as convenient as Apple's Touch ID, but is far better-located than the print reader of the Samsung Galaxy S8 and Note 8.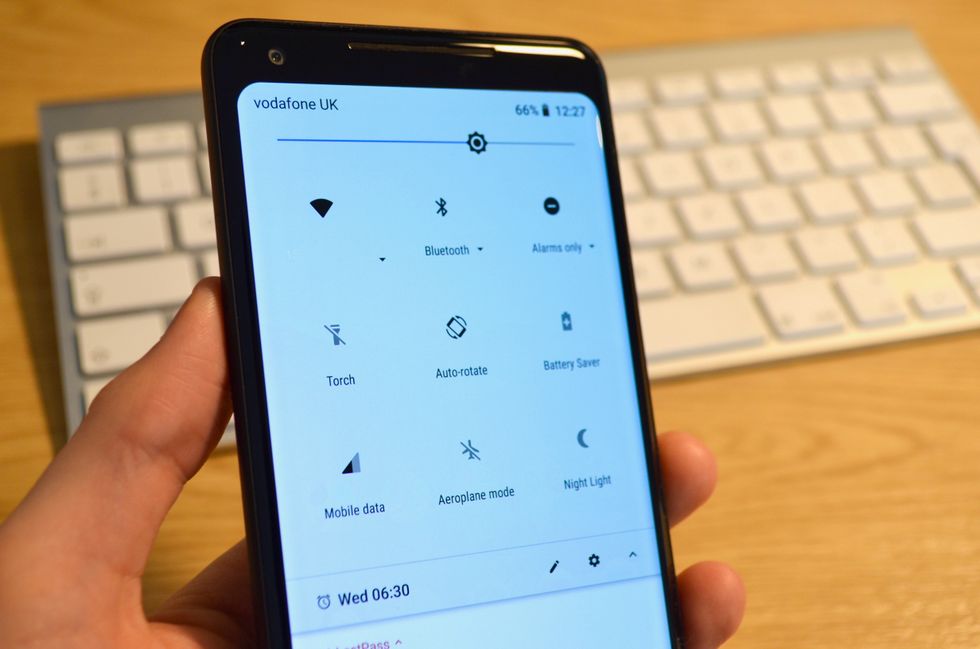 Turn the display off-axis and whites turn blue GearBrain
And then there is the operating system itself. Buying a Google Pixel phone means you get the newest, most pure version of Android available on any handset. There is no bloatware, no apps made by the manufacturer to tempt you away from Google's own offerings, and it is all the better for it. Android 8.0 Oreo is much like its recent predecessors, but with a little extra polish and refinement. The Google search box on the home screen, for example, now searches both the web and everything locally on the phone.
There's a certain speed and reactiveness which makes you feel Android works at its best in this state, with no interference from a manufacturer like Samsung or Sony striving to make their own mark. It's a wonderful smartphone experience and one which is clean, fast and intuitive. We highly approve.
Performance from the Snapdragon 835 processor with 4GB of RAM is superb, and not once has the Pixel 2 XL felt slow or unable to handle anything we threw at it. At this price range, smartphone performance has reached parity, with day-to-day use identical on any Pixel, Galaxy or iPhone.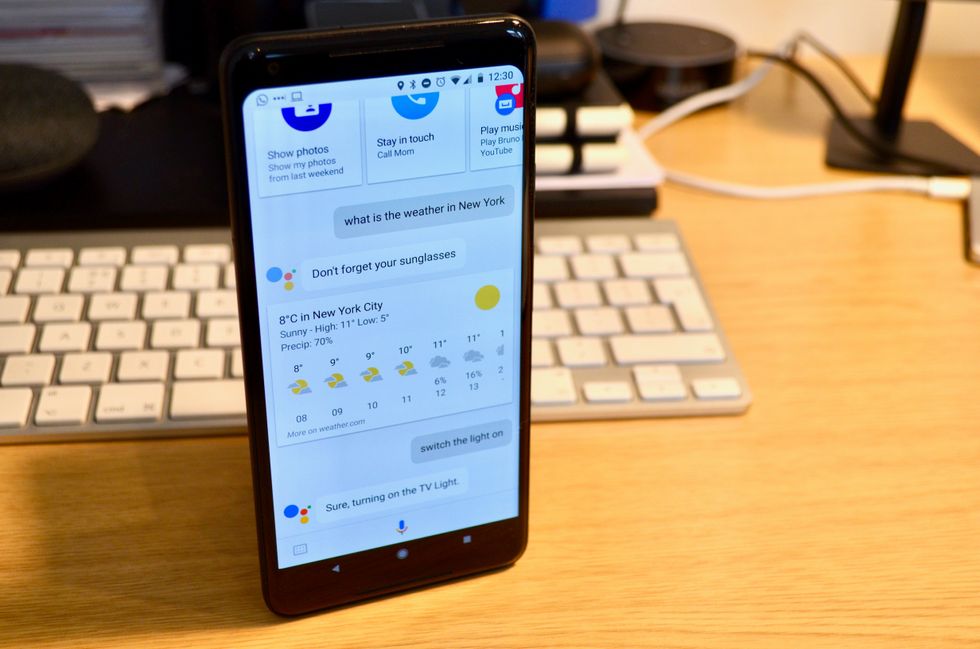 Squeeze the phone, and Assistant is ready to perform smart home tasks GearBrain
Storage options are 64 and 128GB, but there is no microSD card slot to increase this further.
Battery life from the large 3,520mAh cell is perfectly acceptable and we at no point needed to reach for the charger before bedtime. A weekend away should be possible if you forget the charger at home, but as with every smartphone these days we recommend recharging each night.
Google Pixel 2 XL review: Conclusion
Google has taken some risks with the Pixel 2 XL. The design is function over form, the display tries to stay neutral and accurate instead of vibrant and saturated, and Google opts for confidence in its own machine learning and AI over wowing with extra camera lenses.
The gamble got off to a shaky start with blue tint and burn-in, but for us these are not necessarily reasons to buy something else. In all honesty, you just get used to it. The Pixel 2's cameras are superb; these, combined with the pure Android experience and regular software updates from Google, far outweigh the blue tint and burn-in potential, at least for us.
Pros: Superb cameras, great pure-Android experience and fast fingerprint reader.
Cons: Blue-tint issues with display, feels less premium than an iPhone or Galaxy, and no wireless charging.
Like GearBrain on Facebook