The third generation of Google's own-brand smartphone includes the 5.5-inch Pixel and larger 6.3-inch Pixel 3 XL. The only differences between the two handsets are display size and resolution, the size of the battery, and how the XL has a display 'notch' at the top of its screen, while the Pixel 3 does not.
They are powered by the same processor, have the same cameras on the front and back, and run the same Google Android 9.0 Pie software — the first smartphones to do so.
Google's Pixel 2 and 2XL suffered a difficult launch this time last year, with the larger model marred with display issues. This time around, the company is hoping to learn from its mistakes. Google is also on its usual mission to prove that artificial intelligence can produce better photographs than numerous lenses — something the incredible Night Sight feature has already shown it can do.
But how does the rest of the Pixel 3 stack up? Let's find out.
Google Pixel 3 review: Design and hardware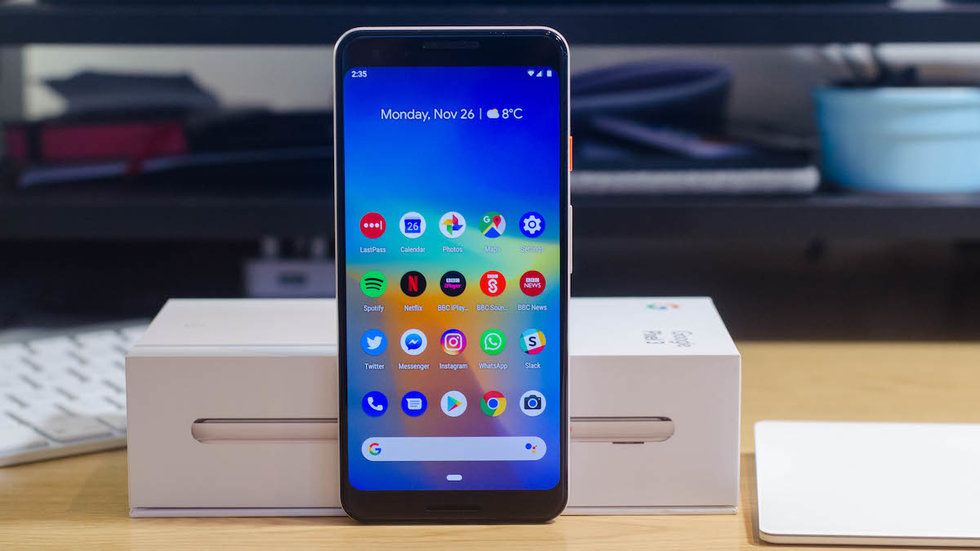 GearBrain
The Pixel 3 looks similar to its predecessor, but Google has made some key changes to how the phone is made. Unlike all previous Pixel handsets, the back of the Pixel 3 is all glass; this means wireless charging is available for the first time.
Despite being a single piece of glass, Google has applied two different finishes to the rear, mimicking the look and feel of its older Pixels. The top fifth of the rear is glossy, while the rest has a matte finish. It's an interesting texture which looks and feels good, but some reviews claim the matte section scuffs and scratches very easily.
These marks have appeared on black examples of the Pixel 3 in just a couple of days but our pale pink model (a color Google calls Not Pink) looks new even after a week of use. However, I will say that the glass is quite slippery to hold, especially with cold hands.
The edges of the Pixel 3 are metal but have the same glossy finish as the upper fifth of the rear, and of course the front of the phone is entirely glass.
As before, the rear panel houses a fingerprint reader and a single rear camera — not the two, three or even four lenses as used by rivals Apple, Samsung and LG. The camera protrudes slightly from the glass back, although not as much as it does on the iPhone XS.
The Pixel 3 has a USB-C port for charging and a nano SIM card tray, but lacks a headphone jack and a SD card slot for increasing storage. Instead, you can only pick from 64GB or 128GB of internal storage. To help offset the lack of an SD card, Google offers all Pixel users unlimited cloud storage for photos and videos taken with the phone, in full resolution.
In the box Google includes a USB-C to 3.5mm headphone adapter, plus a pair of USB-C earphones.
Google Pixel 3 review: Cameras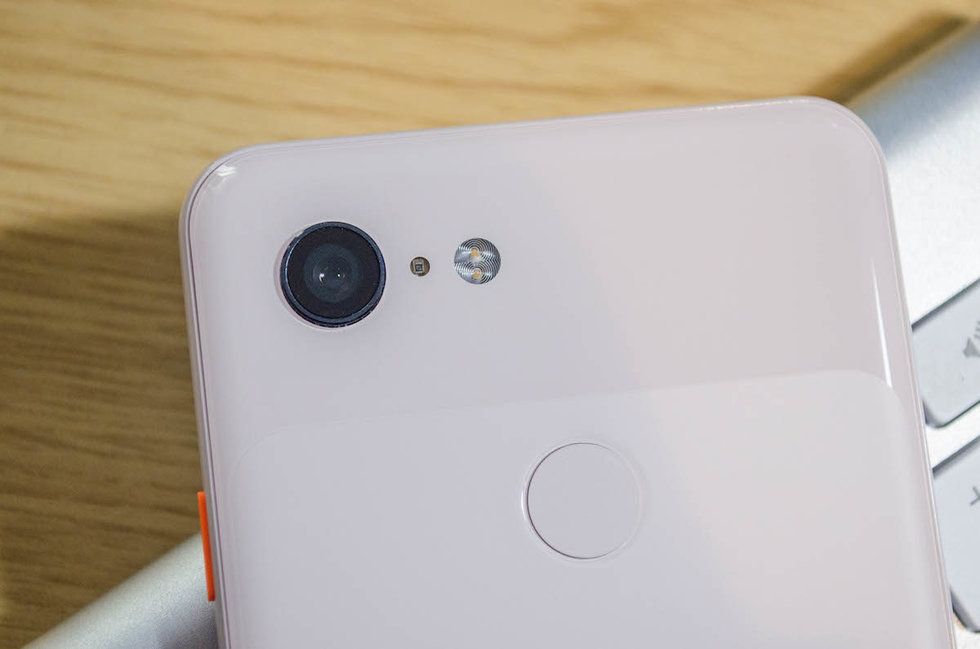 GearBrain
It's impossible to review the Pixel 3 without jumping straight into the camera system. There's a 12.1-megapixel sensor on the back and dual-lens, eight-megapixel sensor on the front — an upgrade from the Pixel 2's single selfie lens.
What Google manages to achieve with these is nothing short of spectacular. Colors, brightness and white balance are well-judged, Portrait Mode is the best of any smartphone I have used — far better than on my iPhone X — and, as I have written about separately, Night Sight performs miracles in low-light conditions.
Portrait mode — an option for the front and rear camera — is a particular highlight, thanks to how it can be used at any distance. iPhones insist you stand several feet away from your subject to enable the blurred-background effect, but with the Pixel you can get as close as you like, and the phone will nail the shot.
You can catch it out on occasion — taking an extreme close-up of a plant, for example, can cause the software to incorrectly blur leaves, mistaking them for the background. But in normal use, the Pixel 3 does a better job than any other phone I have used. The function works equally well with the selfie camera, only now (thanks to the second lens) there's a wide-angle option, helping you get more people into your selfies.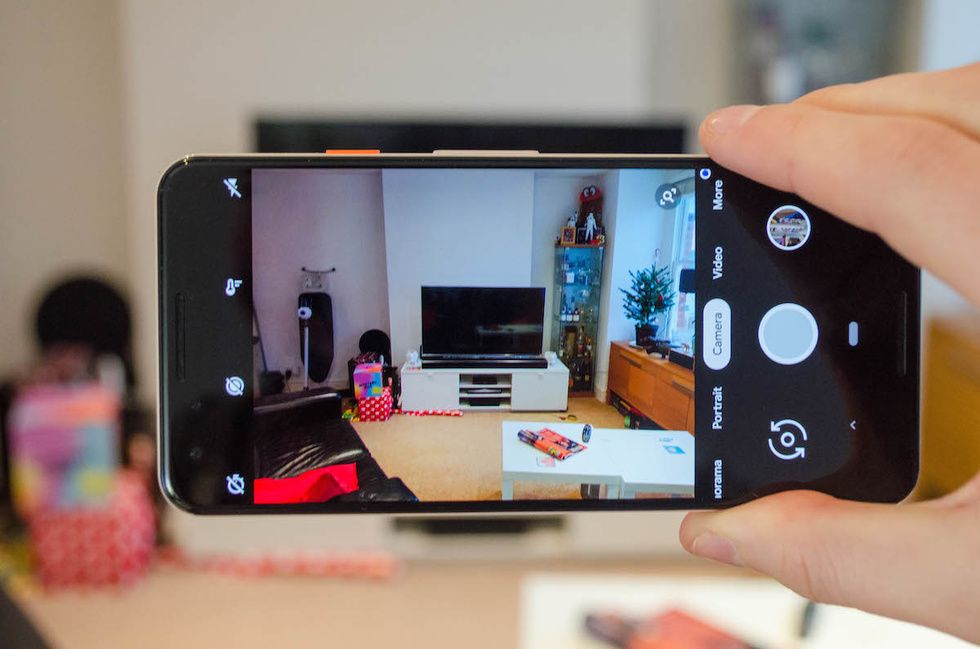 GearBrain
It's features like this that make the Pixel 3's camera a joy to use. There is minimal fish-eye effect from the wide-angle selfie camera — it just works, and you can use it in conjunction with Portrait Mode too.
A new feature called Top Shots grabs several frames before and after you press the shutter button. If the onboard AI thinks it has a better photo than the one you intended to take, it will offer it up. This happens when the AI spots someone blinked in your group photos, or if a piece of action was missed by you tapping the shutter too early or late.
There's more on Night Sight here, but in short the phone automatically suggests the mode when it thinks your photo will benefit. When enabled, Night Sight lets you take photos that wouldn't be possible with other smartphones. You can shoot long-exposure images and combining them to create a single, well-lit photograph with minimal noise, and none of the blur a handheld six-second exposure would produce with other phones and cameras.
If photography is your thing, the Pixel 3 (or 3 XL and its identical cameras) is the phone for you.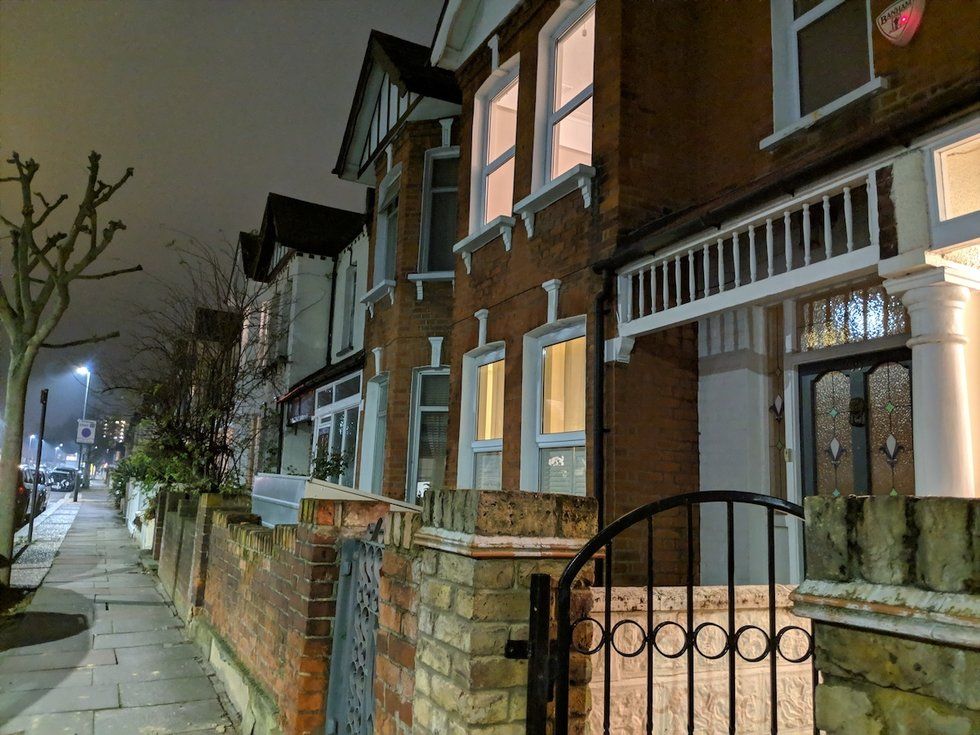 GearBrain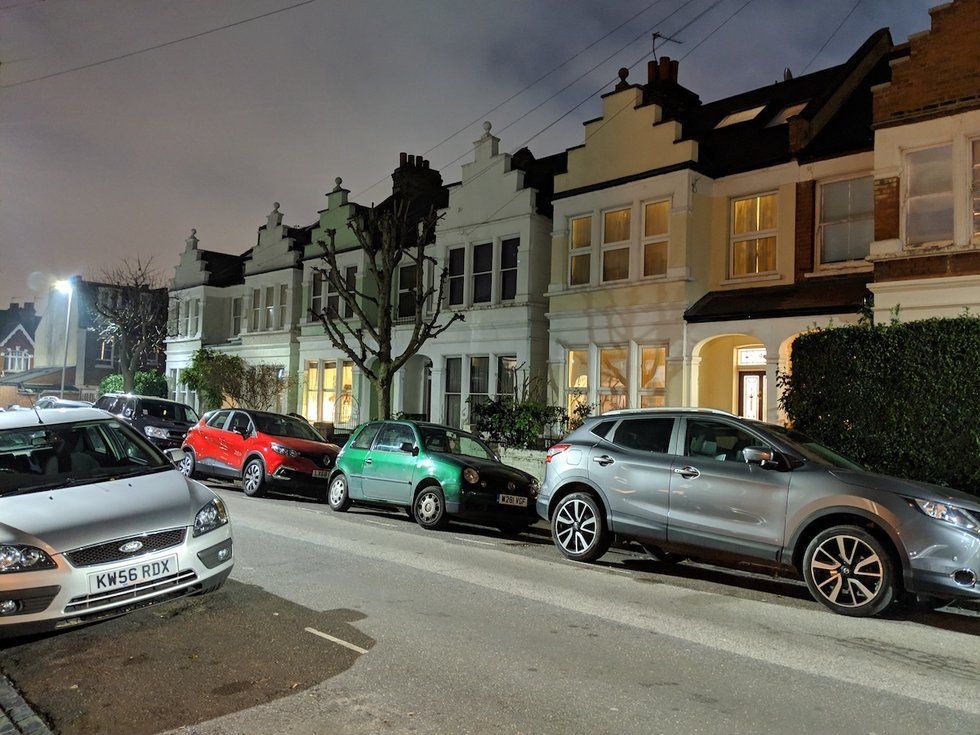 GearBrain
Google Pixel 3 review: Display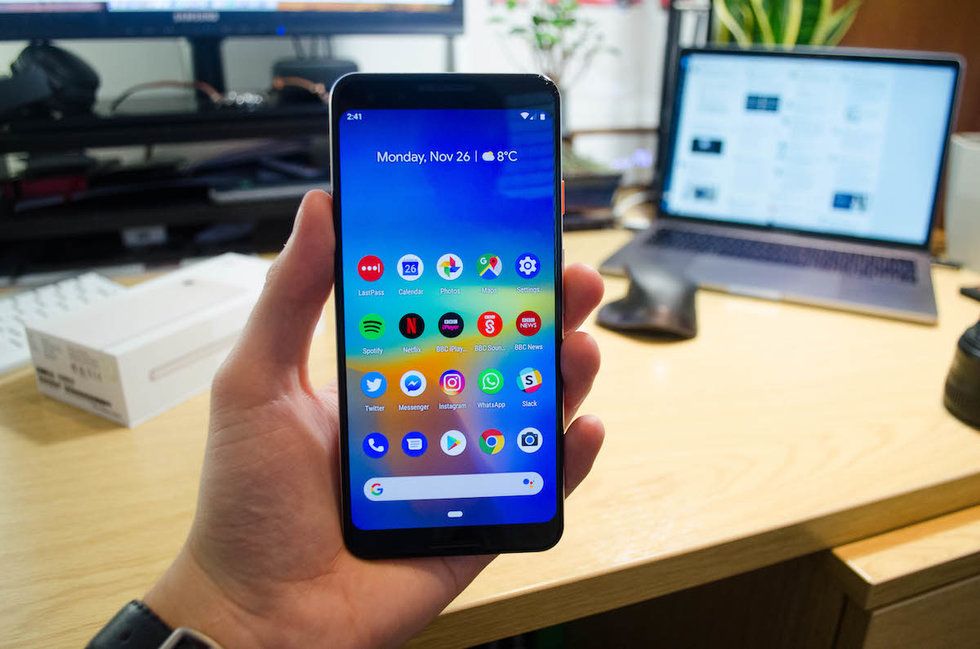 GearBrain
The Pixel 3's 5.5-inch display has a resolution of 1080 x 2160 and a pixel density of 443 per inch. Instead of a display notch like that of the iPhone X, Pixel 3 XL and most other smartphones from 2018, the Pixel 3 has a fairly large black 'forehead' at the top of the screen.
Added to the equally large 'chin' below the screen, this black space makes the display seem smaller than it really is. I would rather Google had put the front-facing cameras in the middle and extended the display to either side, but really this is nitpicking.
Yes, the large black spaces occasionally grab my attention and make me wish Google had done something to reduce them, but it isn't a dealbreaker — especially given how many other features of the Pixel 3 make up for this shortfall.
The display itself is good, but will seem quite cool to anyone used to the warmer tones preferred by Apple and the iPhone. The Pixel also tends to shift temperature more when viewed off-axis than some other handsets (where colors change slightly as you tilt the phone), but in return it offers more accurate colors when viewed dead-ahead than the overly-punchy ones of most recent Samsung handsets.
There are none of the 'black smear' issues suffered by the Pixel 2 XL after launch last year, and if you want more saturated colors you can jump into the settings app and switch the display from 'Adaptive' to 'Boosted.'
Google Pixel 3 review: Software and performance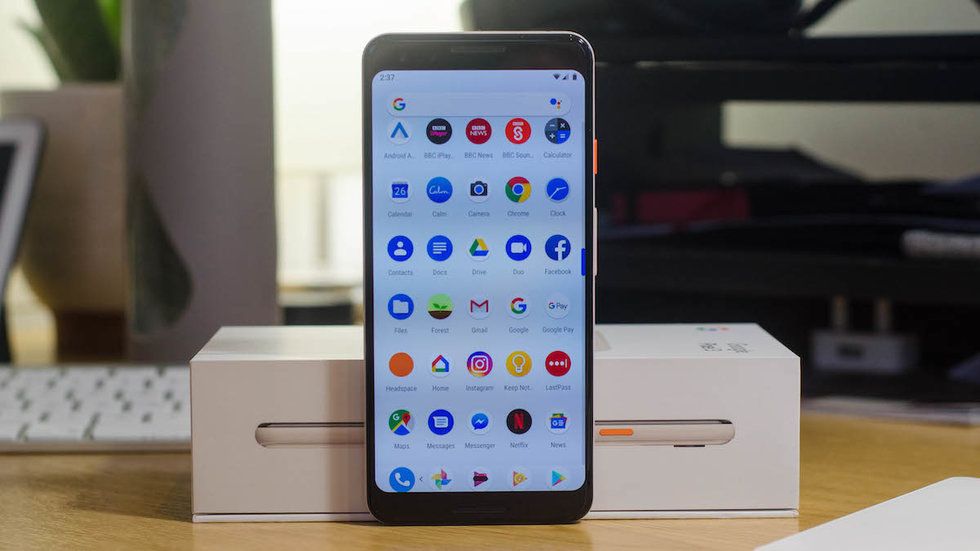 GearBrain
The Pixel 3 and 3XL are the first smartphones to come with Google's new Android 9.0 Pie operating system. This brings with it a number of user interface changes, including some gestures which will be familiar to users of Apple's iPhone X (and XS and XR), as well as the new iPad Pro.
The on-screen home button still works as before, but swiping up from there now does a couple of new things. A small upwards swipe reveals the Google search bar (where Google Assistant can also be accessed) and shortcuts to your five most recently used apps.
A longer upwards swipe reveals your application drawer, along with a couple of smart shortcuts which change depending on what you do most. If you message one person more than others, then a shortcut to messaging them (via WhatsApp, for example) will appear, next to a shortcut to call the person you speak to most often.
Swiping to the right across the home button lets you quickly scroll between your open applications, in order of when they were last used. The Pixel 3 produces a satisfying and surprisingly powerful physical click as you flick past each open app, and the whole multitasking experience here feels very similar to that of iOS on the iPhone and iPad.
That vibration motor feels a lot like Apple's Haptic Engine in its iPhones, clicking precisely as you swipe your way through the Android system. It's a little detail, but one which makes the Pixel 3 and Android Pie feel like a more cohesive system than what you get from Samsung.
The eight-core Snapdragon 845 processor and 4GB of RAM (the same on both models of Pixel) keeps everything running smoothly. In fact, the entire Pixel 3 experience is one of speed and smoothness — both of which can only be matched by iOS on the iPhone.
Battery life is similar to other flagship smartphones from 2018 — this means you should see a full day out of it, assuming average use. After a week of understanding my average usage pattern, the Pixel 3 estimates a full charge will return one day and seven hours of use, which feels about right. Ideally, you'll want to recharge every night, just like every other smartphone.
Google Pixel 3 review: Verdict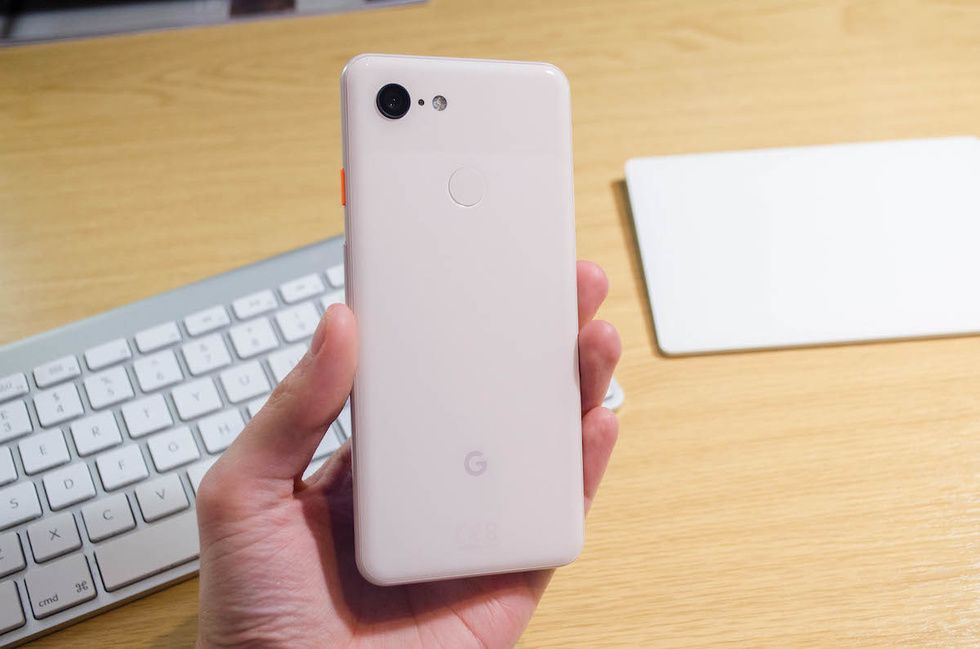 GearBrain
It would be too easy to dismiss the Pixel 3 for its unsightly display forehead and chin, because if you look past these design blemishes you will find an excellent smartphone. The front and rear cameras are quite possibly the best on any handset from 2018, and once again show how far ahead Google's artificial intelligence is compared to everyone else.
The haptic feedback of the Pixel 3 is on par with the iPhone's, wireless charging is a welcome (if somewhat delayed) addition, and I particularly like Google's approach of giving the same features to both sizes of Pixel, instead of reserving some for the larger XL.
For some consumers, the cameras alone will be a good enough reason to buy the Pixel 3 (or Pixel 3 XL). But throw a good screen, premium design and improved Android operating system into the mix, and you have one of the best phones of the year - and for $200 less than the iPhone XS.
Pros:
Hugely impressive cameras
Android is slicker than ever
Wireless charging finally included
Cons:
Matt glass back can be slippery
Display forehead and chin
Battery life is only just adequate