Like GearBrain on Facebook
Spherical, or 360-degree video, is all the video rage of late, thanks to virtual reality and a growing cornucopia of new action-oriented 360-degree video recording gear. So it was only a matter of time for the suddenly magical buzz words "360-degree video" to be applied to other video gadgets.

But there's an old saw in technology product development: just because you can do something doesn't mean you should do something.
Take, for instance, the new Guardzilla 360 Wi-Fi security camera ($229.99), which gives you a 360-degree view of your abode, along with the usual feature suspects of Wi-Fi security cameras – two-way mic, night vision, motion detection, cloud video clip storage, auto alarm activation – and some extras including a 100db siren and dedicated call buttons direct, instant contact.
But the consideration of any or all of these features work are secondary to Guardzilla's main draw, its 360-degree view. In other words, does a 360-degree security camera provide practical advantages over standard 130-180 degree cameras?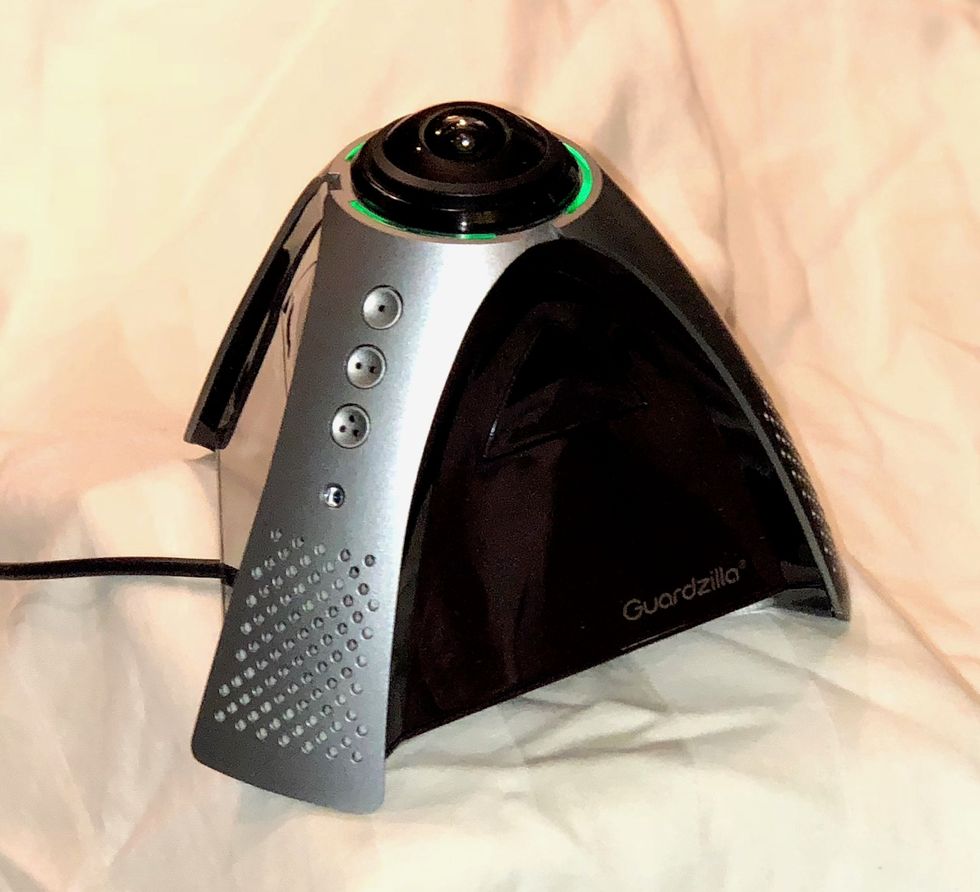 Guardzilla is designed to sit on a flat surface.Stewart Wolpin
Ergonomics/Set-up
Guardzilla 360 is an H.R. Giger-inspired, gaunt gray triangular plastic pyramid with black concave sides, topped with a round camera ringed with an LED; it stands 3.75 inches high and 5.5 inches across at its widest, a slightly wider footprint than most of its competitors. Unlike most other Wi-Fi security cameras that can either sit on a shelf or be wall-mounted, Guardzilla 360 is designed to only sit on a flat surface. And herein lies this camera's first and overwhelming conundrum.
Where do you put it?
At first blush, a 360-degree camera for home security seems like a great idea. But how many homes are expansive enough to place the Guardzilla 360 in the middle of a room? And do you really need a circular view? Most folks will put their Wi-Fi camera in a corner or against a wall, or actually mounted on a wall, for an optimum whole-room view.
Guardzilla executive Terry Bader told me that "the Guardzilla 360 camera does not have to be placed in the center of the room. We do recommend placing the camera away from a wall to the extent possible to take advantage of its unique panoramic view capability (3X the coverage of most Wi-Fi security cameras).
However, even if the customer places their Guardzilla 360 flush against the wall they still get a 180 degree field of vision and protection, which is far greater than the view other Wi-Fi security cameras provide (130 degrees, on average). Additionally, our swiping and accelerometer features provide a highly responsive method for concentrating on specific areas of the room."
All true, except, Guardzilla 360 also provides a 230 degree vertical view, but from the center up. This means you can scan up to view your room's ceiling but not its floor, which seems bass-ackward to me for security purposes, unless you're guarding against Spider-Man. I'd much rather scan down to see my floor in case a crook is literally lying low, or to determine if a pet has tripped the motion detection. To see the floor, you'd have to place the Guardzilla on a low shelf or table, which means it may not be able to see over the top of any furniture in the room.
Set-up is simple – download the Guardzilla app, and watch the Help video, which advises on placement location and provides a step-by-step set up guide. Or, if you're tech savvy, skip the video and just follow the app instructions for adding a new camera, which are fairly straightforward. The whole process was easy and seamless.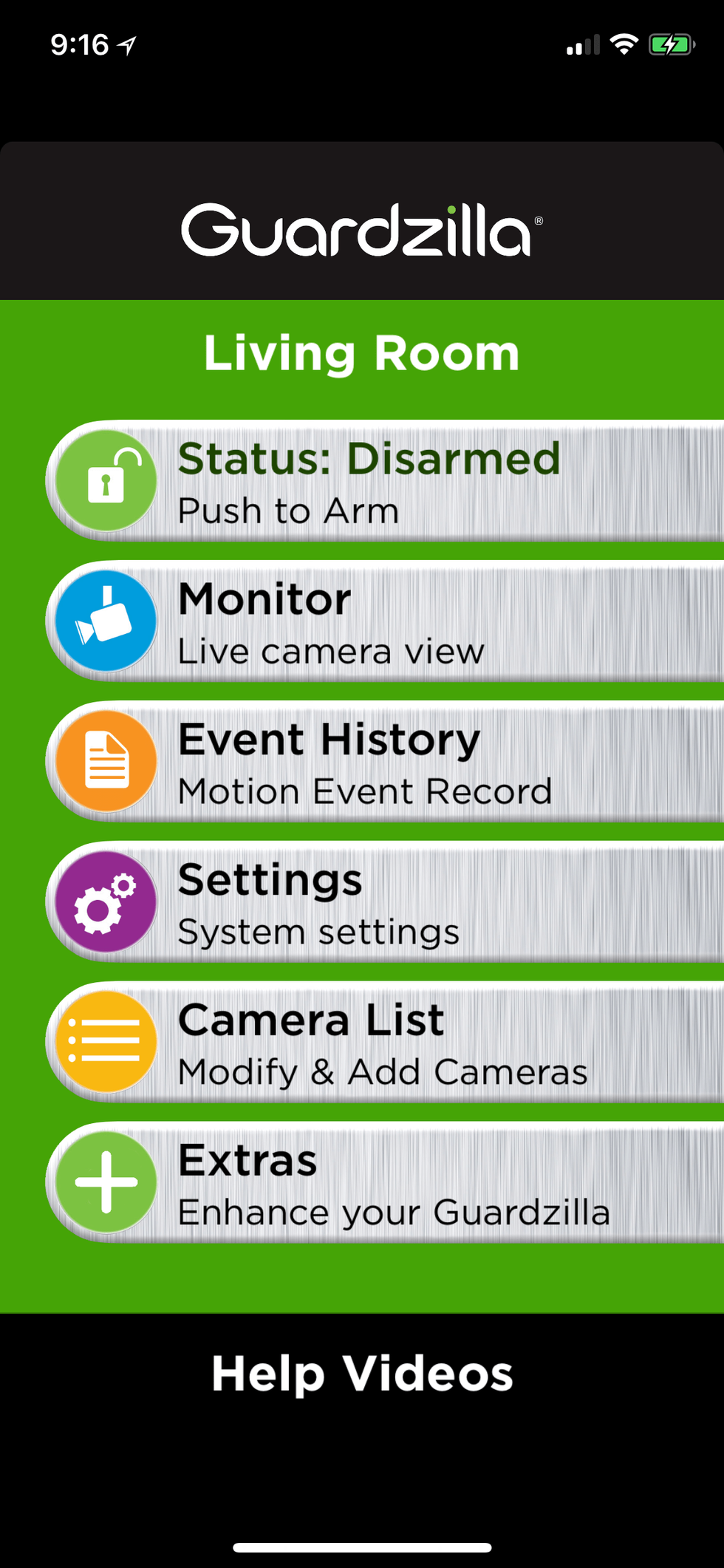 Guardzilla's installation is simple, and includes a lot of help videos if need some hand-holding.Stewart Wolpin
Features/Performance
At press time, the Guardzilla app was still going through a shake-out. According to Guardzilla, "there are infrequent app crashes on certain types of phones." All that is required in case of a crash is an app reboot, which worked fine, and Guardzilla is constantly updating its app. Also, Guardzilla hasn't yet optimized the app for the iPhone X. I tested the phone both on an iPhone 7 Plus and an iPhone X, and experienced a few crashes on the former and some operational anomalies on the latter.
Watching the buffered live video stream from the Guardzilla app is a bit startling. Thanks to your phone's accelerometer, when you move the phone the view of the room you're monitoring correspondingly moves. Cool, but unnecessary; it's much easier simply to touch/slide the video view to see around the room rather than move yourself. You can "Set POV" that automatically gives you your preferred room viewing angle when you start the stream.
You are able to set five different picture settings – minimum, low, medium, high and maximum (which I assume is "HD" as indicated on its Web site), which seems like overkill to me. Guardzilla automatically maximizes "the picture quality for the given connection speed, while also minimizing the frustrating latency/buffering that can occur when connection speeds are low that different quality results in faster buffering," but allows the user to manually adjust settings.
I found the Guardzilla's default video quality choice to be less than optimal, especially for night vision – anything in the dark is rendered as a mass of black and gray except for the maximum setting.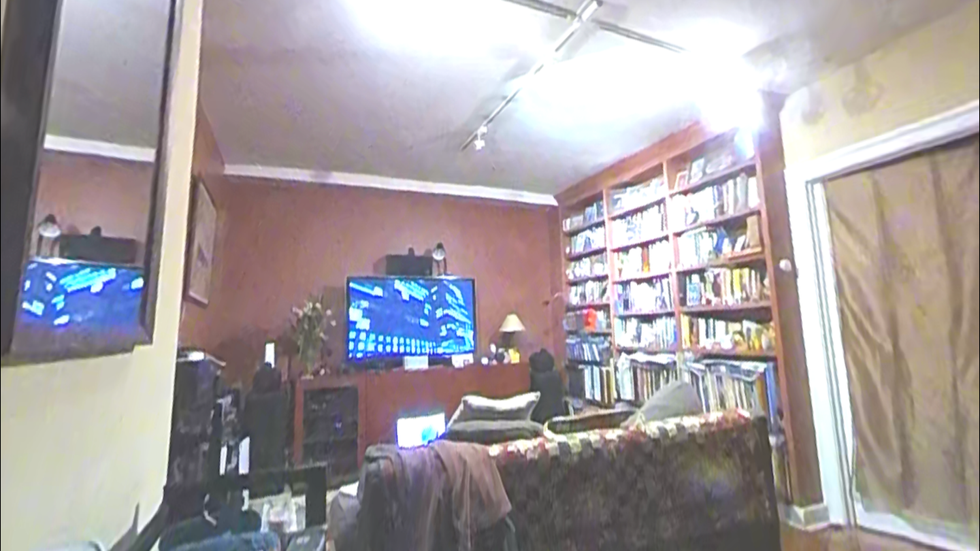 Video picture quality was grainier than other 1080p cameras.Stewart Wolpin
In addition, as with all 360-degree cameras, both still and video resolution are stretched to cover the entire 370-degree 1712 x 1712 pixel viewing range, which lowers potential resolution for any one segment of the view, which Guardzilla's Bader confirms: "As far as the number of pixels viewable at any point, it depends on your view and how zoomed in you are…When delivering a 360-degree view, which consumes far greater data than a 120-degree view, it's necessary to sacrifice resolution a bit to deliver the benefit of total immersive viewing."
As a result of this sacrifice, Guardzilla 360's digital stills and especially its video stream were blotchier, grainier and more bleached out from lights than video and stills from other more traditional 1080p or even 720p resolution Wi-Fi security cameras. Zooming in made details – such as faces – even less distinct, which lowers the already questionable benefits of immersive viewing.
You can't manually record video of a live scene (few Wi-Fi cameras can), but you can capture still frames. Oddly, however, instead of snapping the limited angle you see in the app monitor, you get a useless spherical 360-degree view. The best way of capturing a still of a live moment is to turn your phone to landscape and snap a screen grab.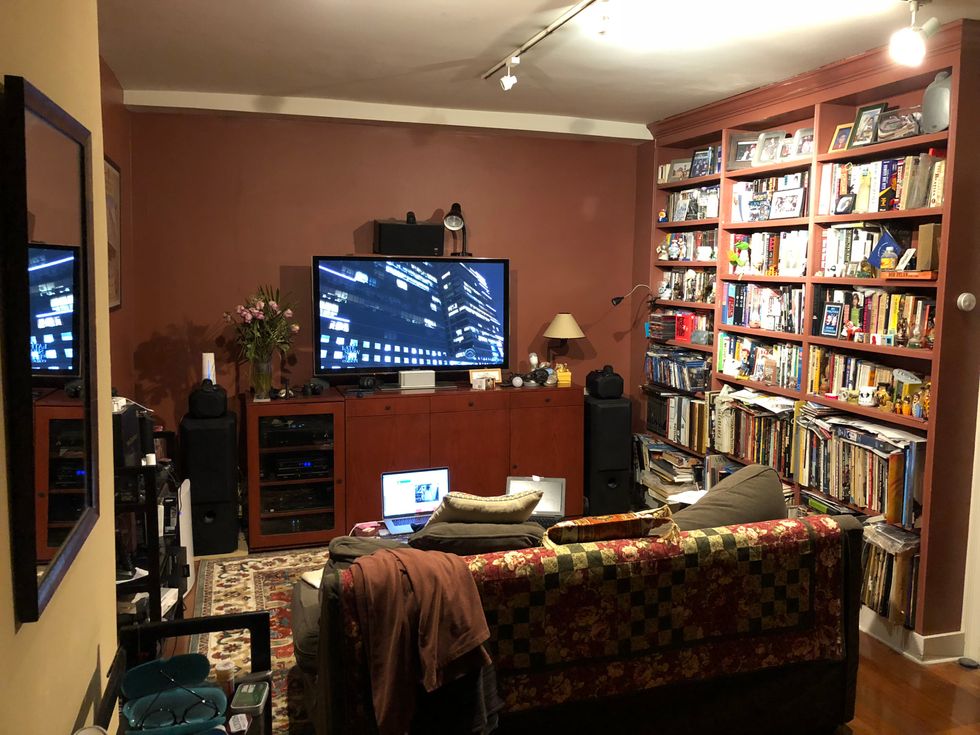 Same shot as above, but from an iPhone produced a much clearer image.Stewart Wolpin
Sound from the Guardzilla 360's microphone on my iPhone was loud and clear, but its speaker, like many Wi-Fi cameras, didn't produce a lot of volume or clarity. The two-way talk is supposed to be duplex, which means two people can talk over each other, but this didn't work on my iPhone 7 Plus.
Arrayed down one of the pyramid's axes are three programmable call buttons, each of which can be programmed to send a push notification to individual phones with the Guardzilla app installed. These buttons weren't operational on my review sample, however.
Thanks to the Guardzilla 360's geofencing, you can auto arm the system to activate when you leave your abode, or you can easily arm the system manually. If you have multiple Guardzilla 360 devices, you can choose which to auto arm. Thankfully, there are five-levels of adjustable motion and audio detection settings to compensate for pets, expected ambient sound such as steam heat or street noise, and creeping shadows (yes, shadows can set off some motion detectors). You can also choose to arm the siren go on or not, and decide its duration – 5, 15, 30 (default), 60 or 120 seconds.
The 100db siren, BTW, is indeed "ear-splitting" and is certain to scare the bejesus out of anyone, including folks in adjacent apartments.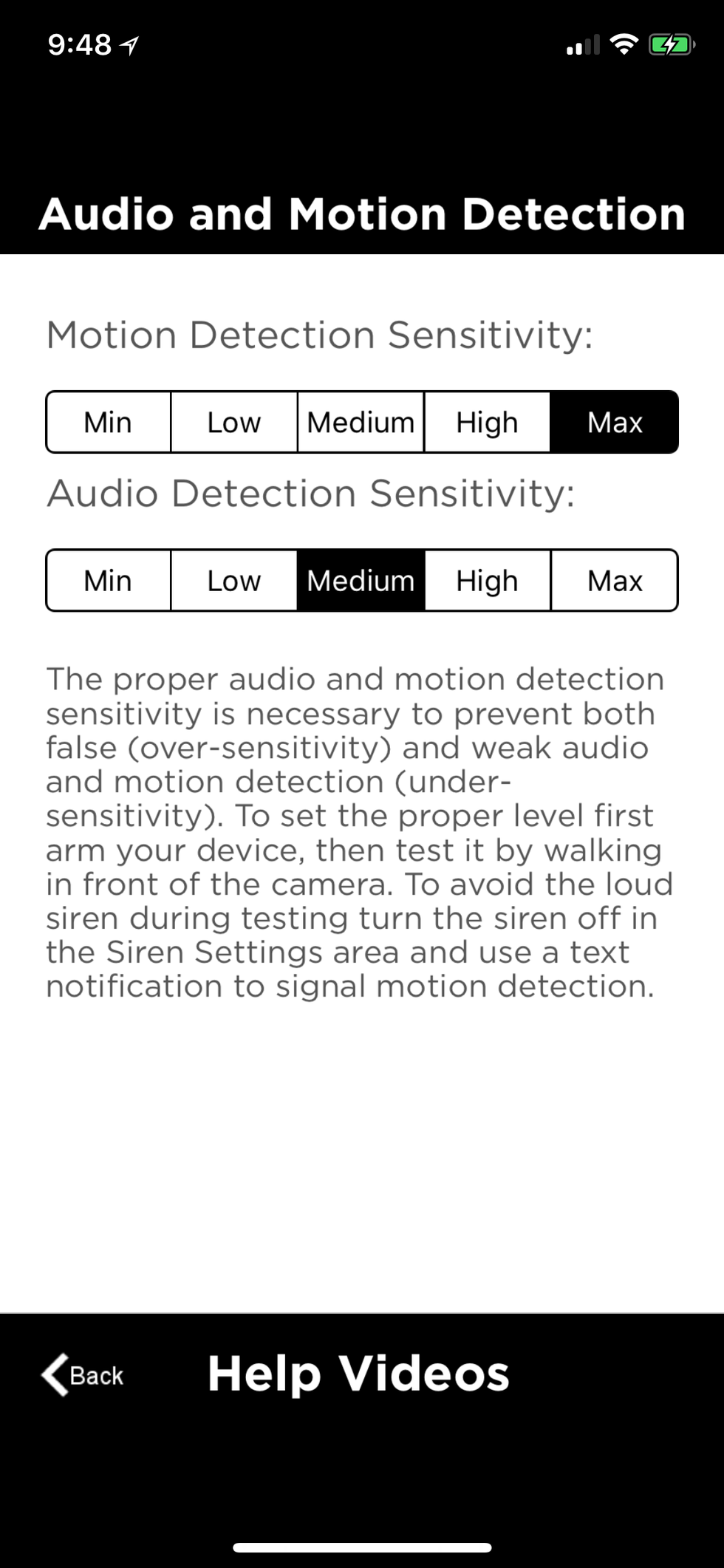 Guardzilla offers multiple settings for motion and audio sensitivityStewart Wolpin
Guardzilla is compatible with Nest, IFTTT, Amazon Alexa and Google Assistant for voice command and smart home integration.

While you're out, Guardzilla 360 records 8-second clips of all detected motion events, which can be accessed from the Event History in the main menu. For longer storage, both in video length and storage time, Guardzilla offers two plans: 30-second video and audio clips stored for 7 days ($4.99/month, $49.99/year) or for 30 days ($8.99/month, $89.99/year).
Conclusion
Three major issues dog the Guardzilla 360: whether or not 360-degree is really necessary, low image/video resolution and the price premium.
Personally, I just can't see a usage case for a 360 degree Wi-Fi security camera, especially since Guardzilla 360's views offered are of lower resolution than less expensive 19080p 130-180-degree cameras. One of the primary functions of a security camera is to potentially identify intruders, and Guardzilla 360's weird spherical stills and low-resolution video makes this identification far more difficult.
And at $230, the Guardzilla 360 is the priciest consumer Wi-Fi security camera I've come across. It's $50 more than what I consider to be the best option available, the Logitech Circle 2($179.99), which offers a warp-free 1080p 180-degree view, more flexible placement options – indoors or out, shelf or wall-mount, plugged-in or battery – and lots of accessories that enhance its function. You can also accomplish near 360-degree view with a pan-and-tilt model, such as the affordable 355-degree horizontal/120-degree vertical SimpleHome Pan & Tilt camera ($119).
IMHO, a wide-view 1080p camera such as the Logitech Circle 2, or the 130-degree Netgear Arlo Q ($199.99) or Nest Cam Indoor ($199) placed high in a room's corner provide higher-resolution, greater placement flexibility and lower-cost Wi-Fi security solutions.
Pros: 360-degree view, 100dB siren and wide range of video, motion and sound detection settings
Cons: 360-degree view, spherical 360-degree still photos, low resolution video stream and expensive
Like GearBrain on Facebook