Like GearBrain on Facebook
Starting today, Apple Watches running the latest software - watchOS 4 - can now communicate with exercise equipment in gyms around the world.
The new system, developed by Apple and called GymKit, lets Apple Watch wearers pair the device with treadmills, stair steppers, ellipticals and indoor bikes by tapping the smartwatch against a contactless pad on the equipment.
Once paired, the watch and machine synchronize the data they collect as you exercise, improving accuracy. Datasets collected and paired include speed, pace, distance, floors climbed and calories burned.
The launch of GymKit is further evidence of Apple's expansion in the health and fitness sector. Earlier this year, it was revealed that the iPhone maker has a secret gym a few miles from its California headquarters. More of an exercise lab than a public gym, the facility is used by Apple staff who act as test subjects for prototype fitness tracking tech.
Apple claims the fitness lab has "collected more data on activity and exercise than any other human performance study in history". In numbers, this means over 66,000 hours of data from over 10,000 people, the company said earlier this year.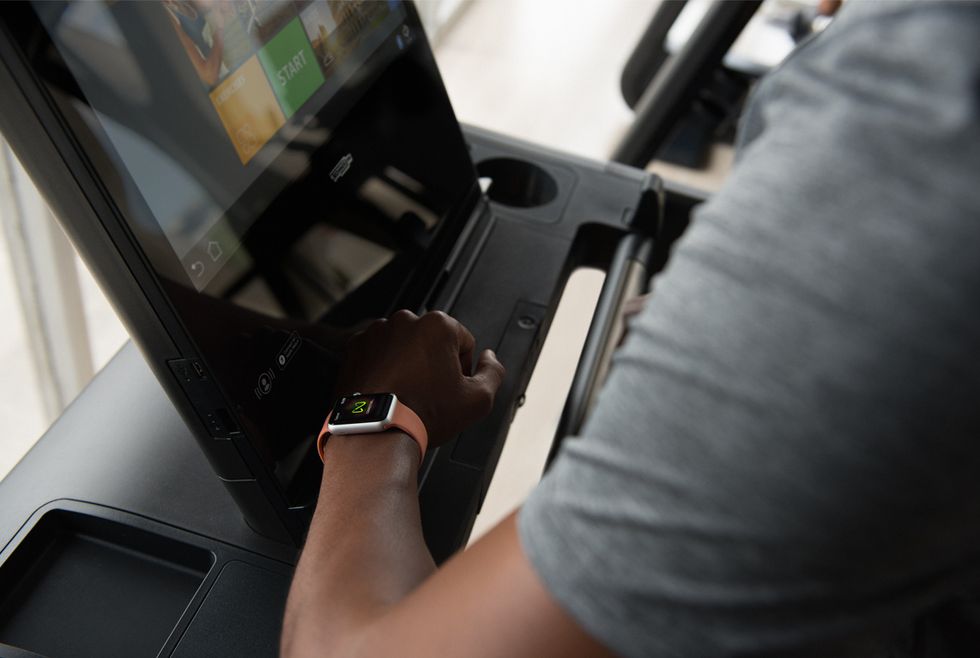 Tap against compatible gym equipment, and you're good to goApple
Although GymKit integration is only present on new equipment made by Life Fitness and Technogym for now, Apple claims these two companies alone account for 80 percent of all such gym equipment. GymKit was first revealed by Apple at the company's Worldwide Developer Conference (WWDC) in June.
Jay Blahnik, Apple's senior director of fitness for health technologies, said in a statement: "We wanted to simplify the cardio machine experience and make it more accurate than ever before. With a quick tap on your favorite cardio equipment, you'll see for the first time, two-way data exchange in real time that will result in the most accurate measurements possible with less device management."
GymKit will be rolled out worldwide as manufactures produce the new equipment and gyms upgrade their offerings. The system was debuted at a Sydney branch of Fitness First, a gym company which will offering GymKit-enabled equipment more widely soon.
Blahnik added: "Now when Apple Watch customers view metrics during their workout, the metrics on the machine match what they see on their wrist."
From Your Site Articles
Related Articles Around the Web
Like GearBrain on Facebook