The men of HBO's Silicon Valley are inventing the next generation of compression technology, or chat, or whatever it is they pivot to next. One thing they're not very good at is coping with so-called "smart" technologies that the writers sprinkle through the plot lines.
It all starts in season one, episode one, when we learn the original purpose of Pied Piper's compression algorithm: a sort of Napster part deux that helps musicians avoid copyright infringement to seeing if their music has been stolen. No one likes it.
But that's not the worst idea to come out of Pied Piper. That definitely belongs to Nelson Bighetti (Josh Brenner) with his location-based side project, "Nip Alert," which sends alerts to notify users of the presence of hard nipples. In season two, Erlich Bachman (JT Miller) is forced to admit on the stand he thought it was an outstanding idea.
Later in the season, Jared Dunn (Zack Woods) finds himself imprisoned in Peter Gregory's (Evan Welch) self-driving hybrid thinking he's heading back to office. But the autonomous vehicle decides to override Jared's directions—shipping him to a man-made island in the middle of the Pacific more than 4,000 miles away.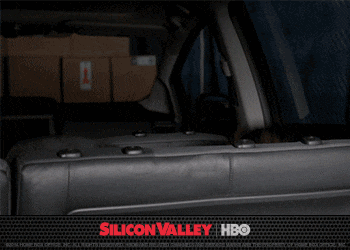 Driving around Silicon Valley didn't get much better when Erlich and Richard Hendrix (Thomas Middleditch) hit a four-legged robot clearly modeled after the Boston Dynamics in Bachman's Aviato-mobile.
Then there's the time Richard stands up an Uber and the certainly gets zero stars from his would-be driver. The sharing economy doesn't work any better for Jared, who finds out his tenant is actually renting his apartment out on AirBnB and of course refuses to leave.

Upon learning that Pied Piper is pivoting to build a boring networking box, Gilfoyle (Martin Star) changes his LinkedIn status to looking for work and the swag from competing tech firms stats to pour in, including a Samsung Gear VR headset, a bottle of Pappy Van Winkle, and a lifetime worth of popcorn.

Russ Hanneman (Chris Diamantopolous) is way more about having "tres comas" (and cars whose doors open "like this") and not so much about being a parent, so he outsources his kids' bedtime to his smart home in season two, episode four.
In season three, Dinesh Chugtai gets a taste of the future with a game of motion-controlled Solitaire at Pied Piper's new offices, using VR gloves. Okay, so that's not so bad of a burn—unless you count the fact that those offices (and fancy virtual reality tech) are a short-lived dream.