Like GearBrain on Facebook
The HP Envy 6055 is considered an all-in-one printer, certainly a much newer device compared to the HP OfficeJet 3380. We were sent the Envy to recently test, and with the OfficeJet already installed, we decided to put both through some comparisons to see which suits our needs better, especially for anyone in the market for a solid, workhorse of a printer.
Design
Hands down, the Envy is a winner here with its sleek design and low profile. The OfficeJet is a big printer, quite thick in the middle. That size gave it a few advantages we'll talk about in a bit. But if you're looking for a printer that fits neatly into a book shelf or cabinet, you're going to like the Envy much more.
The Envy also tucks the paper feeder inside the body of its printer, while the OfficeJet has the paper feeding from a back, external stand. You'll lift the top off both for copying and scanning.
The Envy also has large, graphic icons to indicate its status, while the OfficeJet makes use of digital icons on its screen.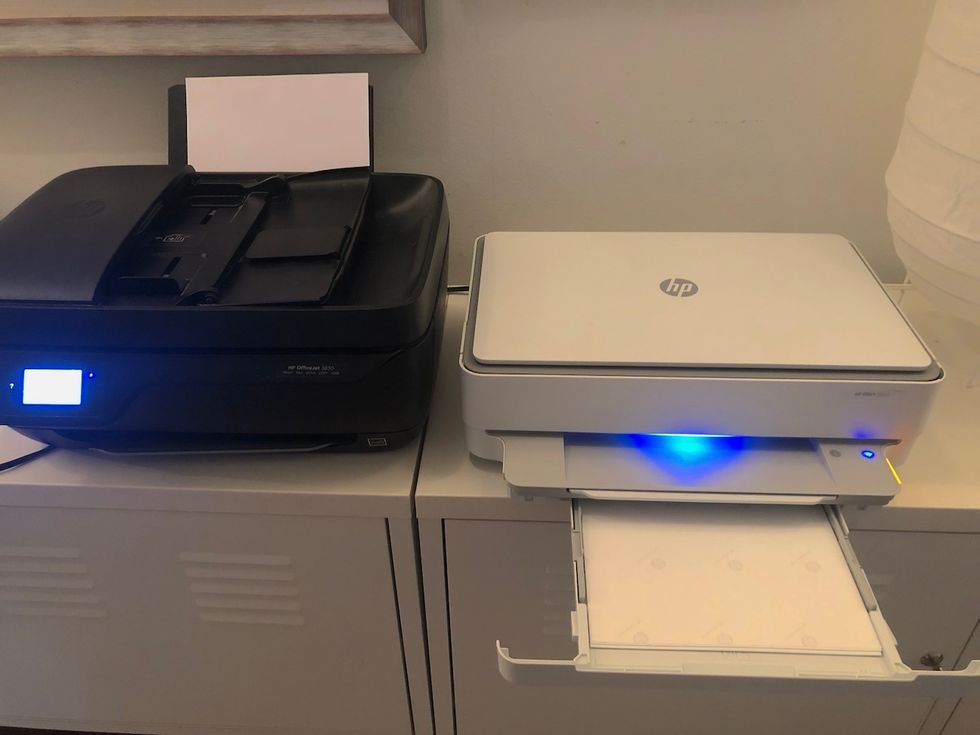 The two are very different in terms of size and profileGearBrain
Ease of connection

What should be a simple comparison, in terms of connecting the printer to your computer, isn't. The Envy connected to our Wi-Fi, and to our laptops and iPhone in the home in minutes, using the HP Access app. We were also able to link the printer immediately to our Google account, allowing us to print immediately from our Drive.
Connecting the OfficeJet was a dance of utter frustration. We've had to download drivers (oh yes, remember those?) from HP's web site to our MacBook Air in order to get the printer recognized. We still can't connect it to one of the MacBook's in our home.
Hands down, over years of using printers, we are blown away by how quickly and easily the Envy connected.
Features
Both the Envy and the OfficeJet can handle copying, scanning and printing — and that includes double-sided printing as well. But the Envy does not allow for faxing. You can send a fax via the HP Access app, but dedicated faxing from the machine isn't supported.
The OfficeJet 3830 promises a print resolution of 4800 x 1200 dpi in color, and 1200 x 1200 dpi in black and white — the exact same specs as the Envy 6055.
Print speed, according to HP, favors the Envy. But we found something very different in our tests. HP claims the OfficeJet can push out 8.5 pages per minute in black and white, and 6 per minute in color. The Envy claims 10 pages per minute in black and white and 7 of color.
In our tests, we got about 6 pages in black and white to print a minute on the Envy — and about 8 on the OfficeJet. Point to the older machine. Photos were a bit better. The Envy pushed out a color photo in a little more than one minute. The Office Jet took more than a minute and a half.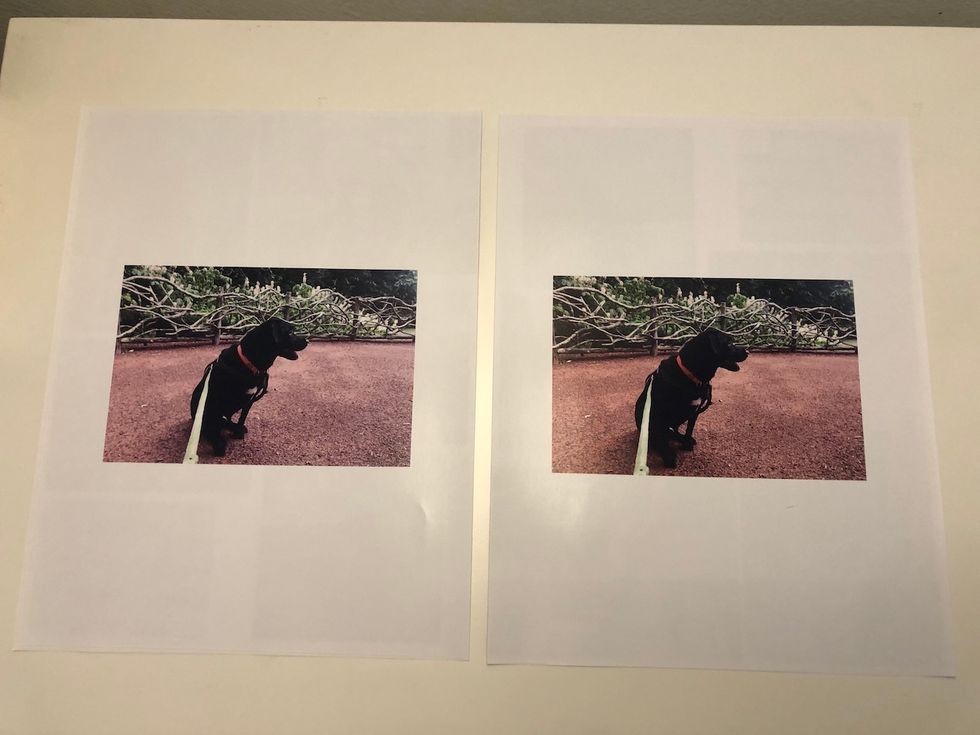 The HP Envy photo on the left, the HP OfficeJet photo on the rightGearBrain
Photo

Photo quality is mixed on the Envy. Some images printed beautifully, with colors true. We also saw drop out, however, lines where the print itself was very evident and clear. Images also sometimes appeared much darker on the Envy, and the same with the OfficeJet. We tested the printers using both HP photo paper and Kodak photo paper — and we did find that the HP paper brought off better results. Just something to note.
What we'd say is that in terms of printing photos on a printer not dedicated to photo printing, you're often dependent on the quality of the paper you're using and also the original image itself.
When it comes to photos we take on our smartphones, remember that they're showing on a screen, one that is backlit and with a very high resolution. Your printer is not going to be able to replicate that experience. Still, for images not meant to hang in a museum, and designed to stuff in a scrapbook or use for a meeting, they're more than serviceable on both machines.

We found some drop out in printing on the HP Envy 6055GearBrain
Printed page

Printed page? That produced a bit of a different result. The Office Jet created very clean pages, albeit some fuzziness on around the edges. We did use HP Copy & Print paper for our tests. The Envy, however, has some notable drop out on certain lines, with obvious missing ink. That didn't continue throughout an entire page — but it was something that stood out immediately.
Again, for a school paper, even for home use, this is not a major issue. But it's something we found, and something that we may not want to have if we were using the printer for something like an invitation.
Price
The HP OfficeJet 3830 is available on Amazon at this point for a bargain price of about $80. HP's suggestion for its replacement is the HP DeskJet Plus for $99.99. Still, that's far less than the HP Envy 6055, which is priced at $129.99. HP is currently out of stock, according to its web site, but we found it available at other retailers.
The HP Envy 6055 uses HP 67 ink cartridges, which cost $15.99 for black ink which can print up to 120 pages, and $16.99 for the tri-color cartridge, which can print up to 100 pages. The HP OfficeJet 3830 uses instead, HP 63 ink cartridges, which cost $20.99 for black ink which can print 190 pages, and $28.99 for tri-color which can print 165 pages.
Despite the higher cost for ink on the OfficeJet, you'll pay a bit less per printed page — about $.11 per black and white page for the OfficeJet and a bit more than $.13 for each black and white page on the Envy. Color though is about the same, with the Envy priced at $.17 for each color page, and the Office Jet at $.175 — half a cent more.

Controls on the OfficeJet on the left, Envy on the rightGearBrain
So, which one to pick up?

Truthfully, we find both printers to be workable for any basic home need you may have. They can print pages and photos. And while the OfficeJet can handle faxes from the device, you can fax digitally via the HP Access app if you have the Envy. That honestly may actually be easier.
The Envy had some ink drop out when printing pages, which we didn't love. But what we did love was the almost foolproof way the device connected to Wi-Fi and then our laptops and smartphones. Taking away the sting of getting the printer to work is almost worth anything.
Paying an extra $30 isn't that much for a printer, which is the price difference basically between the two. You will pay a bit more in usage from ink for the Envy for black and white printing — and extra $2 for every 100 pages. But you'll pay about the same for color.
For sheer size, and ease of set-up, we think — even with the drop out of print, and the price — we would likely pick up the Envy between the two if we were shopping for a new printer. Because honestly, who needs more hassle in their lives, especially today.
From Your Site Articles
Related Articles Around the Web
Like GearBrain on Facebook