Like GearBrain on Facebook
Like a virtual laboratory, HTC Vive's game The Lab is a space where players can try out different virtual reality experiences, testing what they like and don't like all from one spot.

A room scale VR video game, The Lab was developed by Valve Corporation, which published the uber-popular first first-person shooter game Portal. But here, there's less blood and gore and more games of strategy — which means there isn't an age restriction in The Lab. Even children can enter and play in this virtual reality space, which includes some educational aspects as well.
Players can choose from eight different games — all designed to highlight HTC Vive's capabilities to interact virtually with objects. You access the game from inside a virtual room — a lab —walking around to choose which activity you want to try.
Three options tap into the shooting-style that many gamers favor: Slingshot, where the goal is to shoot and destroy rubble, Longbow, where you defend against marauders with bow and arrows, and Xortex where you attack enemy space ships while flying through space debris.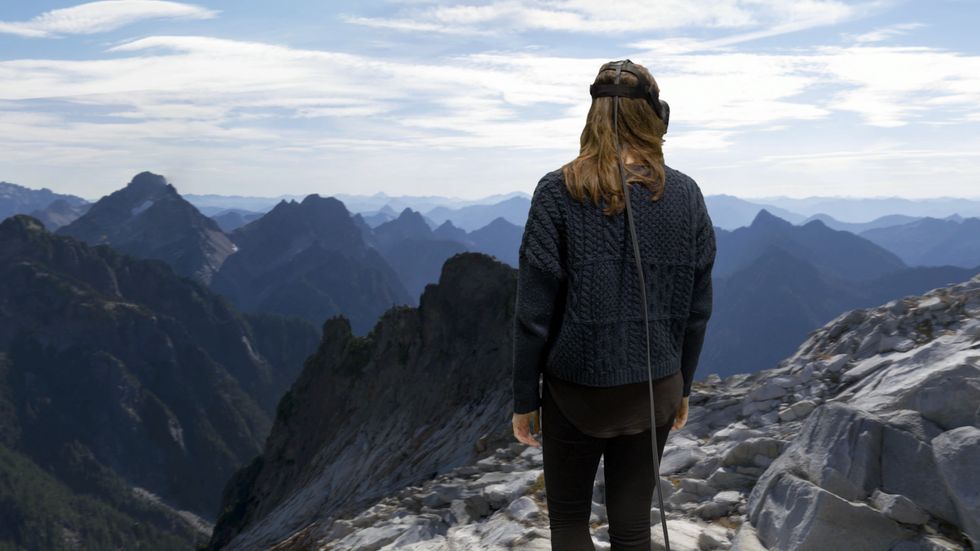 Transport to the top of a mountain with The Lab's Postcard mini-gameSteam
But again, this is definitely a PG space. In Longbow, for example, as players defend the castle from being invaded by 2D barbarians, blood is often depicted as red balloons that you then shoot for points after killing barbarians.
The five other mini-games include Solar System, which lets you pick up virtual planets, Robot Repair, which is just as it sounds — fixing a robot, Human Medical Scan which is like trying your hand at a virtual autopsy, Postcards, which sends you on virtual travels and Secret Shop, which gives players spells to use, and is particularly aimed at the Harry Potter lot.
With eight mini-games to select, The Lab never gets boring. Still, while the game has positive reviews in the Steam VR store, there are some drawbacks.
We found The Lab doesn't utilize the full capabilities of Vive in terms of spatial recognition. In order for players to walk around in the game, players have to virtually teleport instead of actually physically walking.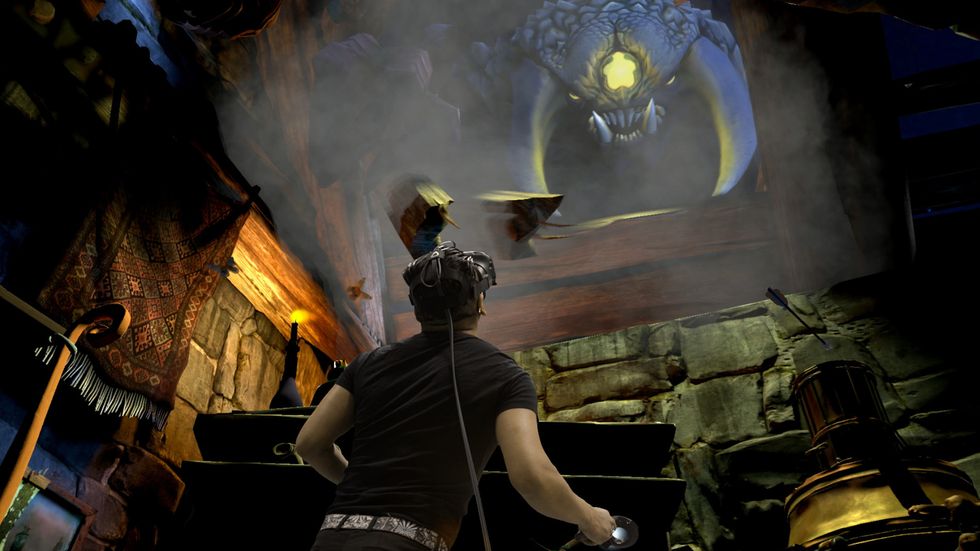 Practice spell-casting inside The Lab's Secret ShopSteam
During set-up you're asked to set up your field area — which is quite large and implies you'll be physically moving around to get from game to game — and yet instead of "walking" to the next game, you're beamed. While this is a minor annoyance — as it doesn't impact game play — from a VR standpoint it feels like an opportunity is lost.
Finally, note that to actually enter any of the mini-games you have to pick up a snow globe-like sphere, and then toss it at your own face. The result? Players sometimes hit their own head with the controllers.
Overall, The Lab is a game that's good for nearly any player or age group, with enough variety to appeal to gamers of all kinds. And it's free — as long as you have an $599 HTC Vive device.
- Kathy Ching is a research and teaching assistant at New York University's Game Innovation Lab
Pros: Kid-friendly, fun, very interactive and immersive.
Cons: No spatial recognition in game, needs a large space and poor mechanisms to enter different game modes.
Like GearBrain on Facebook