A motion tracker built for HTC Vive — and previously only open to developers— is something consumers now get to play with too — the Vive Tracker. The device snaps into Vive game accessories, like a tennis racket or gun, enhancing the way players will be able to engage while playing in virtual reality.

The device previously launched at CES last January, letting game developers link their peripherals into VR games for HTC Vive. The company is finally ready to let its players get their hands on the gadget — as well as gear designed for it.
Starting today, the Vive Tracker is available in bundles for $149.99 to consumers. There are two packages: the first works is a Hyper Blaster, a gun-like gadget that is also a motion controller and comes with the added Vive title, Duck Season. Five other titles will work with the device, including Arizona Sunshine, and The American Dream VR — and HTC says there will be 10 additional developers building titles for the peripheral by early 2018.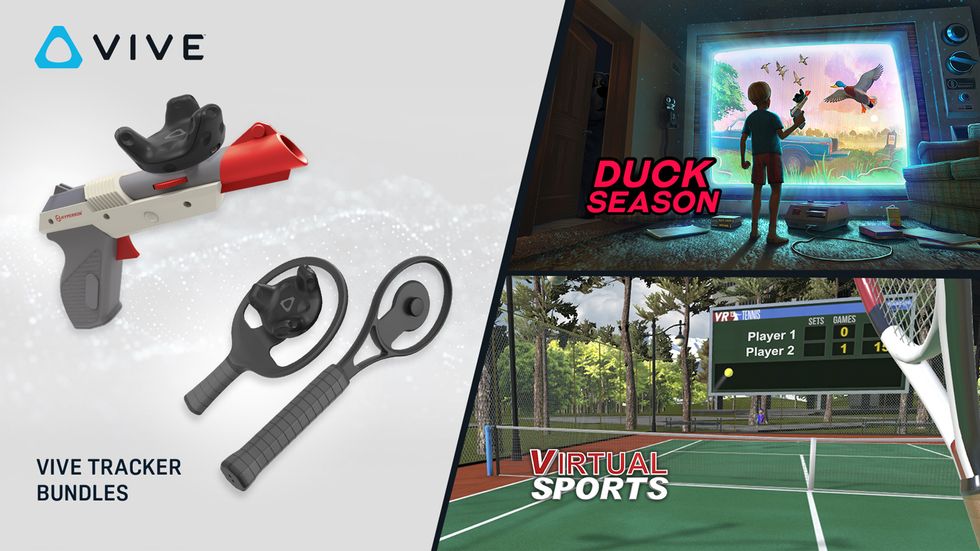 Hyper Blaster first launches as part of a bundle with HTC's Duck Season VR game.HTC
A second bundle includes two rackets — one for ping pong and one for tennis. The handles will work with five titles and is packaged with Virtual Sports from Vive Sports, which can be purchased with a redemption code in the pack. The pack will be available for pre-order through Amazon, Abt Electronics, BH Photo, Fry's, Gamestop, Micro Center and NewEgg. HTC says another five titles will be available by the end of 2018.
While the trackers themselves will retail for $99.99 — and in addition to the rackets and the Hyper Blaster, the device will fit into HTC's TrackStrap, which attack to a leg or arm and can then be used to track body movement while in a game. Priced at $24.99 for two, the straps will come with redemption codes for two games right out of the gate: Redfoot Bluefoot Dancing onSteam, inspired by Dance Dance Revolution (DDR) and Audioshield. Other titles that will work with the wearables will include Virtual Self, which is being updated December 1.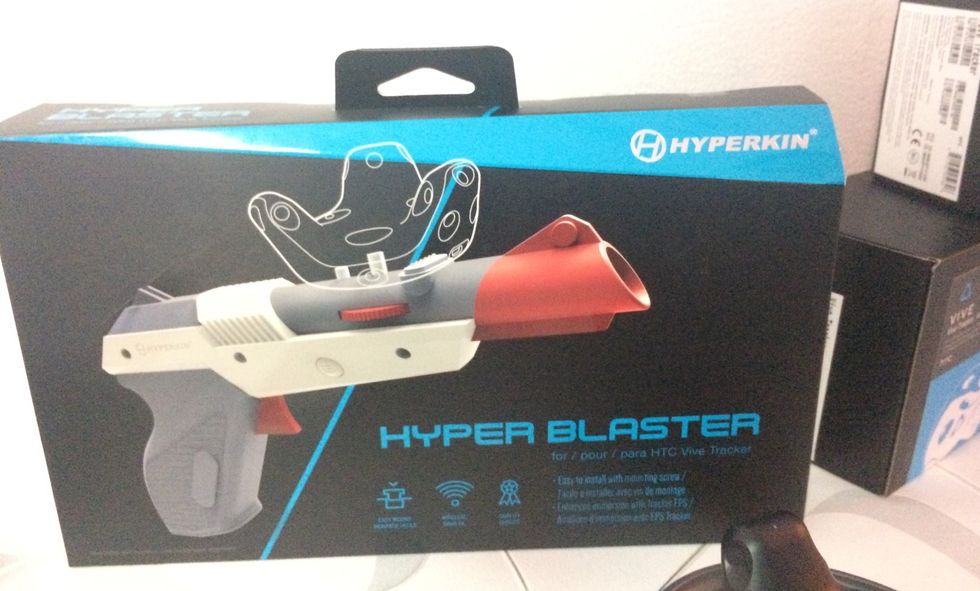 Hyper Blaster, a HTC Vive add-on, is bundled with the new Vive Tracker.GearBrain