Like GearBrain on Facebook
Vive fans didn't get a new HTC Vive at CES this year. But the VR company did bring some new gadgets to play including hardware attachments and new content partners to deepen the experience for its users.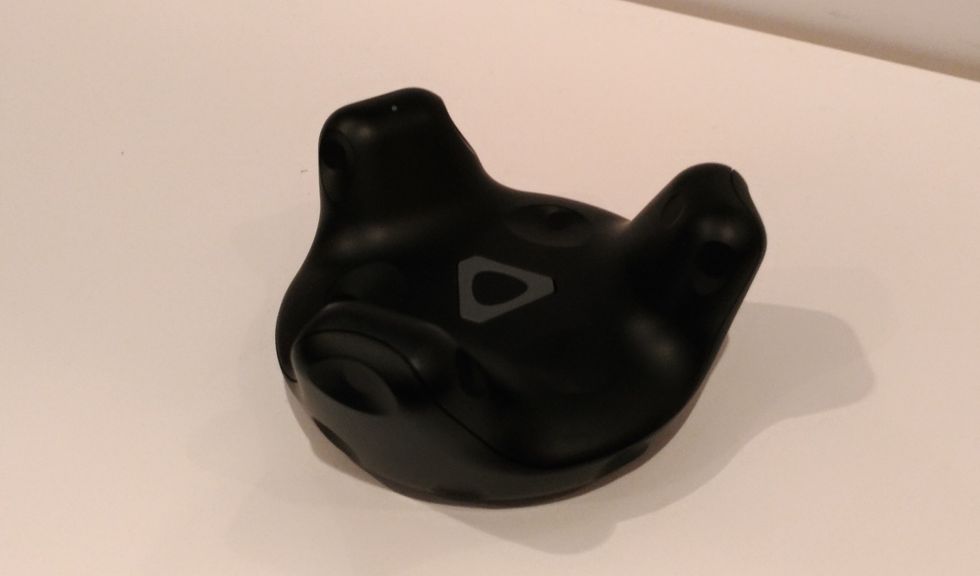 Vive Tracker will attach to devices including VR baseball bats to increase the virtual experience.
A new attachment, which Vive calls the Vive Tracker, will let users link peripherals, and track them within their VR experience. Think specially-designed baseball bats, gloves, steering wheels, rifles—and even a firehose, which will now be integrated into the virtual reality space. Vive is giving 1,000 devices away to developers over the next six months to help them develop devices that dovetail with Vive. Consumers will be able to start purchasing the Tracker in the spring, which Vive has not yet priced. But they should expect the gadget to have a six-hour battery life.
Peripherals already working with the Vive Tracker include a wireless glove controller, and the VR-15 Gun Controller, a VR version of the AR-15, among others.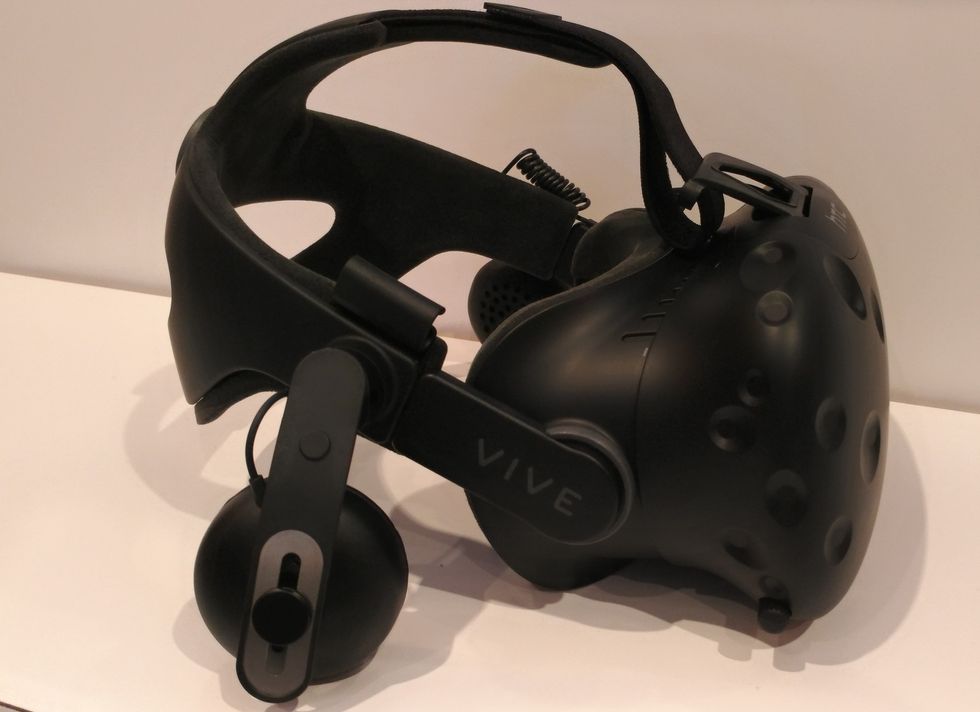 The Vive Deluxe Audio Strap will integrate audio directly into the Vive
A second attachment is the Vive Deluxe Audio Strap that can be used with existing Vive headsets, eliminating the need for external headphones. A comfort dial, to better fit the strap to a user's head, is also part of the design. Vive says consumers will also be able to buy the audio strap this spring, and like the Tracker did not give a price on the device.
Content is also expanding for Vive adopters. While the system already supports about 1,300 experiences in Viveport, its content space, the company announced 30 new experiences expected to launch from partners in the coming year. From Ubisoft's Star Trek Bridge to a firefighter training simulator called Flaim Trainer the content bridges entertainment, health, education and enterprise says Vive. Star Trek Bridge Crew will put you on the Enterprise as an officer flying the starship. Titanic VR will let you explore the ill-fated ship underwater. In The Nest, you'll take down soldiers of the future.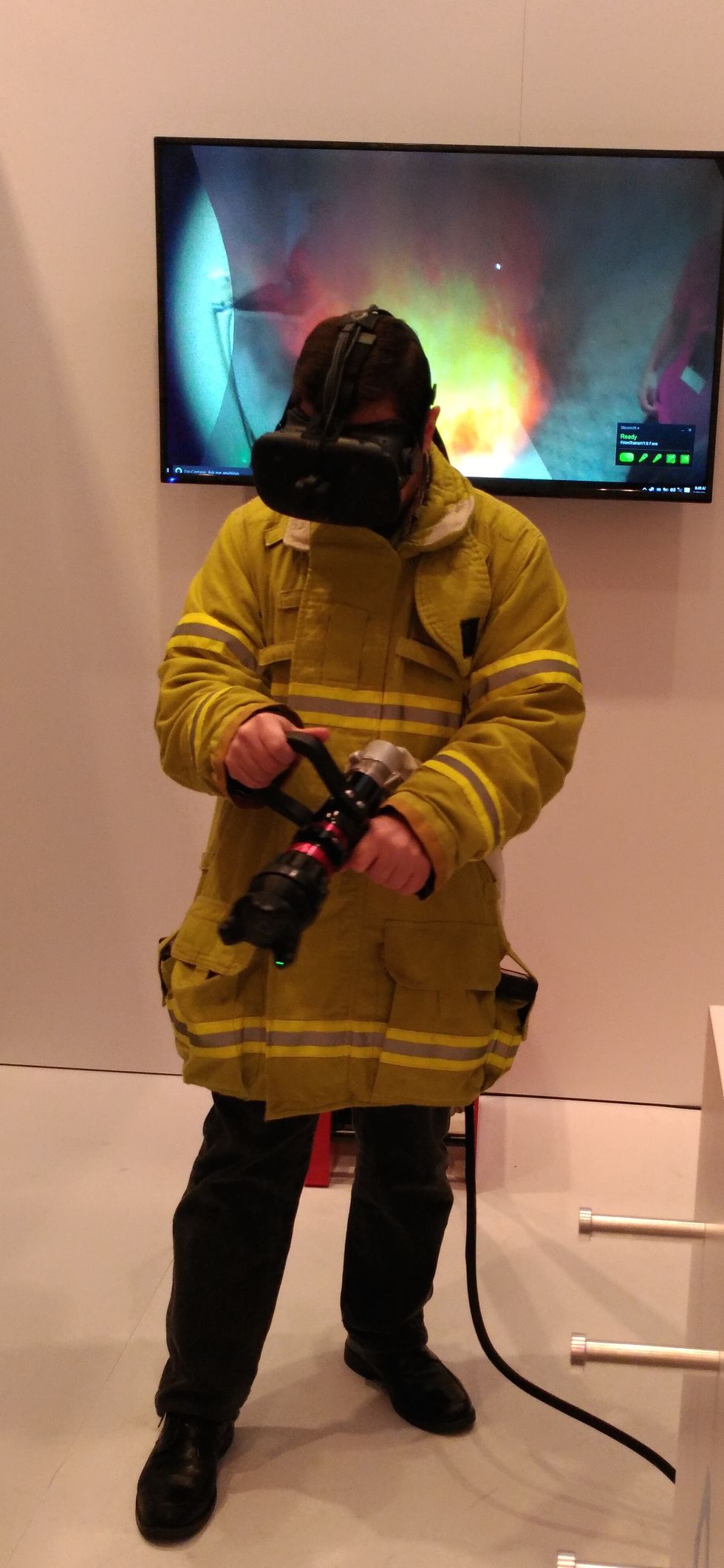 Flaim Trainer brings you right into the firefighting experience
While consumer experiences are clearly front and center for Vive, the company has seen its business partnerships grow, particularly in the past six months. Jaguar, Autodesk, Salesforce and IBM are just four brands that have linked up with Vive in the past two months alone. Autodesk VRED is a design experience where designers, engineers and executives can collaborate on a Porsche design within VR, for example.
Vive is showcasing its content and experiences at CES 2017 starting tomorrow, Thursday, Jan. 5 through Saturday, Jan. 8 during one-hour blocks. Vive users may not have gotten the toy they wanted. But Vive is probably hoping they'll be happy with the toys they're being given for now.
"In the past nine months, we've made VR readily accessible to consumers and enterprise customers across the globe, and we're carrying incredible momentum into 2017," said Daniel O'Brien, vice president of VR at HTC Vive, in a statement. "The VR ecosystem continues to grow and at CES 2017, we will showcase the breadth of VR experiences and accessories that will form the future of VR."
Related Articles Around the Web
Like GearBrain on Facebook