Like GearBrain on Facebook
The iPhone 11 is likely still four months away, but the rumor mill is already getting into gear, with claims that the new Apple handset will have an all-new rear camera system with three lenses.
Housed alongside the flash in a raised square section on the rear of the handset, the camera system is expected to include one more lens than is used by the current iPhone XS and XS Max.
Read More:
The rumor that such a camera system will feature on the iPhone 11 has circulated online for a few weeks, but now it appears that third-party case manufacturers believe this really is what the new iPhone will look like.
Renders of a case design published by technology leaker Sonny Dickson show an iPhone with a large square cut-out for the rear camera system. The cut-out is around double the width of that used by the iPhone X and XS, and takes up approximately a third of the new iPhone's width
Dickson's website says the renders come from "our trusted sources in China" and is "supposed to be the case renders which case manufacturers use as a reference to design cases for phones."
The site adds that it has "very good reasons to believe that this is the real deal."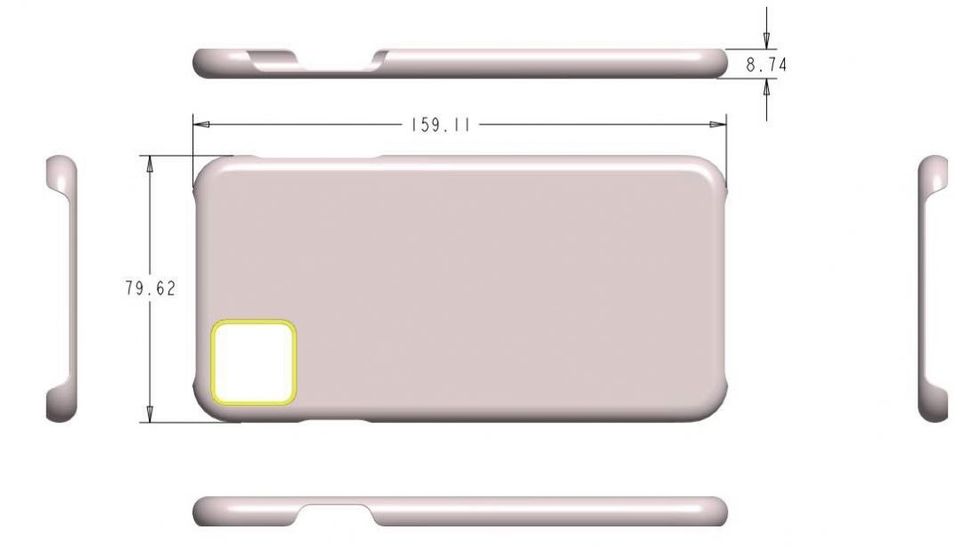 Render of what an iPhone 11 case might look likeSonny Dickson
The renders show two iPhones of different sizes, as Apple has done since the iPhone 6 back in 2014. Their names are unknown for now, but it's likely Apple will call them the iPhone XI (pronounced eleven) and iPhone XI Max.

Fellow smartphone leaker OnLeaks has produced a render to show what the iPhone 11's rear camera could look like, show at the top of this article.
It isn't clear exactly what the super-sized camera module will house, but a time-of-flight sensor is likely. As used by the iPhone's Face ID system on its front, a ToF sensor accurately measures the distance to an object by measuring how long it takes infrared light to bounce off it and return to the sensor. This data can be used to create photos with more accurate bokeh-style blurred backgrounds.
The same week, Slashleaks also published an image of a 2019 iPhone case. This also shows a large rear camera cutout, adding further legitimacy to earlier rumors.
Multiple rear cameras is a popular trend among almost all smartphone makers these days. Some use an extra lens to provide enhanced telephoto zooming; others install a wide angle lens.2
Second iPhone 11 case render features the same camera cut-outSlashLeaks
Google, however, has adamantly stuck with a single rear camera on every generation of its Pixel handsets. Instead of using different lens, Google relies on artificial intelligence to produce some of the best photos of any smartphone currently on sale. The Pixel 4 is due to arrive this fall, but it isn't known yet if this will stick to the one-lens recipe, or increase this for the first time.

Apple is expected to announce the iPhone 11 at a launch event in the fall, and between now and then you can expect to see many more leaks and rumors, as anticipation for the new handsets builds.
Like GearBrain on Facebook