Like GearBrain on Facebook
2:56 pm ET
And I think we're out people. There's now a live performance of Sia. So we're going to leave you with some final images of the iPhone 7.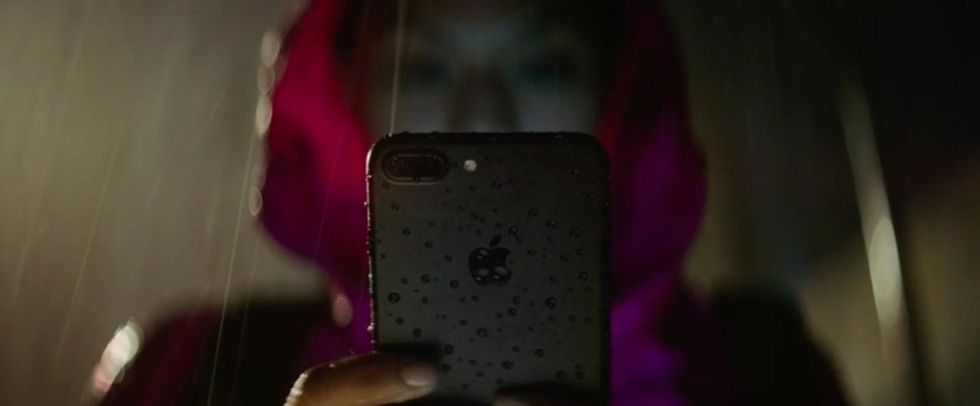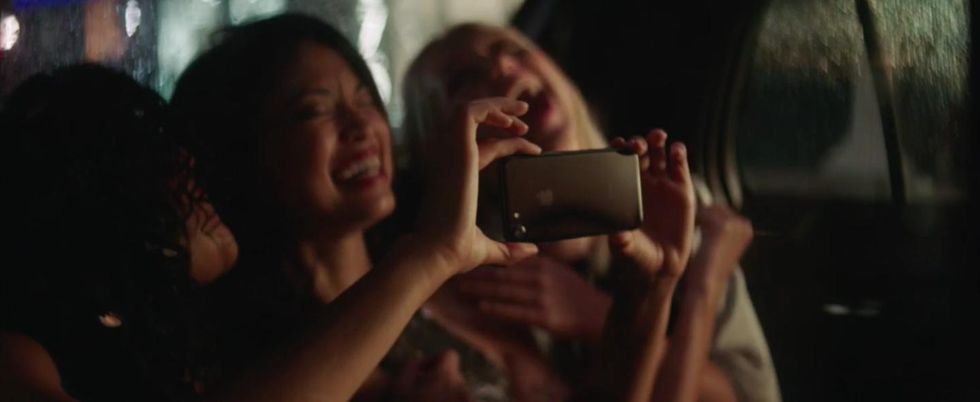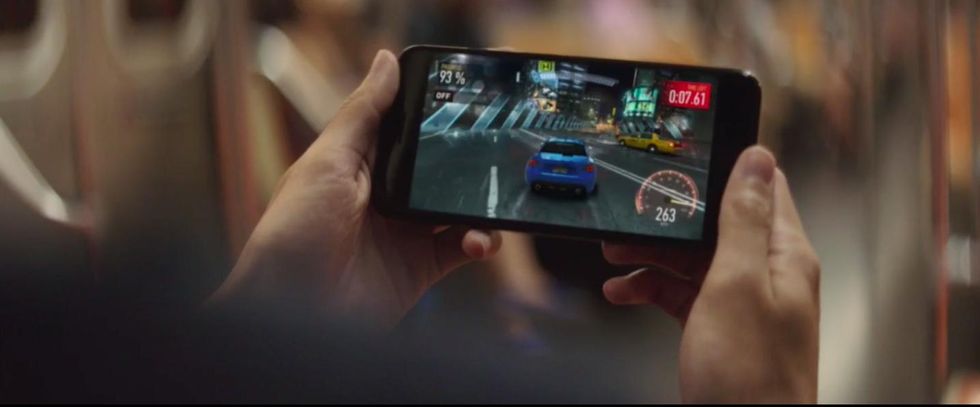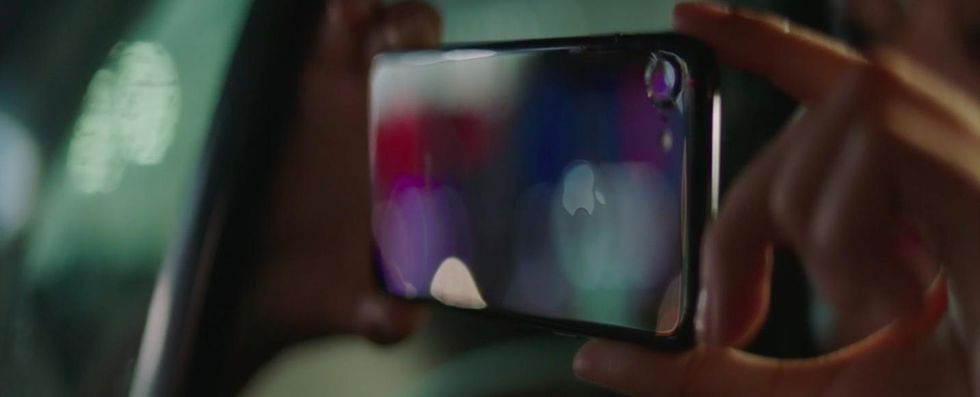 2:53 pm ET
iPhone 7 will come with 32 and 128 and 256 GB
iPhone 7 PLUS has same sizes starting at $769
Installment plan: iPhone 7 starts at $27 a month
iOS 10 on Sept 13th
AirPods are $159 shipping in late October
2:50 pm ET
iPhone 7 orders start Sept 9, and shipping starts Sept 16th in 28 countries
iPhone 7 will start: $649 starting price (same as iPhone 6)
2:44 pm ET

Improved battery life for iPhone 7 and iPhone 7—Apple says these have the longest battery life. About two more hours into your day.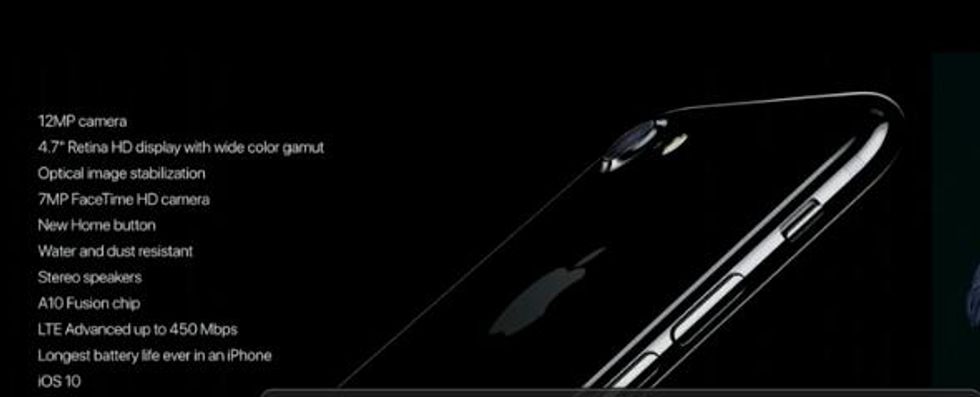 2:40 pm ET
Apps will benefit from new chip: like Adobe Lightroom and games. They're showing games—effects, lightning, details, color display....and there's feedback from the new home button that lets you feel the playing...(okay...enough of this now.)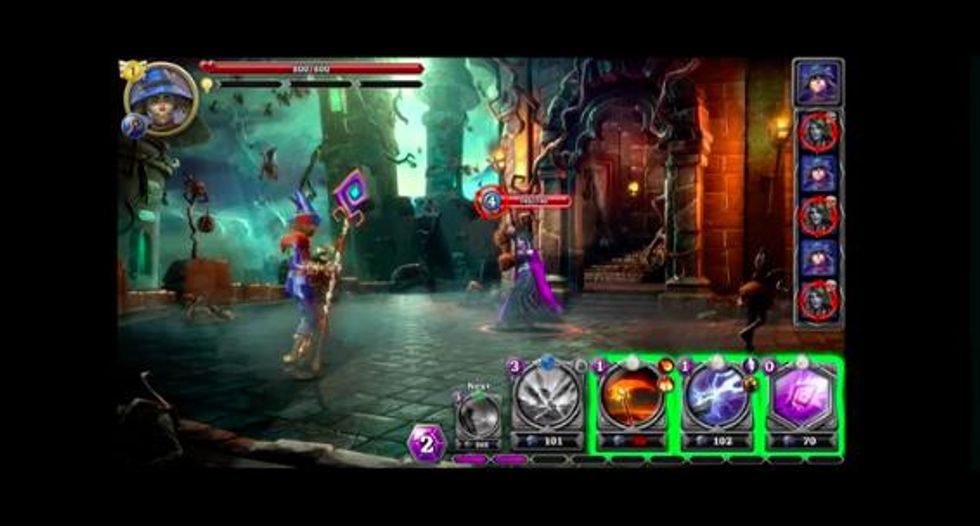 2:36 PM ET
Tenth: Performance. A new chip called A10 Fusion. 64 bit four-core CPU
Ninth: Apple Pay. Japan is coming on board with Apple Pay.
2:34 pm ET
Beats Solo3 Wireless — new headphones. (Which explains why they were giving them all away over the past few weeks with purchases.)
2:31 pm ET
The AirPods can access Siri with a double tap. UP to five hours of listening on a single charge. Can be connected to all Apple devices from Apple Watch to iPhone. You simply tap to connect. (huge cheers)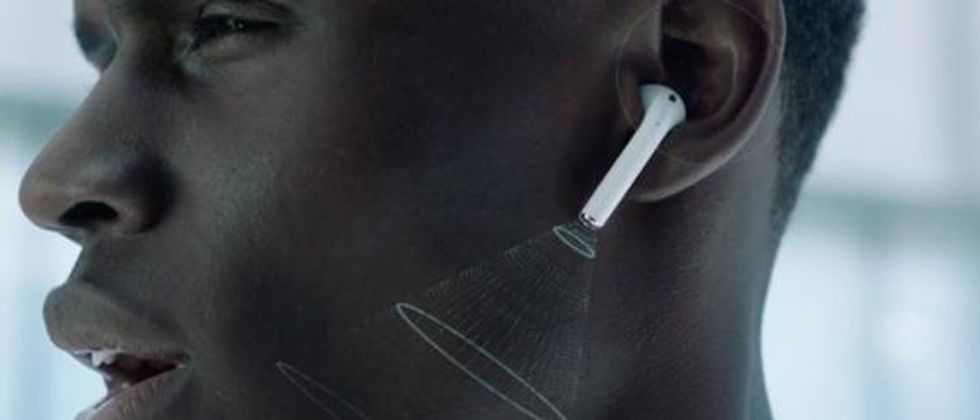 2:29 pm ET

Eighth: Wireless audio experience between iPhone 7 and headphones. A new product:
Apple AirPods

2:25 PM ET
Sixth: Audio. First time there are stereo speakers, one at the bottom and one at the top.
Seventh: Earpods. Now connecting them over Lightning for iPhone 7 and iPhone 7 Plus. And an adapter to connect with older, traditional analog headphones (And there's a lot of defending here of why Lightning is going to be better...and not a lot of applauding here)
2:22 pm ET
Retina HD Display. Ian Spalter, Instagram's Head of Design is now on stage talking more about the display and the camera.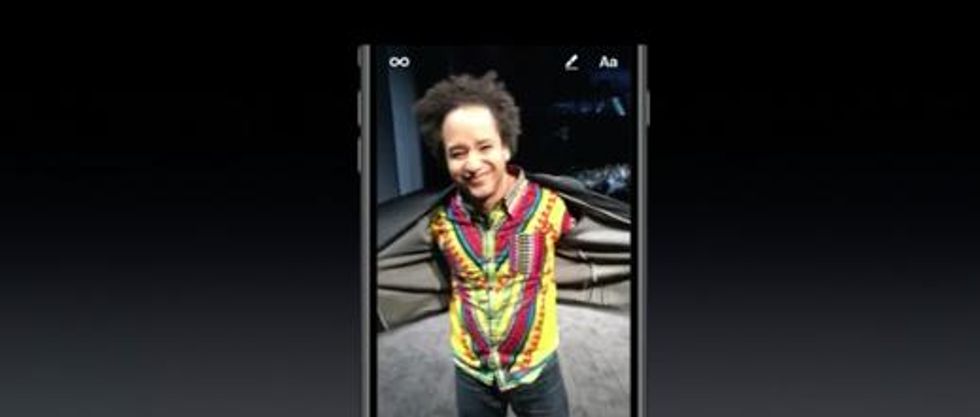 2:20 pm ET
And more camera details...portrait option...shallow depth of field. (Wondering how many professional photographers are going to be uncomfortable about this new detail...) Free software update for all iPhone 7 users this fall.
2:15 pm ET
Fifth: iPhone 7 Plus: an extra camera. Two megapixel cameras. One has a wide-angle and one is telephoto. And can do an 10X zoom now because of extra telephoto lens.
2:09 pm ET
Fourth: The Camera. New camera system, new optical stabilizer helps steady images from shaky hands. Wider aperture lens. New 12 megapixel sensor. Two-tone flash with four LED, reaches 50 percent further and a flicker sensor. An image signal processor (ISP): which can take multiple photos and fuse them together for one image in 25 millliseconds. Live photos...you can edit or crop them with iOS 10.
2:06 pm ET
More about the Home button: it's now force-sensitive, solid state, taptic engine so you get feedback such a vibration so you know this is happening.
Third: The iPhone 7 is water and dust-resistant. IP67 protection standard—SO: iPhone safer from water and dust.
2:04 pm ET
Ten new features
First: a high-gloss jet-black finish, integrated antennae. Another new color, called black. So five colors: jet black, black, rose-gold, gold, and silver
Second: Home button completely re-designed and customizable.
2:02 pm ET
Jony Ive is talking through a video showing the new iPhone 7.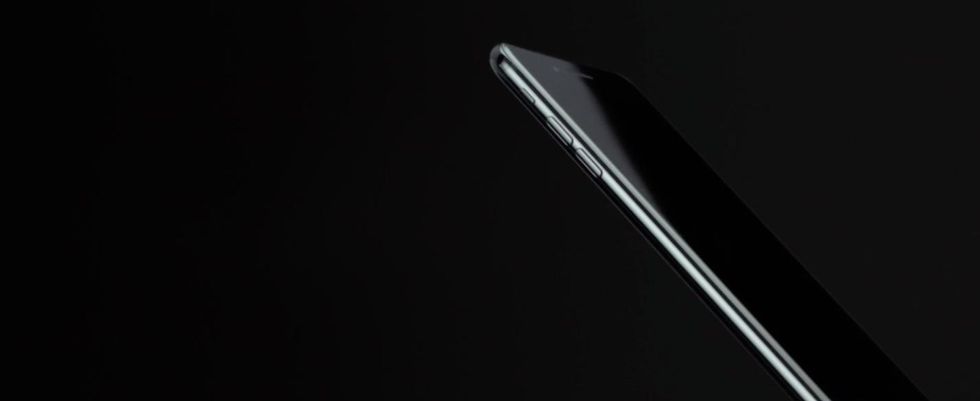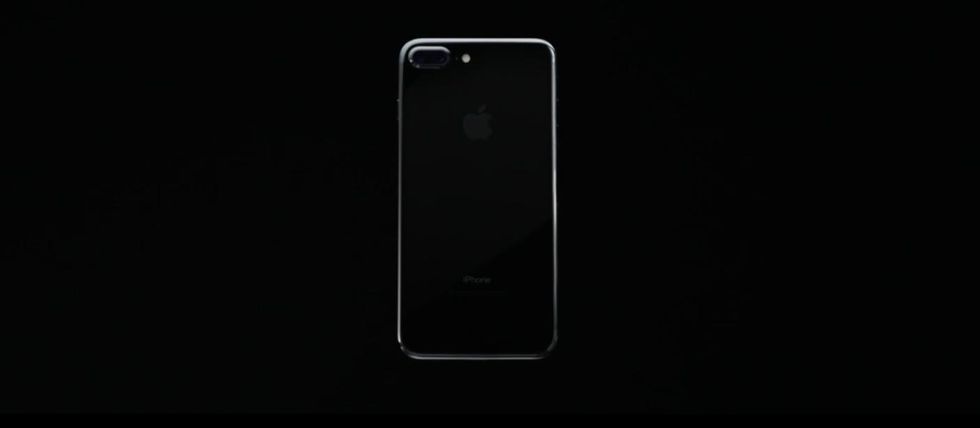 1:59 pm ET
Boom: Apple iPhone 7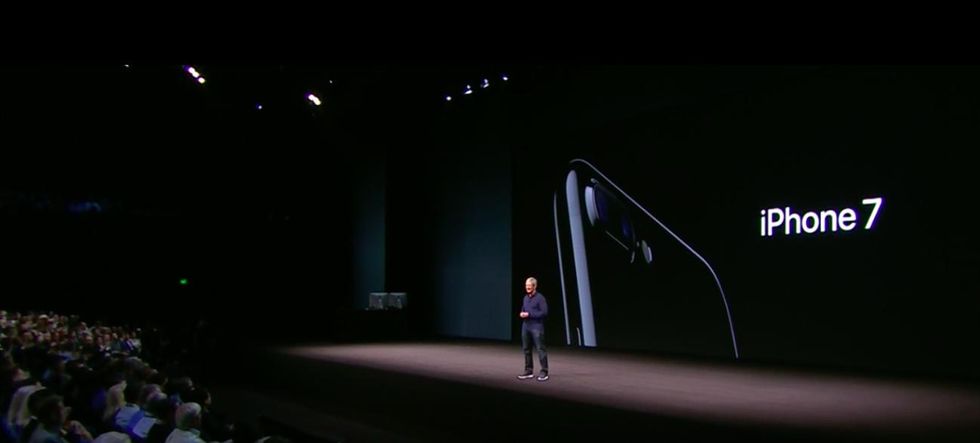 1:57 pm ET

Cook is back—says more than 1 billion iPhones sold.
iOS can control home devices through HomeKit, with almost every major manufactorer, with more than 100 products coming to market in 2016. Just look for label that says "Works with Apple HomeKit."

Also new features in messages: animation, confetti and fireworks, new stickers and even make payments without leaving messages.

1:55 pm ET
Now: iPhone
1:54 pm ET
The original watch, now called Series 1, is still available: upgraded at $269
$369 Apple Watch Series 2, pre-order Sept. 9th, on sale Sept. 16th
Watch OS 3 will be ready for Sept. 13th
Nike Plus $369, available late October
1:51 pm ET
Apple is partnering with Nike, for a product: Apple Watch Nike Plus made specifically for runners. You can tell Siri to start a run, and there's a motivation invitation....with Series 2 flashing a screen to get you running. There's also access to live runs, or running clubs, in cities across the world. (That's Trevor Edwards, Nike's president below.)

1:46 pm ET
Series 2 will come in aluminum and stainless steel cases and a new material—ceramic, a white, pearl-like that can be paired with different bands. There will also be a Series 2 for the Hermes line.
1:44 pm ET
There's a new app called viewranger, which is for hiking and connects via GPS and keeps you on trails.
1:42 pm ET
Apple Watch Series 2 will have a display that is two times brighter than before—and brighter than any screen Apple has shipped before. The watch is also going to have built in GPS, and a route map color-coded for varying speeds that you've moved across that area. And a new hiking app...
1:39 pm ET
Apple Watch Series 2 will be water resistant 50 meters. They redesigned a speaker system, which will eject the water when you come out of the pool for a swim, or the ocean after a dive. The smartwatch will also be able to note whether you're doing a pool workout or an open water workout, and tailor itself to your workout over time.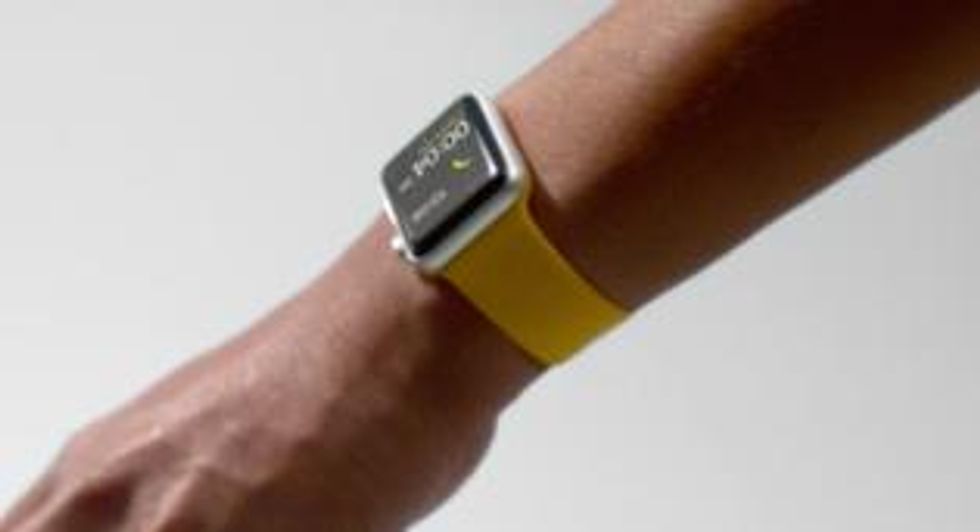 1:36 pm ET
Next generation of Apple Watch Series 2...
This will be swim proof...

1:34 pm ET
Niantic (Pokémon Go) has tweaked the game for the Apple Watch. To hatch eggs, you need to walk–and the walking will now be integrated into your health details even showing how many calories you are burning while you play the game....This will ship before the end of 2016.
1:30 pm ET
Okay, so Pokémon GO is coming to Apple Watch. (Which feels a little late to the game...)
1:28 pm ET
Jeff Williams, Apple's COO is talking about Apple Watch. Talking about the update in June of WatchOS 3 with writing on the screen, stickers, changeable watch faces, activity sharing...and a new app called Breathe, which tells you to take a deep breath once a day. Also an emergency feature to call 911 or equivalent in the country your in that will send details of where you are...
1:24 pm ET
Apple Watch...here we go.
1:22 pm ET
Cook is now talking about Apple's involvement with education through ConnectED...Apple has made a program called, 'Everyone Can Code' which teaches Swift, Apple's programming language.
Also talking about iWork. Susan Prescott, VP product marketing invited on stage to talk about new updates for iWork: Real-time collaboration for all iWork apps (Pages, Numbers, Keynote...)
1:16 pm ET
There's another game called Toad Tally. (Clearly Pokémon Go is having an impact...) The game will be downloaded for a set price—not announced yet—but released later in 2016.

Also Super Mario stickers for iMessage which will come with iOS 10.
1:12 pm ET
It's a brand new game, called Super Mario Run—and you can play on your iPhone, one handed, says Nintendo's Shigeru Miyamoto.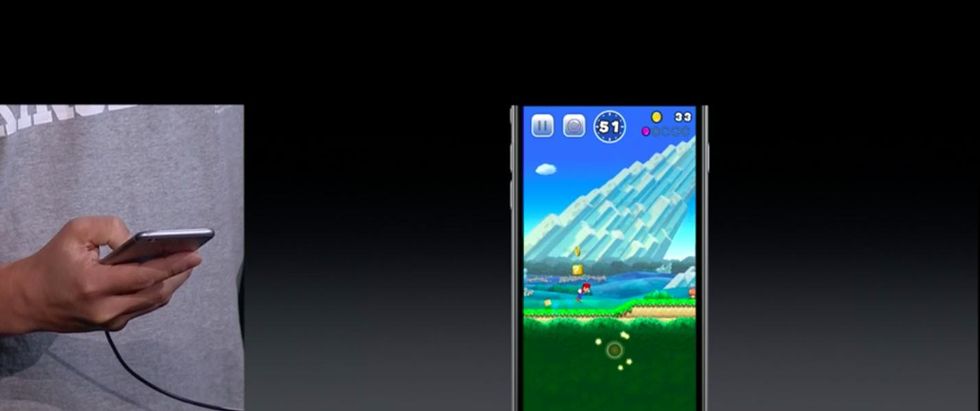 1:09 pm ET

Mario is coming to the App store.
1:07 pm ET
Excellent, now we're on to the main event. We're starting with updates for Apple Music which Cook says has 17 million paid subscribers, and 30 million songs. The Apple Music Festival in London, which is celebrating its 10th anniversary, will include Elton John, Alicia Keys, Robbie Williams and others and you can watch a live stream with iOS 10 from Apple devices and Apple TV.
1:03 pm ET
Well, the Apple Keynote starts with Carpool Karaoke with Tim Cook and Pharrell Williams. Okay...
AND WE'RE LIVE....
Apple fans take heart: today is the day. We'll be live blogging for most of the Apple Press Event today starting at 1 pm ET, covering the details. We already have some idea of what to expect — a new iPhone 7, in colors that include the standard rose gold, silver and gold along with two flavors, so to speak, of black: "piano black" and a "space black," with the former a shiny, gloss-like finish. (Yes, white is gone.)
We're going to lose the earbud jack, with earphones linking to the iPhone 7 through a Lightning Connector — and perhaps even wireless earbuds. There's also going to be a 3GB storage option for the iPhone 7 Plus. We're also hearing that the new iPhone 7 will be more water-resistant. How much? That we will need to hear more about later this afternoon.
But rumors are also circulating about a new Apple Watch, fed in part by stories that the current Apple Watch (the first generation) are selling out, and not easy to find. The new Apple Watch is apparently going to ship with GPS tracking (independent of the iPhone) — but no ability, still, to make calls from the phone directly. (That is a still a setback for the device's adoption in our opinion.)
Finally, we're expecting to get the actual release date for iOS 10 — you know, the one with the awesome new emojis, and the ability to hand write your text messages, animate them or send secret missives ala Harry Potter.
Check this story starting at 1 pm for what Apple finally does reveal. We'll update live from here.

Like GearBrain on Facebook