Like GearBrain on Facebook
One of the biggest issues with outdoor security cameras is power. Many smart home security cameras require an outlet while some come battery powered. GearBrain has tested many of these security cameras and we know battery powered cameras provide the user more options to position their security camera. However, you don't want to constantly have to recharge the battery. Kami, a premium smart home security brand from YI Technology, has a solution for smart homeers in the market for a battery powered outdoor Wi-Fi security camera. It's called Kami Outdoor Battery Camera.

The Kami Outdoor Battery Camera is a wire-free, weather-resistant smart home security camera that can be placed anywhere around the home without the need of a hub or cord. It is the easy-to-use and has a direct Wi-Fi connection to your home Wi-Fi network. The camera comes with enhanced night vision and at a competitive price for an outdoor Wi-Fi home security camera. The Kami Outdoor Battery Camera is now available to purchase on the Kami website.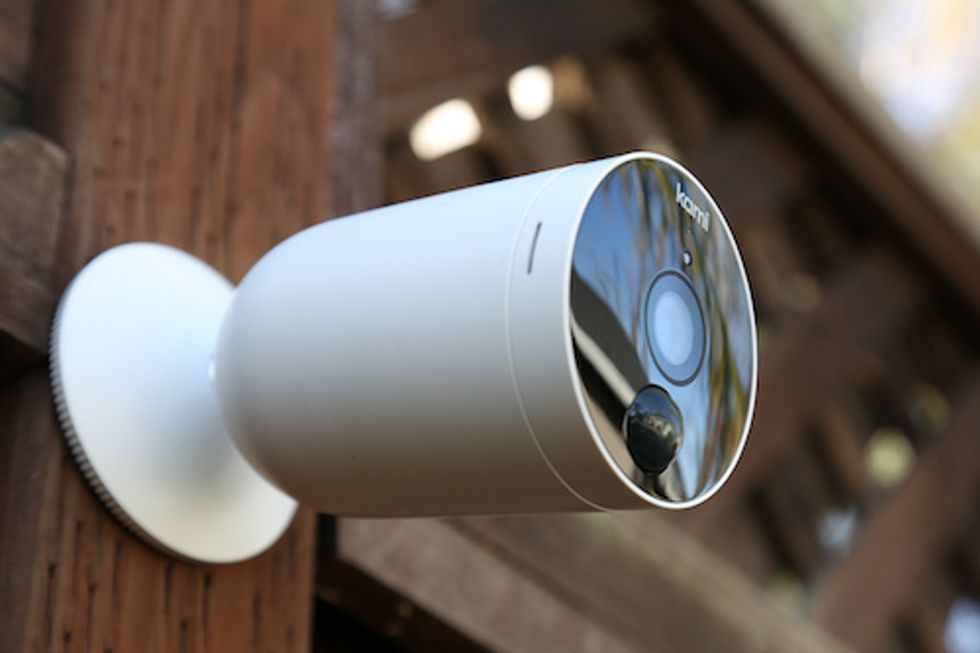 Kami Outdoor Battery Powered Wi-Fi CameraKami
Ease and Affordability Meet Advanced Technology
The Kami Outdoor Battery Camera is designed to be up and running in seconds. It pairs with the Kami Home app for iPhone and Android via QR code and directly connects to the home Wi-Fi without any additional devices. Its wide-angle 140-degree lens captures full HD, high-quality video which can be stored on a micro-SD card or in the secure and private Kami Cloud for true anytime, anywhere convenience. For worry-free operation, the battery will last up to six months on one charge.
"We aim to offer people an instant feeling of relief, protection and awareness of what is happening in and around their home," said Sean Da, CEO of YI Technology, the parent company of Kami. "Whether that is children entering and exiting the home, packages being delivered or the dog walker taking care of a pet when the owner is away, the Kami Outdoor Battery Camera is a caring friend guarding people's security and privacy with top of the line intelligence that is widely accessible. We are on a mission to provide every household access to smart security technology regardless of their tech savviness or income."
Here are Kami Outdoor Battery Camera's product specifications:
100% wire-free
Up to 6-month battery life
IP-65 weatherproof
Enhanced night vision
Two-way audio
Wide angle view
Cost
Kami Outdoor Battery Camera is now available on KamiHome.com for $89.99.
The Kami Home app is tailored for all Kami products with advanced functionalities including professional monitoring with "Home" and "Away" settings, real-time smart notifications and access to full-length activity alerts via secure cloud storage. Cloud storage for up to five cameras is offered at $12.50 per month with annual subscription.
GearBrain will be testing the Kami Outdoor Battery Camera in the coming weeks. We are looking forward to testing the camera's features, setup process and battery-life since this is key to an outdoor security camera. The last thing you want is your camera's power to go out while unwanted guests appear on your property.
Kami Smart Outdoor Security Camera, 1080p 2.4G Home Camera with Human Detection, Starlight Night Vision, Time Lapse, Activity Zone - kami/YI Home App
Like GearBrain on Facebook