Like GearBrain on Facebook
Home security cameras have been around for a long time, but the recent boom in the smart home market means they are simpler and smarter than ever.
Being 'smart' means they connect to your home's Wi-Fi network and can often be accessible from anywhere in the world via a smartphone app. Footage is stored either locally or online in the cloud, and some smart cameras feature motion tracking and artificial intelligence to only record when something moves in their view.
Read More:
But, as with smart thermostats and door locks, most renters will find it impossible to install a smart security camera, due to the power cables and mounting brackets most external solutions require.
Thankfully, there in an increasing number of options available to the renter who wants to install a security camera without making any changes to their landlord's property. Most of these cameras are designed to be used indoors, so need to be placed looking out of a window. But there are some welcome exceptions which are both weatherproof and, importantly, landlord-friendly thanks to requiring no cables.
Setting up an indoor security camera
Indoor security cameras are usually designed to sit on a shelf or window sill, making them ideal for renters unable to drill holes into the walls. But this also means their all-seeing lenses will likely be closer to you (and in your view more often) than a camera fitted outside the property.
Some readers might be okay with this, but for many it can feel uncomfortable when a camera permanently sits nearby - and guests might well be unimpressed to discover they are being recorded without their permission.
Some smart cameras aim to reduce unwanted recording by using facial recognition to learn who lives in the home. Once the camera knows this, it is less likely to record when you and your family are in shot. However, as we found with the Netatmo Welcome indoor camera, it takes a while to teach the system the faces of everyone who lives in your home, along with those of regular visitors like friends and partners. This means a few days of false-negatives pinging your phone, which can become annoying.
It's best to place an indoor camera high up and with a view of the front (or back) door. That way, you are unlikely to see the lens regularly (helping you and your guests to worry less about being recorded) and the camera has a good view of where burglars are most likely to enter. Of course, placing a camera high up might mean buying an extension cable to power it.
Once you have found a good spot, it's time to look at the options available to you. These include:
Nest Cam Indoor - $199 for one, $397 for three or $645 for five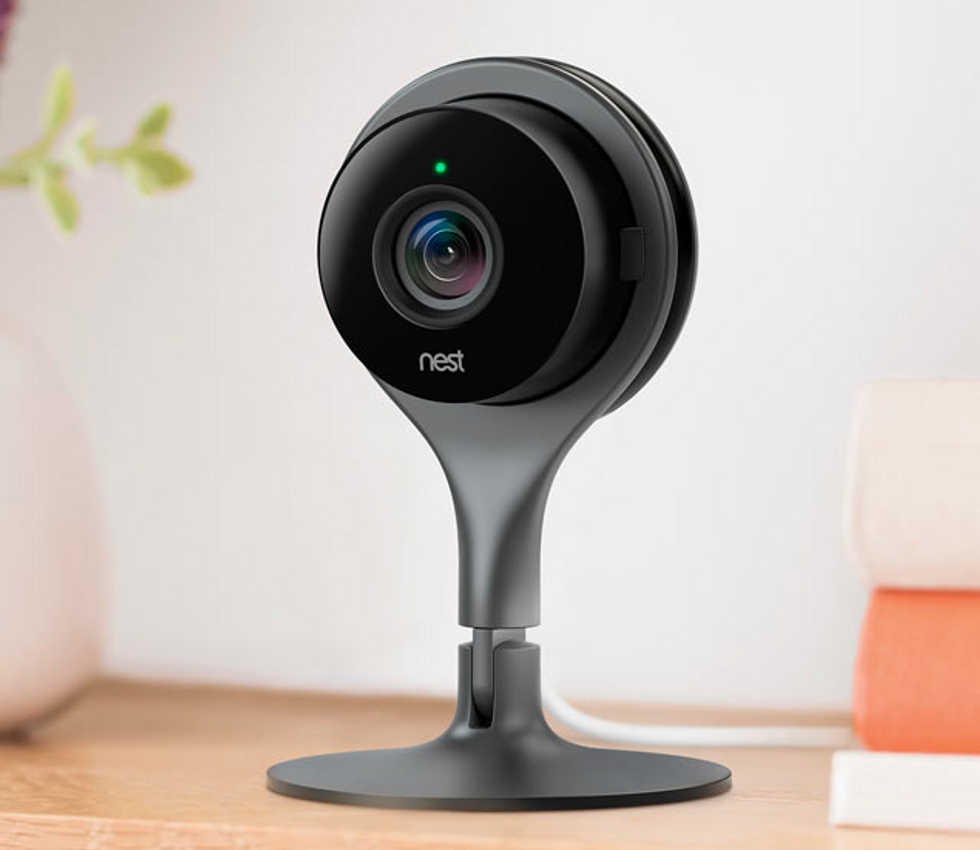 Nest Cam security camera Nest
Google-owned Nest is a leader in the smart home market with its intelligent thermostat, smoke alarm and cameras. The Cam Indoor, which GearBrain has reviewed , is a small security camera that records in 1080p Full HD and streams that footage to your phone or tablet via the Nest app. It also taps into the Nest ecosystem and can be configured to only record while you are away from home. A microphone and speaker mean you can talk through the camera from the app — if you need to shout at your children or pet, for example - and there are eight infrared sensors to enable night vision. (Check out The GearBrain, our smart home compatibility checker to see the other compatible products that works with Nest .)
While basic video recording is free, advanced features like facial recognition (so the camera only alerts you when it sees an unfamiliar human instead of your cat) come as part of Nest Aware, which starts at $5 a month or $50 a year. This also enables continuous 24-7 recording if you want it, and that footage is saved online for five days, where it can be viewed and downloaded.
Nest Cam IQ - $299 for one, $498 for two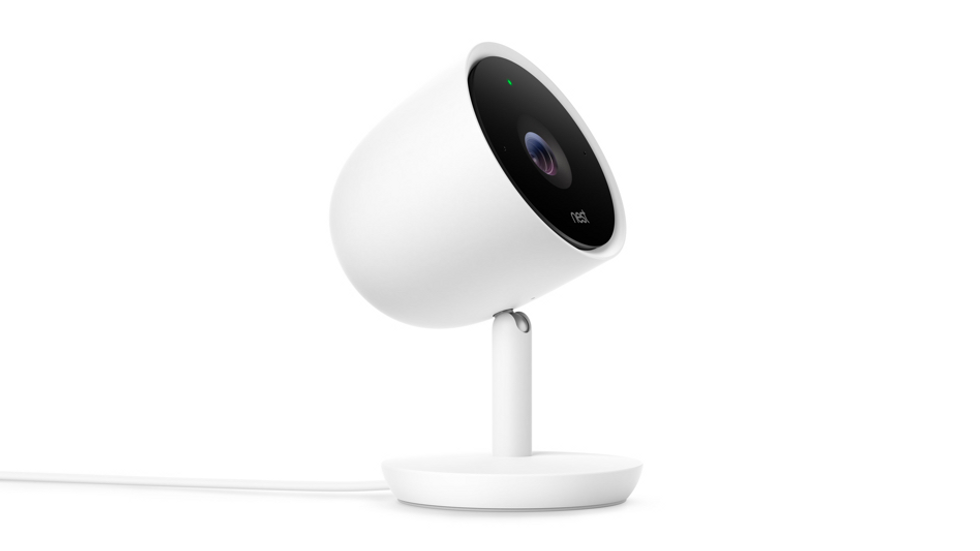 Nest Cam IQ Nest
A more intelligent offering from Nest, the Cam IQ shoots Full HD 1080p video and can stream the same quality to your smartphone. However, it actually uses a 4K, Ultra HD sensor, and that increased resolution means you can zoom in on footage — to help police identify a burglar, for example. Unlike the regular Nest Cam, the IQ comes with person recognition without the need for a subscription.
However, the Nest Aware subscription is still required if you want to access more than three hours of saved footage. Because it only records when it sees an unknown face, that should be enough in most cases, unless you have it pointed out of a window and onto a busy pedestrianized area.
Other upgrades over Nest's cheaper option include a better speaker and microphone, plus improved night vision.
Arlo Q - $130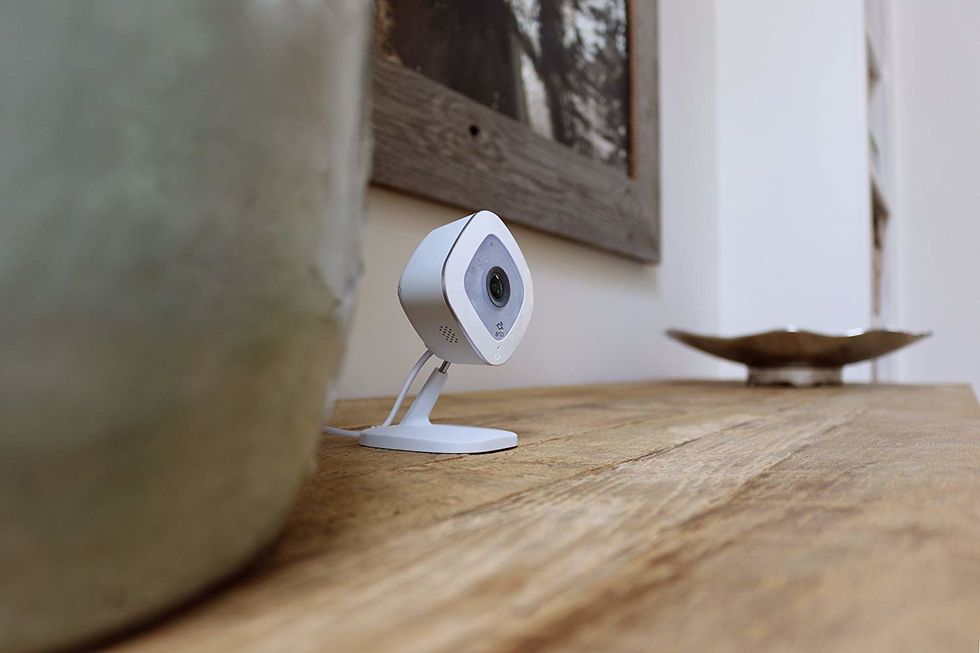 The Arlo Q costs $130 Arlo
The Arlo Q is a compact, wired indoor security camera which captures Full HD 1080p video with 8x digital zoom, has a microphone and speaker for two-way audio, and switches to night vision when it gets dark. The camera also works with Alexa, so you can ask the Amazon assistant to show a live video feed on your Echo Show smart display.

What's great about this camera is how it offers free cloud storage of your video for seven days. That means you can view recordings and download them up to a week after they were saved, for free. This camera requires a wired power supply and isn't waterproof, so is only suited for indoor use. But that's fine for renters - just sit it on a shelf or window sill, plug it in, and you're good to go.
Arlo Q - Wired, 1080p HD Security Camera | Night vision, Indoor only, 2-Way Audio | Cloud Storage Included | Works with Alexa (VMC3040)
Netatmo Welcome - $180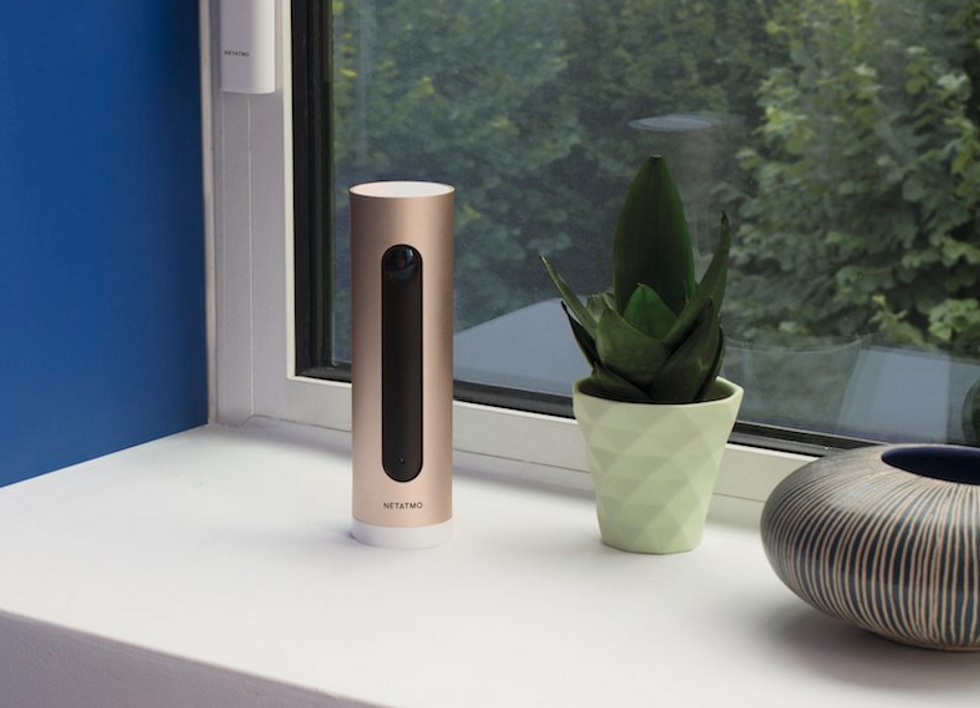 Netatmo Welcome Netatmo
Designed to fit in with the rest of Netatmo's smart home range — including an indoor and outdoor weather station — the Welcome monitors 24/7 and starts recording when it sees an unfamiliar face. When someone is spotted, the device alerts you via the smartphone app and sends an image; you can then view a live video feed of what's going on.
Video can be saved locally to a microSD card or to a personal server or Dropbox account, making this a good option for those who don't want to pay a subscription for video storage, and who don't want their footage being sent to a company's servers. There is also an infrared night vision mode to capture footage after dark.
Additionally, the camera's microphone can be used to alert you when it hears the siren of your burglar or smoke alarm - a neat, low-tech feature. Although a few years old now, the Welcome is still a good option, especially as it can now be bought cheaply second-hand.
Wyze Cam Pan - $30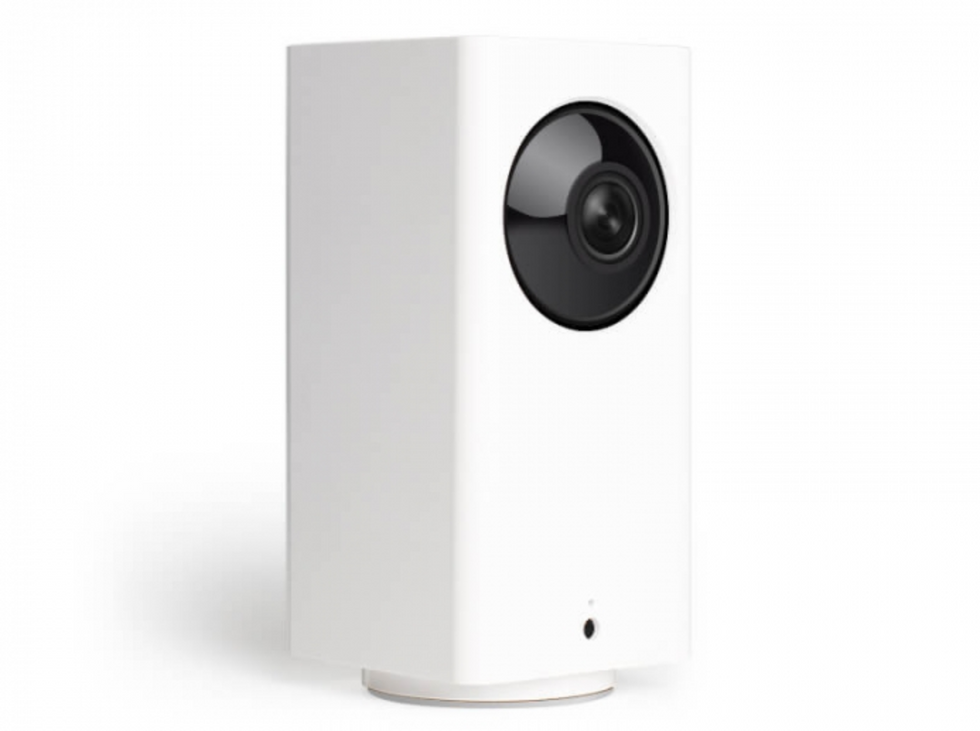 The Wyze Cam Pan is just $30 Wyze
A budget option, the Cam Pan from US smart home startup Wyze represents excellent value for money. Although $10 more than the Wyze Cam V2 , the Pan - as the name suggests - is motorized and can quickly pan around to give you a look of the whole room. The camera shoots at 1080p Full HD, and can spin at 110 degrees per second, through a complete 360 degree circle.

There's also 8x digital zoom, and a tracking system where the camera can follow moving objects from side to side. Finally, the Wyze works with Alexa and Google assistant for showing live video footage at will, and Wyze offers free, rolling 14-day cloud storage for all of your recordings.
Wyze Cam Pan 1080p Pan/Tilt/Zoom Wi-Fi Indoor Smart Home Camera with Night Vision, 2-Way Audio, Works with Alexa & the Google Assistant, White - WYZECP1
Eufy Cam E
Netgear Arlo - $199 for one (with base station) $199 for one (with base station)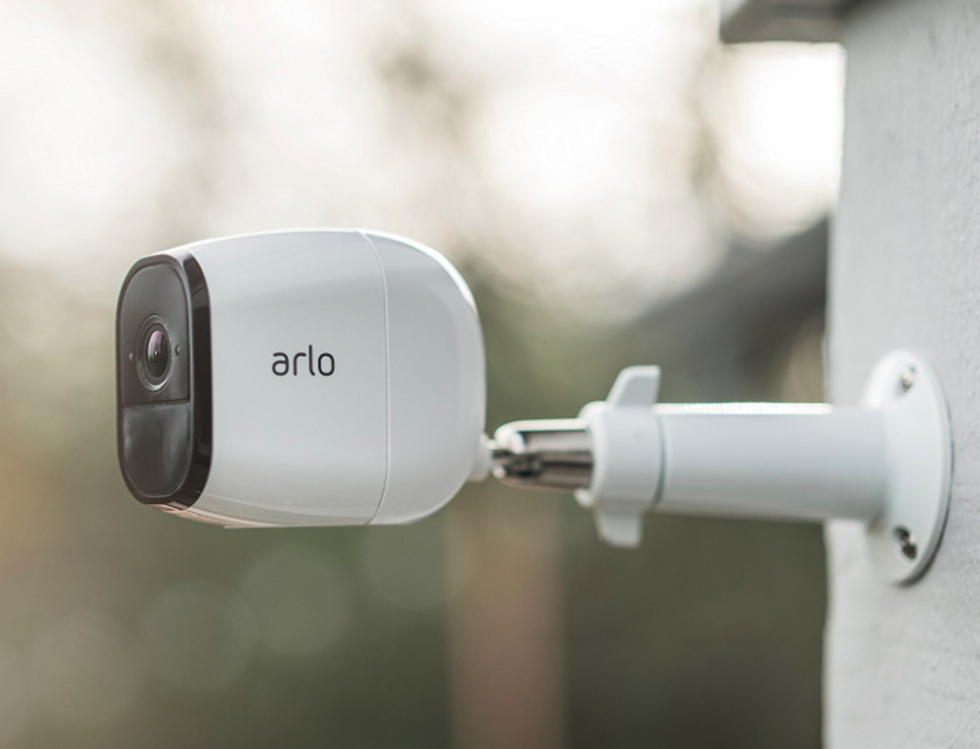 Netgear
Arlo is the name of a wide-ranging security camera ecosystem offered by Netgear. Importantly for renters, the regular Arlo runs off a rechargeable battery and so is truly wireless.
The camera records in HD, has two-way audio, is weatherproof so can be placed outdoors, and has infrared night vision. Footage is uploaded to the cloud via a hub which attaches to your router and the last seven days of motion-triggered recordings are stored for free.
Renters will likely be allowed to fix the Arlo to a wooden fence post with screws without an issue, but mounting to the building itself will usually require landlord permission.
Manything - free, recording from $4.99 a month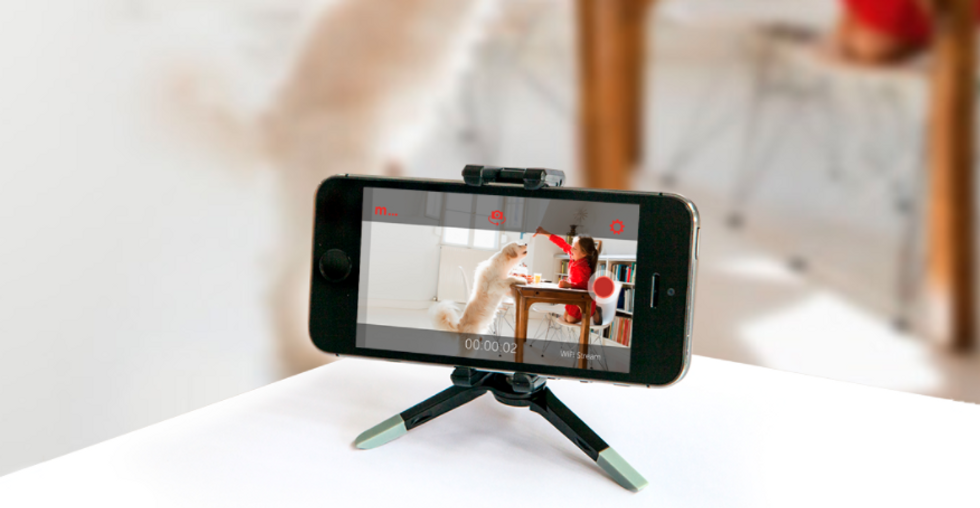 Manything
An alternative to buying an expensive new security camera is to give an old smartphone or tablet a new lease of life. The Manything app turns these old devices into security cameras, which alert you when they see something and can broadcast a live video stream with two-way audio to your main device.
Subscriptions , which enable footage to be recorded to Manyapp's servers, start at $4.99 a month.
Security camera good practice

We recommend you exercise caution when installing an outwards-facing camera like the DoorCam. If you live in an apartment, for example, the camera will be facing a communal hallway and potentially through the doors of your neighbors as they come and go. You should check with your building's management before installing an external camera.
If you live in a house, think about what the camera can see. If it has a clear view of a neighbor's garden then consider informing them first, and the same goes if the camera looks over other sensitive areas, like a playground.
With any security cameras, you should ensure that recorded footage is time- and date-stamped, and that those details are always correct.
Night Owl 5MP Extreme HD 8 Ch 1 TB HDD and 4 x 5MP Cameras C-841-PIR5MPN
Like GearBrain on Facebook