Like GearBrain on Facebook
Linksys has announced a new service called Aware, which uses the Wi-Fi signals emitted by an internet router to detect motion in your home.
The system is designed to act as a privacy-first alternative to other smart home security systems, like those that use motion sensors or cameras.
Read More:
Instead of invading the privacy of your family or roommates, the system instead promises to deliver alerts to your smartphone when motion is detected, but without using cameras. It could also be used to keep an eye on elderly relatives who live alone - but, again, without the need to install a camera.
Linksys, which lives within the recently merged Belkin and Foxconn companies, says the Aware system works with its mesh Wi-Fi networks. Aware costs $2.99 per month or $24.99 per year and the company currently offers a 90-day free trial so owners of Linksys mesh Wi-Fi networks can try it out first.
The technology works by monitoring how Wi-Fi signals are first emitted by the router and network extenders, then how those signals are bounced off the surroundings and returned - a little bit like lidar and radar. Something moving - like a burglar - will interrupt these signals and be detected.

Although Linksys says its Aware system is the first to market, it sounds very similar to Aura, which GearBrain reviewed back in 2017. At the time, the Aura Home Monitoring system was expensive, at some $500, and didn't work as well as we'd hoped it would, with limited range and features, and of course that high price.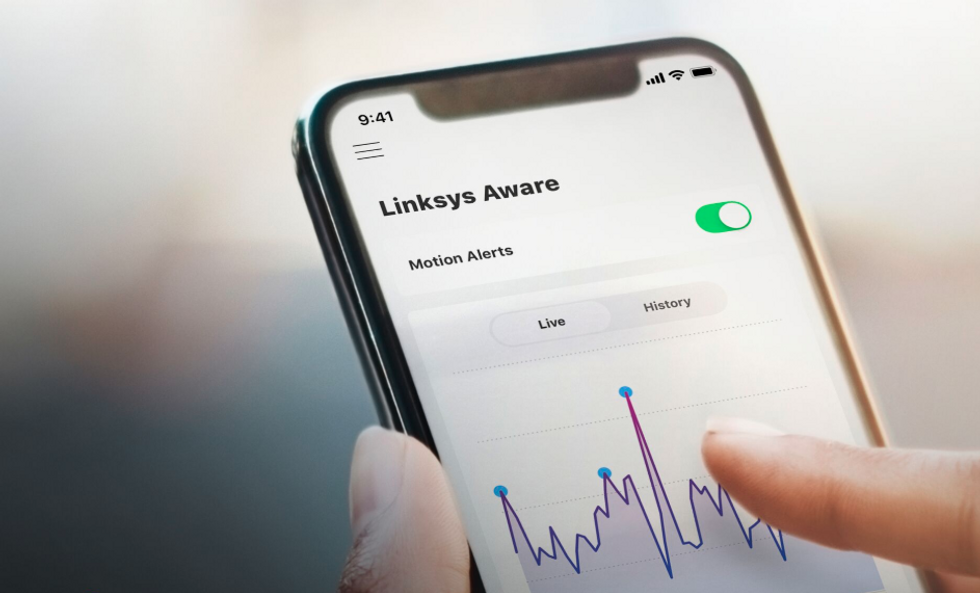 The Aware system alerts your smartphone when movement is detectedLinksys
Linksys Aware doesn't require any new hardware to function. Instead, buyers of the Linksys Velop Tri-Band AC2200 routers (in its one-, two-, or three-pack configurations, starting at $200) can switch on the feature, try it for 90 days, then decide if they want to pay for it as an alternative to camera-based security systems. Aware is available from today via a firmware update.

Users of Linksys Aware can arm the system when they leave the home, then they'll be alerted via a smartphone app when movement is detected. These motion alerts can be snoozed (if you know it's just the cleaner, for example), and the sensitivity can be customized to avoid false alarms.
Matthew Keasler, product manager of Linksys Aware,
said
: "Motion sensing in mesh Wi-Fi has i credible potential to change the way the general public taps into the capabilities of their routers. No longer will the router just be a device that enabled internet access in a home, it will be the cog that drives the
smart home
. Since Linksys is first-to-market, we anticipate playing a large role in that revolution."
Linksys Velop Tri-Band Home Mesh WiFi System - WiFi Router/WiFi Extender for Whole-Home Mesh Network (1-pack, White)
From Your Site Articles
Related Articles Around the Web
Like GearBrain on Facebook