Like GearBrain on Facebook
As we welcome more and more smart devices into the home, our private space is filling up with internet-connected gadgets that can see and hear us.
Our Echo and Google Home smart speakers are always listening - and sometimes sharing private conversations by accident - while our security cameras are watching, and the whole system is a big, shiny target for hackers.
Read More:
Walking into an unfamiliar smart home is often a case of noticing indoor security cameras pointed at you, but with no indication of whether they are on or not, and where that recording is being stored.
The Kangaroo Motion Sensor is billed as a simpler, cheaper and less invasive smart home security solution. The sensors are available now for $30 each and connect directly to your Wi-Fi network, instead of using Zigbee, Z-Wave or low energy Bluetooth.
Despite their use of Wi-Fi, the manufacturer claims each sensor will last for up to two years before its pair of included AA batteries need replacing.
Kangaroo Motion Sensor: Setup and specs
Setting up the motion sensor is very easy via the companion smartphone app, available for iOS and Android. All you have to do is follow the app's clear and simple instructions, then peel the back off each sensor and stick them into place. I stuck one on the window frame of my bedroom, as this is unlikely to cause any damage when it comes to removing it. Sticking these to a painted of wallpapered wall might leave a mark when removed.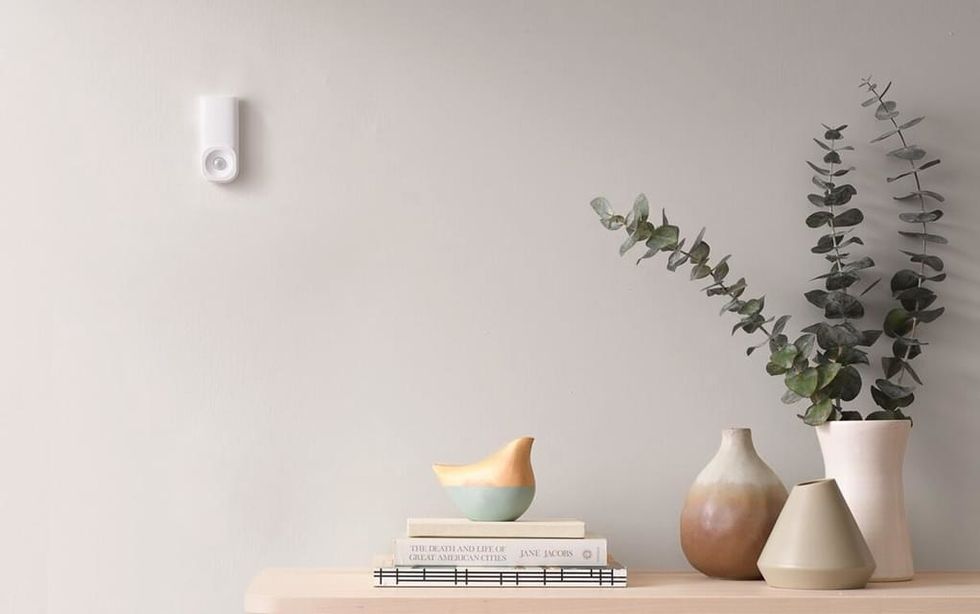 Kangaroo
The Kangaroo system supports up to 20 motion sensors on a single Wi-Fi network, which should be more than enough to cover most homes. However, it is worth noting that these are not intended to be used outdoors. They should be okay in covered outdoor spaces, but depending on your local climate they may fall victim to moisture in the air after not too long.
Once set up, the app presents a simple slider for arming and disarming the sensors. Swipe right to arm the system, and you're set - the moment any sensor detects motion, you will be alerted via the app.
You can also grant other people access to your system, so they will also receive alerts (via the app, text message or both) when motion is detected in your home - useful when you go on vacation, as the neighbors can then be alerted. Anyone given permission by you can chat in the app, letting you know the situation if the alarm has been triggered.
The app also shows the battery level and signal strength of each sensor on your network, and lets you rename them to anything you like.
Each sensor has a 120-degree field of view to a distance of 15 feet, which should be enough for most situations. As well as alerting you to movement, they also ping your phone when they are being physically tampered with.
The sensor is fairly compact, at 3.55 x 1.55 x 0.7 inches and it weighs 2.37 ounces. However, even to the untrained eye, they still look like part of an alarm system. This could be a good thing - acting as a warning sign telling potential burglars that your property has an alarm fitted - but might not be welcome by those wanting a stealthier approach to home security.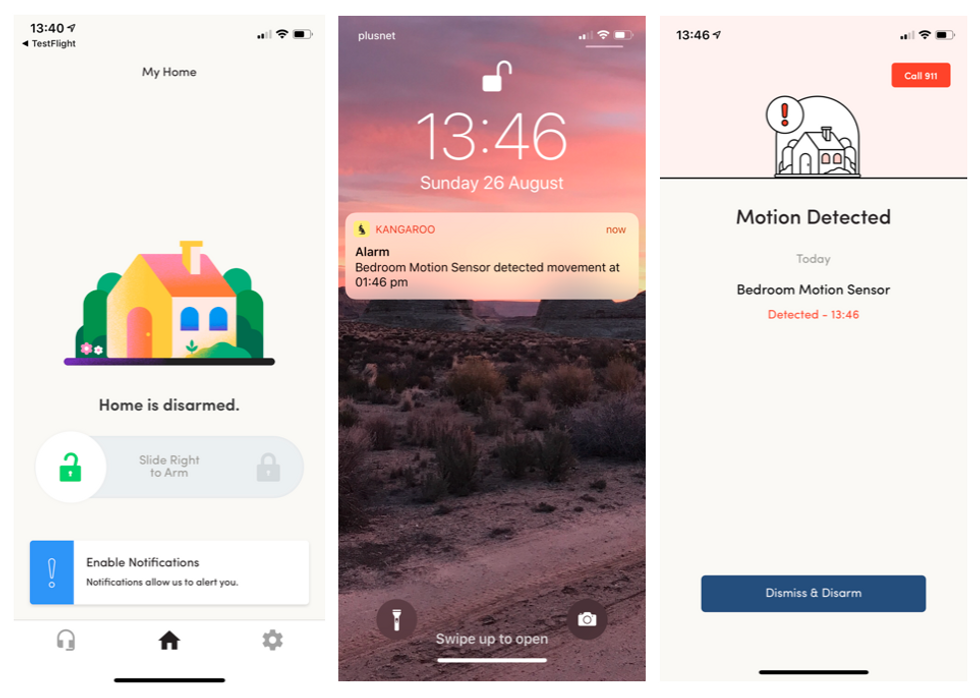 The app is available for iOS and AndroidGearBrain
Kangaroo Motion Sensor: Pet detection
A useful feature presented during the setup process is pet detection. Switch this on and the sensor will ignore movement occurring up to 2'4" (0.7m) off the ground. This might not help owners of particularly large dogs - and cats leaping up onto the kitchen counter may trigger the sensor - but it's a welcome addition nonetheless.
Kangaroo Motion Sensor: Testing and subscription costs
In testing, I found the motion sensor to quickly alert me to movement. On walking into a room fitted with a sensor, the app on my iPhone buzzed right away to tell me which sensor had been triggered.
After a 100-day free trial, which starts working right away and without asking you for any billing details (nice move, Kangaroo), self-monitoring costs $1 per month. 'Self monitoring' is the situation I have described above, where the sensors alert you via the phone app, which then offers up a button for quickly dialing 911.
Professional monitoring, where an agent will handle the situation if you aren't able to, then call 911 and direct authorities to your home, costs $9 per month. The agent will also provides guidance over the phone if there is an emergency. Kangaroo will also help $9 a month subscribers with the paperwork required to inform their home insurance company about the sensors, which could lead to a saving of up to 20 percent, according to Kangaroo.
Both plans can be started and ended whenever the user likes, as there is no contract. This means you could opt for professional monitoring for the month of your summer vacation, then cancel or switch back to self-monitoring the following month.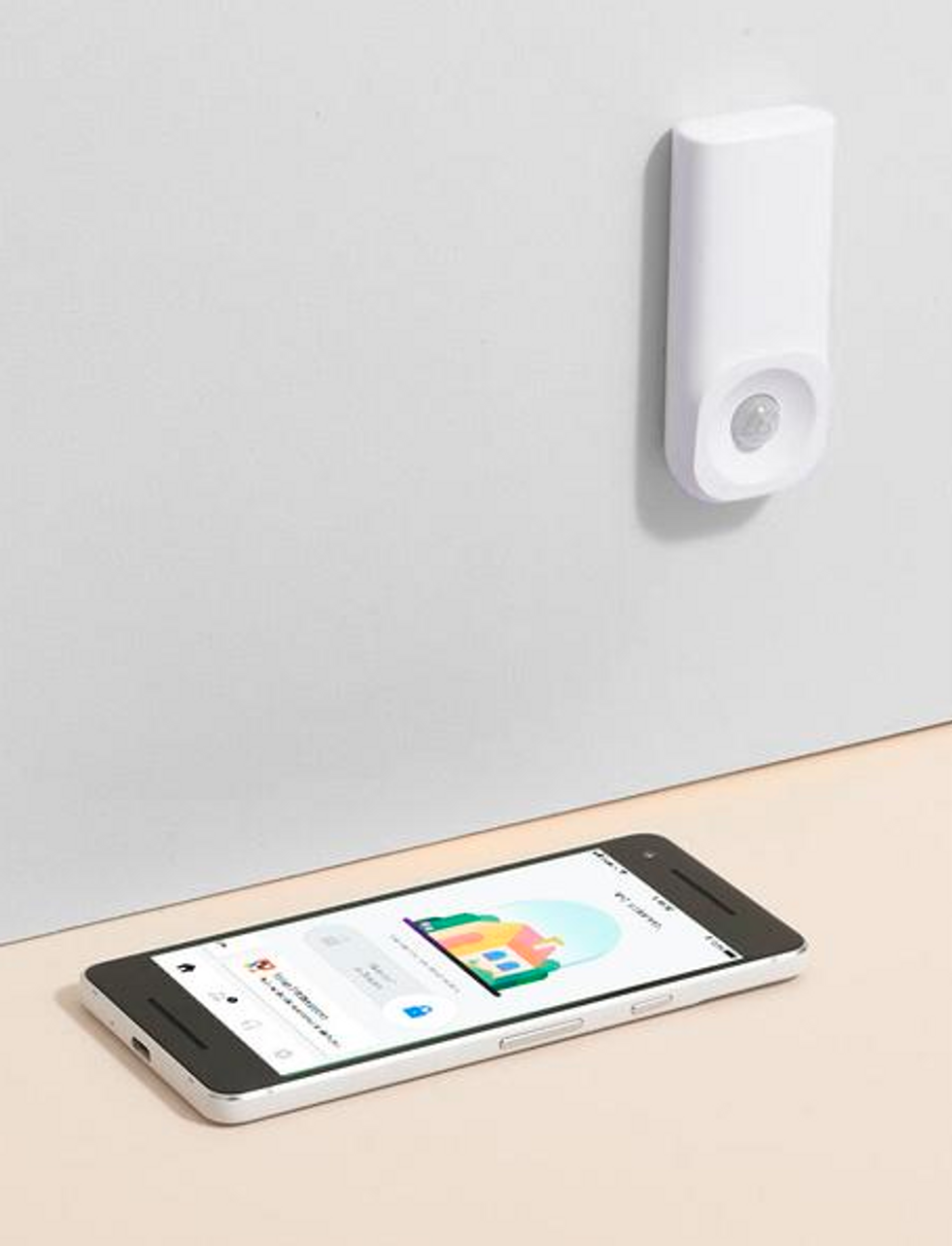 Kangaroo
Summary
The Kangaroo Motion Sensor is a simple and affordable way to add an extra element of security to your smart home. For those just starting out on building a smart home, the sensors provide a quick fix for properties with no existing security system, and are very easy to use.
A lack of support for IFTTT (If This, Then That) is disappointing, as the home automation platform could have been used to trigger events when motion is detected (such as switch on some lights), but at this price point - and in pursuit of simplicity - we can understand its exclusion.
We would also like to have seen self-monitoring being free for life and not just during the 100-day trial. When compared to devices like the $20 Wyze Cam, which is an HD security camera with Alexa and IFTTT support, the Kangaroo loses some of its budget appeal.
Having said that, much of the point of the Kangaroo is to secure a home without using cameras, especially when indoor options can feel invasive - and $12 a year is unlikely to break the bank. The device should also be appealing to renters who are unable to install a more comprehensive system of cameras; just stick the sensors in place, then remove when you leave.
If you are just starting your smart home journey, or want to protect your room in a shared house without breaching anyone's privacy, the Kangaroo Motion Sensor is an affordable first step to smart security.
Pros:
Simple to install and use
Affordable professional monitoring
No contract
Cons:
No IFTTT integration
Self-monitoring is not free
Related Articles Around the Web
Like GearBrain on Facebook