Lyft To Dump Drivers Lyft's co-founder John Zimmer predicts that the majority of Lyft cars will be autonomous within five years — and be more consistent and more available as a result. Zimmer preached his vision for the future on a Medium post, which also included his belief that by 2025, no one will own private cars, particularly in major cities. So if you live in a Metropolitan area, cherish your vehicle for the next none years. Whether autonomous cars, or self-driving fleets of cars, will replace our personal vehicles completely is still unknown. With Tesla pushing six-figure electric vehicles, the idea consumers would buy them, only to dump them in nine years, feels unlikely. Most agree, though, that self-driving cars will be a safer option on the road, with humans the biggest cause of accidents today. But consumers must agree to adopt them. And that is still the biggest question—despite what Lyft's Zimmer believes or not.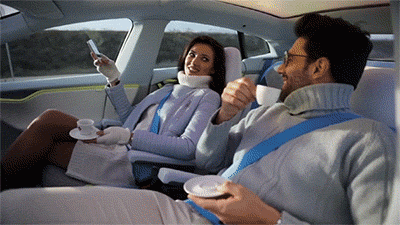 Samsung Pants Problem One Florida-based gentleman seems to feel the refund option is enough regarding his Samsung Galaxy Note 7. Instead, he is suing Samsung after his Galaxy Note 7 blew up in his pants pocket. The front one. We can see how this may be traumatizing. And granted, Reuters reports the pants episode did happen Sept 9 —before Samsung finally issued its recall, but the day after the Federal Aviation Administration did suggest that flying with the smartphone, and charging them, would be an issue. His thumb reportedly endured second-degree burns. No word on what the eventual outcome will be on the lawsuit. But we really think this should be the final word on using any Galaxy Note 7 smartphone. Just stop. (blow up hands)

Pokémon GO Plus The player everyone wanted last month has finally arrived. At $35, the device is meant to help you catch those augmented reality monsters, and help push your levels higher. While interest in the AR game has certainly careened, reports are saying the GO has nearly sold out. One huge feature? The ability for the GO Plus to track distance, even on a locked phone, which has been the bane for users. (You must keep the app open to log how far you've walked to crack open those eggs.) Once we get our hands on one, we'll give you an update on our thoughts.
$5 VR Headset What can you buy for $5? Perhaps a fancy coffee. Certainly not lunch. But a new VR headset? Absolutely. Take a look at VR Fold, the latest—and by far cheapest—VR viewer we reviewed.
Privacy IoT Panel As exciting as IoT gadgets make our lives, they also touch on issues around privacy: just how data do they collect on us, and how much can we control? GearBrain's Lauren Barack will join hosts Cowan, DeBaets, Abrahams & Sheppard LLP & Wise Public Relations next Monday night along with panelists from digi.me and Ready Set Rocket among others to talk about these questions and more. The New York-based event is free, so join us.