Like GearBrain on Facebook
When looking to buy a security camera today, it's important to remember a few key points which will assure you buy the right camera for your smart home. Today, most security cameras can record video and have 1080 HD resolution. Many of the newer models also offer two-way communication through built-in mic and speakers. And you also starting to see security cameras hit the market with good motion detection, but not many have sound detection as well. Let us introduce you to Honeywell's new Lyric C1 Wi-Fi Security Camera. We recently received a Lyric C1 to review from Honeywell and here is what we found.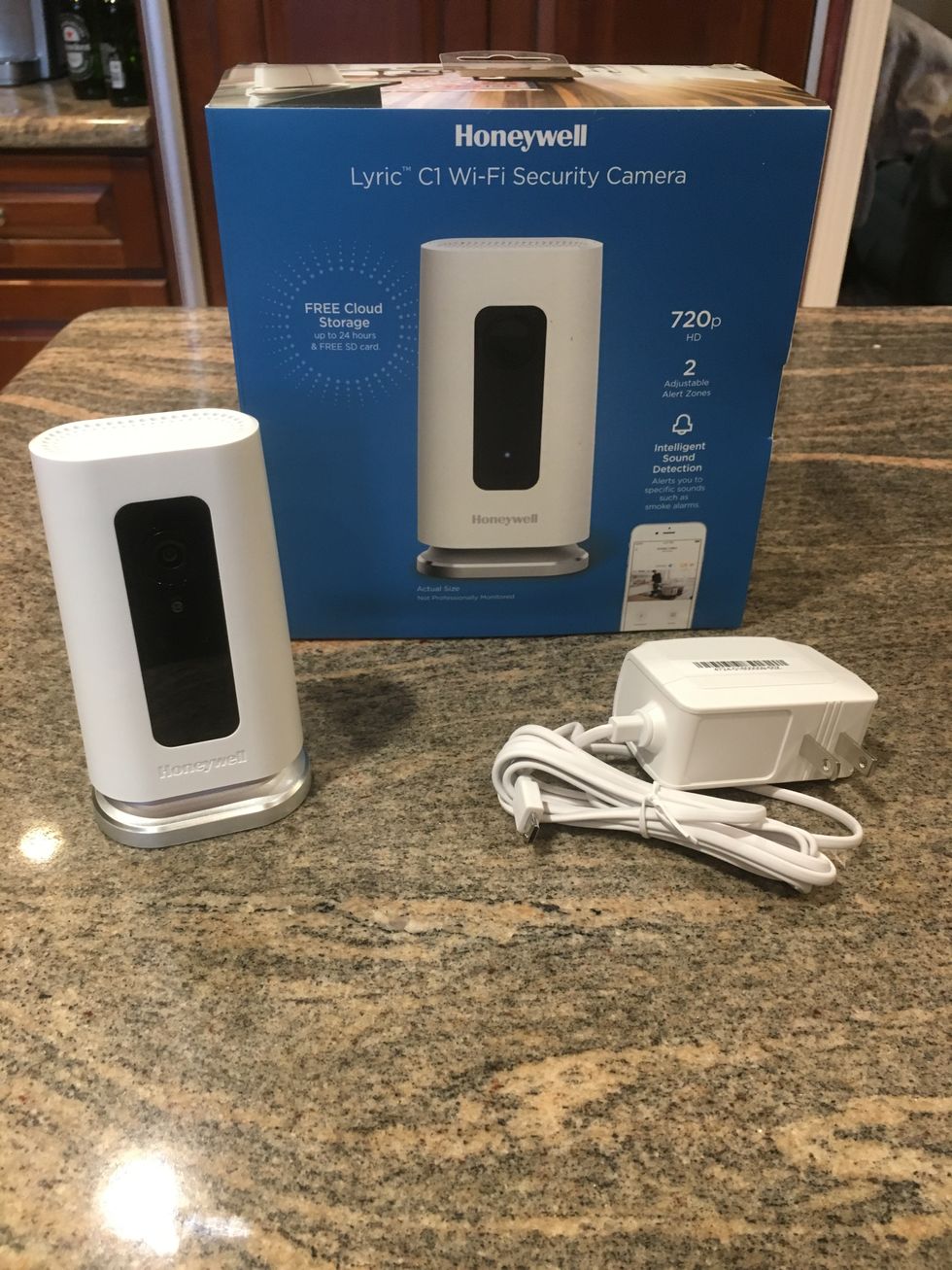 Honeywell Lyric C1 Wi-Fi Security CameraGearBrain
Honeywell's latest security camera, Lyric C1 is a Wi-Fi HD security camera with a wide-angle view of 135-degree field of view (FOV) and 5X zoom. It has a 720HD resolution with @30 fps and can take 1MP photos. The C1 also has night vision up to 16.5 feet and two-way audio which is good feature. But the best feature is the intelligent sound detection.

The sound detection feature can recognize specific sounds, like a carbon monoxide or smoke alarm going off or background noise like a ceiling fan or air conditioner. You can adjust the sensitivity of these noises using the Honeywell mobile app. Honeywell's mobile app is available on App Store (iOS) and Google play (Android). This is rare to find in a Wi-Fi security camera.
Another nice feature of the Lyric C1 Wi-Fi Security Camera is its adjustable alert zones. Using the Honeywell app, you can draw your own alert zones (2). When motion is detected in these zones, you will receive an alert.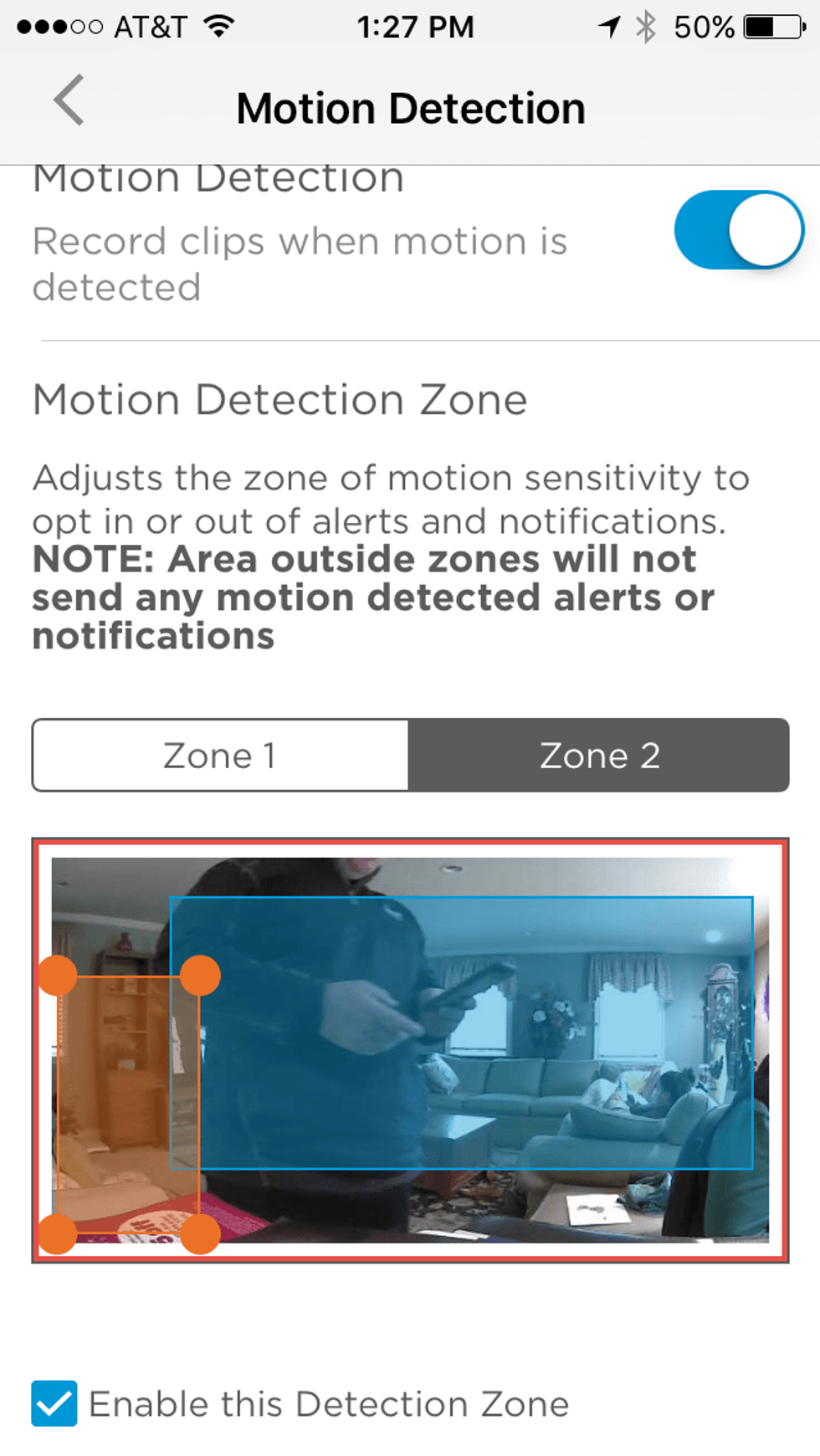 Motion detection on Honewywell Lyric mobile app for iOS.GearBrain.com
One question you need to ask yourself before buying a security camera is where and how does the camera record video. Many security cameras start to record when motion is detected in its field of view. Some are on a continuous timed-loop and store the footage within the unit or in the cloud. And if stored in the cloud, many will charge you a monthly/annual fee. Lyric C1 security camera offers both options but doesn't charge for the any videos stored in the cloud for the first 24 hours. You can also add a microSD card to your Lyric C1 but it must have a capacity up to 64GB and Honeywell recommends class 10 microSD card.

The last feature we liked was geofencing. You can set this up in Honeywell app and it will send you alerts when you and your family members are a specific distance from your home. This will help you know what to do if you get a motion/sound detection alert and everyone is outside of the home.
Installation

Setup of your Lyric C1 security camera is extremely easy. First, download Honeywell Lyric app and then retrieve your home Wi-Fi password. You are going to need this during the setup process. Follow the setup instructions in the mobile app. They are very helpful and easy to follow. Also, make sure your Lyric C1 is close to your home router during the setup. This will help with any possible connection issues you might experience during the pairing process in the setup. Once complete, you are ready to use your Honeywell Lyric C1 Security Camera.
Non-features
Though the Honeywell Lyric C1 security camera is unique and an effective security camera, we were able to find some faults with it. First, the two-way communication was too soft and there are no volume adjustments. We had a hard time hearing the person in the room with the Lyric C1 on our smartphone. We adjusted the volume on our smartphone but it was still very soft. And the sound coming out of the speaker on the Lyric C1 was static and hard to hear as well. Hopefully Honeywell will come up with a way to adjust the volume of the speaker.
Another surprise we found was the lack of compatibility the Lyric C1 had with other Wi-Fi connected devices. For instance, the Lyric C1 is not compatible with Wi-Fi connected hubs, like Harmony Hub, Samsung SmartThings, Apple HomeKit or Wink. And we also found there are no IFTTT applets. The company told us the Works with Honeywell program does include some possible future integrations for the Lyric C1 Camera, but currently, users can use an Amazon Echo Show, or an Amazon Fire Stick connected to a display to ask Alexa to show the live feed from the camera. This is ok if you own those Amazon Alexa enabled devices, but if you are looking to add this Wi-Fi security camera to your home security system or want to build your own DIY home security system, this camera is not one for you to consider at this time.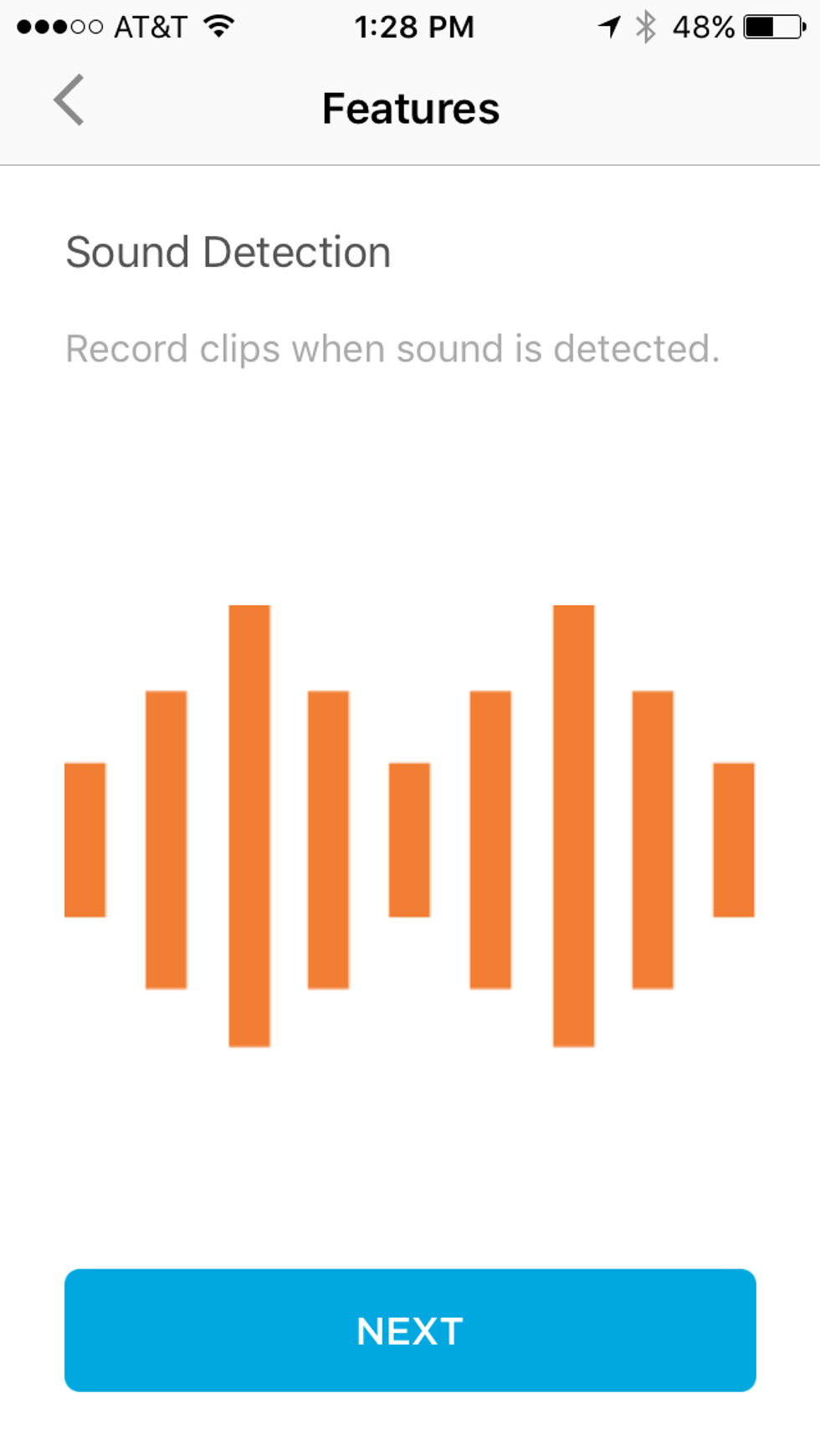 Sound detection for Honeywell Lyric C1 Wi-Fi Security Camera
Specifications
Here are the specs for the Honeywell Lyric C1Wi-Fi security camera:
Dimensions: 4.5cm x11.1cm x 6.3cm (1.8" x 4.4" x 2.5")
Weight: camera and base are 4 oz.
Video resolution: 720p HD @ 30fps
Photo: 1MP JPEG
Video Compressions: MPEG – 4 (H.264)
Field of View (FOV): 135 degrees/5x digital zoom
Wi-Fi: IEEE 802.11 b.g.n 2.4 GHz
Min bandwidth: 1.333 Mbps
Power Supply –5VDC 2A
Encryption – 256 Bit AES
Operating Temperature: 32degrees F to 104 degrees F
MicroSD card: capacity up to64 GB SDXC. Recommend Class 10 microSD card (8 GB card included)
Night vision up to 16 feet
The retail price of Honeywell Lyric C1 Security Camera is $119.99 and available on Honeywell Home site, Amazon, Best Buy, The Home Depot and other major retailers.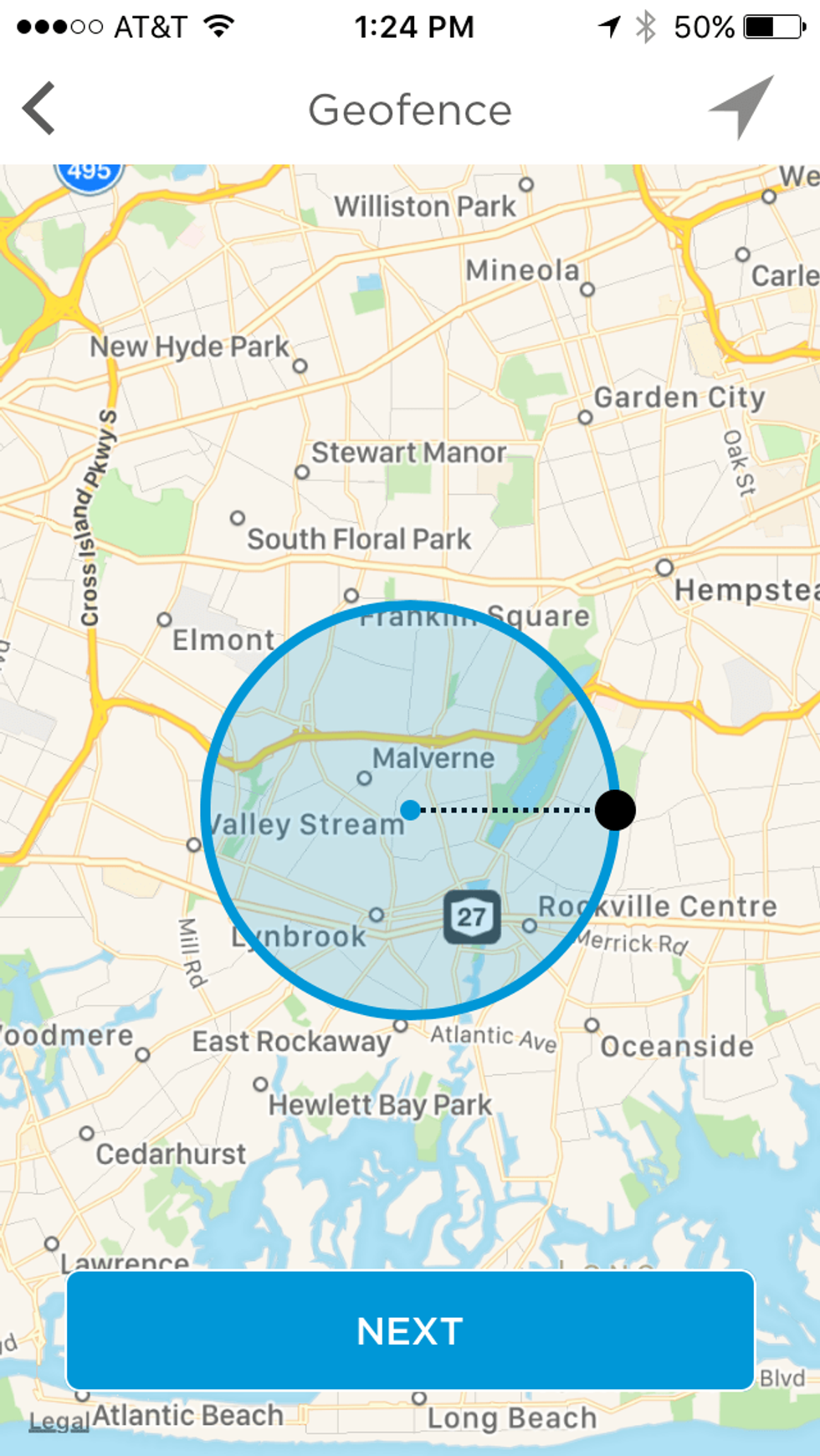 Geogencing for Honeywell Lyric mobile app.GearBrain.com
Summary

The Honeywell Lyric C1 Security Camera is a good first security camera, especially if you are building your own DIY home security system. It's made by a company with experience in building home security products. You also get several nice features, such as 135 FOV and motion/sound detection at a very attractive price. We also like the free 24 hour cloud storage for streaming videos and the 8 GB microSD card which is included.
However, there are improvements that need to be made to Honeywell's Lyric C1 to really make this a must have Wi-Fi security camera. We would like to see volume control for the speaker on the camera, color night vision and more smart home integrations, including home security systems (I.e. professionally monitored). Honeywell has informed us there will be announcements made at the beginning of 2018 which address some of our points. We will update our review once they are announced. In the interim, if in the market for a DIY Wi-Fi home security camera, we think the Honeywell's Lyric C1 Wi-Fi security camera is still a good Wi-Fi security camera with several attractive features, like sound detection at a very good price point.
Pros: price, motion and sound detection, geofencing, easy to install, two-way communication, 5X zoom
Cons: no smart home integrations, lack of IFTTT support, no volume control on speaker, black and white night vision.
Like GearBrain on Facebook