Like GearBrain on Facebook
Pros: Easy installation, energy savings, 30 percent Green tax credit, good for the environment, solar power.

Cons: Need AC unit in sun to power Mistbox, AC has to be close to water source, need strong internet signal
Let me introduce to you Mistbox. This unique connected device is a computer optimized unit with algorithms that can help maximize savings on your utilities bill, especially during those hot summer days. It can also help you receive a special energy tax credit. All you have to do is attach it to your outside central AC unit and connect a hose. Then the device, which makes use of evaporative cooling, does the rest.

What is evaporative cooling? This is the process of reducing temperature, by having liquid evaporate. We do this everyday—it's called sweating. But the process is also used in industrial and domestic cooling systems in arid climates, although rarely in residential homes. Until now.

Mistbox, which uses evaporative cooling, is designed to work at a majority of homes with central AC unit. But there are a few things you need to know before you buy this device.
First, the unit only goes on when the temperature outside is over 80 degrees. If you live in an area that rarely gets hotter than 80 degrees, Mistbox might not be right for you.
Second, the unit is solar powered which is good for the environment. However, if your AC unit outside is not in the sun or has little exposure to the sun during the day, you will need to look for alternative ways to power the unit. Mistbox does offer alternative power sources for you to buy.
Finally, Mistbox is designed to keep the air around your AC unit cool. Through a system of misting manifolds which you attach to the outside of the unit, Mistbox controls the amount of water which passes through the manifolds to create the optimum cooling temperature around your AC unit. By keeping the air around your AC unit cool, your AC fan doesn't have to work as hard to generate cool air in your house —thus saving you money on your electric bill.
However, you need access to water to make Mistbox work. If your outdoor water source is close by, then the set up for the system is very easy. But if the water source is not, then you need to get a long enough hose to connect to the device. My water source was not close when I tested Mistbox. As a result, I had to buy a hose long enough to reach the unit in order for it to work. This is something you need to keep in mind.
Once you connect your Mistbox, it's good to know its water filtering system will help ensure there aren't corrosion problems on your AC unit. It's been designed to handle any municipal water supply that follows FDA guidelines (<500PPM). However, if you use well water, or municipal water ,with a total dissolved solids (TDS) count of over 500PPM, Mistbox recommends you consider investing in a more robust water filtration system. This is most common in desert or mountainous regions. Also, you will need to replace your filter over time but no worries, as the device is programmed to notify you via app when the filter has just 15 percent of life remaining. This is a nice touch.
SetUp
Getting your Mistbox up and running is fairly easy. Once you take everything out of the box, the first thing you need to do is remove the sticker with the serial number from the back, and on to the inside cover of your owner's manual. You will need this number when setting up the app. Also, there might be a battery stuck to your serial number. Make sure you take this battery off the unit before operating it. If you don't you might have issues getting Mistbox to work.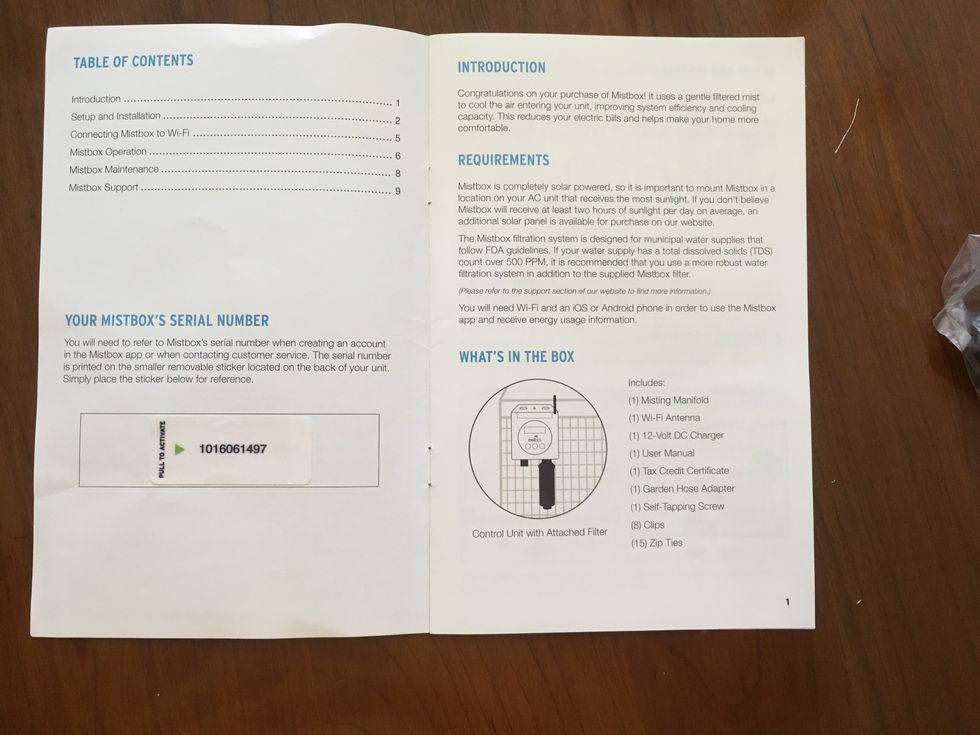 Mistbos's owners manual
Next step is to power up your Mistbox. You can use the AC adapter Mistbox supplies, or use the solar power panel on top of your unit. While the unit is powering up, you can begin downloading Mistbox app. The device works with either iOS or Android platforms. Since I have an iPhone, I downloaded from the iTunes app store and began the setup process. This took only take a few minutes.
When you come to the part in the setup process to connect your Mistbox to the app, you should start attaching the misting manifolds and mount your Mistbox on your AC unit outside. The hoses connected to the manifolds are adjustable. To have your hoses fit around your AC unit, just pinch the ends and pull the hose out until it reaches your desirable length. It should fit easily around and the supplied clips will hold your manifolds in the location you need on your AC unit. Once complete, you now can connect your water supply.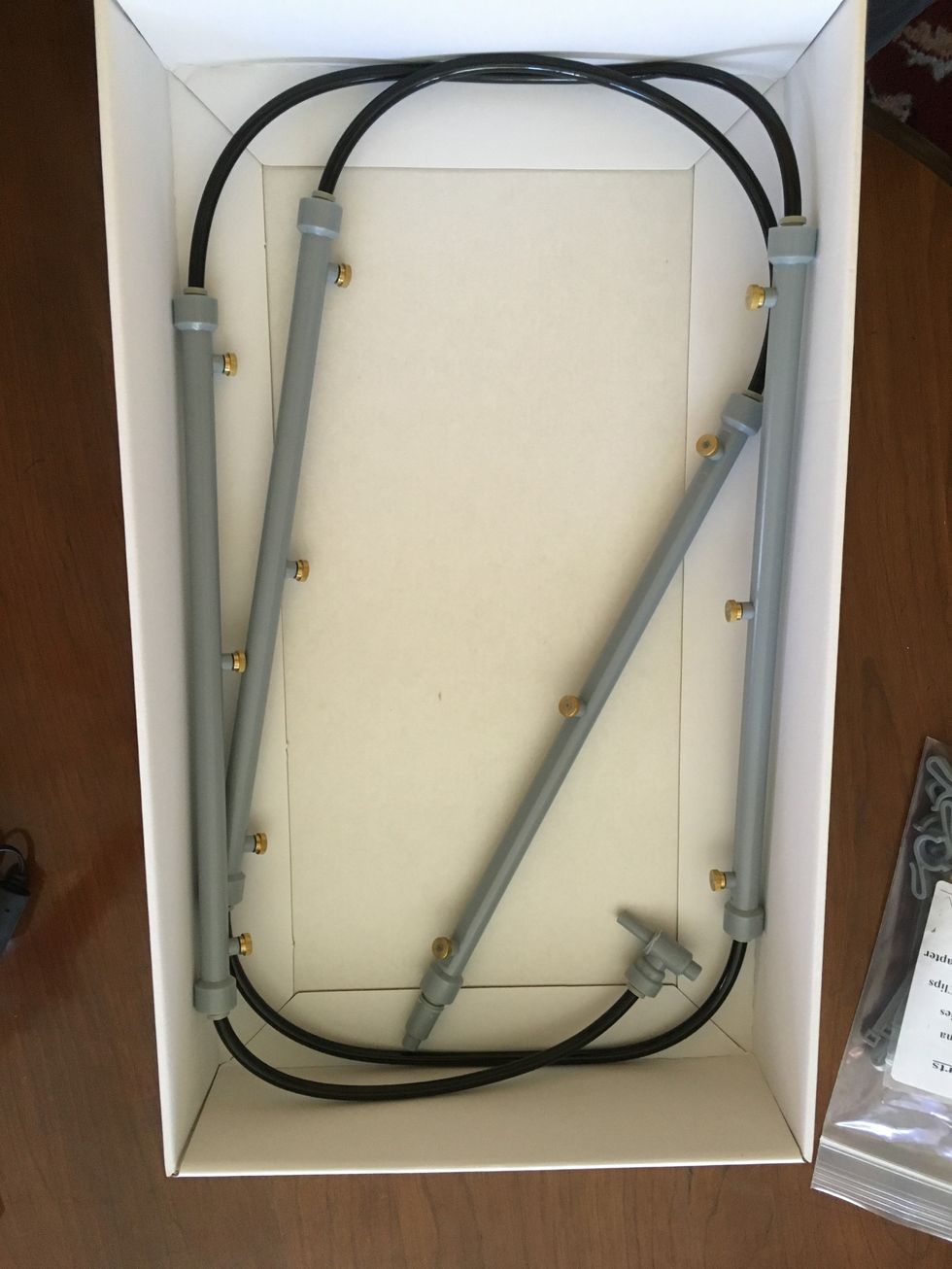 Mistbox manifolds and hoses
If your unit is close to a water supply, and in the sun, the next few steps will only take you a few minutes. However, if they are not, this step could take awhile so be patient.
As I mentioned before, my water source was not close so it took me awhile to connect the hose to Mistbox. But once you've done this, test to make sure the device is not leaking. Mistbox supplies a splitter, which I used to test the unit, and worked fine. I would, however, recommend not turning your water on high, because the unit only needs a little water to actually work, and because high water pressure could cause leaks at the connection.
Once you've turned on the water, test to see if everything is working properly. You can run a 30-second test run by holding down the Power button on the unit for three seconds. We did and everything worked correctly.

Once everything is connected, just follow the instructions to connect your Mistbox to your phone via the app. Note that the unit will work if not connected to the app on your phone. You just won't be able to see how much savings the unit is generating or any additional data, like water usage. Luckily for me, I was able to connect to the app and we started using the device.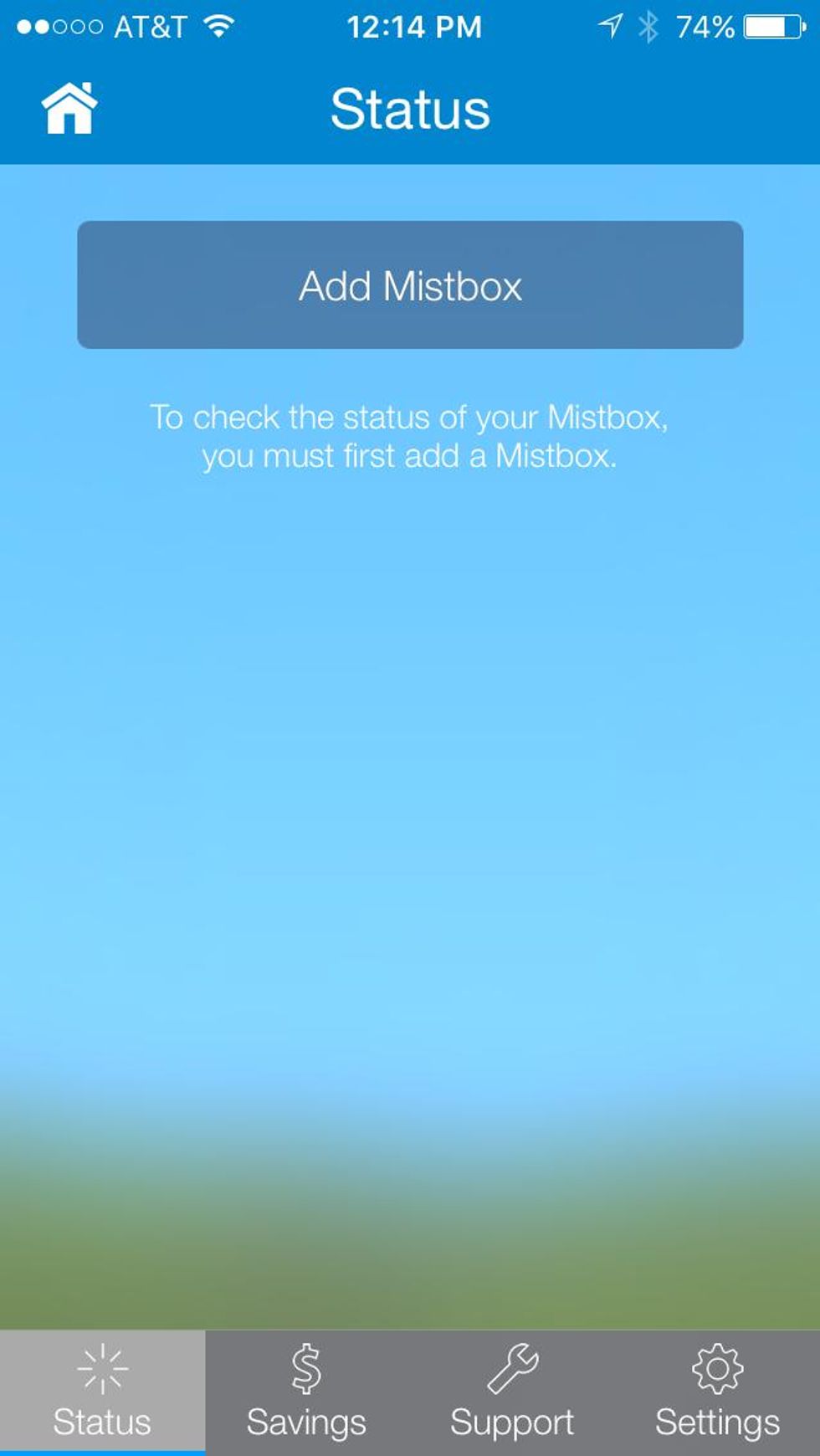 How the app looks before connecting to Mistbox
The day I tested Mistbox was extremely hot and humid. As a result, Mistbox went on immediately and started to cool the air around my AC. Though we only used it for a few weeks, I did notice the AC fan didn't go on as much as it usually does, even in those hot humid summer days we had this past August. We were able to get some savings on our electric bill but it's still too early to tell exactly how much.

Technology Only Works in Arid Climates
In talking with friends who are heating and cooling experts, I mentioned Mistbox to them, and its technology. Many were skeptical and told me the concept of cooling the air around the AC unit was more common in dry heat climates like Arizona. While this is true I was surprised to see Mistbox is a Houston-based company, and that all their testing was done in hot and humid temperatures in that region. The company does claim that Mistbox owners in arid climates could save more than 30 percent, but a majority of their customers are in humid climates like the South (i.e. Florida) and are still generating significant savings.
Mistbox retails for $399 and can be purchased on its website or on Amazon. You can also buy filters, water supply lines and auxiliary solar panels from Mistbox's website. Your tax credit certificate comes with the unit. To learn more about eligibility and how to claim your energy tax credit, you have to go to to the IRS.gov and then fill out IRS Tax Form 5695 and submit for tax credit.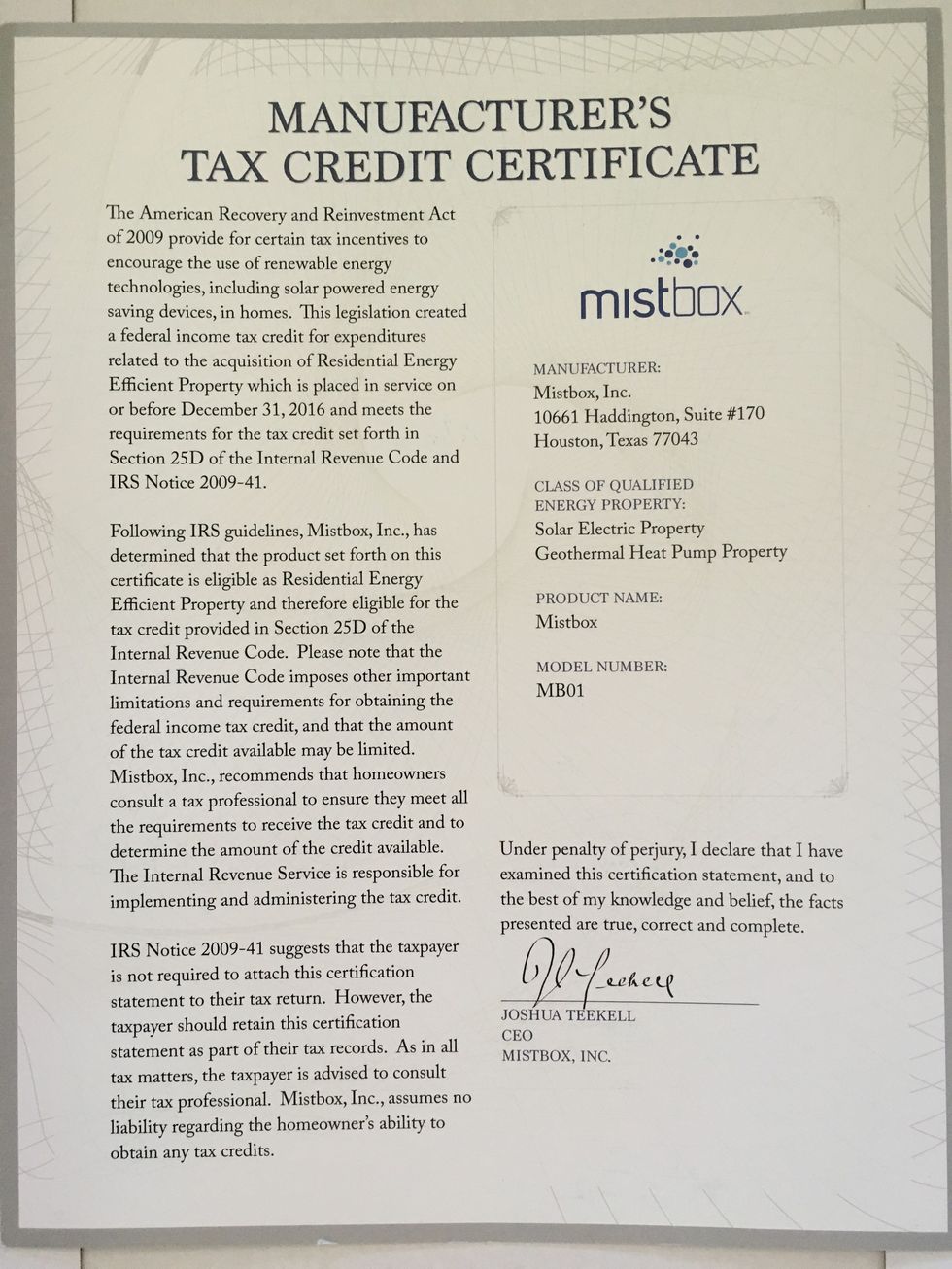 Mistbox's Tax Credit certificate which you'll need to claim your credit with the IRS.
Overall, if you own a home with a central air conditioning unit, then Mistbox is a connected device you could consider to potentially help you save money both on your utility bill, and also through a tax credit. Plus the savings might help offset the cost.
Like GearBrain on Facebook